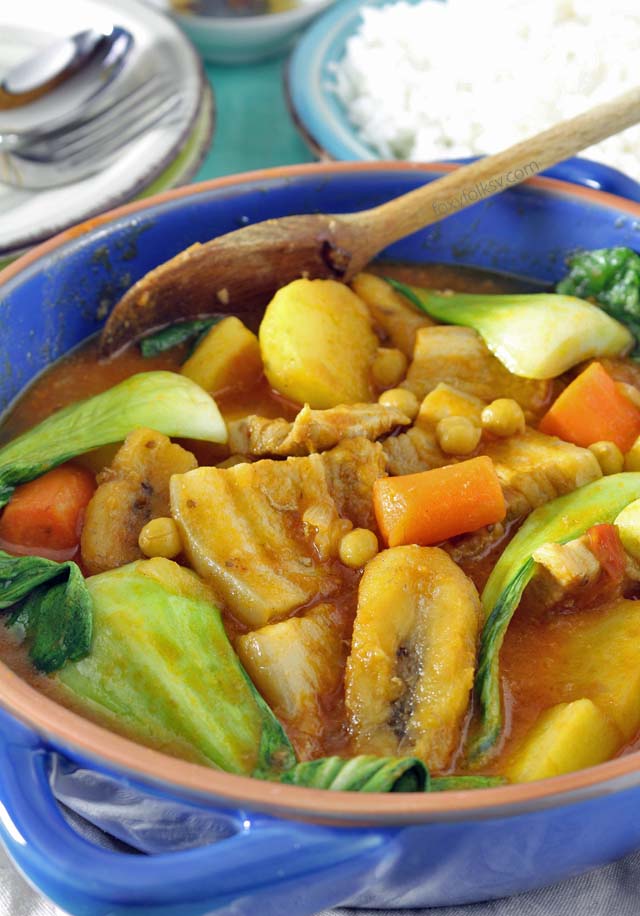 Pochero (Puchero) is another great dish that we inherited from the Spanish. It is a stew of meat, vegetable, root crops and legumes and was originally considered as peasant stew (in Andalusia). This is because the meat that was usually used were from cheapest (fatty) cuts from a pig, cow, and chicken and with vegetables that were in season.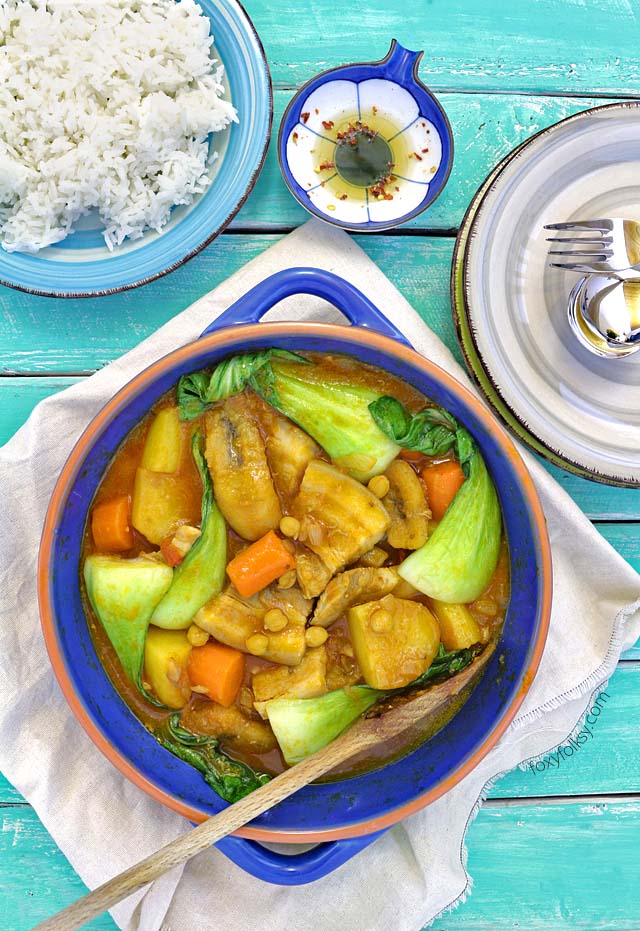 The Filipino Pochero is slightly different as it has tomato sauce and it. What sets it apart from other tomato-based stew is that it (must) have ripe plantain banana or 'saba'. This makes a rather interesting flavor to the stew because it adds a natural sweetness to the dish.
I chose to pre-boil the pork belly to make sure that they are really tender and the vegetables not overcooked. I did it the night before and then placed the meat and broth in the fridge until it was time to cook my Pochero the next day.  It is also a good idea especially for those who do not have enough time to prepare it for lunch or dinner.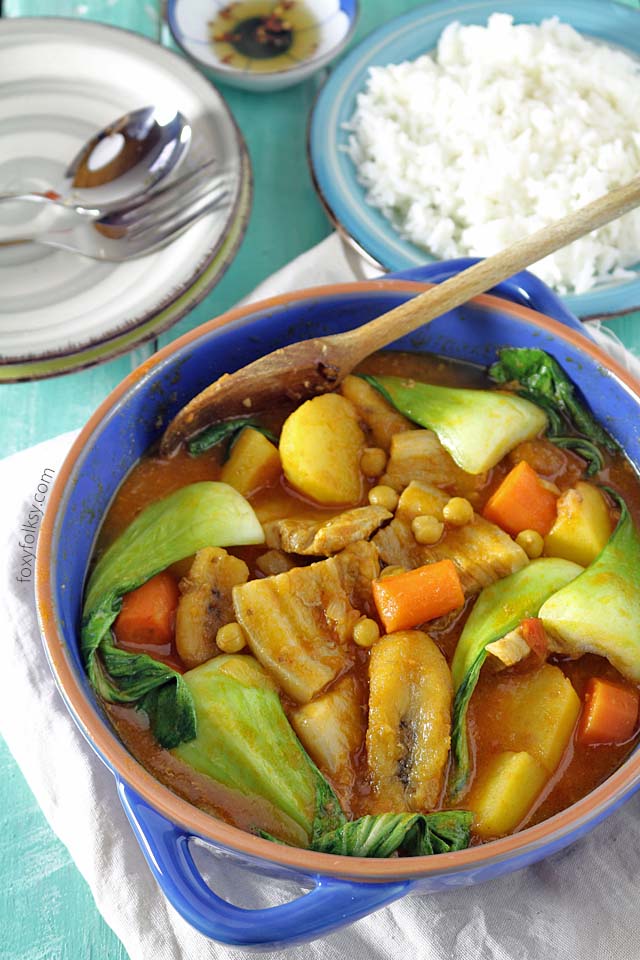 By the way, this post is for Tina who requested this recipe of Pochero and who loves impressing her son and husband with her great Filipino food! 🙂
Printable Recipe
Pork Pochero Recipe
Try this Filipino Pork Pochero recipe using pork belly. A tomato-based stew that has ripe plantain bananas that set it apart from any other!
Ingredients
2

pounds

pork belly

- cut into cubes

2-3

tablespoons

oil

2

ripe plantain bananas

- each cut into 3 pieces

1

small

carrots

- cut into chunks

1

big or 2 medium

potatoes

- cut into quarters

2

cloves

garlic

- minced

1

medium

onion

- chopped

2

medium

tomatoes

- cut into chunks

1

tablespoon

tomato paste

2

tablespoons

fish sauce

⅛

teaspoon

ground pepper

1

cup

chickpeas

(garbanzos) - canned

2-3

cups

pork broth

- or water

1

bunch

pak choi

- the base cut
Instructions
Boil pork belly in water until it becomes tender. Separate the meat and broth when ready to cook.

Heat oil in a deep pan or a pot and fry the potatoes, carrots, and bananas until the edges are slightly browned. Remove from oil and transfer to a plate.

In the same oil saute garlic, onion, and tomato until limp.

Add the pork belly cuts and the tomato paste. Season with fish sauce and ground pepper.

Next, add back the fried potatoes, carrots and banana plantain (saba) and also the chickpeas.

Pour in the broth/water and let it simmer to cook the potatoes and carrots and until the broth turns into a thicker sauce.

Lastly, add the pak choi and turn off the heat. Cover the pot for 3 minutes to cook the pak choi.

Serve hot with rice.
Notes
If the plantain bananas are not sweet enough, add a teaspoon of sugar.
Nutrition
Calories:
1417
kcal
Carbohydrates:
35
g
Protein:
30
g
Fat:
129
g
Saturated Fat:
44
g
Cholesterol:
163
mg
Sodium:
1391
mg
Potassium:
1556
mg
Fiber:
7
g
Sugar:
14
g
Vitamin A:
11720
IU
Vitamin C:
115.3
mg
Calcium:
279
mg
Iron:
4.7
mg