This chicken curry with coconut milk has all the wonderful flavors and a hint of spiciness. So easy to prepare, done just under 20 minutes.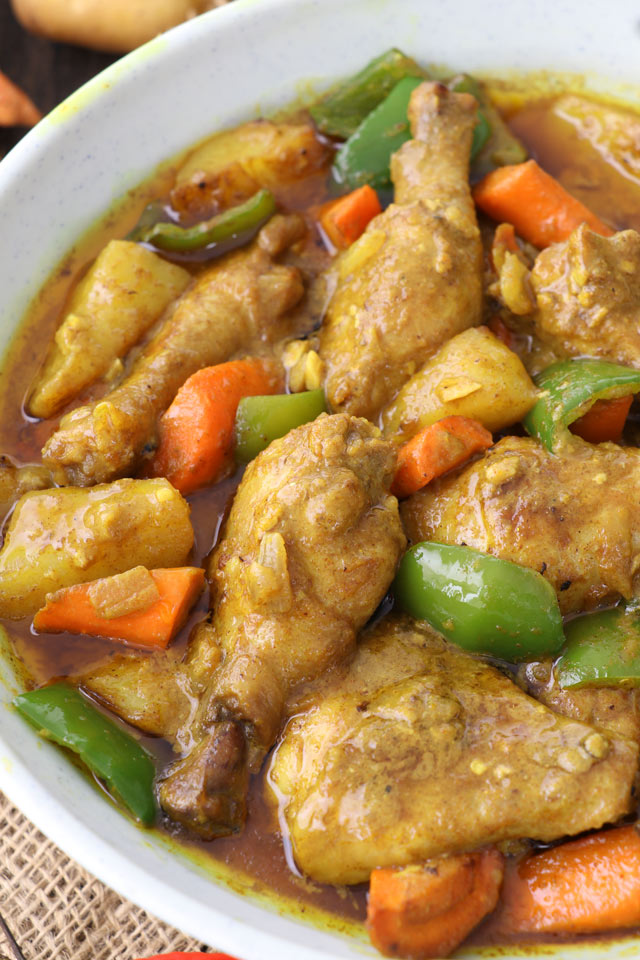 the story of us
In the six years that I lived in Germany with Armin,  I was almost always feeling homesick for the first two years. The first six months was the worst of it. It was so bad that I cried almost every night and I did so in silence. I would just allow myself to weep when I am sure that Armin is sound asleep.
The difficult part was putting on a 'happy' face and so my family, especially my parents, don't worry about me. Same goes with Armin, I didn't want him to think that I am unhappy to be with him. Because I was happy to be with him and Germany was lovely,  I was just terribly homesick.
It got a little better as time went by. I made some good friends there and I learned how to speak German. This was very important since I was never used to being so dependent on anyone.
I am just thankful that Armin was so patient with me while I was learning to adjust to everything that is so new to me. Believe me, it was not easy for him too.
I was like a child learning to walk (or in this case to speak) and he was always there to hold my hand and catch me if needed. He even took a bus ride with me just to show me how the system works and how I can get to and fro my language school ?.
He is also very supportive. Foxy Folksy would never see the light of day if it was not for him. I was too shy to let anyone know that I started a blog. It really was supposed to be just a hobby, a way to pass the time because I was jobless.
But he gave me the encouragement and tools I needed to start it and to let it grow.
You might be wondering why I am sharing all this and how it is connected to coconut curry chicken...I will get there later. I just want to thank this wonderful man who did and still do so much for me.
Yesterday, we celebrated our 7th year wedding anniversary.
We had lunch at Vikings, a buffet restaurant, where I think we ate more than we should. Then went to see a movie. Which we ended up not understanding at all as the characters are fond of mumbling and we were falling asleep in some parts because of tiredness (from over-eating I reckon).
We also went shopping a bit. For furniture that I am not so sure now if we really need since we have the old ones still but they look way nicer and comfy.
We also planned for a massage but we forgot to make an appointment so we had to skip that (or wait until 11PM for our turn).
To finish it off, we wanted to have a scrumptious dinner at TGIF. But we only made it to the starters because we were still full from lunch earlier.
It was indeed the most wonderful day. It was not perfect but we were both happy that we are celebrating 7 years of togetherness and looking forward to more.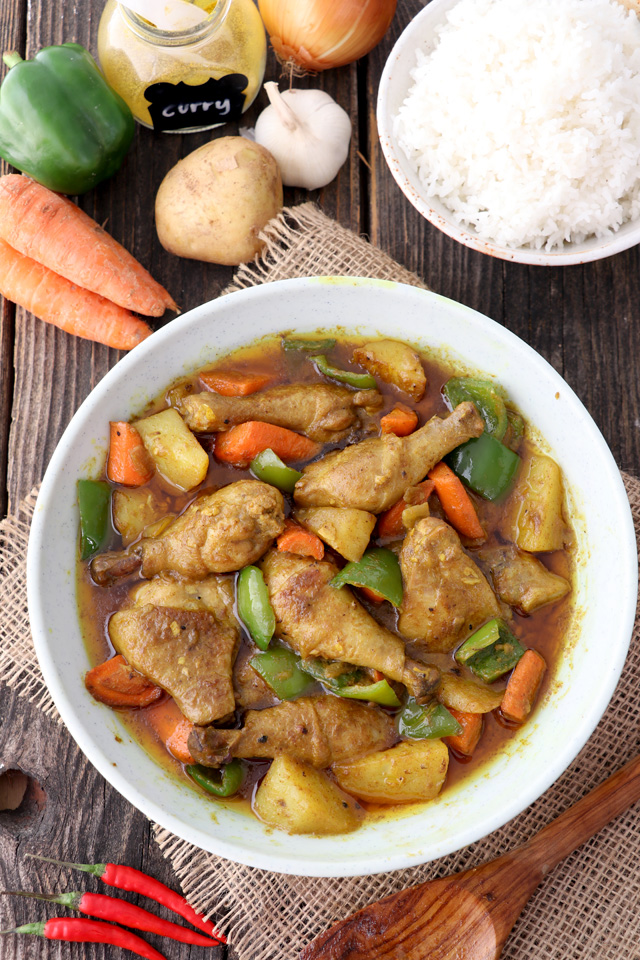 Whew! That was long! But enough of my rambling.
Now going back to this recipe, living far away from home, one of the things that really miss so much was my mama´s cooking.
To lessen my homesickness, I would ask her for her recipes whenever we chat online. Then I would try to replicate her dishes as exactly as I remember them. Being able to eat them made me feel at home again.
This chicken curry recipe was the first one I asked from her.
Filipino style chicken curry normally uses coconut milk for the sauce. It is also a well-loved dish back home.  Now, it is Armin's favorite.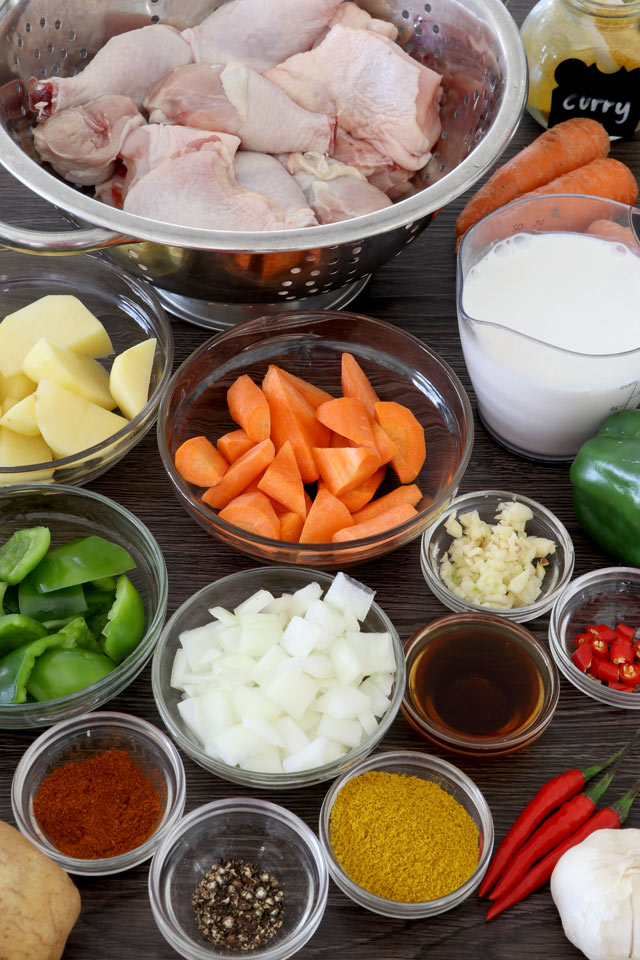 How to make chicken curry with coconut milk?
It is really easy and simple to make.
First, fry some carrots and potatoes until the edges are lightly browned. Remove them from the pan to add back later.
Cook chicken in a mix of spices; oil, garlic, onions,  ground pepper, curry powder, and paprika.
Next, simmer in coconut milk to cook the chicken through.
Add the vegetables and a little chili and simmer again until the meat becomes tender and to reduce the liquids to a thick sauce.
The result is an amazingly spicy, flavorful and creamy coconut chicken curry.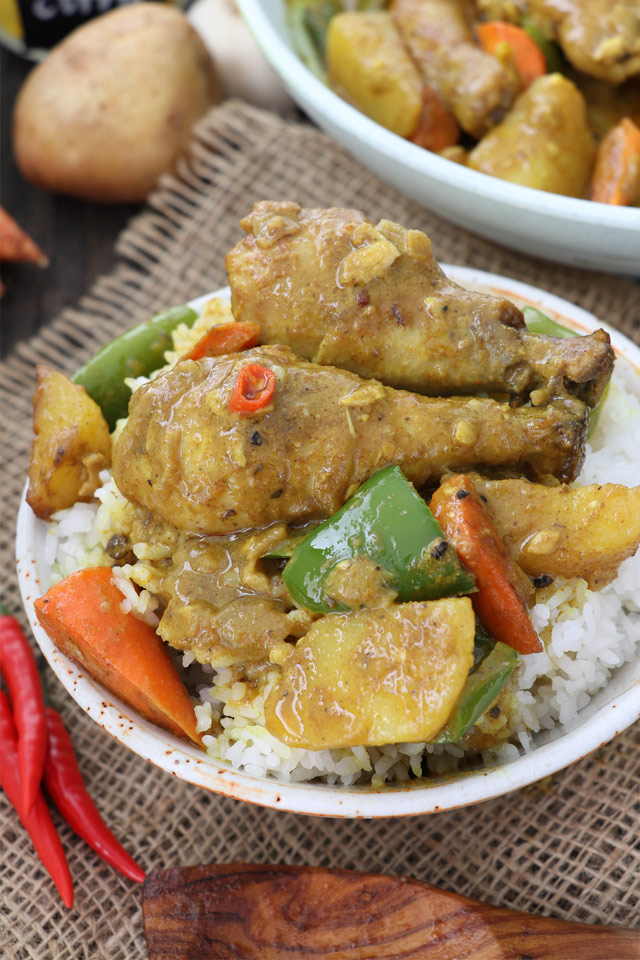 My mama normally just use chicken for this coconut curry recipe.  I tried it with various meat like pork, beef, and turkey (breast) and they all turned out really good.
Which part of chicken to use to make chicken curry?
I find the bonier parts, like the thigh, drumsticks, wings of chicken are more flavorful and perfect for making this chicken curry dish.
However, you can also use meatier parts like the breasts. Just be sure to cut them in smaller pieces so the flavor from the spices can seep into the meat.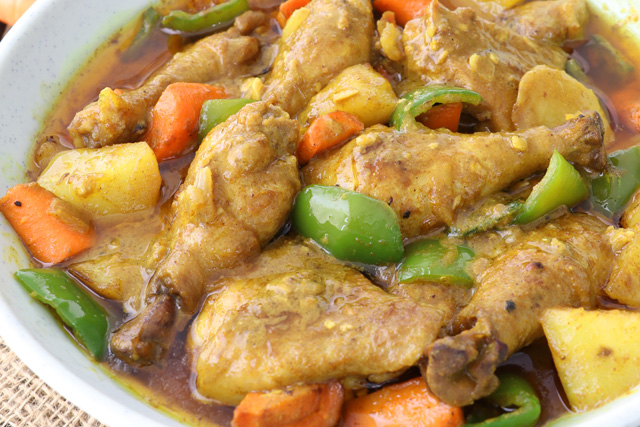 Other Chicken Recipes to try
Printable Recipe
Chicken Curry with coconut milk
Filipino Style Chicken Curry is cooked with coconut milk and this makes it creamier and more flavorful. Get the recipe and try it now!
Ingredients
2-3

tablespoons

vegetable oil

1

medium

potato

- cut into wedges

1

medium

carrot

- cut into wedges

3

cloves

garlic

- minced

1

small

onion

- chopped

2

pounds

chicken

2

tablespoons

fish sauce

2

tablespoons

curry powder

1

tablespoon

paprika powder

(optional)

½

teaspoon

ground black pepper

1

can (400mL)

coconut milk

(2 tablespoon powder dissolved in water)

1

medium

green bell pepper

- cut into squares

1

piece

fresh chili pepper

cut into 4-5 pieces (or dried chili flakes)
Instructions
Fry potato and carrots in oil until cooked and edges are lightly browned. Once done, remove from oil and then set aside.

Saute garlic and onion in the remaining oil over medium heat. Add chicken meat and sear each both sides for a minute.

Add the fish sauce, curry powder, paprika powder, and ground pepper. Cover and simmer for 5 minutes.

Turn heat to low then add coconut milk, and let it simmer until sauce thickens and chicken is fully cooked. I like it really thick so I cook it a little longer.

Add the carrots, potatoes and bell pepper and chili and cook for another minute.

Transfer to a serving dish and serve with rice or your favorite side.
Notes
If fish sauce is not available, replace with 2 tsp salt or more depending on your taste.
Note that the longer you simmer the coconut milk, the oily the dish will become because coconut milk separates to coconut oil and curd when cooked longer. 
Nutrition
Calories:
594
kcal
Carbohydrates:
9
g
Protein:
44
g
Fat:
42
g
Saturated Fat:
15
g
Cholesterol:
170
mg
Sodium:
881
mg
Potassium:
712
mg
Fiber:
3
g
Sugar:
3
g
Vitamin A:
3975
IU
Vitamin C:
46.9
mg
Calcium:
63
mg
Iron:
3.6
mg