Try this deliciously crispy outside and juicy inside, Parmesan Crusted Chicken Recipe. Yet another tasty, quick and easy recipe to enjoy!
This recipe is unbelievably easy for something so good. If you are tired of plain fried or breaded chicken or looking for chicken breast fillet recipes, this is one to try.      
These two chicken breasts were filleted by yours truly, which were further cut horizontally into halves to make 4 thinner pieces. Not bad work I would say! I know! You could buy them already filleted but I didn't know that I would be needing the cut when I bought them. I usually buy different cuts and freeze them or sometimes I just buy a whole chicken not knowing yet what to do with them beforehand.
Yup, so much for being a food blogger. I wonder if other food blogs have their menu planned ahead and how much ahead. I try but it is just so difficult to stick to a schedule. But usually, I would rather buy the ingredients fresh for the blog or else some vegetables will stay at the bottom of our fridge forgotten. But some meat I freeze, for our daily consumption, so I won't have to go out every day and it is good to have something in the freezer in emergency cases.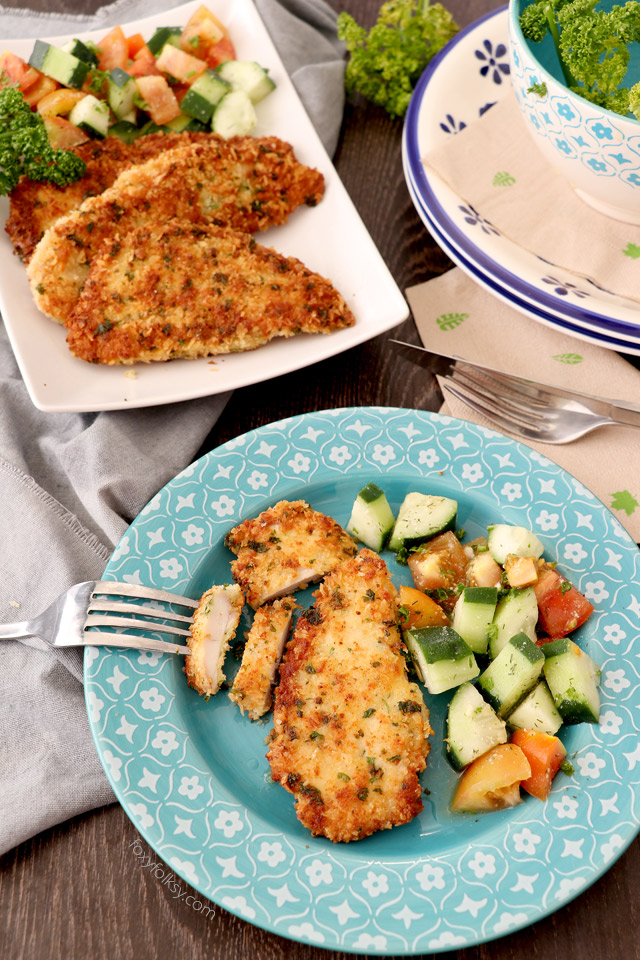 Notes to have  perfectly crispy Parmesan Crusted Chicken
When coating with flour, make sure that all you cover all the surfaces, however, do not overdo it or else the breading will not stick and might slide out while cooking. Remove the excess so that the chicken fillet is only covered in a thin film of flour. 

You can do away with the parsley actually, but I like the flavor that it adds. You may also add or substitute other herbs like rosemary, thyme, oregano or chives if that is what you like.

The Panko breadcrumbs ensure that each piece is fried to a perfectly crispy crust. Frying a batch in under 8 minutes (3-4 minutes each side) will give you juicy tender meat. I think that is what is important with frying chicken breast as they are lean and without any fats so frying them too long tends to dry them out.

Use freshly grated Parmesan cheese if you can but the already grated or shredded one will also do. You may have to add a bit of salt in the parmesan + breadcrumbs mix depending on the intensity of the flavor of your Parmesan cheese. 

This recipe uses fish sauce to season the chicken (It may smell a bit intense but it is really better for seasoning or marinating meat, believe me, try it!). You may substitute salt if fish sauce is not available.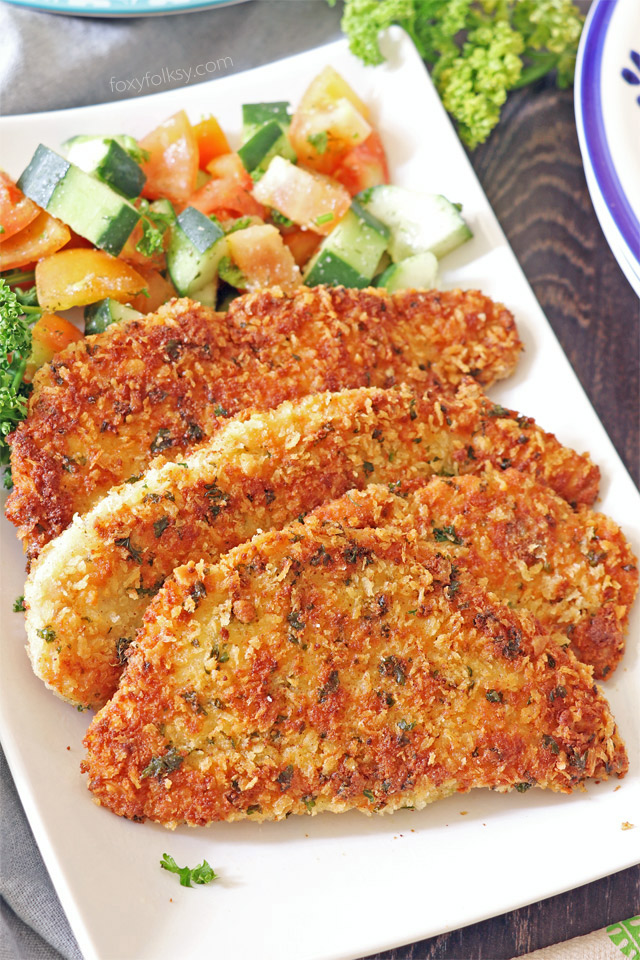 Printable Recipe
Parmesan Crusted Chicken
Try this deliciously crispy outside and juicy inside, Parmesan Crusted Chicken Recipe. Yet another tasty, quick and easy recipe to enjoy
Ingredients
2

chicken breast fillet

2

tablespoons

fish sauce

ground pepper

½

cup

grated parmesan

¾

cup

Panko breadcrumbs

3-4

tablespoons

parsley

(chopped)

1

egg

3

cloves

garlic

- crushed finely

⅛

cup

flour

oil

- for frying
Instructions
Cut each breast fillet in half horizontally to make 4 thin pieces.

Marinade the breast fillet in fish sauce and pepper in a flat bowl for at least 30 minutes.

Beat egg and mix in the crushed garlic. Transfer to a shallow bowl or a plate.

Combine parmesan, Panko breadcrumbs and chopped parsley in a shallow bowl or a plate.

Pour flour and spread evenly on a plate.

Coat a chicken fillet with flour shaking off excess then dredge both sides in egg, then place on top of the parmesan mix. Press firmly to completely cover the surfaces then turn and press again.. Repeat with remaining chicken.

Heat oil in a large non-stick skillet over high heat. Fry each side for 3-4 minutes or until golden brown and crispy. Try not to move the chicken until the side is cooked.

Serve with your favorite side dish while still hot and crispy.
Nutrition
Calories:
262
kcal
Carbohydrates:
9.2
g
Protein:
30.2
g
Fat:
11.8
g
Saturated Fat:
3.2
g
Cholesterol:
98
mg
Sodium:
1029
mg
Potassium:
70
mg
Fiber:
0.6
g
Sugar:
0.6
g
Calcium:
80
mg
Iron:
1.4
mg