This Authentic Filipino Chicken Adobo packs so much flavor sans marination! It is so good you will never have your Adobo any other way again!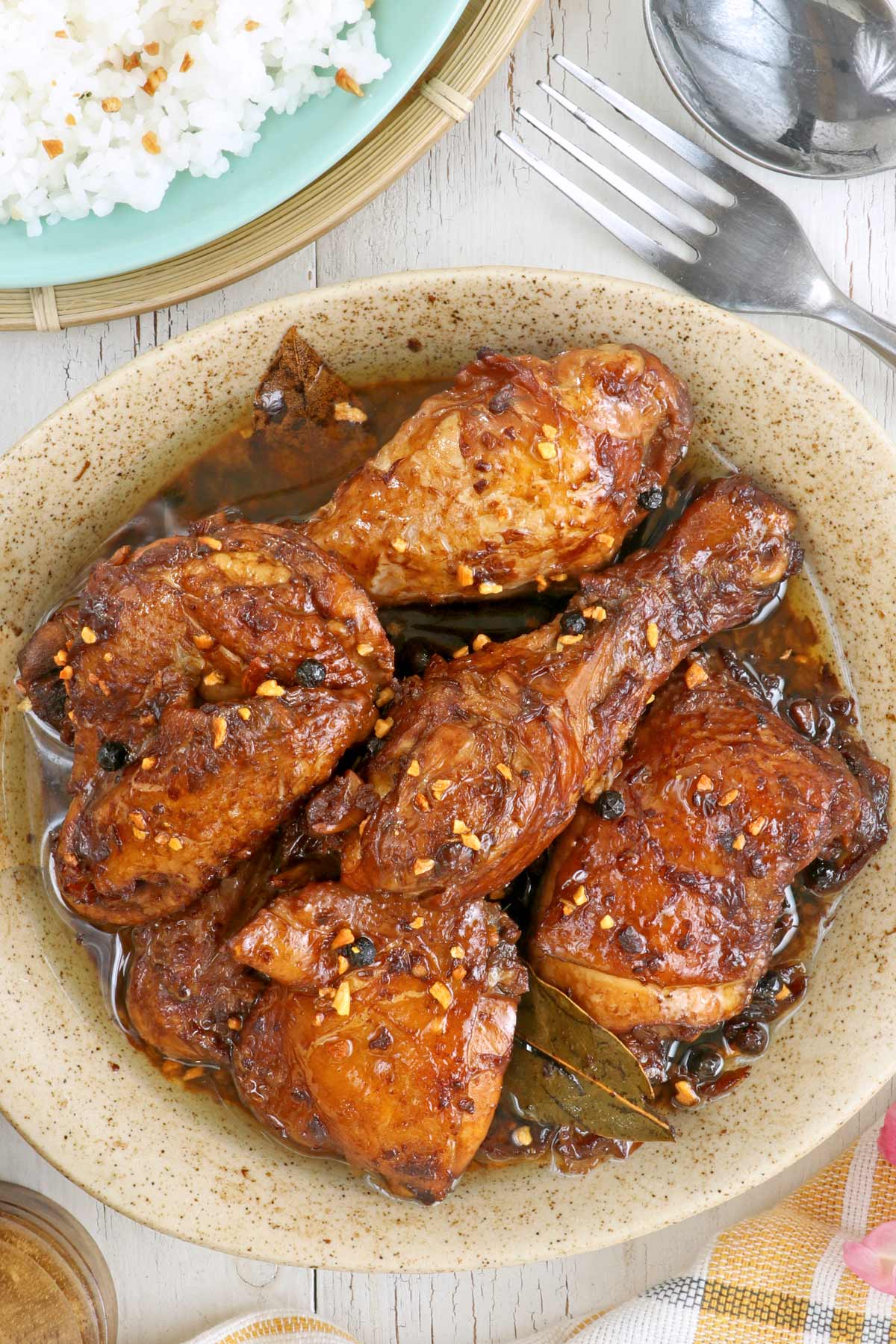 Jump to:
What is Filipino Adobo?
In recent years, Adobo has taken the international food scene by storm! You see it cooked and served on TV in various cooking shows and cook-offs. But to non-Filipino, when you say Adobo, a lot of things might come to mind. A dish, a seasoning, a way of cooking, so what is it really?
Adobo is the technique of how the food is cooked. The name was taken from the Spanish word "adobar", but the cooking method is 100% Filipino. In English, it means to marinate or to pickle, and normally, anything that is cooked in soy sauce-vinegar mixture or sometimes only vinegar is considered Adobo (noun) or "inadobo" (verb).
Different kinds of meat, like pork, chicken, fish, seafood and even some vegetables can be cooked Adobo style, and the one constant ingredient is vinegar. Some ingredients also vary depending on one's preference or mood.
Why cook Adobo?
Adobo does not only taste good and is very easy to cook, but it is also a practical dish as it keeps well for days even without putting it in the fridge (and for weeks if you do). In the old days, most households do not own a fridge and with our all-year-round warm temperature it is easy for food to spoil, thus, cooking Adobo has become so common in every home and everyone has their own version of it.
Basic Ingredients for Chicken Adobo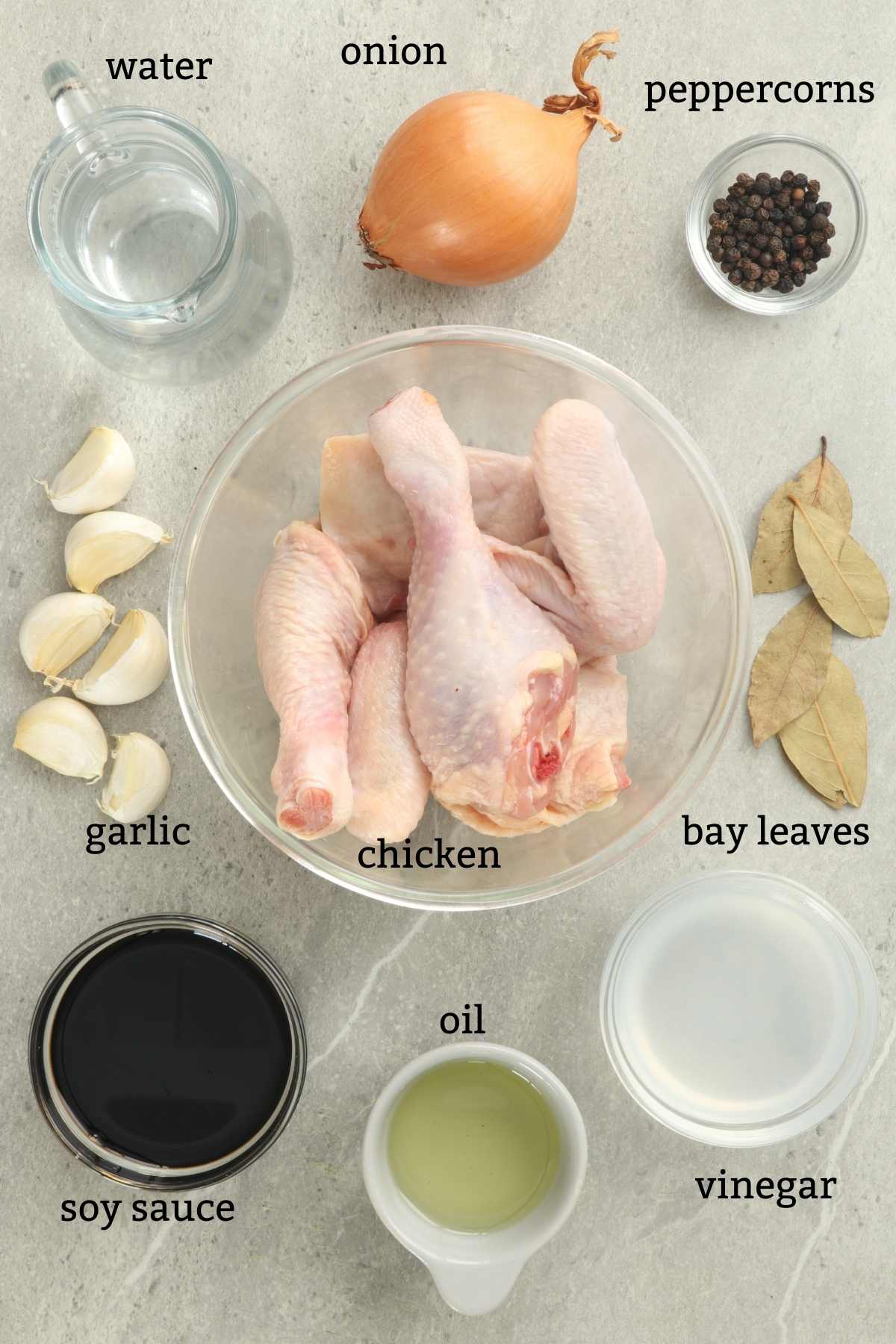 Chicken - use mixed cuts like wings, thigh, breast, and legs. This is practical so you can have the full flavors of the thighs and the lean meat from the breast. Chicken liver and gizzards can also be added.
Garlic - we use a lot of fresh garlic and cook them until golden brown to get their full flavor. You may also opt to use already toasted garlic that can be bought to further shorten the cooking time.
Onions - other recipes do not add onions but a lot of people also do and I would not omit it. The caramelized onions add a certain sweetness that balances the saltiness of this dish and we love the body it adds to the sauce.
Soy Sauce - we use dark soy sauce for full flavor and color. But if you find it too salty, then just use a light one.
Vinegar - traditional Filipino Adobo uses cane vinegar but most kinds of vinegar can be used. Use the one that you like as it can add some flavor to it. I also like using red wine vinegar.
Aromatics - typically just peppercorns and bay leaves.
Do you have to marinate before cooking?
I see a lot of recipes suggesting to marinate the meat first for some hours or overnight, even. Actually, it is not very commonly done in the Philippines. This is one of those dishes that you do not need to plan ahead of time. Cooking the meat in the liquid to become fork-tender is long enough time to get that flavorful sauce to be absorbed by the meat up to the bones.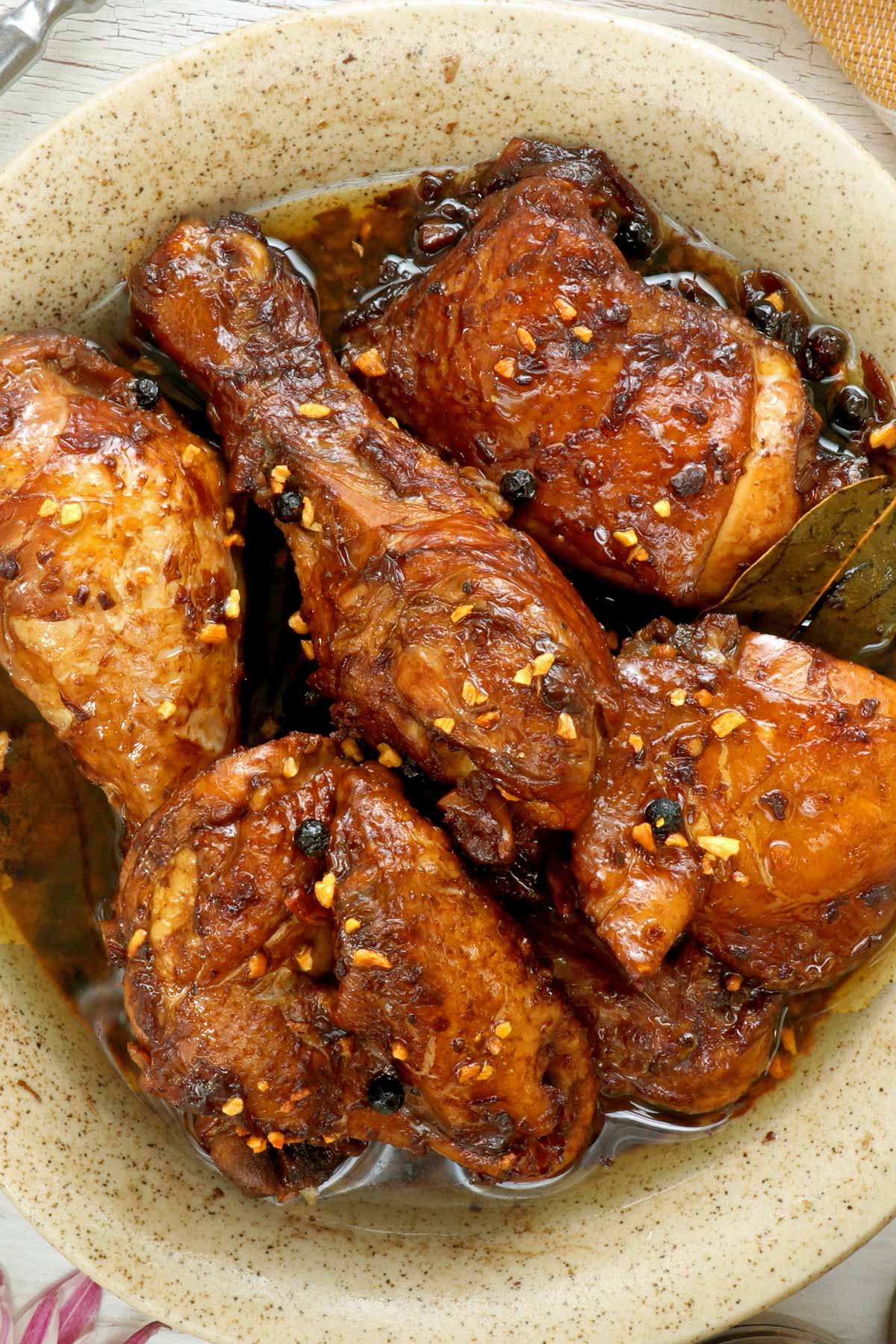 What is so special with this Chicken Adobo?
This recipe of Chicken Adobo is one of the versions I learned from my Mama and is the one I prefer the most. Mostly because I love garlic and what is better than garlic?—toasted garlic!
After simmering the meat until tender and reducing the sauce to half, it is cooked again the second time in a bit of oil with toasted garlic! Oh, the flavors just become so intense but no longer tart. I also like my Adobo cooked until the sauce has really thickened and is mostly absorbed by the meat. Oh my!
Cooking Tips
Do not (ever) stir the liquid with vinegar until it has time to cook. I am not so sure about this one but it is an old belief that it will make the dish sour. Normally, just letting it simmer will mellow the acidity.
If your Adobo becomes too oily, maybe from the rendered chicken fats, remove the oil with a skimmer or a ladle. You can keep the oil in a container and use it for saute or making fried rice.
Add some hard-boiled eggs. This is also commonly done, normally to cut costs but it is also delicious. Do it towards the end of cooking not to overcook the eggs.
If you find the eggs to be too salty for your taste, add some potatoes to absorb the saltiness. Also, a usual practice to extend one's budget, when potatoes are cheap.
What to do with left-overs?
As if there would be! But just in case you have some left, you can leave it on the counter covered for a couple of days or refrigerate it and it should last for at least 2 weeks. And yes, it actually tastes better the next day!
Flake the meat and you can add it and the sauce to make garlic rice.
You can also use the shredded meat for tacos or other wraps.
It is also perfect for making sandwiches or sliders.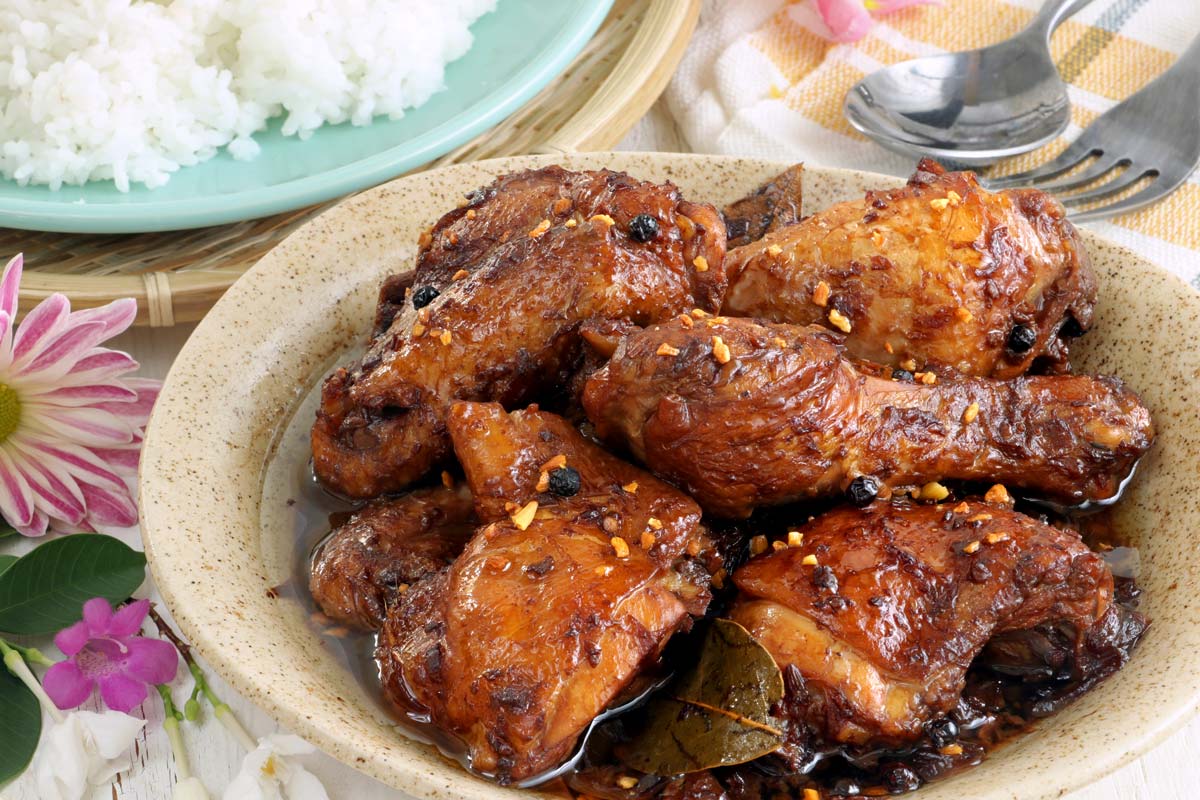 Printable Recipe
Best Chicken Adobo
This Authentic Filipino Chicken Adobo packs so much flavor sans marination! It is so good you will never have your Adobo any other way again!
Ingredients
2

pounds

chicken

- cut into parts

½

cup

cane vinegar or coconut vinegar

½

cup

soy sauce

1

cup

water

1

medium

onion

- sliced

4

pieces

bay leaf

1

teaspoon

black peppercorn

6

cloves

garlic

- minced

3

tablespoons

cooking oil
Instructions
In a pot, combine all except the last two ingredients. Place the pot on the stove and cover with lid. Bring to boil at medium heat for about 20 minutes or until the meat is tender.

Remove the meat from the pot and let the sauce simmer for a few minutes more (about 10 minutes) until the sauce is reduced to half.

In a pan or skillet, sauté garlic in hot oil until browned and crisp, reserve a tablespoon for toppings. Add the chicken meat (without the sauce) and sear for a few minutes (about 2-3 minutes). Add the reduced sauce and simmer for another minute or two or until the sauce gets thicker.

Transfer Chicken Adobo in serving plate and sprinkle with the roasted garlic if desired. Serve with hot steamed rice.
Nutrition
Calories:
374
kcal
Carbohydrates:
6
g
Protein:
24
g
Fat:
27
g
Saturated Fat:
5
g
Cholesterol:
85
mg
Sodium:
1704
mg
Potassium:
339
mg
Fiber:
1
g
Sugar:
1
g
Vitamin A:
220
IU
Vitamin C:
5
mg
Calcium:
42
mg
Iron:
2.3
mg
More Filipino Chicken Recipes