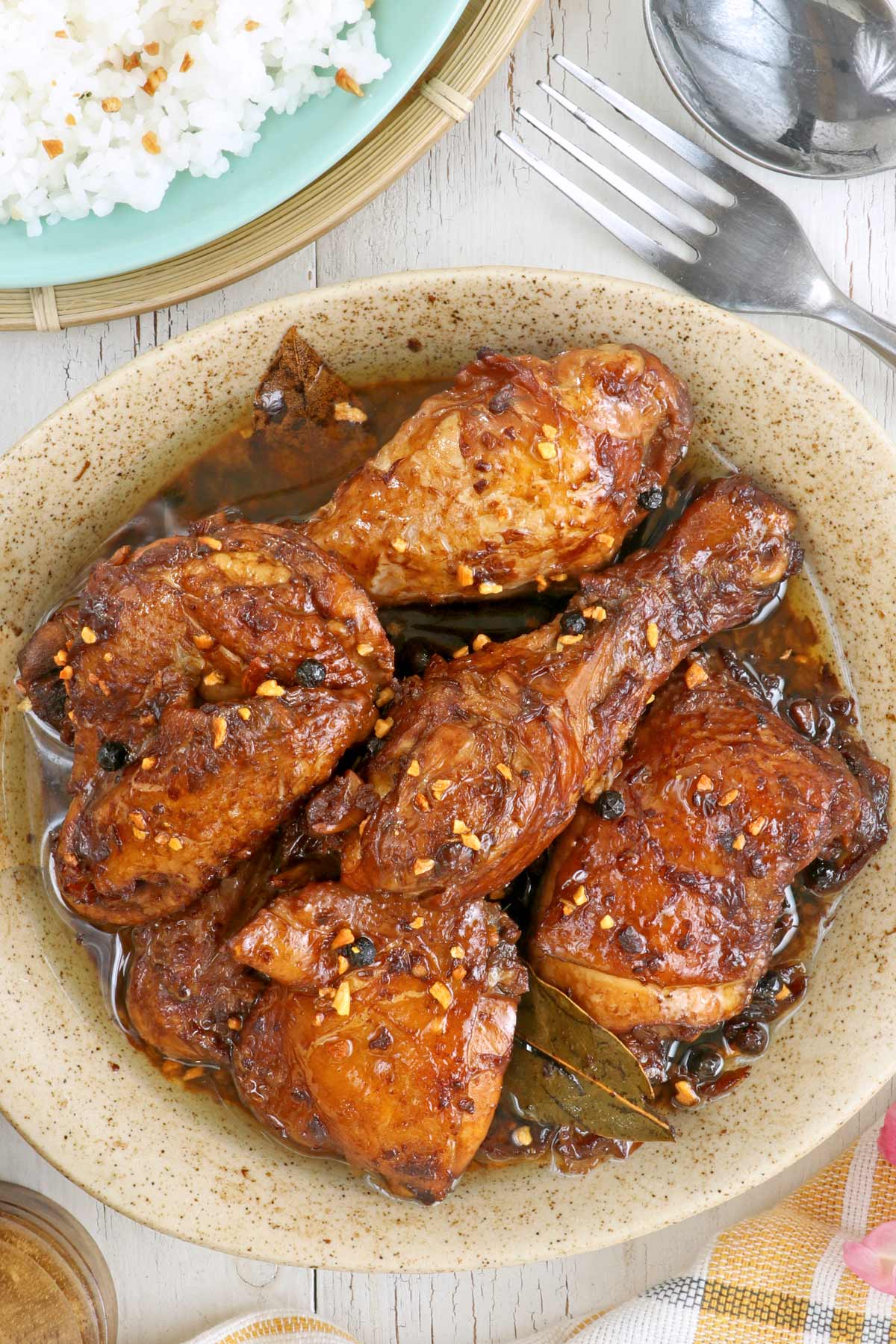 Another Filipino food recipe, Adobo is the most popular dish among Filipinos I would say, both in the Philippines and abroad. It is, for many of us,  a taste of home and although the name was taken from Spanish (as many Filipino words are), the cooking method is 100% Filipino. At the moment it is only considered the 'unofficial' national dish of the Philippines but measures have already been taken to make it official.
Adobo does not only taste good and easy to cook, it is also a practical dish as it keeps well for days even without putting it in the fridge (and for weeks if you do). And in the old days most households do not own a fridge and with the warm temperature it is easy for food to spoil, thus, cooking Adobo has become so common in every home and each one has their own version of it. Different kinds of meat, like pork, chicken, fish, seafood and even some vegetables can be cooked Adobo style, and the one constant ingredient is vinegar. Some ingredients also vary depending on one's preference or mood.
This recipe of Chicken Adobo, which is the more common than using other meat, is one of the version I learned from my Mama and is the one I prefer the most. Mostly because I love garlic and I also like my Adobo cooked longer than the sauce has really thickened and mostly absorbed by the meat.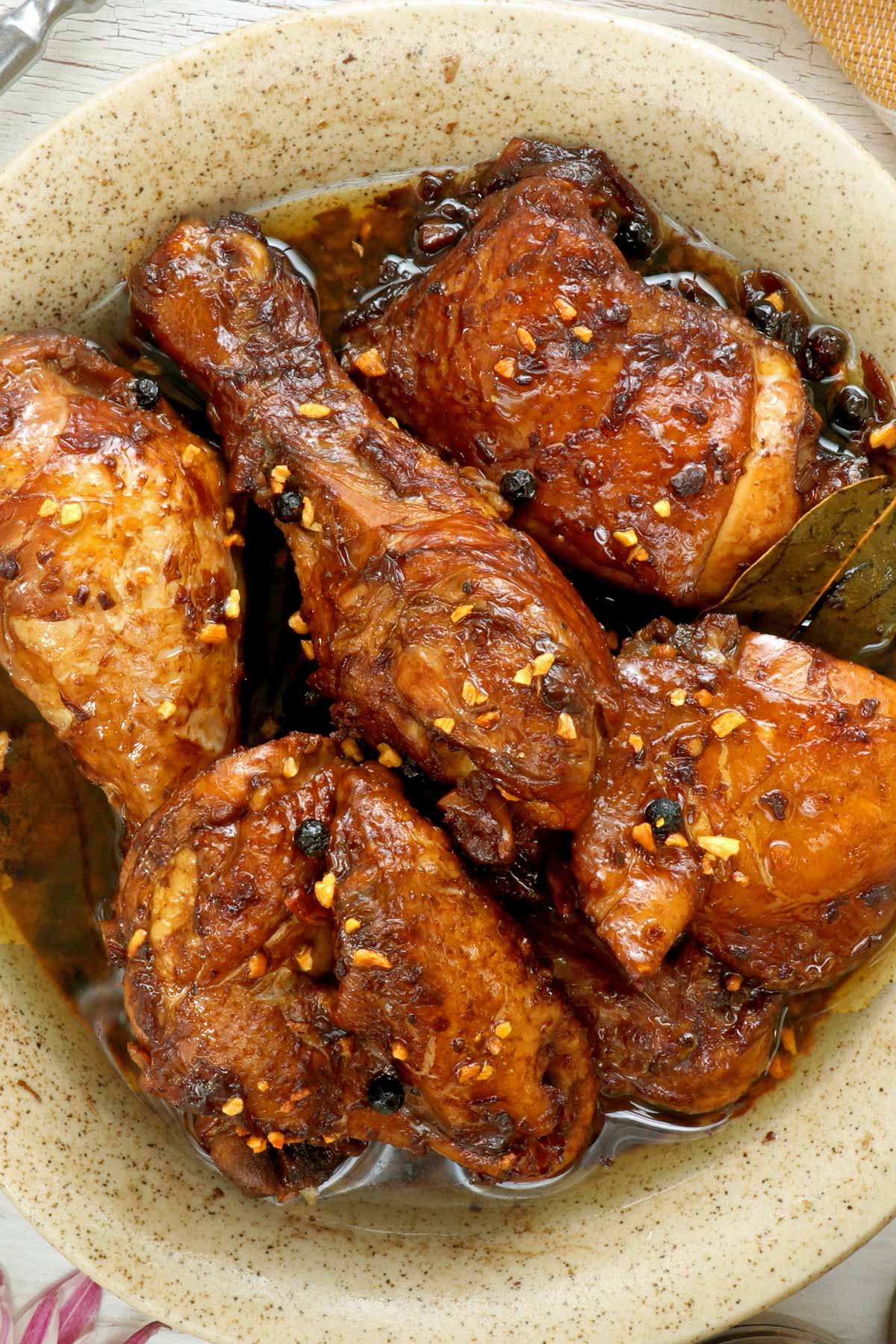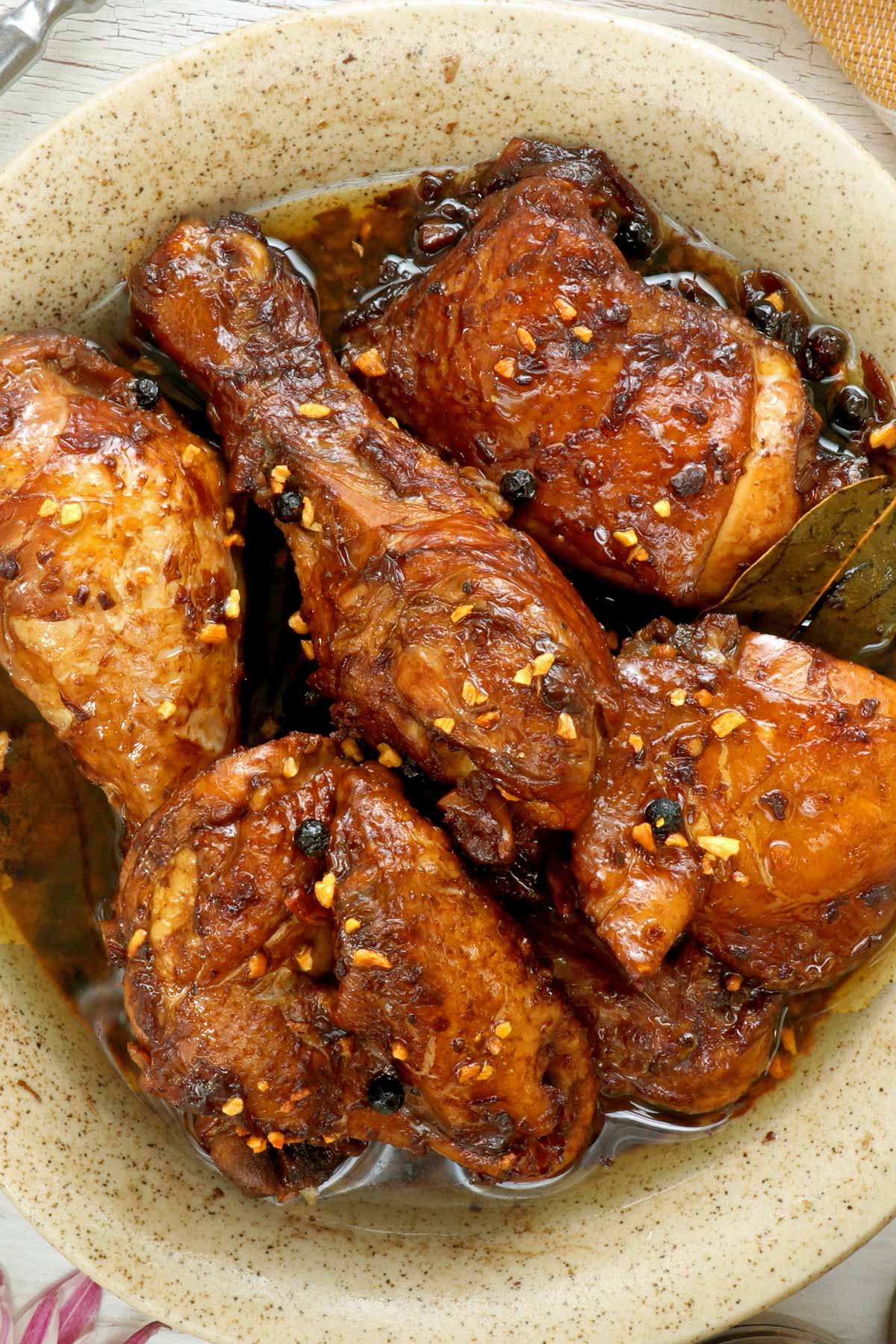 Chicken Adobo (with Garlic)
Adobo is the most popular Filipino food, both in the Philippines and abroad. It is, for us, a taste of home. Check this recipe of Adobo with toasted garlic.
Ingredients
2

pounds

chicken

- cut into parts

½

cup

coconut vinegar

½

cup

soy sauce

1

cup

water

1

medium

onion

- sliced

4

pieces

bay leaf

1

teaspoon

black peppercorn

6

cloves

garlic

- minced

3

tablespoons

cooking oil
Instructions
In a pot, combine all except the last two ingredients. Place the pot on the stove and cover with lid. Bring to boil at medium heat for about 20 minutes or until the meat is tender.

Remove the meat from the pot and let the sauce simmer for a few minutes more (about 10 minutes) until the sauce is reduced to half.

In a pan or skillet, sauté garlic in hot oil until browned and crisp. Add the chicken meat (without the sauce) and sear for a few minutes (about 2-3 minutes). Add the reduced sauce and simmer for another minute or two or until it get thicker.

Transfer Chicken Adobo in serving plate and sprinkle with the roasted garlic if desired. Serve with hot steamed rice.
Nutrition
Calories:
374
kcal
Carbohydrates:
6
g
Protein:
24
g
Fat:
27
g
Saturated Fat:
5
g
Cholesterol:
85
mg
Sodium:
1704
mg
Potassium:
339
mg
Fiber:
1
g
Sugar:
1
g
Vitamin A:
220
IU
Vitamin C:
5
mg
Calcium:
42
mg
Iron:
2.3
mg