Chocolate crinkles are one of the best treats to give or to receive for Christmas. They are so easy to make that required just a few simple ingredients.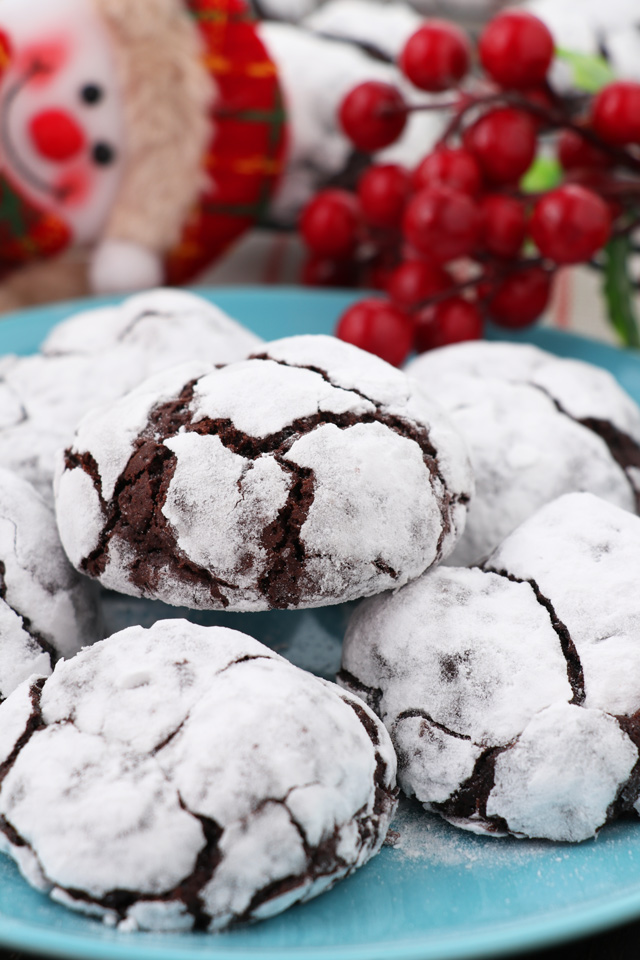 Printable Recipe
Adorably soft and fudgy chocolate cookies covered in powdered sugar that crackles they bake. So easy to make and requires simple ingredients.
Ingredients
1 ½

cups

sugar

½

cup

vegetable oil

4

eggs

2

teaspoons

vanilla extract

2 ½

cups

flour

2

teaspoons

baking powder

½

teaspoons

salt

½

cup

confectioner's sugar (powdered sugar)

- sifted

2

tablespoons

cornstarch

- optional
Instructions
In a large bowl, mix sugar and vegetable oil together until well blended. Add the eggs one at a time beating each addition for 20 seconds. Add the vanilla extract and mix.

Add flour, cocoa, baking powder and salt to the wet mixture and mix well. It will become very sticky at this point. Scrap the sides of the bowl from time to time to make sure all are well incorporated.

Cover the bowl with plastic wrap and place in the fridge and let it chill for at least 3 hours or overnight. (SEE NOTE 1)

Line baking sheet with parchment paper. In a smaller bowl, combine and mix confectioner's sugar and cornstarch together. Scoop a spoonful of the sticky dough and roll into a ball using your hands.

Drop the ball into the sugar mixture. Balls should be about an inch to 1 ½ inch (small) or 2 inches (big) in diameter. Cover each ball completely with powdered sugar. Place the balls on the baking sheet at least 2 inches apart as they will expand as they bake.

Bake at 175°C/350°F for 10 to 12 minutes. Once done, remove them from the oven and let the cookies stand for 1-2 minutes on the baking sheet before transferring to a cooling rack
Notes
NOTE 1. If you cannot wait 3-4 hours to chill the dough, place it in the freezer for 30 minutes and another 30 minutes in the fridge. Chilling them is important if you want tall cookies and not flat ones.
This recipe makes about 30 small cookies or 14 bigger ones.
Nutrition
Calories:
134
kcal
Carbohydrates:
22
g
Protein:
2
g
Fat:
5
g
Saturated Fat:
3
g
Cholesterol:
22
mg
Sodium:
48
mg
Potassium:
90
mg
Fiber:
1
g
Sugar:
12
g
Vitamin A:
30
IU
Calcium:
20
mg
Iron:
1
mg
A bite of these chocolate crinkle cookies brings back memories of the good old times. The first time I tried them I was a high-school sophomore. They were sold in our school canteen and they instantly became my favorite snacks. I remember having at least two to three cookies every day for almost the entire school year. It became so popular in the Philippines you see them everywhere. They are still very much loved and more so during the Christmas season.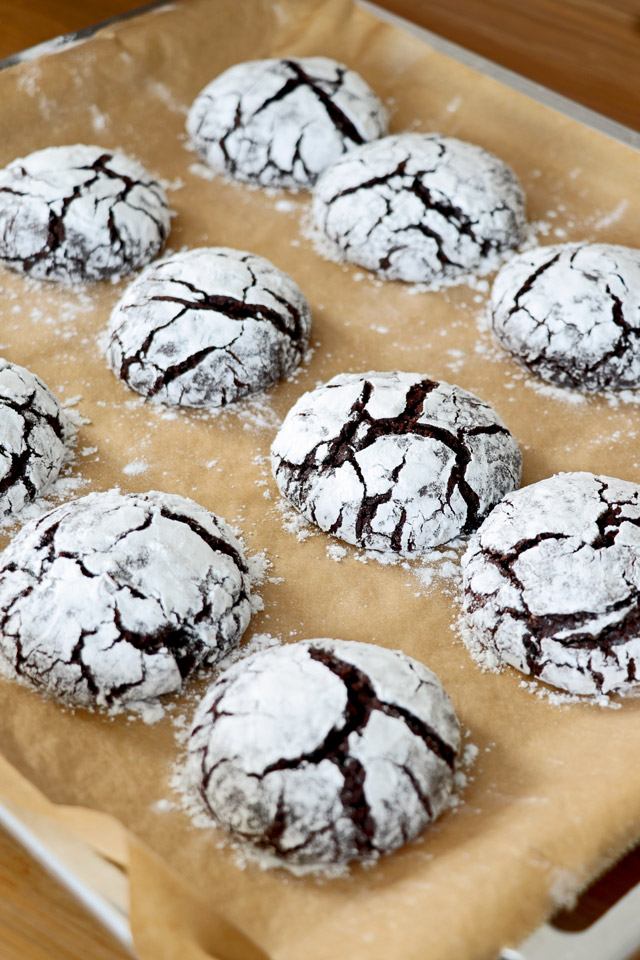 What is Chocolate Crinkles?
They are soft and fudgy chocolate cookies generously rolled in powdered sugar. They would start in the shape of a ball. While baking, as the dough expands and flattens, the white coating would crackle or form cracks, thus the name 'crinkle'. Giving it a rather interesting and quite adorable look, in black-and-white.
The basic ingredients needed to make Chocolate Crinkles are:
flour
(Dutch process) cocoa powder
eggs
vegetable oil
baking powder
sugar
powdered sugar
Vanilla extract and sometimes espresso coffee is also added.
Things you need to know about sticky dough
The dough is very sticky and that is what makes it fudgy. So expect a little arm workout when mixing it.  If you plan to make a big batch, use a stand mixer or do it in several batches if doing manually.
You do not bake it after mixing, you have to chill the dough first so it is easier to handle. Baking them without chilling first may result in flat chocolate crinkle cookies.
If you are making smaller cookies, you can use a cookie or ice cream scoop but make sure you have a sturdy one. For big cookies, I find using a big spoon to scoop and rolling the dough with hands much easier than the scoop.
Try to work as fast as you can so the dough does not melt. You can form the balls first and roll them in powdered sugar later. If working with a big batch, just form the ones that will go to the oven first and put the dough back to the fridge until ready for the next batch.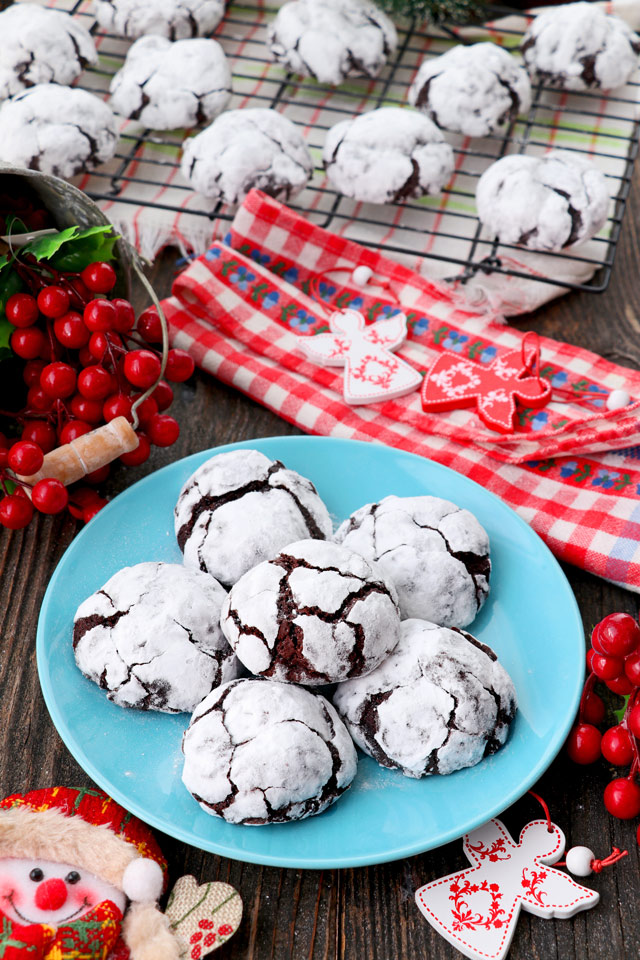 Make-ahead crinkles
Freshly baked cookies are the best! The same goes for Chocolate Crinkles. Enjoy them still slightly warm with the inside so moist and fudgy while the outer coating has a slight crunch to it.
To achieve this, you can make the balls ahead, uncoated,  and place them in a container box or freezer bag. Place them in the fridge a day, maybe a maximum of two. Just take them out and dredge in powdered sugar as usual then bake. It will need a longer baking time though, about 2-3 minutes more. If you need longer time, you can also freeze them. Just remember to thaw the balls before coating and baking.
Additional Tips...
The secret to fudgy cookies is to underbake them. Small size crinkles would need about 10 minutes while bigger ones around 12 minutes.  You know they are done when the coating has several cracks and the dough inside just starts to crackle as well.
Take them out of the oven at this point. Leaving them in the oven longer even after turning it off will cook them further and might lessen their fudginess.
This recipe was originally published on December 2014, republished to include new photos and video and additional tips.