These crisp, airy, and sweet Meringue Cookies are easy to make and customize to fit any occasion. Perfect as dessert, gifts, or giveaways.
Since it is the merriest season of all, I made these green and red striped treats to match the Christmas festivities.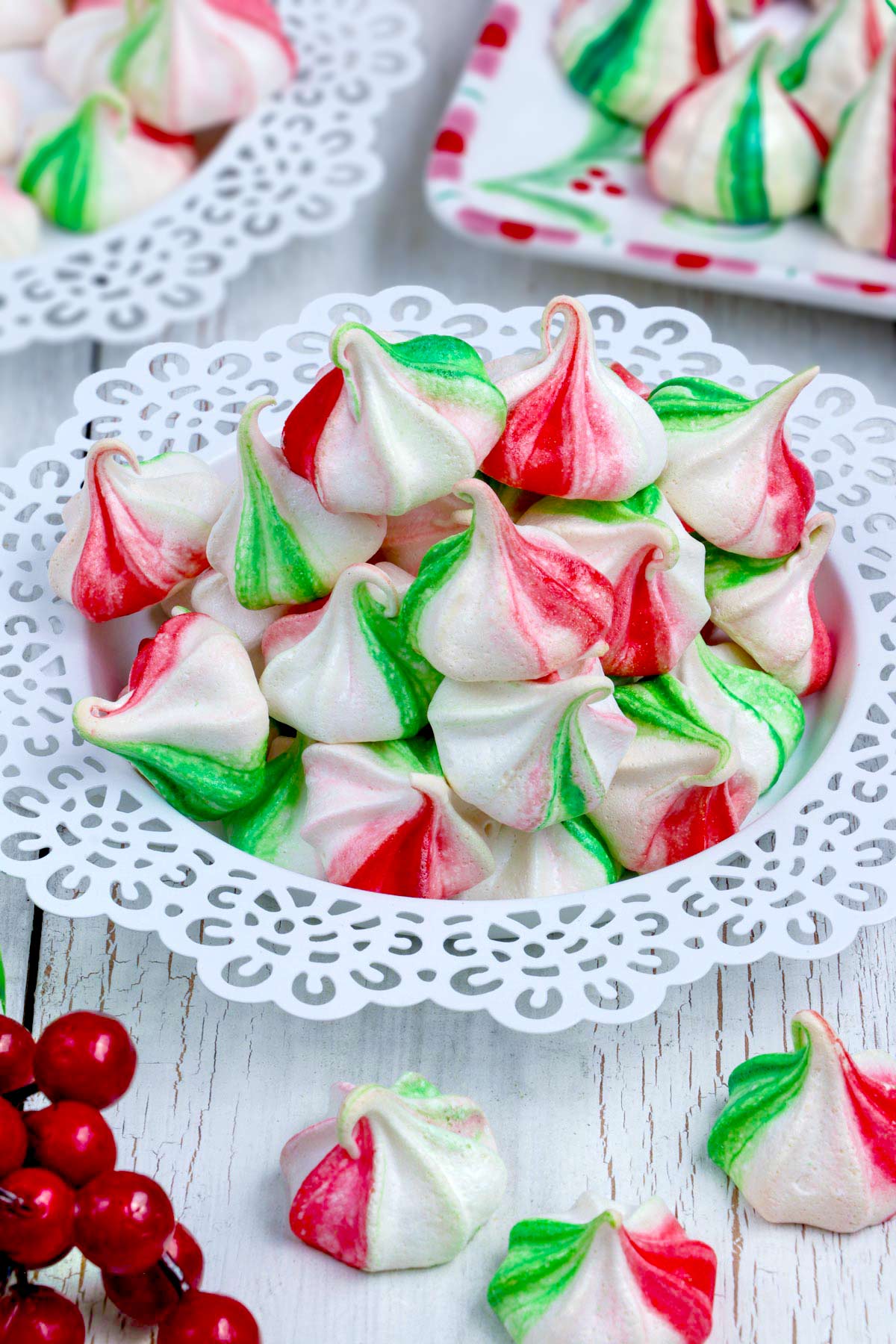 I remember the joy that these wonderful morsels brought when we were small kids and as grown-ups, there are still the occasional cravings. I was always curious to know how such sweet, melt-in-your-mouth treats are made. As it turns out, it is not as difficult as I thought it would. Sure, it requires a bit of time whipping it up and baking it in the oven, but with just 5 or 6 ingredients and a few steps, everyone can make them at home!
If you have done my French Macarons recipe before, this recipe will be a piece of cake for you, as making the cookies is almost similar.
How is it made?
Meringue cookies or meringue kisses or simply, meringue, are sweet treats made primarily of egg whites and sugar whipped together until it forms a smooth stiff foam. There are three types or methods of making meringue and this recipe uses the French Meringue.
This type of meringue is the least stable in its raw form, yet easiest to make compared to Italian and Swiss meringue which both involve cooking or heating up the ingredients to make the meringue.
Meringue can also be used for making batters to create light and fluffy cakes like my Japanese Cotton Cheesecake and my Puto Cake or cake frosting. In this recipe, the kisses-shaped cookies are flavored with vanilla, decorated with Christmas colors, and then baked to a crisp.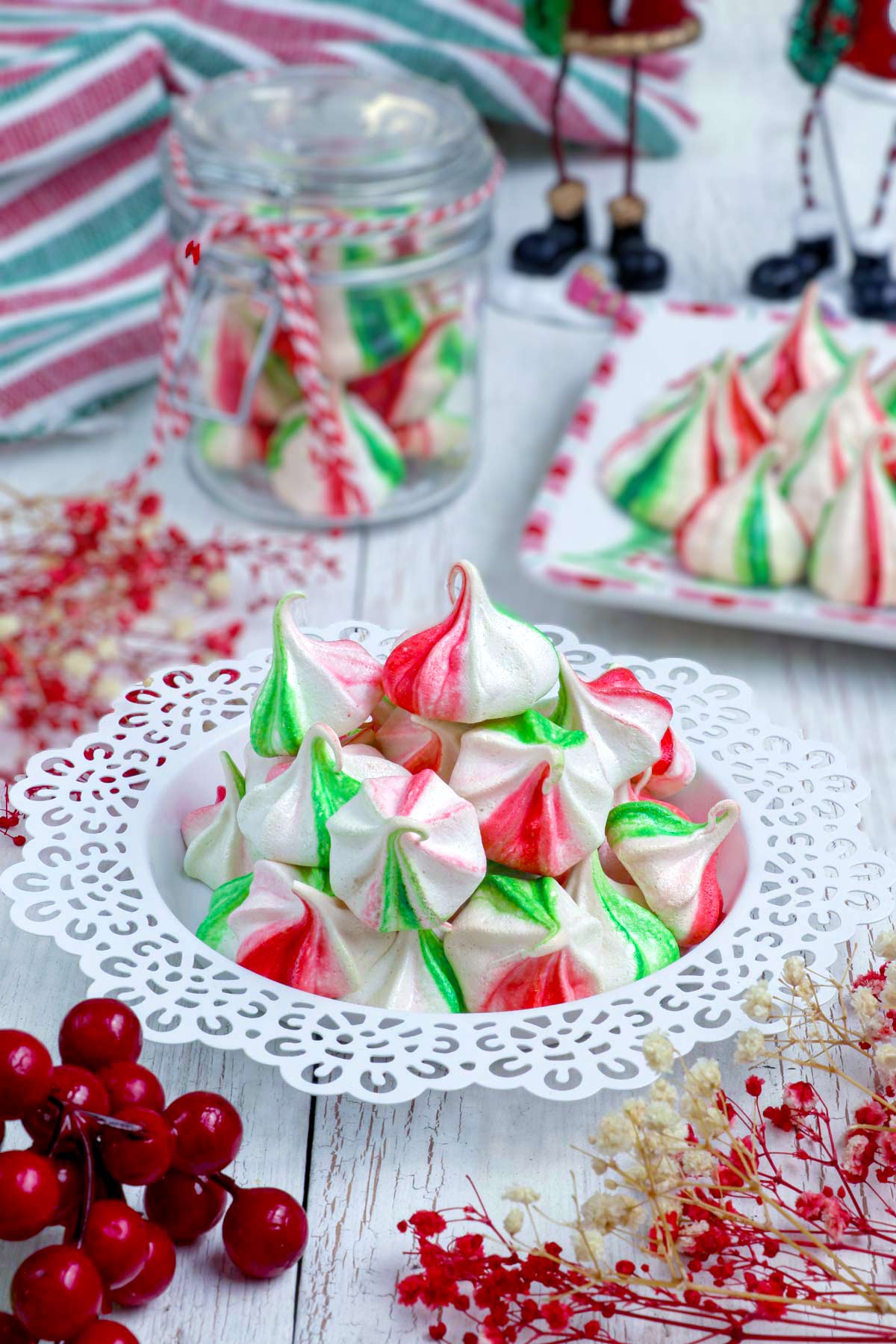 Ingredients
Egg whites- make sure to keep the yolks as you can use them to make other holiday desserts like Leche Flan or Portuguese Egg Tarts.
Sugar- we used white granulated sugar for this recipe, you can also use caster sugar.
Cream of tartar- is optional but this helps make meringue sturdier. You can use other acidic ingredients like lemon juice or white vinegar.
Salt- aside from contradicting the sweetness, a pinch of salt also helps stabilize the egg whites.
Vanilla extract- adds a nice flavor to the cookies. You can also use almond extract as an alternative.
Gel food coloring- not powder or liquid for this one. I find that gel colors stay vibrant even after baking and does not add too much moisture to the meringue that might affect its ability to keep its shape.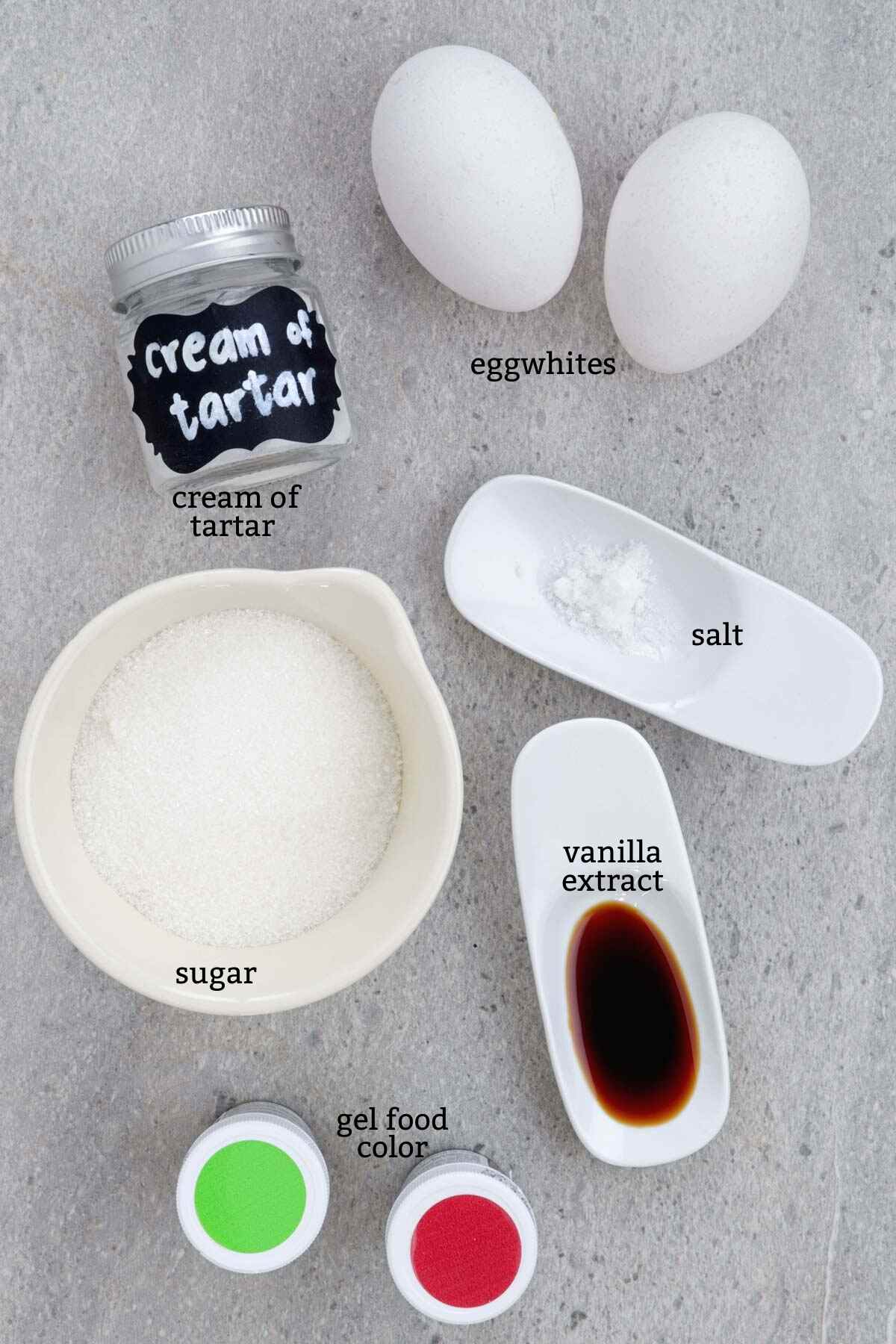 Tips for fail-proof Meringue
Make sure that your egg whites do not have a speck of yolk in them. Egg yolk contains fat, and even a bit of it might ruin your meringue.
Use room-temperature egg whites. Using cold egg white will make it more difficult to melt the sugar as you whip.
Also, use a large, clean, and dry bowl. Do not use moist or greasy bowls or utensils at all. Using a large mixing bowl is needed because the meringue will increase in volume as you whip.
Do not under or over whip your meringue. Stop whipping once you have stiff peaks that are glossy and smooth. It should have the consistency of shaving cream.
I like my Meringues crispy all throughout, however, if you like them with a bit of chewy center, you can cut down the baking time .
You will know that your cookies are done once they easily separate from the parchment paper. Let them cool a bit before serving.
I brushed the sides of my piping bag with the gel food color before adding the meringue to achieve this design. However, if you want to add the food color directly into the meringue batter, that is also fine.
Place your baked meringue cookies in a tightly lidded jar or container and keep them in a cool, dry area. Do not leave them out in the open too long because sugar easily absorbs moisture, making your cookies sticky and too chewy. They should last for a few weeks.
Printable Recipe
These crisp, airy, and sweet French Meringue Cookies are easy to make and customize to whatever occasion you decide to make them for
Instructions
Combine egg whites, cream of tartar, and salt in a large bowl.

Beat the egg whites over low heat until foamy an soft peaks form.

Add sugar, a tablespoon at a time, and beat until smooth an there are not lumps.

Add vanilla extract and beat at medium speed until stiff peaks form.

Fill a piping bag with the meringue. If adding food color, do so now.

Line your baking sheet with parchment paper, then pipe the meringue into it.

Bake in a pre-heated oven at 100°C/210°F for 30-35 minutes or until they are fully crisp and can be detached from the parchment paper easily.

Remove from oven and from the parchment paper one by one. Let them cool down and place in an airtight container or bags.
Nutrition
Serving:
1
piece
Calories:
8
kcal
Carbohydrates:
2
g
Protein:
1
g
Fat:
1
g
Sodium:
2
mg
Potassium:
4
mg
Sugar:
2
g
Calcium:
1
mg
Iron:
1
mg
More Sweet Treats
Is Meringue safe to eat?
Yes, it is safe as it is anyway already cooked/baked. Although, generally, the chances of eggs containing salmonella are very slim and that can be eliminated through heating/cooking.
Is it necessary to use cream of tartar?
Though it helps a lot in creating more structure for your meringue, this ingredient is not necessary to successfully make a meringue.
How can I make them crisp again?
You can re-bake the meringue cookies for a few minutes in the oven to dry them out and restore their crispiness.