As we were recently in Paris to visit my brother and his family and to grant my mother-in -law`s advance birthday wish - to see the Louvre, so I decided to write something or related to the City of Light. I already shared some of our photos in my last post and have been there twice, I plan to write a separate article on things to see and do and practical tips for those who would be visiting Paris for the first time.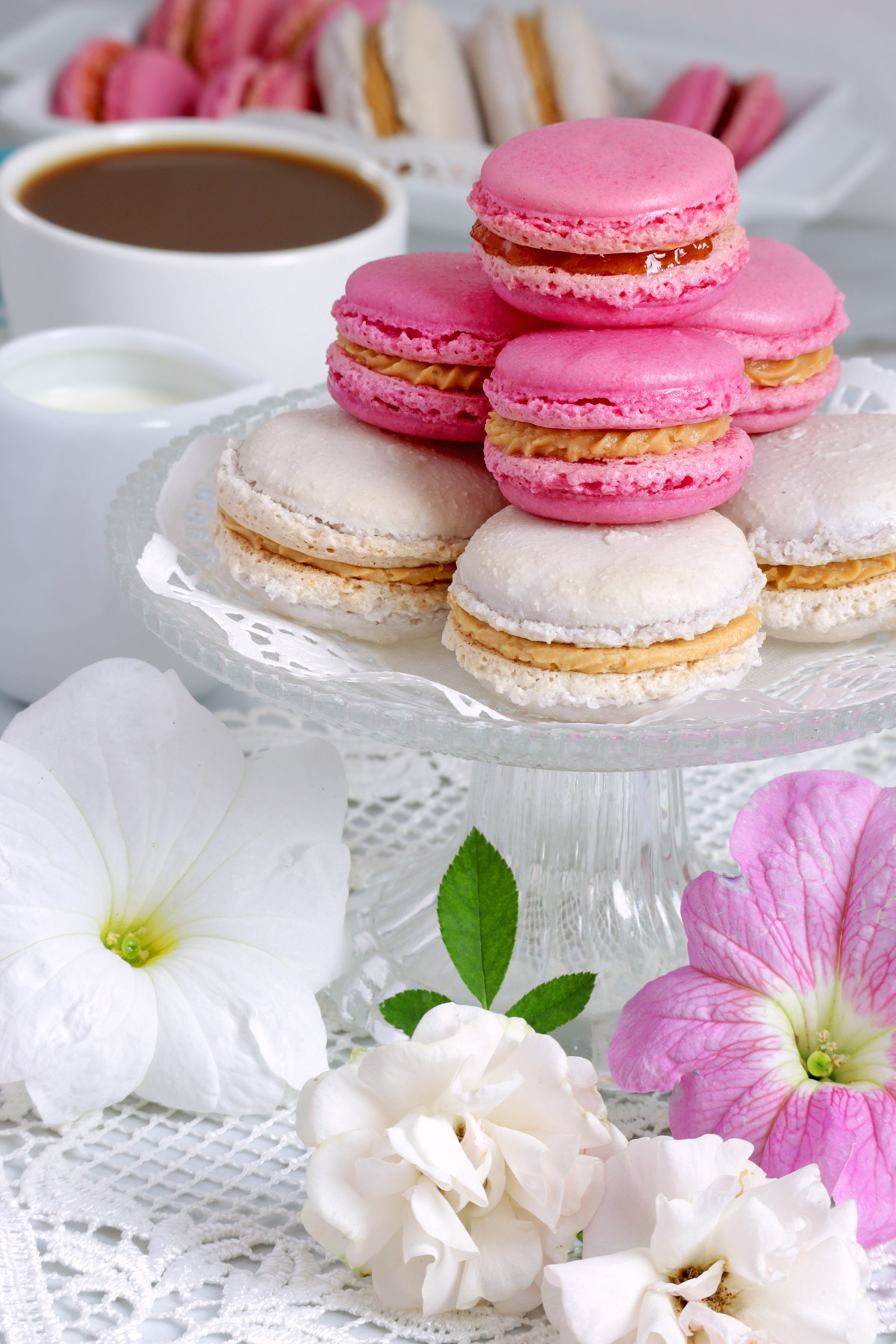 But for now, let us have some sweet talk or at least talk about sweets.
When we were the first time in Paris in July 2012 was when I first saw them in real- these cute, colorful, dainty-looking, cream-filled sandwich cookies, called French Macarons.  They look so lovely you just have to try them. You will find them in most pâtisseries, café or even on small stalls and last time we were there we also found them sold by street vendors. The most popular pâtisseries for french macaron are the Ladurée and Pierre Hermé. Along the Avenue des Champs Elysées, you will see people lining up in a long queue inside and sometimes also outside Ladurée to buy boxes of French Macarons to try and to take home. Unfortunately, these small sweet creations do not come cheap, as most things in Paris for that matter. Here in Germany, they are almost nonexistent although we found some in a bakery when we were in Berlin and sometimes they would offer the packed ones in the grocery stores.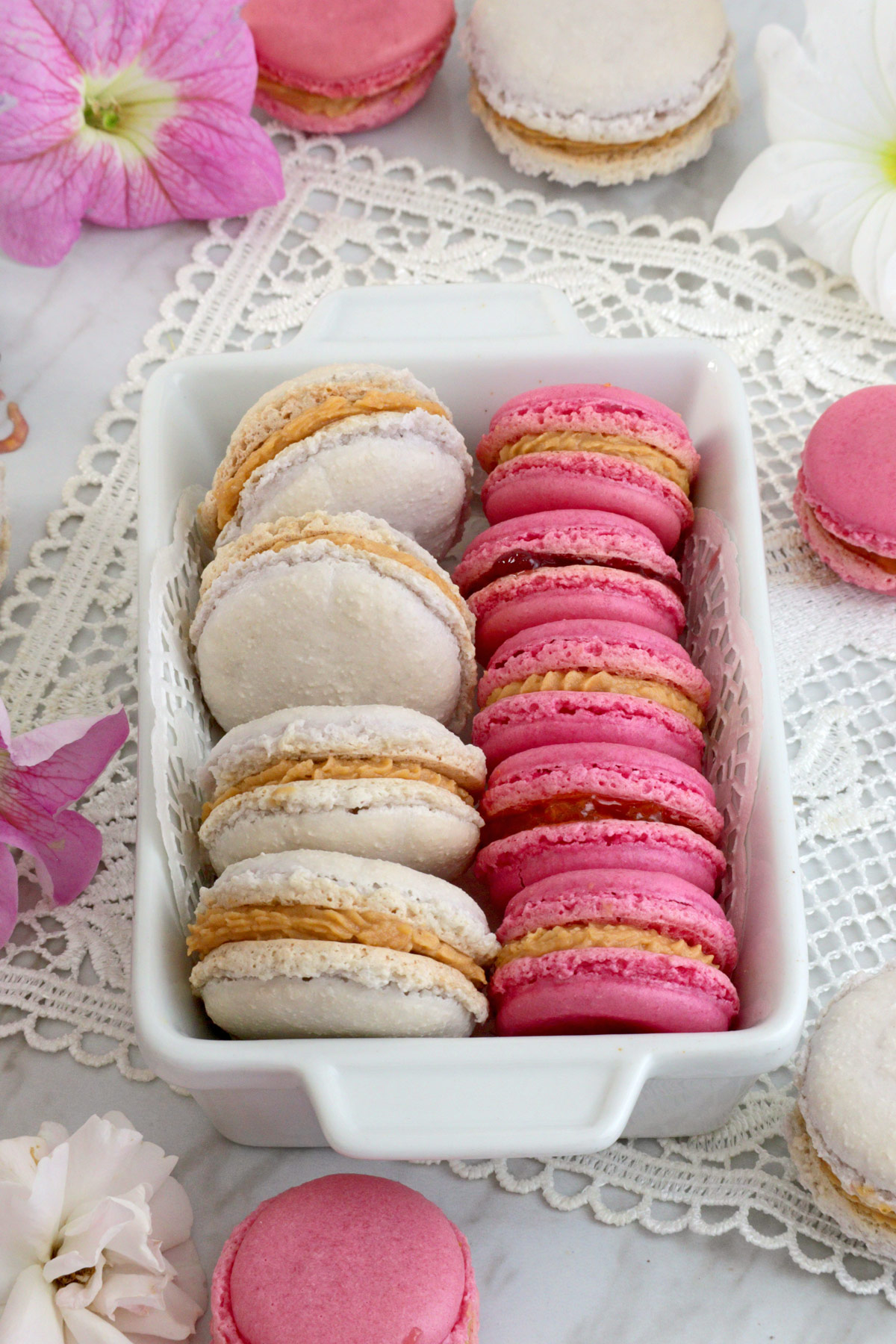 The first time we came back from Paris, these cute little things got me so charmed that I just have to learn how to make them myself, I tried different recipes and had a couple of unsuccessful tries in the beginning and when I finally got them to look like the French Macarons I knew, I wanted to change the recipe to make not-so-sweet french macarons so I have to start all over again. After so many attempts, I finally came up with this recipe that enabled me to achieve this ambitious goal and below are also some pointers to note for those who would like to make french macarons for the first time.
For beginners, I would suggest making their first batch as plain ones- meaning no colors first. Adding color needs a little experience, trust me on this one! When I made my first batch without color they turned out really good, with 'feet' and all, but when I attempted adding some color using the same recipe for the second batch, let's just say they didn't turn out so great. But later on, I finally got the trick.
You can try different fillings, like swiss meringue buttercream, jams and so on but our personal favorite is chocolate ganache!
French Macarons
This French Macaron recipe is less sweet than the usual and easier to make. With tips for those who would like to try making french macarons for the first time.
Ingredients
1

egg white

45

grams

almond flour

(very finely ground blanched almonds)

70

grams

powder sugar

3

tablespoon

granulated sugar

pinch

salt

pinch

cream of tartar

(optional)

dash

food color

(powder form)
Instructions
Sift almond flour and powder sugar twice and set aside.

Place egg white in a large bowl, add cream of tartar and salt. With a mixer, beat eggwhite for 2 minutes at low speed. Beat for another 2 minutes but this time gradually adding sugar. Turn mixer on high and beat until stiff peaks form (like a shaving cream), that takes about 3-4 minutes. If adding food color, you may add it at this point, then beat the mixture again on high speed for another minute.

Divide the dry ingredients into two parts. Add the first half to the meringue and using a spatula, fold it 5-7 times just until incorporated. Add the last half and fold again this time until you reach a lava-like consistency.

Transfer the batter to a piping bag fitted with half-inch tip. Pipe into a baking sheet pan with parchment paper or silicone mat. They should look shiny but not runny at this point. Tap the sheet pan three times each side on the counter to get the air bubbles out, pop the ones that did not break out with a toothpick. Let it rest for 30 minutes to 1 hour depending on humidity, you will notice tops form a dull layer and are no longer tacky after resting.

Preheat oven to 150°C or 300°F. Bake for 16-18 minutes. Feet form in the first 5-8 minutes. You know they are done when the shells are hard and do not break away when you pull one from the mat slowly. Once done, let them cool for 5-10 minutes before removing from parchment paper. Then let them cool completely before adding filling.
Notes
Nutrition Label applies only to the cookies, filling is not included.
Nutrition
Calories:
41
kcal
Carbohydrates:
6
g
Protein:
0
g
Fat:
1
g
Saturated Fat:
0
g
Cholesterol:
0
mg
Sodium:
3
mg
Potassium:
3
mg
Fiber:
0
g
Sugar:
5
g
Calcium:
7
mg
Iron:
0.1
mg

Here are some useful tips that I found really helpful when I was in the process of learning the art of making french macarons:
MEASUREMENT: It is best to weigh your ingredients than using measuring cups. The proportion of powder sugar to the almond flour is very important.  I wanted french macarons that are less sweeter so as I tried decreasing the amount of the powder sugar, but the result of using too less powder sugar is that they would not have the hard shells and without that means no 'feet' too.
SIFTING: Sift your almond flour and powder sugar. This is also important to get smooth, lump-free macarons. What I do is I sift the almond flour and then the powder sugar when combining them and sift the mixture again to fully incorporate the two together.
FOLDING & CONSISTENCY: When folding, do it slowly but  forcefully scraping the sides  from the left to right  while  pressing the batter to the sides of the bowl towards you then turning it at the middle. This will get rid of some of the air bubbles that formed in the meringue. Too much folding will make it runny and that cannot be fixed anymore, so it is better to check the consistency every after some folds and it is always better to underfold, as the batter continue to thin when you transfer it to the piping bag and also while piping.   To check, scoop some batter with the spatula and let it fall back to the bowl, when it forms 'ribbons' or layers as it slowly falls back on top of the batter  instead of instantly combining with the rest of the batter and the first ribbon is still slightly visible after about 25-30 seconds, then you should stop folding at this point.
ADDING COLOR: I tried both powder and gel food color and I have to say that the powder is best to use as it does not change the consistency as much as the gel food color would. Adding food color should be done in small amounts, for this recipe I usually just use a toothpick or tip of a teaspoon and that would be enough for pastel colored macarons as the color fades a bit as the macarons bake. But as I tried adding more color for more vibrant macarons, I find that they took longer to form shells during the resting period or sometimes not at all, so I would suggest adding more powder sugar  like 20 grams  more to get those hard shells to form.
PIPING: Piping macarons needs a bit of practice. What I do is I use a self-made macaron template to make sure I have even-sized macarons. The size of the circle depends on how small or big you want them to be but note that they will flatten and expand a bit when you start tapping them on the counter. Place the template below the parchment paper you will use. Place both on top of the baking sheet. Position the  piping bag at 90° then just squeeze until the circle is filled with batter. Once done, carefully slip the template away and pipe some batter at the corners of the baking sheet to glue in the parchment paper so it will not move while tapping.
RESTING PERIOD: Follow the required resting period. Other people would say this is not important but as this recipe uses lesser sugar, this is another thing that should be followed strictly if you want them to form nice shells. Resting period is usually 30 minutes to 1 hour depending on how humid it is. To know if the macarons are rested enough, lightly touch the sides and if it no longer sticks to your finger then it is time to bake them. You will also notice a dull film forming on top. Avoid over or under resting your macarons as this will result to either macarons with no feet or with cracks on top.
BAKING: Under-baking macarons will make them break or separate when you try to lift it from the parchment paper and may be hollow inside. Over-baking will result in dry and  crunchy macarons but is better than under-baking as this will be fixed later anyway when filling is added and as they mature.
MATURATION: Letting your macarons mature before serving or eating them can fix a lot of small problems, small hollows disappear or dry and crispy turn into soft, fluffy and chewy macarons and they taste a lot better in my opinion. All you have to do is be patient. Seal filled and assembled macarons in an airtight container and leave it for at least 24 hours in the fridge. Take them out to come back to room temperature before eating or serving.