Toasted until perfectly crunchy and golden, these yummy snacks are ideal as a morning or afternoon treat with a steaming cup of coffee or tea!
If you have tried making my Mamon recipe before, you are just a few steps away from making Mamon Tostado! I used my mamon recipe but added a few steps to turn it into this yummy toasted treat!
If you like biscocho and cantuccini, you will surely like Mamon Tostado.
What is Mamon Tostado?
Mamon Tostado is basically smaller Mamon, the Filipino chiffon cake, that is baked twice.They are typically baked first in small muffin molds and are then air-dried to remove the moisture and returned to the oven for the second baking until "toasted" or golden brown and crunchy. Other variation would have the chiffon cake in a square or rectangle pan and just cut it into smaller rectangles after the initial baking.
It is a popular as a pasalubong, something you bring home to family or friends, when you are coming from a trip from Pampanga or Cebu where these are quite popular treats.
Other Yummy Baked Goodies
Ingredients
For Greasing the Molds
Flour- you can use all-purpose flour for this.
Oil - make sure to use one that has a neutral flavor, like canola, sunflower, or vegetable oil.
The Meringue
Egg whites- beaten until foamy. This protein-rich ingredient is the meringue's base, making the mamon super light and fluffy.
Cream of tartar- acts as a stabilizer for the egg whites. While it is the best option to achieve stiff meringue peaks, you can substitute it with lemon juice or vinegar if unavailable.
Granulated sugar-makes the meringue more stable and gives it a glossy sheen.
The Batter
Cake flour- is better for making light and fluffy chiffon cake with finer crumbs.
Fresh milk- can be substituted with water but milk adds better flavor.
Egg yolks -add richness to the Mamon due to the egg yolks' fat content.
Vegetable oil- use neutral-tasting oil. Canola or sunflower oil are great.
Vanilla extract- while this is optional, I like the flavor and fragrance it adds to the batter.
Powdered sugar- is lighter and easier to dissolve so it will not make the batter heavy.
Baking powder as an additional leavening agent.
Salt - balances the sweetness and enhances the flavors.
Foxy Tips in making Mamon Tostado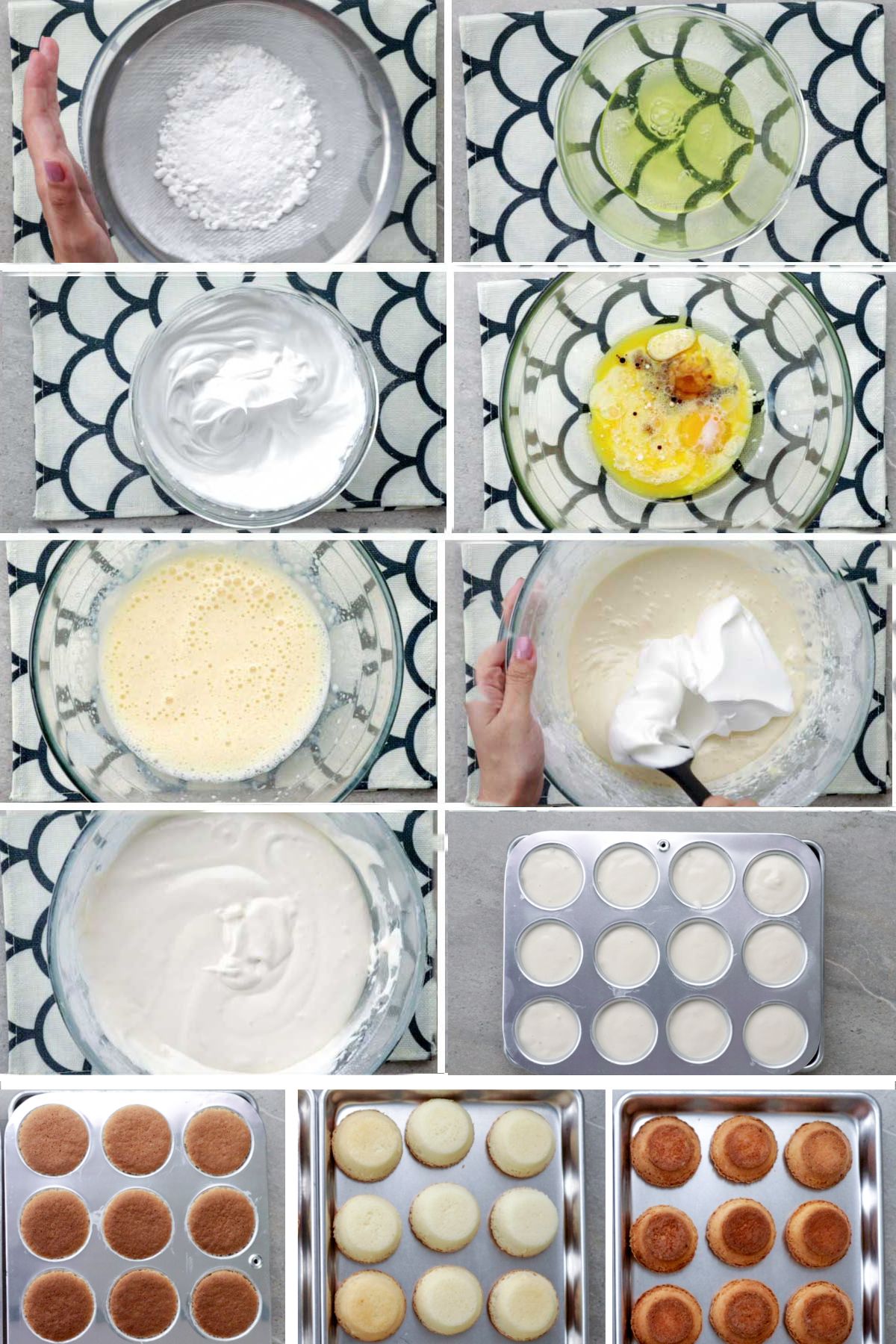 Use room-temperature ingredients. It will make it easier to whisk and combine everything without overdoing it.
Make sure that there is not even a speck of yolk in the egg whites when making the meringue. Egg yolks contain fats that will hinder the meringue from forming. Try separating when the egg is still cold, the yolks are firmer, so they will not break easily.
Do not overbeat the meringue. This will make your chiffon cake pop and deflate as it bakes. Beat until you see stiff peaks forming. If it has become grainy, it means you have overbeaten it already.
Fold the meringue into the batter gently. Do not agitate it too much, or the meringue will deflate.
Fill the tin molds only ¾ of the way as the batter will rise during baking.
It's best to use the metal baking mold for this Mamon Tostado recipe to achieve that golden brown cove. You may use a silicone mold if that is what you have. However, you might need to bake it a bit longer.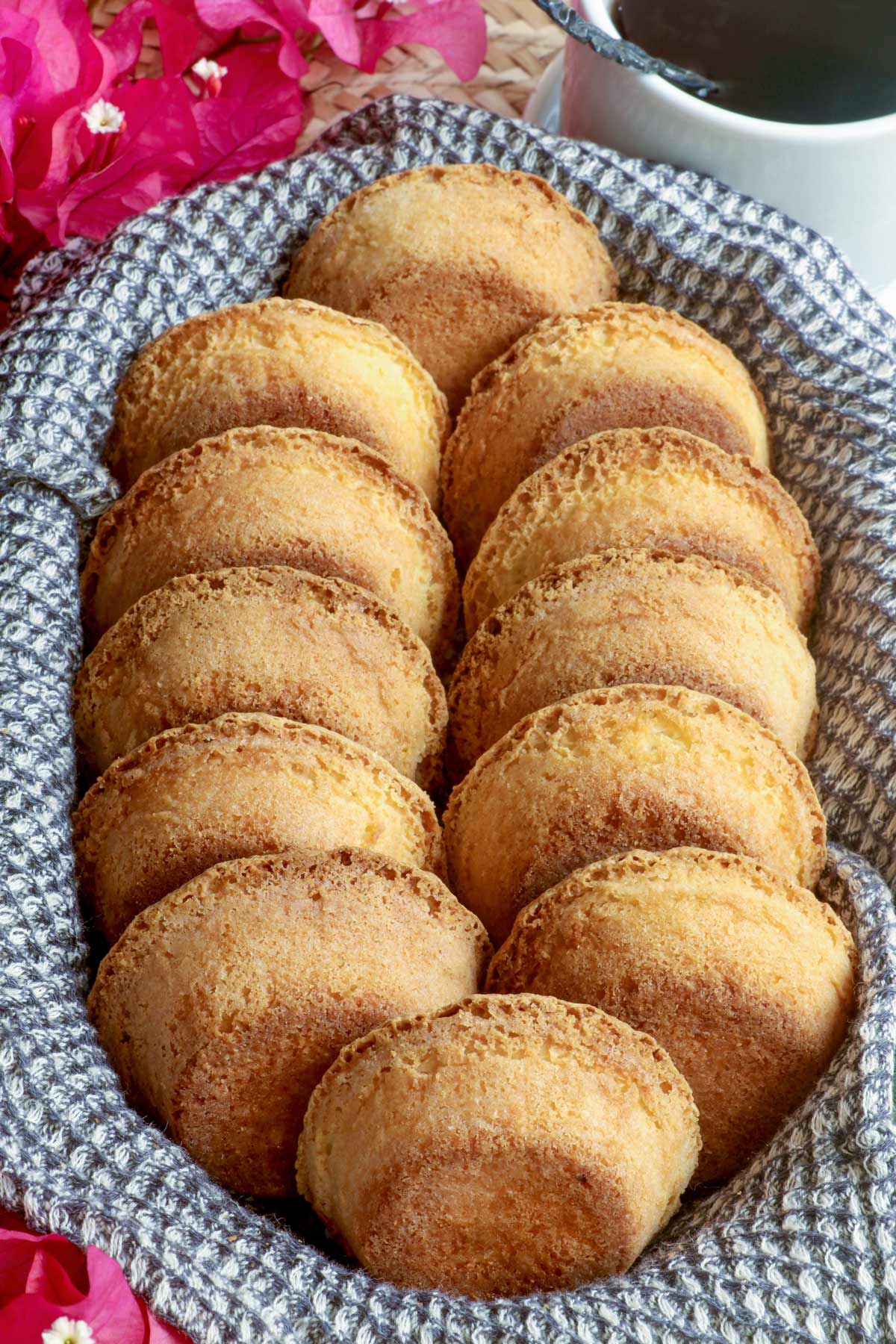 Storing Mamon Tostado
Place Mamon Tostado in an airtight container and store it in a cool, dry place. They should be good for up to ten days.
Make sure the Tostadong Mamon has cooled down completely before packing them in containers or individual plastic wraps. If they are still warm when stored, they will create moisture that will make them chewy.
Printable Recipe
Mamon Tostado Recipe
Mamon Tostado has a crunchy and crumbly texture with a nice caramel undertone. Toasted until perfectly crunchy and golden, these yummy snacks are ideal as a morning or afternoon treat with a steaming cup of coffee or tea!
Ingredients
2

tablespoon

oil

1

tablespoon

flour

4

large

eggs

yolks and whites separated

½

teaspoon

cream of tartar

½

cup

granulated sugar

¼

cup

vegetable oil

⅓

cup

fresh milk

½

teaspoon

vanilla extract

optional

1 ⅛

cup

cake flour

1 ½

teaspoon

baking powder

½

teaspoon

salt

1

cup

powdered sugar
Instructions
1 tablespoon flour,

2 tablespoon oil

Combine flour and oil then mix well. Lightly grease the molds with the flour-oil mixture.

1 ⅛ cup cake flour,

1 ½ teaspoon baking powder,

½ teaspoon salt,

1 cup powdered sugar

Sift together cake flour, powdered sugar, baking powder, and salt into one container. Set aside for now.

4 large eggs,

½ teaspoon cream of tartar,

½ cup granulated sugar

Add egg whites to a mixing bowl then beat at low speed until foamy. Add the cream of tartar. Continue beating at medium speed, then add the sugar 1 tbsp at a time. Once all sugar is added, beat until stiff peaks form.

4 large eggs,

¼ cup vegetable oil,

⅓ cup fresh milk,

½ teaspoon vanilla extract

Add egg yolks, vegetable oil, fresh milk, and vanilla extract to a large mixing bowl. Mix until frothy. Sift and add the cake flour mixture into the bowl in 3 to 4 batches. Mix with a spatula or spoon after every batch is added.

Beat together at medium speed until the texture becomes lighter. Add the meringue in 2 to 3 batches. Gently fold until combined. Fold in the rest until no more white streaks are visible. Don't overfold, or the meringue will deflate.

Fill up more than half of the prepared mold with the batter. Gently tap to remove air bubbles and level off the batter.

Bake in a preheated oven at 170°C or 350°F. Bake for about 20-25 mins or until the top turns golden brown. Let it cool before carefully removing it from the mold.

Place them in a tray in an upside-down position. Let the tray sit for some hours or overnight then place them back in the oven to bake for about 20-25 mins or until the body turns golden brown.
Nutrition
Serving:
1
piece
Calories:
86
kcal
Carbohydrates:
15
g
Protein:
2
g
Fat:
2
g
Saturated Fat:
0.4
g
Polyunsaturated Fat:
1
g
Monounsaturated Fat:
1
g
Trans Fat:
0.01
g
Cholesterol:
31
mg
Sodium:
63
mg
Potassium:
60
mg
Fiber:
0.2
g
Sugar:
10
g
Vitamin A:
51
IU
Calcium:
21
mg
Iron:
0.2
mg