Have a feast on this Lechon Belly Roll with skin so crispy and meat so tender and juicy. Made flavorful with simple herbs and spices like lemongrass, green onions, garlic, and chili.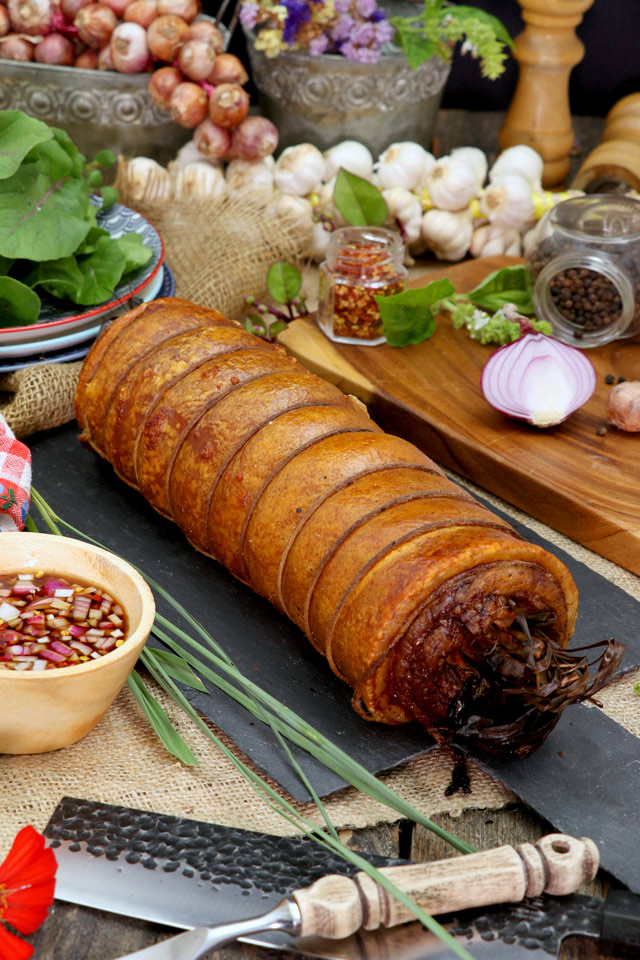 I am on a roll. And yes, pun intended! After posting about the success of my Crispy Pata where I found a sure way to get that light crunch on every pork skin—fried or roasted. Now, I am here to share this deliciously flavorsome Lechon Belly Roll that was an equally great success.
Just look at the photo below and you will get an idea of how crunchy the skin is! Check out how juicy that meat is.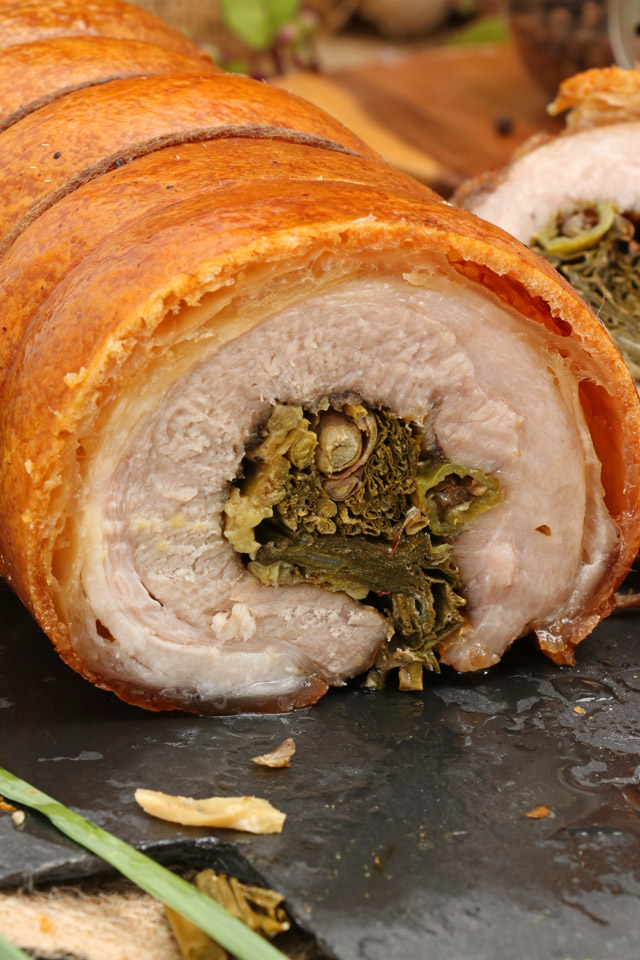 What is Lechon Belly?
Lechon is a Spanish word for roasted suckling pig. However, it is actually not limited to small piglets, big ones are also roasted and made into Lechon. In the Philippines, you call roasted suckling pig a "Lechon de Leche". Usually more expensive than a regular Lechon. But it is the buttery and super tender flesh that you are actually paying for. Although the name is Spanish, it is believed that early Filipinos were already roasting pigs or boars way before the Philippine Hispanic era. The most popular place in the Philippines to get the best Lechon is Cebu City.
Roasting a whole pig on a spit over charcoal is a pure indulgence. Roasted over charcoal for about 8 hours, it is reserved only for very special occasions like graduations, baptism, wedding or a large family gathering. Nowadays, you do not have to buy the whole pig to enjoy Lechon as many lechoneros sell also per kilo. And then there is Lechon Belly Roll.
Cooked the same way as Lechon but using only the most coveted part of a pig— the belly. Because of its tenderness and depth of flavors, it is very typical to see the belly part of a Lechon to go first. This recipe though is not cooked over charcoal but at the convenience of an oven.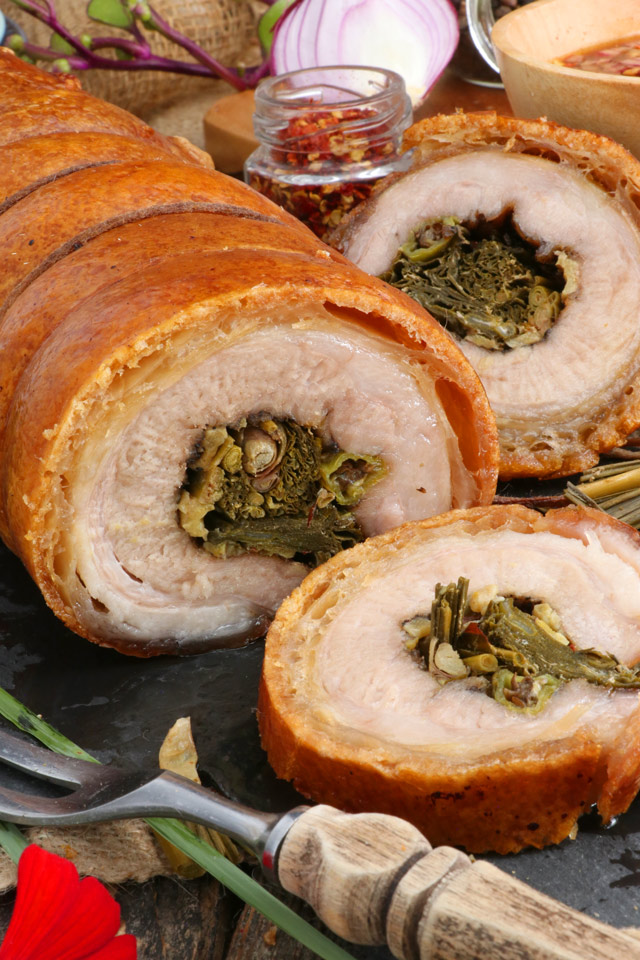 What are the ingredients for Lechon Belly?
Lechon Belly is actually very simple to make. It needs planning ahead, that is true because it requires a long oven time.
Aside from the pork belly, the other things needed is the seasonings. Different regions use different stuffing depending on what is available in the area.
The most common spices/herbs used are:
Lemongrass
green onions
garlic
chili
tamarind or batwan
salt or fish sauce
soy sauce
achuette oil
vinegar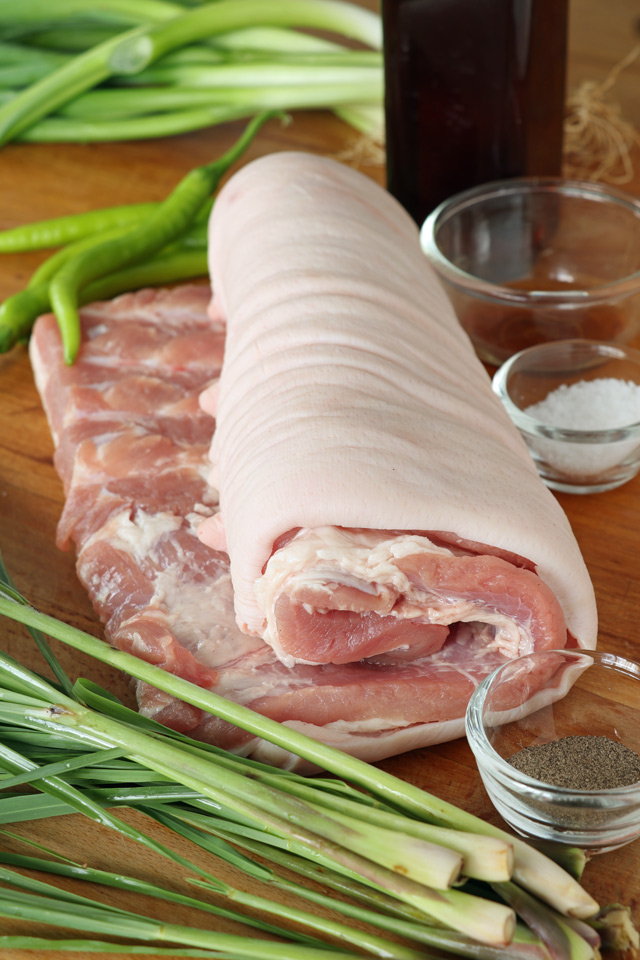 Additional Tips:
Get fresh belly with pale pink meat and firm to touch. The fat should be white. Avoid the ones that look greasy.
Choose a belly that has just enough fat in between the skin and the flesh.
The ideal thickness would be 1.5 to 2 inches. Remember the thicker it is the longer it needs to roast.
When rolling try to close the roll completely without overlapping the skins so all of it will roast to a crisp. I used a pork belly that is 8 inches wide that enclosed the stuffing perfectly.
Tie the belly roll with a kitchen twine securely to prevent the stuffing from coming out the seams.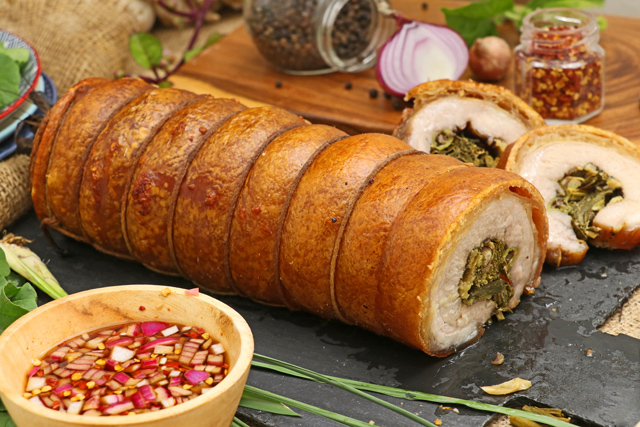 WANT MORE RECIPES? Subscribe to our newsletter and follow us on Facebook, Pinterest and Instagram for all of the latest updates.
Lechon Belly
Have a feast on this Lechon Belly Roll with skin so crispy and meat so tender and juicy. Made flavorful with simple herbs and spices like lemongrass, green onions, garlic and chili.
Print
Rate
INGREDIENTS
3.5

pounds

pork belly

-

- about 1 ½ inch thick

1

head

garlic

-

- chopped

5-6

stalks

green onions

-

- roots trimmed and then bundled

4-5

stalks

lemongrass

-

- bundled

4

pieces

green chili peppers

-

- or Thai chili if you like it more spicy

2

tablespoons

salt

¼-1/2

teaspoon

ground pepper

2

tablespoon

fish sauce

1

tablespoon

lye water

1

tablespoon

vinegar

1

tablespoon

soy sauce
INSTRUCTIONS
Lay the pork belly with the skin-side up. Poke several shallow holes using a fork or the tip of a knife. Turn it around and do the same with the meat side, this time only bit deeper but without going through the skin.

Season the meat side with ground pepper and fish sauce. Transfer the meat with the skin-side up on a pan. Rub the salt all over the skin to draw the moisture out. Refrigerate the pork uncovered for at least 3 hours.

Remove the salt and moisture from the skin using a kitchen or paper towel.

Turn the pork belly meat-side up on a dry surface. Arrange the chopped garlic, green onions, lemongrass and chili on top of the meat. Roll the meat to encapsulating the fillings inside. Secure the roll by tying it with kitchen twine at 2-inch intervals. Place it in a roasting pan with rack.

Brush the skin with lye water and refrigerate for another 1-2 hours (or overnight). Take it out of the fridge and brush with vinegar then soy sauce. Let it dry out in the fridge or in front of a fan for a few minutes.

Roast in a preheated oven at 180°C/350°F for 2 hours then increase the temperature to 200°C/400°F and roast for another 30 minutes to an hour or until skin becomes crispy. (SEE NOTE)
Nutrition Facts
Lechon Belly
Amount Per Serving
Calories 837
Calories from Fat 756
% Daily Value*
Fat 84g129%
Cholesterol 114mg38%
Sodium 1833mg76%
Potassium 379mg11%
Carbohydrates 3g1%
Protein 16g32%
Vitamin A 75IU2%
Vitamin C 2.8mg3%
Calcium 23mg2%
Iron 1.5mg8%
* Percent Daily Values are based on a 2000 calorie diet.
Tried this recipe?
Tell us how it went. Tag us at @foxyfolksy or leave a comment and rating below.