Perfectly fried meatballs simmered in an amazing sweet and sour sauce. This Sweet and Sour Meatball can be served as an hors d'oeuvre or as a main dish with steaming hot rice!
These ground meat rolled into balls that can be seasoned with different herbs and spices are one of the things that is great to have in your arsenal. They are simple and easy to make and easily a crowd-pleaser.
In the Philippines, meatballs are fondly called "bola-bola". The word "bola" literally translates to ball (no need for further explanation, I guess). It is common to add bola-bola to soups or enjoy it as is. But another favorite way to have it is to simmer it in sweet and sour sauce.
These sweet and sour meatballs are first deep-fried until nicely browned and then simmered in the sauce for a couple of minutes, allowing the flavor of the sauce to seep into the meatballs. It is usually served with steamed rice as the main dish but can also be an appetizer for parties.
What is in the sauce?
The Filipino sweet and sour sauce, Agre Dulce, just like the Italian's Agrodolce combines sweet and sour elements like vinegar and sugar. It is derived from Spanish terms Agrio, meaning sour and Dulce, meaning sweet.
Unlike its Italian counterpart, where the sauce is reduced until sticky, ours is made thick by adding cornstarch. Tomato or banana ketchup is also typically added that gives it its orange-red hue. To give more flavor, pineapple, carrots, bell peppers, onions, and Labuyo chili are also commonly added.
Aside from using it to cook meat in like Escabeche, you will see this used as a dipping sauce for snacks like Ukoy, fried spring rolls, Kwek-kwek, fishballs, and Calamares.
Foxy Tips for a Delicious Sweet and Sour Meatballs
Choosing your meat- as mentioned above, you can choose from different meat sources when making your meatballs. Remember though that fattier meats like pork and beef will turn out to be more tender after frying. If you want to use chicken, make sure to not overcook as it will turn tough.
Use a light hand- do not pack your meatballs too tightly! Make sure that you secure it enough to keep the shape but not too compressed that the flavors and sauce do not seep through anymore. A good tip is to lightly oil your hands when rolling so it does not stick to your skin therefore, you can shape them easier.
No to over mixing- do not be too energetic when mixing the meat with seasoning and binders! Use your hands when mixing and just do it enough until all ingredients are evenly distributed. You don't want to turn it into a mushy mess and lose all its texture.
Storing your meatballs- the great thing about meatballs is that you can make them in advance and cook them later! Just put them in a lidded container and freeze. Heat them later on when you are in the mood for more.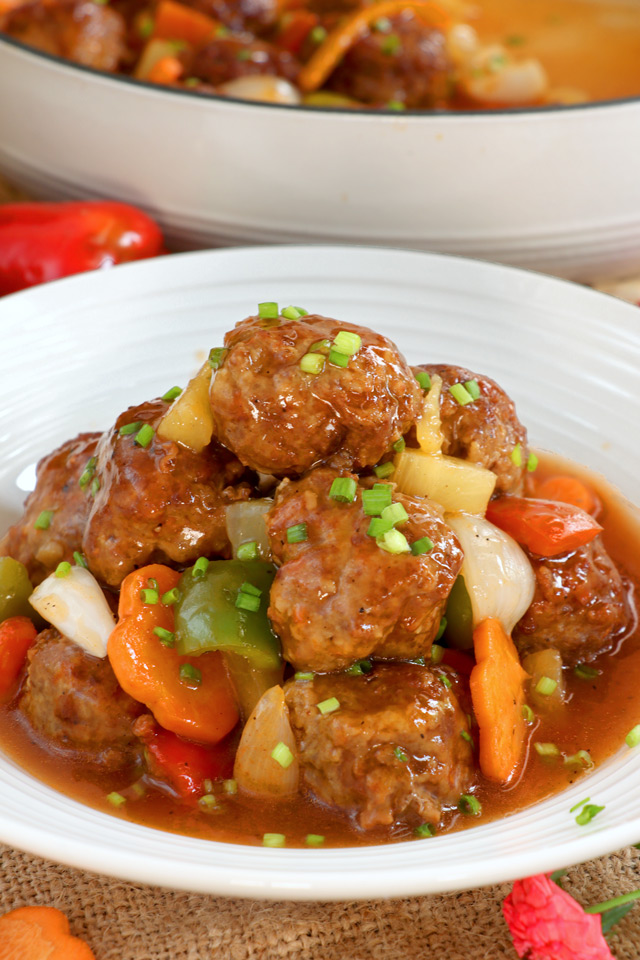 Made too much of the good thing? Here are some recipes to consider: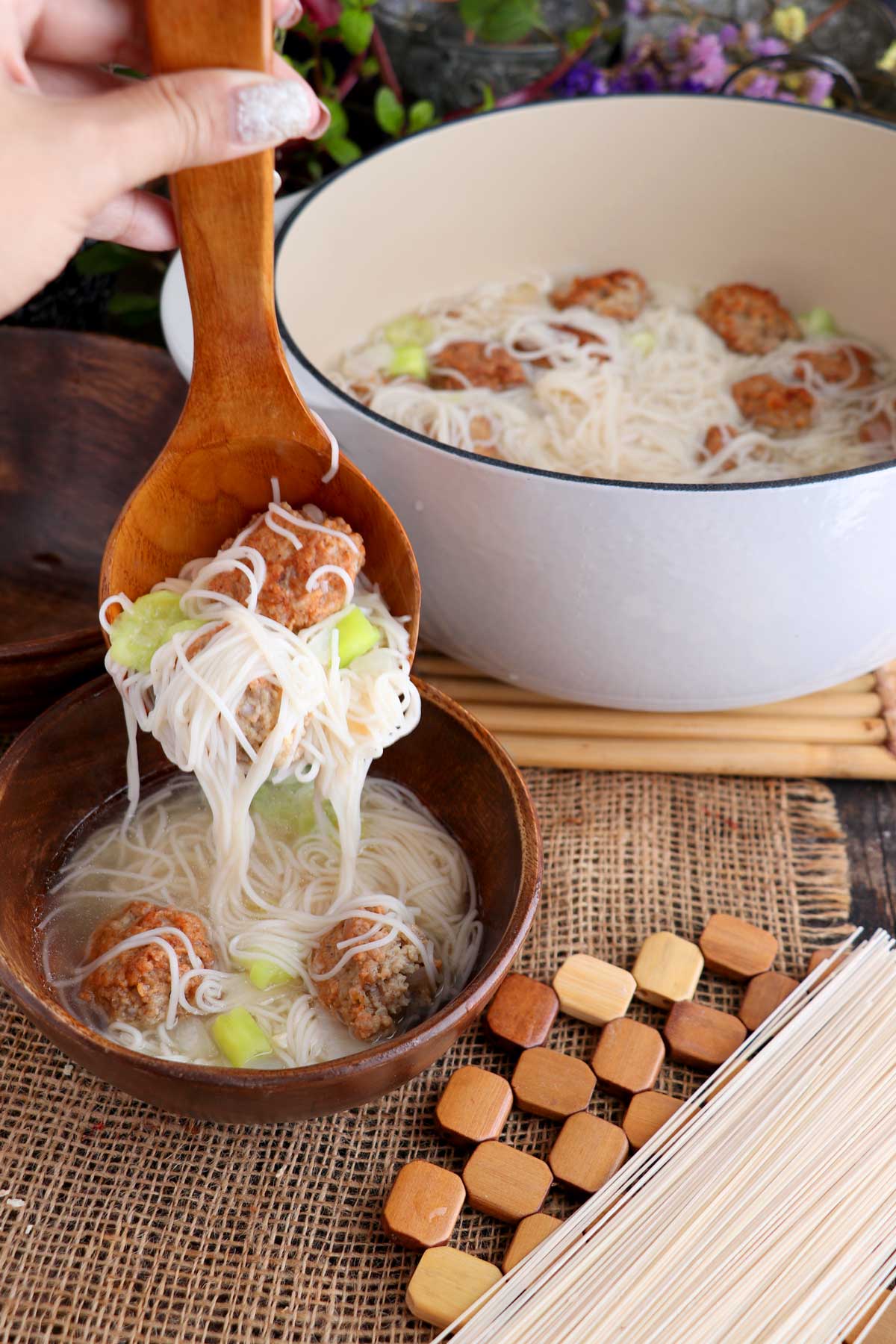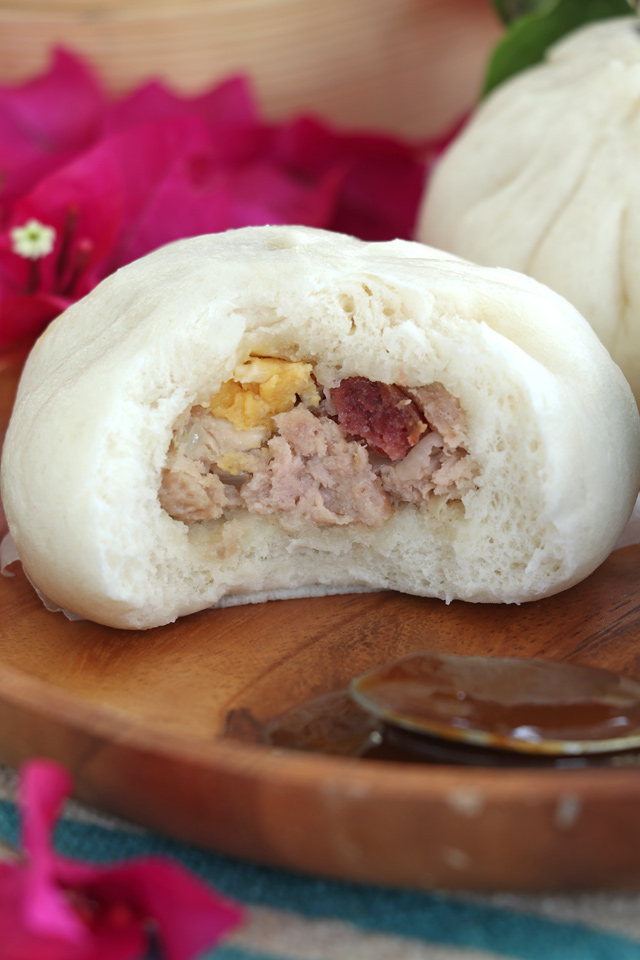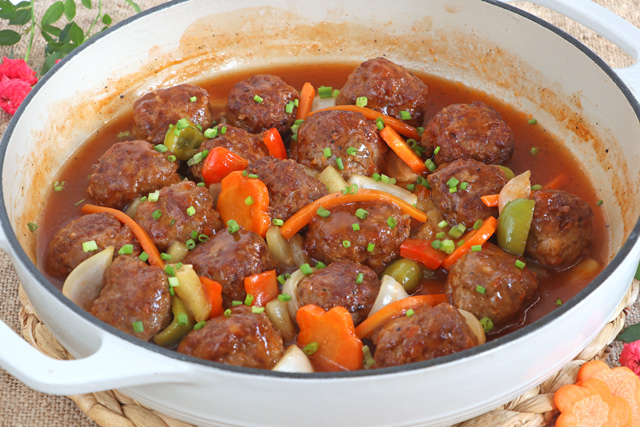 Printable Recipe
Sweet and Sour Meatballs
Perfectly fried meatballs simmered in an amazing sweet and sour sauce. This Sweet and Sour Meatball can be served as an hors d'oeuvre or as a main dish with steaming hot rice!
Ingredients
For MEATBALLS
1

pound

ground pork

1

large

egg

1

medium

onion

- chopped finely

1

small

carrots

- finely diced

½

cup

flour

1

teaspoon

salt

- adjust as needed

1

teaspoon

ground pepper

- adjust as needed

⅛

cup

grated Parmesan

- or grated cheese (optional)

oil

- for frying
FOR SAUCE
2

tablespoon

vegetable oil

½

cup

vinegar

1

tablespoon

cornstarch

- dissolved in 1 cup water

3

tablespoons

brown sugar

1

teaspoon

salt

3

tablespoons

ketchup

½

teaspoon

ground pepper

1

small

onion

- cut into 4 parts

1

small

carrots

- half cut into strips, half into flowers

½

cup

bell pepper

- cut into squares

½

cup

pineaplple tidbits
Instructions
In a large bowl, combine all ingredients for the meatballs and mix them well using your hands. Form balls for about 1 ½ inch diameter using both hands.

Add oil to a pan high enough to cover the meatballs at least half-way through. Cook the meatballs in hot oil until nicely browned on both sides. Remove the meatballs from the oil and place on a plate or colander. Set aside.

While waiting for the meatballs to fry, you can prepare the sauce. In a large pan, heat oil on high. Stir fry and carrots strips for about 1-2 minutes, do not overcook.

Turn heat to low. Add vinegar, sugar, salt, and pepper and pour in water with cornstarch and ketchup. Stir until combined and sugar is dissolved. Now add the cooked meatballs to the sauce and let it simmer until sauce thickens for about 3-5 minutes. Add bell peppers, onion, pineapple, and carrot flowers and cook for another 2 minutes.

Transfer Sweet and Sour Meatballs to your serving dish. Garnish with chopped green onions if desired.
Nutrition
Calories:
504
kcal
Carbohydrates:
33
g
Protein:
25
g
Fat:
28
g
Saturated Fat:
12
g
Cholesterol:
135
mg
Sodium:
1432
mg
Potassium:
574
mg
Fiber:
2
g
Sugar:
15
g
Vitamin A:
4920
IU
Vitamin C:
29
mg
Calcium:
89
mg
Iron:
3.5
mg
This recipe was originally published in March 2017. Updated in August 2020 to include new photos, more tips, and a recipe video.