'Kwek Kwek' is a beloved Filipino street food made of hard-boiled quail eggs covered in a savory orange batter that is then deep fried. This is usually dipped in vinegar and a special sauce.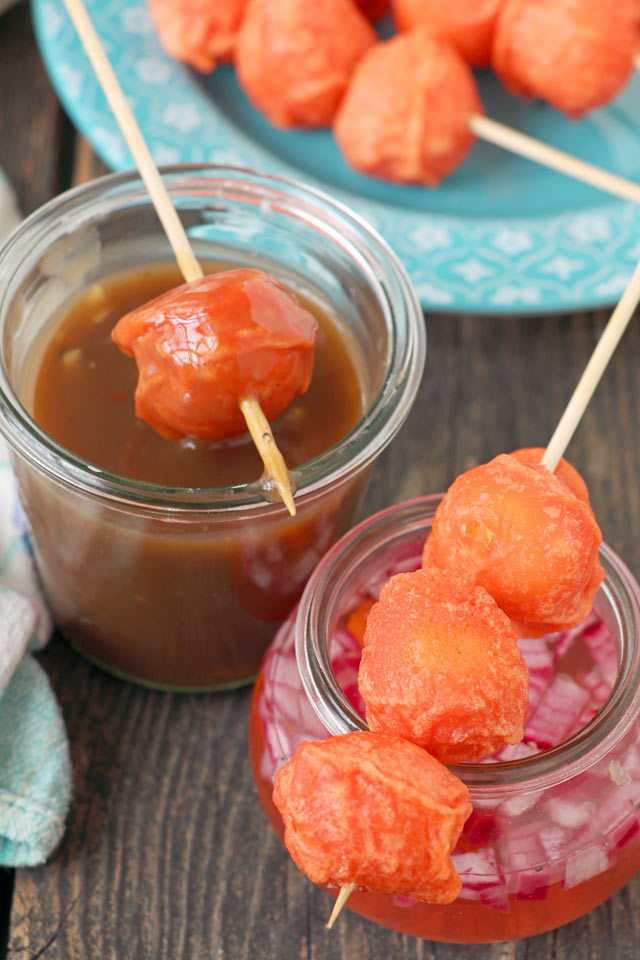 When we were still in Germany and I get the chance to come home to the Philippines for vacation, a trip to the street food vendor was always on my to-do list. It would feel that I have not fully come home yet until I have this crossed out from the list.
This is one of those things I truly missed while living abroad. Not just the Kwek Kwek and the other many street foods we have, but the activity itself, which we fondly call 'tusok-tusok' ('tusok' means to prick, pierce, poke).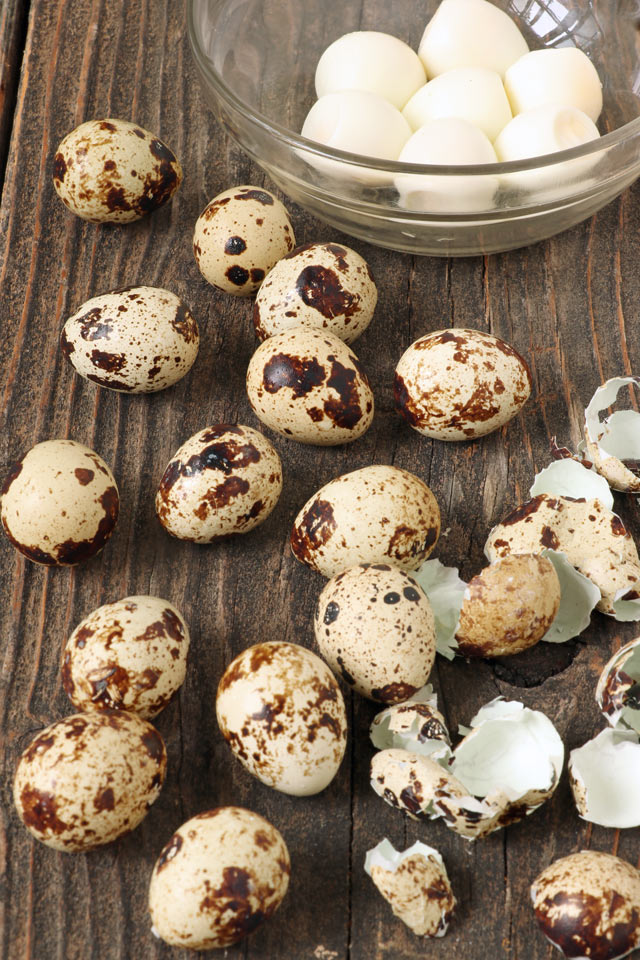 To be standing around people: family, friends, and strangers alike, holding a stick in one hand and waiting for your chosen food, may it be fishball, squidball, kikiam, hotdog or kwek kwek, all to be cooked in one big wok with hot oil.
Once 'Manong' or 'Manang' (a name we call a stranger who is older as a sign of respect) transfer them from the hot cooking oil into a tray, then you can start using your stick to get your share.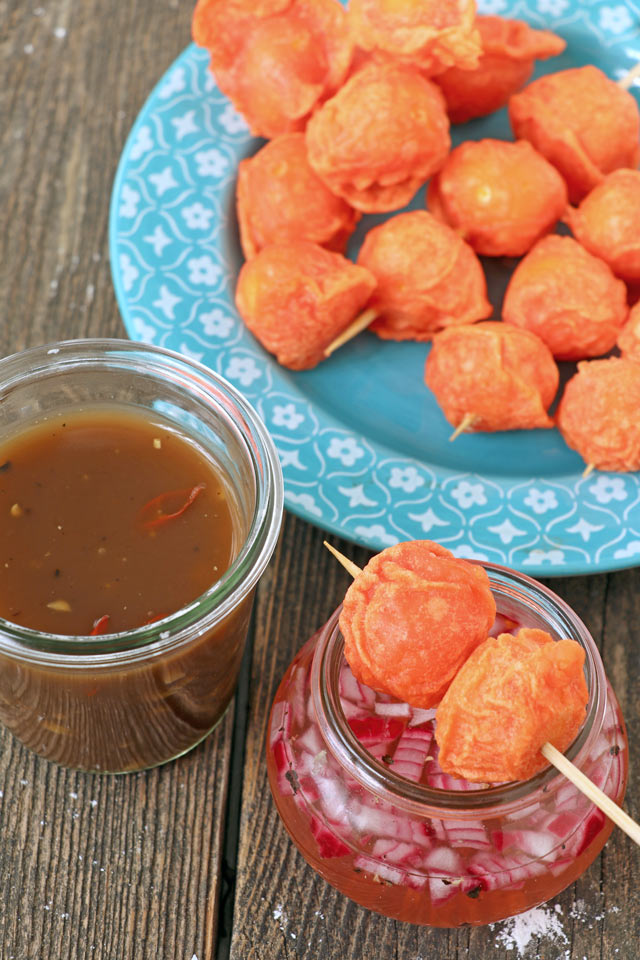 You then dip them into the jar of sauce of your choosing. You may choose from vinegar, spicy vinegar, sweet brown sauce or spicy sweet brown sauce. A combination is allowed but NO DOUBLE DIPPING, please! That means once you put a piece from your stick in your mouth then never ever dunk it back to the sauces again. Ever!
I also have a recipe for a special sweet-savory brown sauce that goes with this Kwek Kwek. Also perfect for fishballs or squid balls.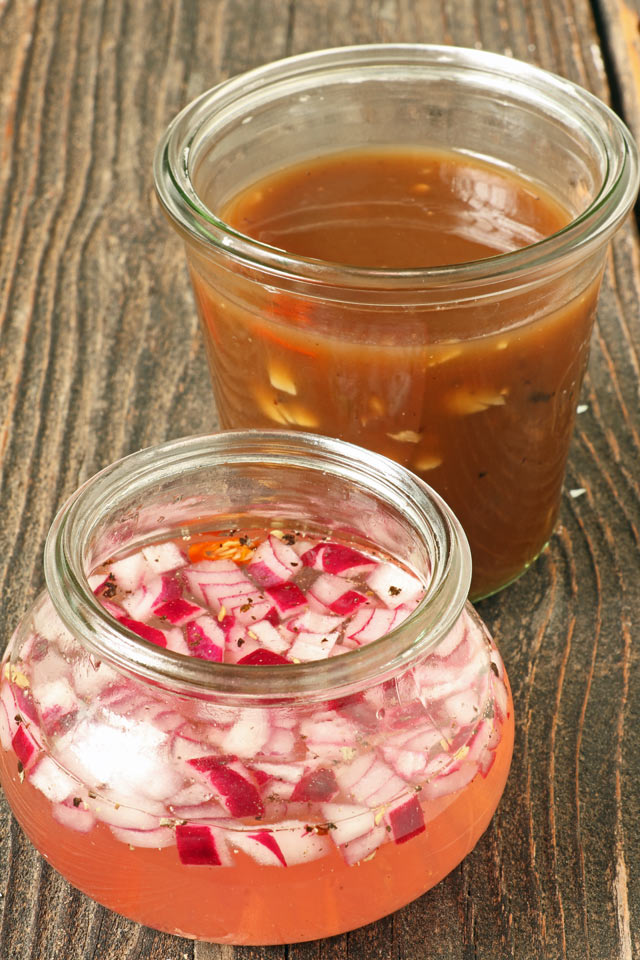 The addition of cornstarch makes the batter crispy when fried and the baking powder adds a puffiness or lightness to it.
Printable Recipe
Kwek Kwek Recipe - A Filipino street food from Quail Eggs
'Kwek Kwek' is a beloved Filipino street food made of hard-boiled quail eggs covered in savory orange batter and then deep fried. Get the recipe here now!
Ingredients
24-30

pieces

quail eggs

1

cup

flour

¼

cup

cornstarch

1

teaspoon

baking powder

1

teaspoon

salt

¼

teaspoon

ground pepper

¾

cup

water

orange food color

¼

cup

flour

- for dredging

oil

- for frying
Instructions
Place quail eggs in a pot and fill with tap water enough to submerge them completely. Bring water to a rolling boil over high heat. Once it boils, turn off heat and cover the pot and let it sit for 10 minutes.

Remove the quail eggs from the hot water and transfer into an ice bath or cold water. Peel off the eggshells once cool enough to handle.

In a bowl, combine 1 cup flour, cornstarch, baking powder, salt, ground pepper and water and mix to form a batter. Consistency is almost similar to that of a pancake batter only a bit thicker. Add enough food color and mix until the desired color is achieved.

Spread ¼ cup of flour on a plate. Dredge each egg with flour covering the surface completely.

Drop the floured quail eggs, one at a time into the orange batter and using a fork or a barbecue stick, turn them over to cover them completely with batter. Do this in batches, about 5-6 eggs per batch.

In a small pot, heat enough oil over medium-high heat. Once hot, use a stick or a skewer to pierce a coated egg and transfer it to the hot oil and a fork to remove the egg off the skewer and into the hot oil. Fry a batch at a time about 1-2 minutes each side or until crispy.

Remove the eggs from the hot oil and transfer into a plate lined with paper towel to remove excess oil.

Serve while hot and skin still crispy with vinegar dip or special Kwek Kwek sauce.
Notes
Vinegar Dip: ½ cup vinegar, (¼ cup water -optional), 1 small red onion-chopped finely, 1 teaspoon salt, ¼ teaspoon ground pepper, (1 hot chili, chopped-optional)
I used liquid food color, combining red and yellow to get the hue I like. Food color in powder form is also ok to use.
 You may also use annatto powder to color the batter. 
Nutrition
Calories:
91
kcal
Carbohydrates:
18
g
Protein:
2
g
Fat:
0
g
Saturated Fat:
0
g
Cholesterol:
25
mg
Sodium:
297
mg
Potassium:
67
mg
Fiber:
0
g
Sugar:
0
g
Vitamin A:
15
IU
Calcium:
26
mg
Iron:
1.1
mg