Get this easy Ukoy recipe, the Filipino crunchy shrimp fritters using sweet potato.  It is a popular Filipino snack that can also be served as an appetizer or, like me, as a main dish to be eaten with rice. Make sure you do not forget the spiced vinegar for dipping!   

What is Ukoy?
Ukoy or Okoy is a Filipino dish, usually appetizer, of shrimp fritters. The small unshelled shrimp is normally accompanied by other vegetables or root crops.  Most commonly used are squash, green papaya, cabbage, sweet potato, bean sprouts, and carrots. Technically anything that is in season that can be shredded and fried.  It is also common to find them sold by street food vendors in local marketplaces.  The typical bright orange color is achieved from achuete seeds.
I've been craving for Ukoy for like ages but I always thought that it is impossible to make them while I am here in Germany. The Ukoy I grew up with uses green papaya which is impossible to find here. Then while browsing through the net, I came across several recipes for Ukoy that use different kinds of vegetables like bean sprouts, squash, and sweet potato!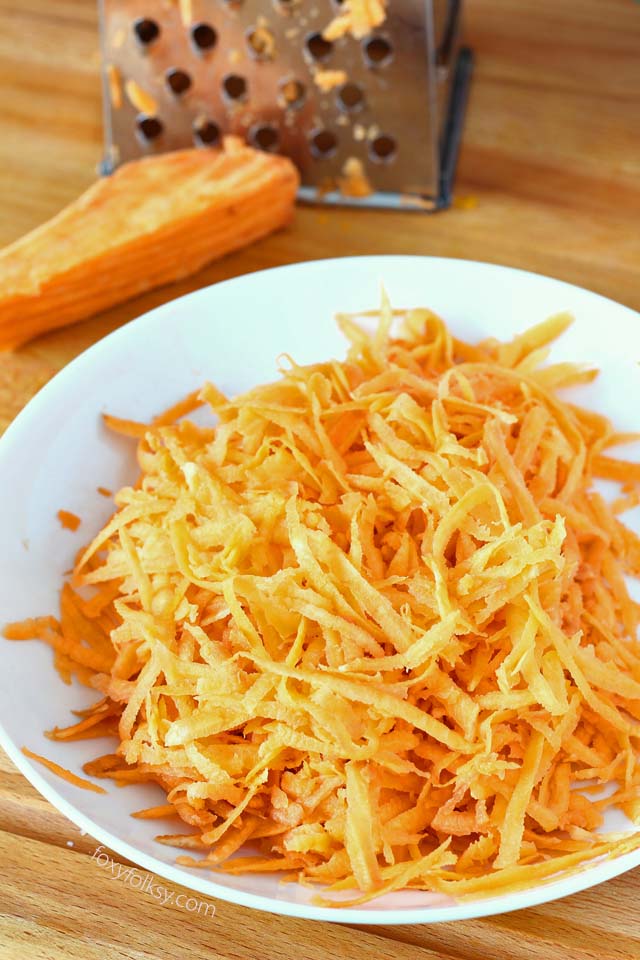 I was excited to try it of course, so next on my list to cross—the shrimp! It should be not so difficult I thought, of course, there are shrimp in Germany, but usually we only have the frozen ones. It does not matter, it could work! But then all that I was able to find in our local food stores were too big, already peeled or the heads removed! I don't know why, but I cannot picture an Ukoy with shelled and beheaded shrimps.  My last hope was to go to the nearest Asian food shop (which is not really so near), so I convinced Armin that it is time to replenish our fish and soy sauce.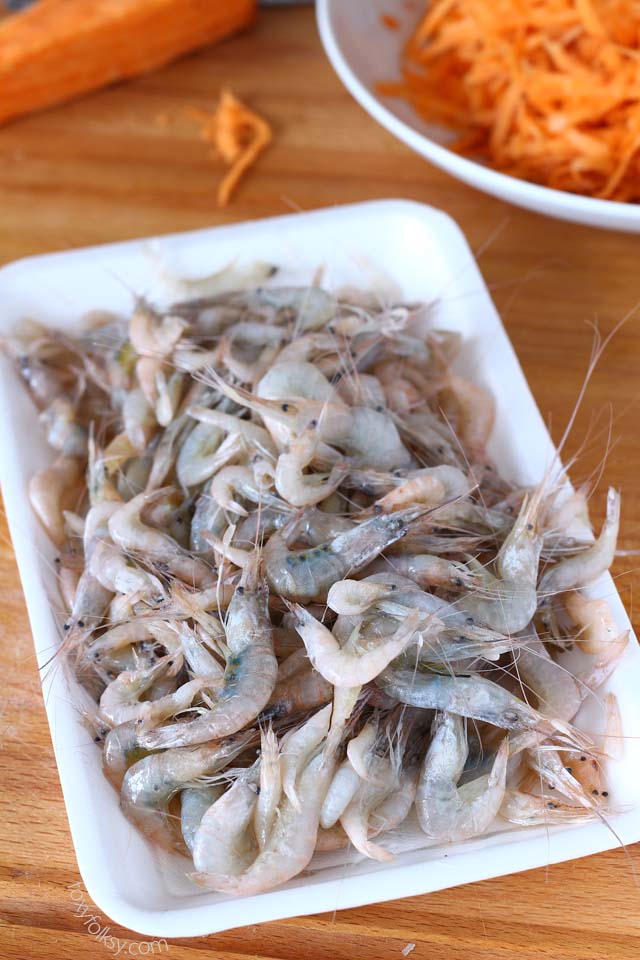 And look what I found! The perfect shrimp for Ukoy! Shell and head intact and also the perfect size. Yes, in this case, sizes do matter. Small shrimp will be crunchy when fried, shell and all! I cannot be happier!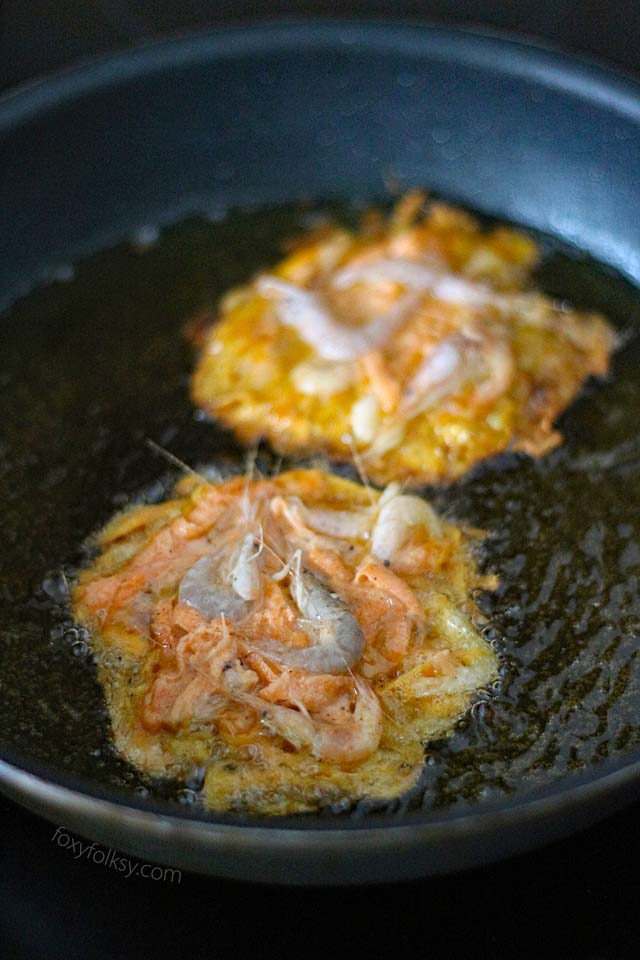 The secret to perfect, crunchy shrimp fritter
It is no surprise that cornstarch adds a crunchy bite to any fried food. I also find that adding it makes the fritters stay crispy even when they turn cold.
A note about cooking Ukoy: Don't be surprised if you get a runny batter, it is supposed to be like that.
I also remembered watching an Ukoy vendor in the 'palengke' or market (way, way back then). I was too curious and fascinated by how they make their shrimp fritters perfectly round. Their secret technique,—saucers. They use it to measure to have uniform sizes and to form them into perfectly round disks. They tip the saucer filled with the batter to the hot oil and slide it out without breaking form.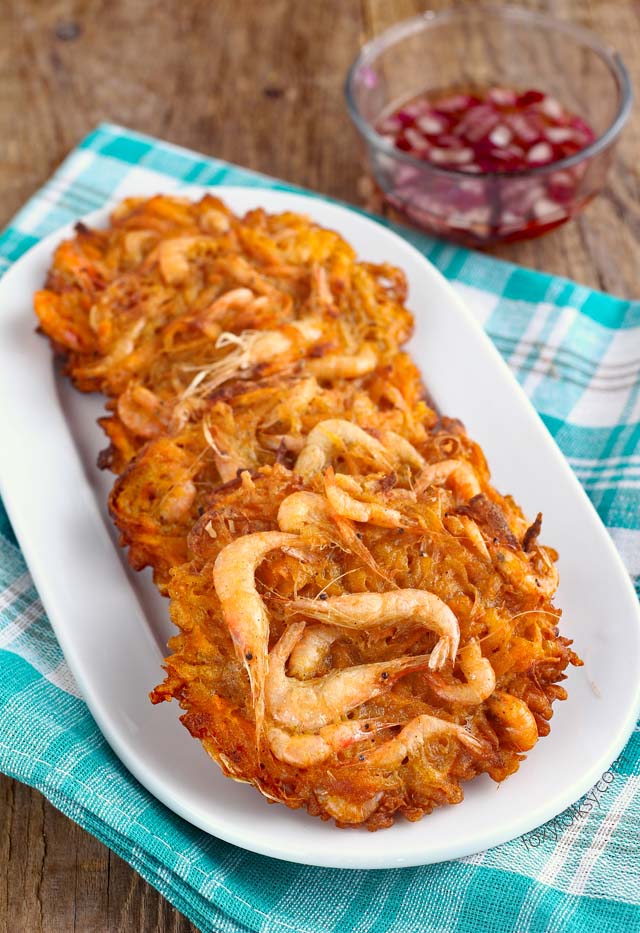 Printable Recipe
Ukoy Recipe - Filipino Shrimp Fritters
Get this easy Ukoy recipe, Filipino crunchy shrimp fritters using sweet potato. A popular Filipino snack that can also be served as an appetizer or main dish.
Ingredients
¼

cup

flour

1

cup

cornstarch

1

cup

water

¼

teaspoon

ground black pepper

1-2

teaspoons

salt

- adjust to your preference

1

teaspoon

annatto/achuete powder

(can be more or less)

1

cups

small shrimps

+ some for toppings

2

cups

grated sweet potatoes

oil

- for frying

spiced vinegar

- for dipping
Instructions
In a bowl, combine flour, cornstarch, salt and ground pepper. Add the water and whisk together until well-blended and smooth. Stir in annatto/achuete powder to the mixture and mix well until color is evenly distributed.

Add 1 cup shrimps and grated sweet potato in the mixture and lightly stir to distribute.

Heat oil in a skillet or frying pan over medium-high heat.

Fill a small saucer evenly with about 2-3 tablespoon of the mixture and add 2-3 more shrimps on top. Gently tilt the saucer to slide the mixture into the hot oil and cook for about 3 to 4 minutes on each side or until they turn golden brown.

Transfer the deep-fried ukoy in a plate lined with paper towel to absorb the excess oil.
Nutrition
Calories:
119
kcal
Carbohydrates:
24
g
Protein:
4
g
Fat:
0
g
Saturated Fat:
0
g
Cholesterol:
40
mg
Sodium:
727
mg
Potassium:
124
mg
Fiber:
1
g
Sugar:
1
g
Vitamin A:
4715
IU
Vitamin C:
1.5
mg
Calcium:
33
mg
Iron:
0.8
mg