Try these flavorful and crunchy fried Mushroom Chips. Perfectly seasoned oyster mushrooms dredged with cornstarch and flour and then deep-fried into golden, crispy perfection. These guilt-free snacks are simple to make and take less than 20 minutes to prepare! It is a perfect all-day snack or appetizer.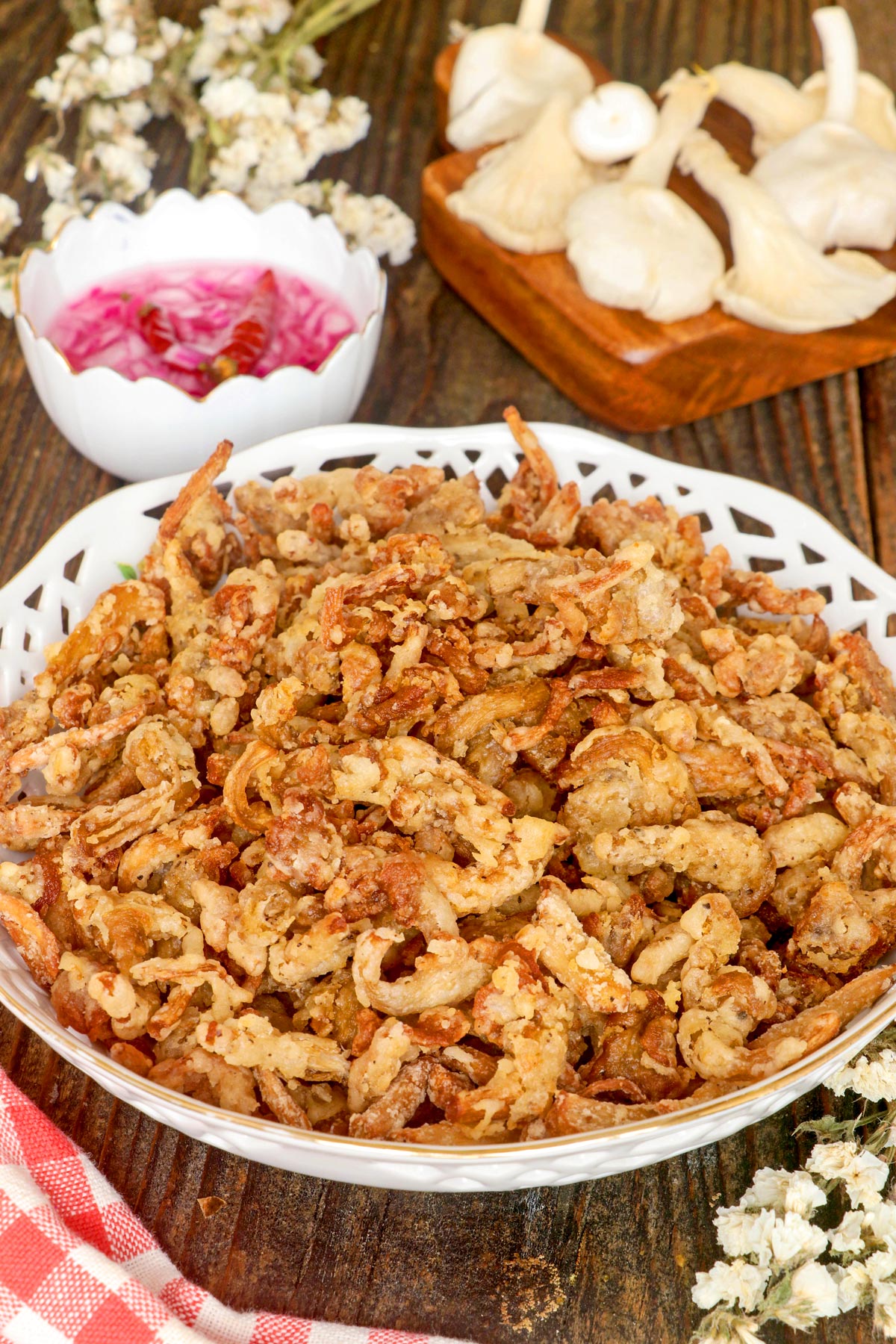 We just love snacking or nibbling on something when watching our favorite show, while booze-drinking, or even when doing nothing. I have done my fair share of easy-to-make and healthy snack alternatives like Prawn Crackers, Pasta Chips, and Banana Chips that would leave you guilt-free even if you chow down on them. And this Mushroom Chips recipe is another healthy and tasty snack you have to try!
What are Fried Mushroom or Mushroom Chips?
These crispy Mushroom Chips are a delicious terrific snack alternative for vegetarians, vegans, or on a gluten or dairy-free diet. It is also healthier than potato chips as it contains fewer carbs. They are, in short, an excellent alternative to chomp on whenever you are in the mood for savory snacks.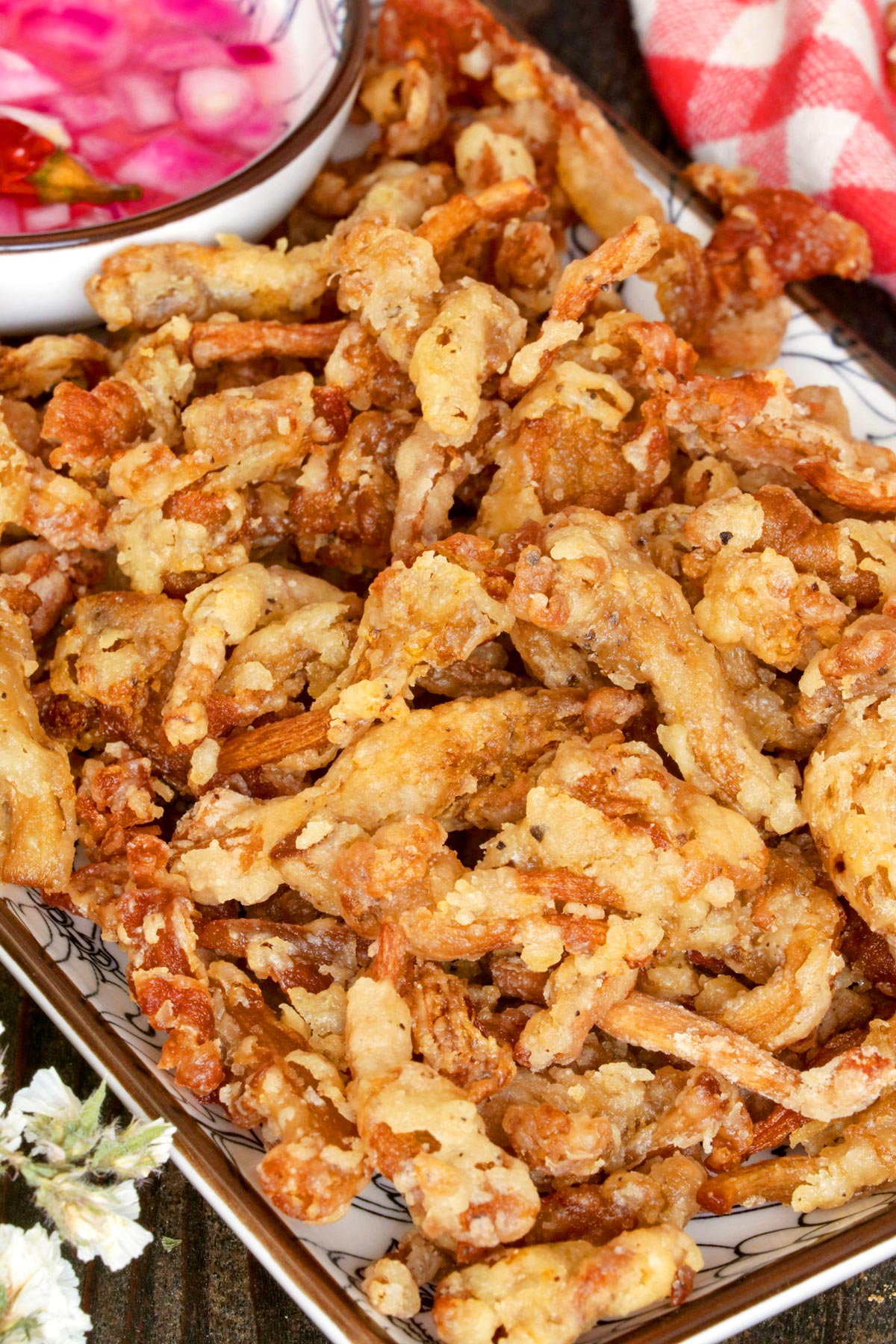 These fried oyster mushrooms are bursting with flavor with delicate earthy and umami flavors from the mushrooms and the perfect blend of spices. I used oyster mushrooms as they are easier to get by and more affordable. Not only do they taste good they are also an excellent source of vitamins and minerals such as vitamin B, potassium, and zinc, to name a few.
In addition to snacking on them, these fried mushrooms make a great addition to other dishes. You may add them to spaghetti, pizza, and stir-fries to add crunch and extra flavor.
Ingredients You'll Need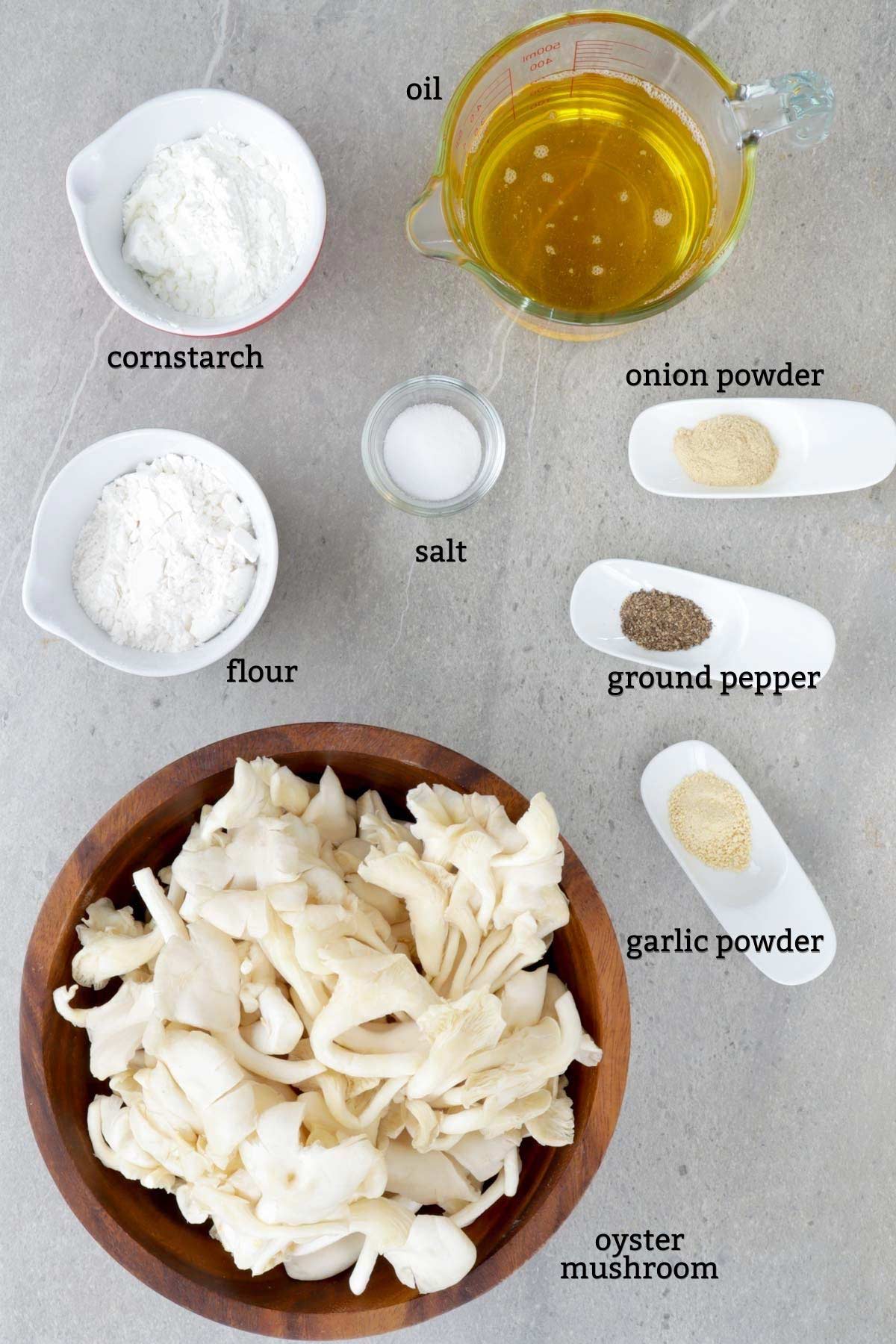 Oyster Mushroom - it has a subtle sweet and earthy flavor. Porcini and portobello mushrooms can be used in place of oyster mushrooms.
Salt - it adds saltiness to the fried mushroom and also enhances other flavors.
Ground Pepper - adds some spice and depth of flavor to the mushrooms.
Garlic Powder - it adds a garlicky aroma and taste to the mushrooms but with less assertiveness from fresh garlic.
Onion Powder - has the flavor and aroma of onion with a slightly roasted taste.
Cornstarch - for a light yet crisp coating.
Flour - seals in the moisture a bit to prevent the mushrooms from being tough.
Oil - Vegetable oil is the best option for deep frying. You may also use canola or peanut oil.
Other Recipes with Mushroom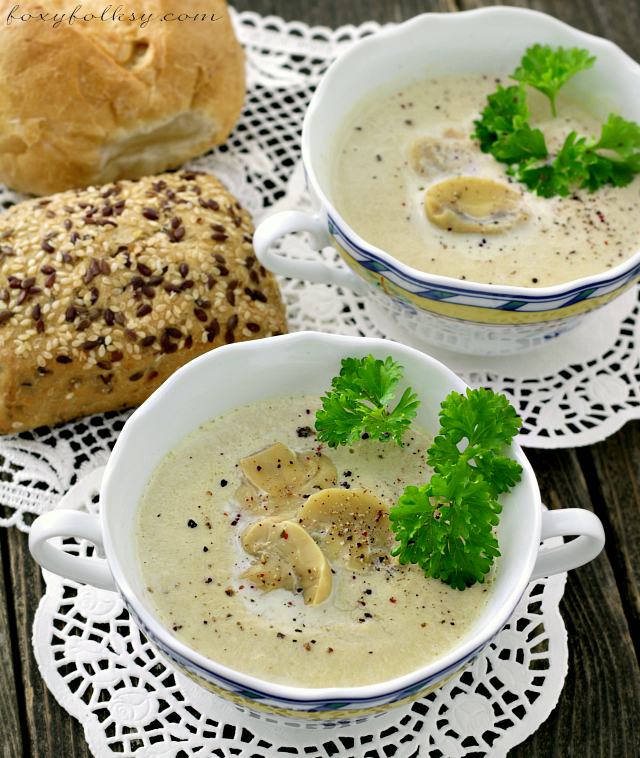 Tips for Making the Crispy Fried Mushroom  
Use high-quality oyster mushrooms. They ought to be dry to the touch and evenly off-white in hue. It should have a bouncy feel and have no surface bruising.
Washing mushrooms causes them to absorb water, which prevents you from getting crispy mushroom chips. Simply use a brush or a knife to remove the dirt from the mushroom.
Ensure that each component is the same size. You can detach the petals from the stalks by breaking large ones into smaller pieces.
Make sure that the spices and coating are distributed evenly over each mushroom piece.
Don't forget to shake off excess flour before frying the mushrooms.
To guarantee that all the pieces are cooked equally and to prevent the oil's temperature from dropping, don't overcrowd the pan when you're frying.
To make the chips considerably crispier, double-fry the mushrooms.
After draining the excess oil in a bowl lined with tissues, place the fried mushrooms on a wire rack to keep them from becoming soggy.
Like conventional potato chips, fried mushrooms can also come in several flavors. You may also use Parmesan cheese or BBQ powder to flavor the chips.
You can air fry or bake the mushrooms but spread out each piece to ensure they crisp up equally.
Additional Tip! We learned that you can get rid of more oil if you use a salad spinner. Just place the fried mushrooms and give them several spins to swish away the excess oil.
Storing Notes
These Mushroom Chips are best enjoyed immediately while still warm and crisp. Enjoy it on its own or with spiced vinegar for dipping.
Store leftovers in an airtight container for up to 3-4 days. You may reheat them in an oven toaster, air fryer, or convection oven to make them nice and crispy again. Try not to use a microwave to reheat them as it will make them soggy.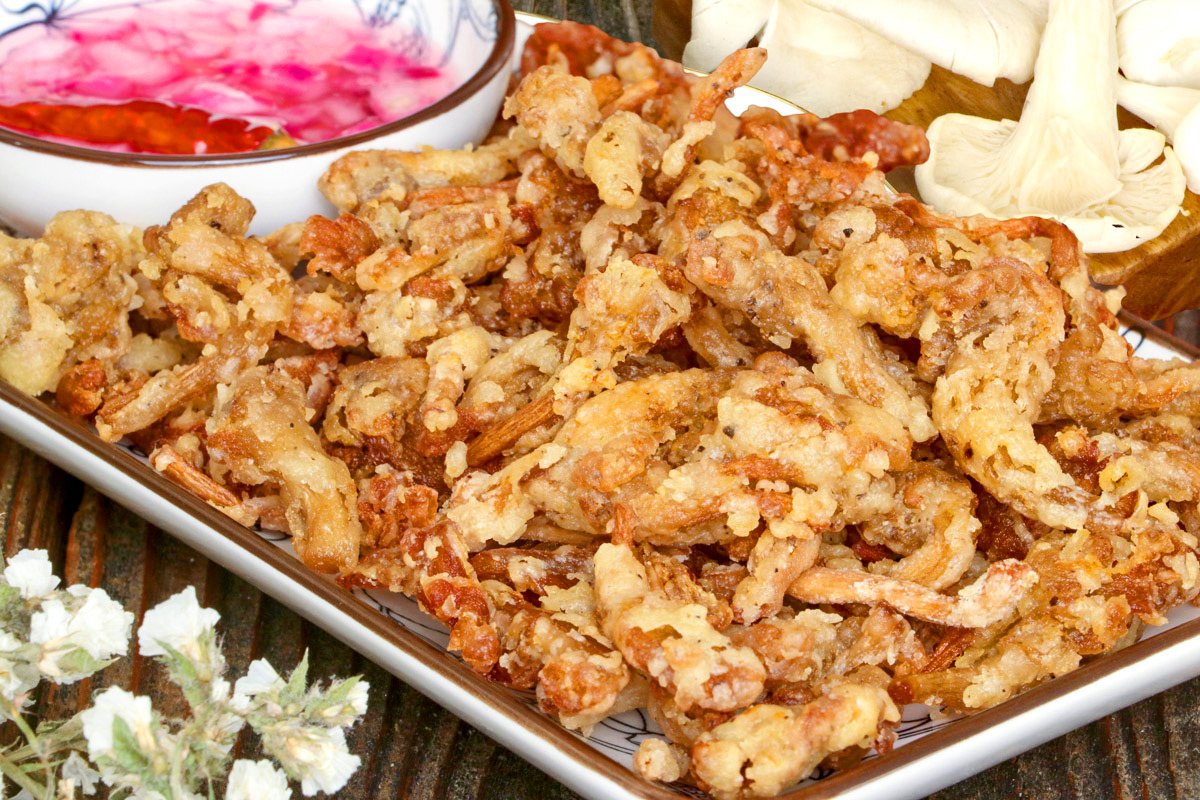 Printable Recipe
Fried Mushroom Recipe
Try these flavorful and crunchy fried Mushroom Chips. Perfectly seasoned oyster mushrooms dredged with cornstarch and flour and then deep-fried into golden, crispy perfection. These guilt-free snacks are simple to make and take less than 20 minutes to prepare! It is a perfect all-day snack or appetizer.
Ingredients
1

pound

oyster mushroom

½

tablespoon

fine salt

½

teaspoon

fine ground pepper

½

tablespoon

garlic powder

½

tablespoon

onion powder

½

cup

cornstarch

½

cup

flour

oil

for deep frying
Instructions
No need to wash the mushrooms. If there is some dirt, just brush or cut them off and discard them.

Trim the ends of the stalks of the mushrooms. Separate stalks from the petals if they are too big. Break apart the big ones into small, even size for more even cooking. Place the mushrooms in a large bowl.

½ tablespoon fine salt,

½ teaspoon fine ground pepper,

½ tablespoon garlic powder,

½ tablespoon onion powder,

½ cup cornstarch,

½ cup flour

In a small bowl, mix together the salt, ground pepper, garlic powder, and onion powder. Add this to the mushroom and mix well using your hands, making sure that the mushrooms are well seasoned. Then add the cornstarch and flour and mix again to coat completely.

Place the coated mushroom in a strainer (with big holes) or mesh and tap several times to shake off excess breading.

Heat oil in a deep pan or skillet over medium heat. Once the oil is hot add some mushrooms. Do not overcrowd, cook in batches. Do not stir for the first 2-3 minutes. Once it starts to turn golden you can flip or stir for more even cooking until they are golden brown. Transfer the fried mushroom to a cooling rack/dripping rack and cook the next batch.

Once all mushrooms are fried, return the first half to the hot oil to cook for the second time for another minute or two. If you are using a deep fryer or large pan, you can cook them all at the same time just make sure that you use enough oil so as not to overcrowd.

Remove the mushrooms from the oil using a spider ladle or slotted spoon. Transfer to a large bowl lined with paper towels. Place another layer of paper towels on top. Cover the bowl with a plate, then lift and shake around to remove as much oil as possible.

Transfer to a serving dish and serve with spicy vinegar or other desired dip or enjoy on its own.
Nutrition
Calories:
169
kcal
Carbohydrates:
37
g
Protein:
6
g
Fat:
1
g
Saturated Fat:
0.1
g
Polyunsaturated Fat:
0.2
g
Monounsaturated Fat:
0.1
g
Sodium:
908
mg
Potassium:
519
mg
Fiber:
3
g
Sugar:
1
g
Vitamin A:
56
IU
Vitamin C:
0.2
mg
Calcium:
12
mg
Iron:
2
mg
FAQs about Mushroom Chips
How to make mushroom chips crispy?
I used the double frying method to yield crispy and tasty mushroom chips. Always cook them until they're golden brown and crispy.
Can I use dried oyster mushrooms to make chips?
Yes, it will give you crispy mushroom chips when fried, although seasoning won't cling to it before frying, so season it when it's already fried.