Try this quick and easy Salisbury Steak recipe complete with yummy Mushroom Gravy! So juicy steak patties made from ground beef that is cooked and served in thick tasty Champignon mushroom gravy!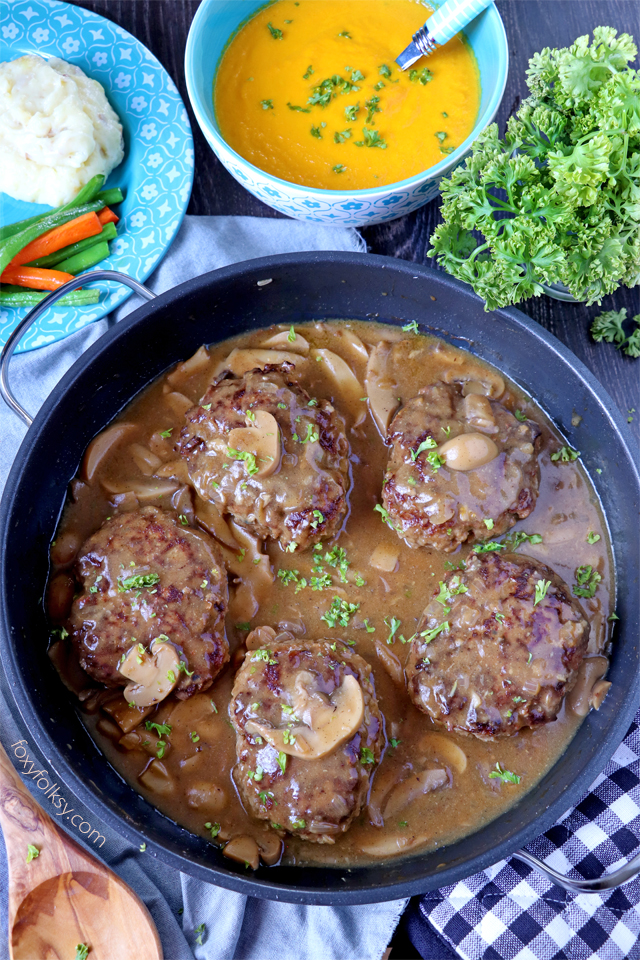 Salisbury Steak is a popular American dish. But like anything this good, it will definitely have it's equivalent elsewhere in the world. In Germany, they have the Frikadellen or Fleischküchle and Fleischpflanzerl in Austria. In the Philippines, we have the Hamburger Steak, which is exactly a hamburger patty swimming in gravy or mushroom gravy usually eaten with rice. 
On the other hand, Salisbury Steak is commonly served with mashed potato or pasta and some vegetable side dish. You can also serve them with boiled or roasted potatoes or potato salad.      
This Salisbury Steak recipe was inspired by Nagi of Recipe Tin Eats. I changed the ingredients a bit to make it more simple like using dark soy sauce instead of Worcestershire sauce bot in the patty and in the mushroom gravy. I also skip the mustard in the gravy because I am not a fan of tart gravy. Additionally, I changed the ratio of flour to water in the gravy to have a thicker sauce. 
What I like about Nagi's recipe is that she grates her onion instead of just chopping them finely. This process gives the patties a finer and juicier texture. Although, again, I made a shortcut out of it and just dump the grated onions directly into the ground beef instead of soaking the breadcrumbs with it. Oh, and I just realized that I ran out of breadcrumbs while doing this so I just used flour. And yes, it works! Just like with my Sweet and Sour Meatballs recipe that also uses flour and no breadcrumbs.  
You may also use half ground beef and half ground pork instead of purely beef. It is a common thing in Germany to mix both that you can actually buy them already mixed from the groceries or butchers (Metzgerei). 
To complete the meal, I made some mashed potato from scratch, where I almost burned the potatoes while boiling them because I was trying to multitask. I almost threw them all away but since only the skins were slightly burned (yep, I do not peel them, which turned out to be a meal saver) so, I was able to salvage them and made decent mashed potatoes out of them. I also pan roasted some beans and carrots in a little olive oil, seasoned with a pinch of salt.
Another star at our dinner table that went very well with this tasty Salisbury steak recipe was the Carrot-Ginger soup. You have to wait for my next post for that!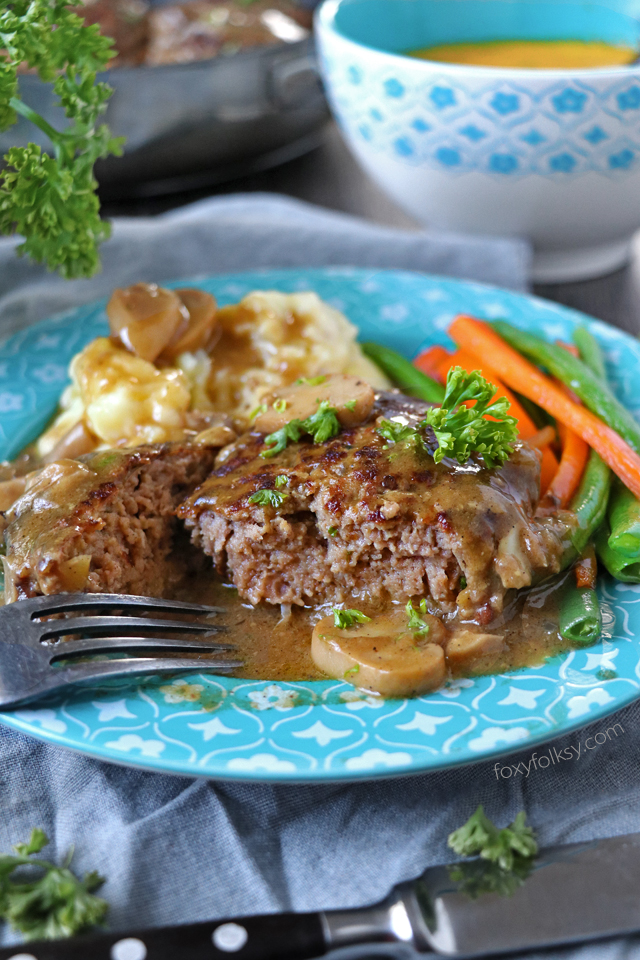 Printable Recipe
Salisbury Steak with Mushroom Gravy
Try this quick and easy Salisbury Steak recipe complete with yummy Mushroom Gravy! So juicy steak patties made from ground beef that is cooked and served in thick tasty Champignon mushroom gravy!
Ingredients
SALISBURY STEAK PATTY
1

pounds

ground beef

- (of 50/50 pork and beef)

1

medium

grated red onion

½

cup

breadcrumbs

- or ¾ cup flour

1

egg

2

tablespoons

ketchup

1

tablespoon

mustard

- or mustard powder (optional)

1 ½

teaspoons

salt

¼

teaspoon

ground pepper
MUSHROOM GRAVY
2

tablespoons

oil

2

cloves

garlic

- minced

1

small

white onion

- chopped finely

1

cup

champignon/button mushroom

- cut into slices

2

tablespoons

butter

2

tablespoon

flour

1 ½

cups

water

1

beef broth cube

2

tablespoons

dark soy sauce

ground pepper
Instructions
In a large bowl, combine all the ingredients for the Salisbury Steak ingredients. Using your hands, mix until just combined - don't over mix.Divide into 5 and pat into oval patties around an inch thick.

Heat oil in a skillet over high heat. Add the steak patties and cook each side for 2 minutes or until browned. Remove them from the skillet and transfer to a plate.

In the same skillet with oil, add the chopped onion and garlic and cook for 2 minutes until onions are a bit translucent. Add the mushrooms to the skillet and cook for 2 - 3 minutes until golden.

Turn heat down to medium. Add the butter and then once melted, add the flour and cook for 30 seconds, stirring constantly.

Gradually add in water, while stirring constantly to prevent lumps. Add the beef broth cube, soy sauce and season with pepper.

Add the steaks along with the juices on the plate. Cook for another 3-5 minutes, or until gravy has thickened, stirring occasionally around the steaks. If the gravy thickens too quickly, add more water.

Served usually with mashed potato or rice and vegetable as sides. Sprinkle with a bit of parsley if desired.
Nutrition
Calories:
411
kcal
Carbohydrates:
14
g
Protein:
20
g
Fat:
29
g
Saturated Fat:
10
g
Cholesterol:
109
mg
Sodium:
1386
mg
Potassium:
393
mg
Fiber:
1
g
Sugar:
3
g
Vitamin A:
220
IU
Vitamin C:
2.1
mg
Calcium:
49
mg
Iron:
2.9
mg