Make your own crisp, sugar-coated Banana Chips at home using this quick and simple recipe. With just 6 ingredients, you can make this golden and crunchy snack that can be eaten as it is or mixed with other dried or candied fruits or nuts.
Do you know that the Philippines is one of the largest banana exporters globally? Well, that's no surprise as banana trees are typically seen almost anywhere and everywhere in our country! These tropical fruit-bearing trees are easy to grow as they thrive in a climate like ours. This is the reason why bananas are common ingredients in most of our local dishes; might they be savory or sweet! It is present in dishes like Arroz ala Cubana, Estofado, Pochero, and some would even add them to their Nilaga. We also have popular sweet snacks like Banana cue, Maruya, Turon , Minatamis na Saging, and of course, Banana Chips.
What are Banana Chips?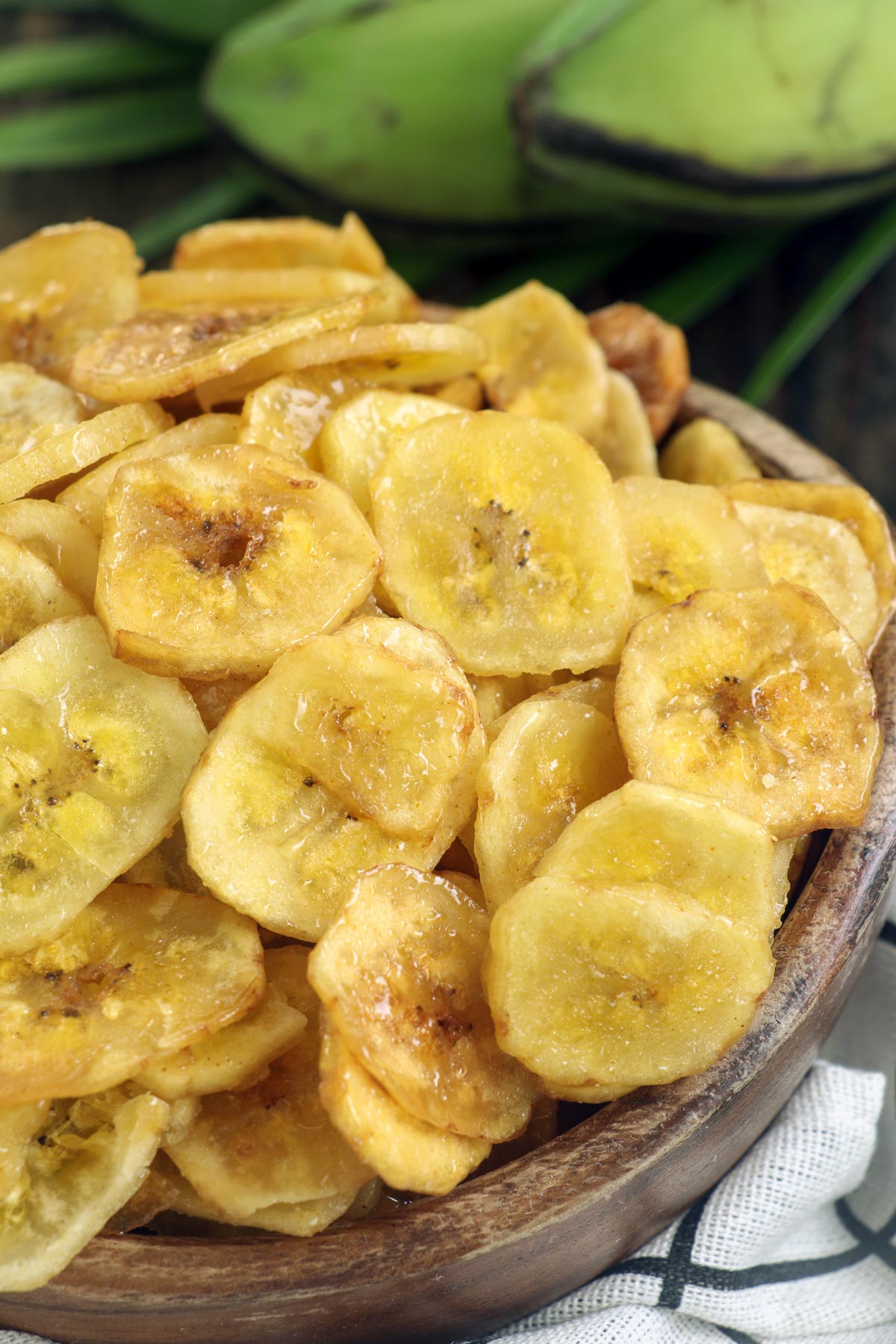 Also known as banana crisps, these fruit snacks are thin slices of bananas that are either deep-fried, baked, or dehydrated. They can be cooked plain, but other varieties are coated in sweeteners, spices, and plain salt.
The common variation here in the Philippines are those coated with sugar and deep-fried to perfection! You can also use banana chips as toppings to your favorite ice cream, yogurt, or even in cakes instead of sugar-filled candies.
Ingredients You'll Need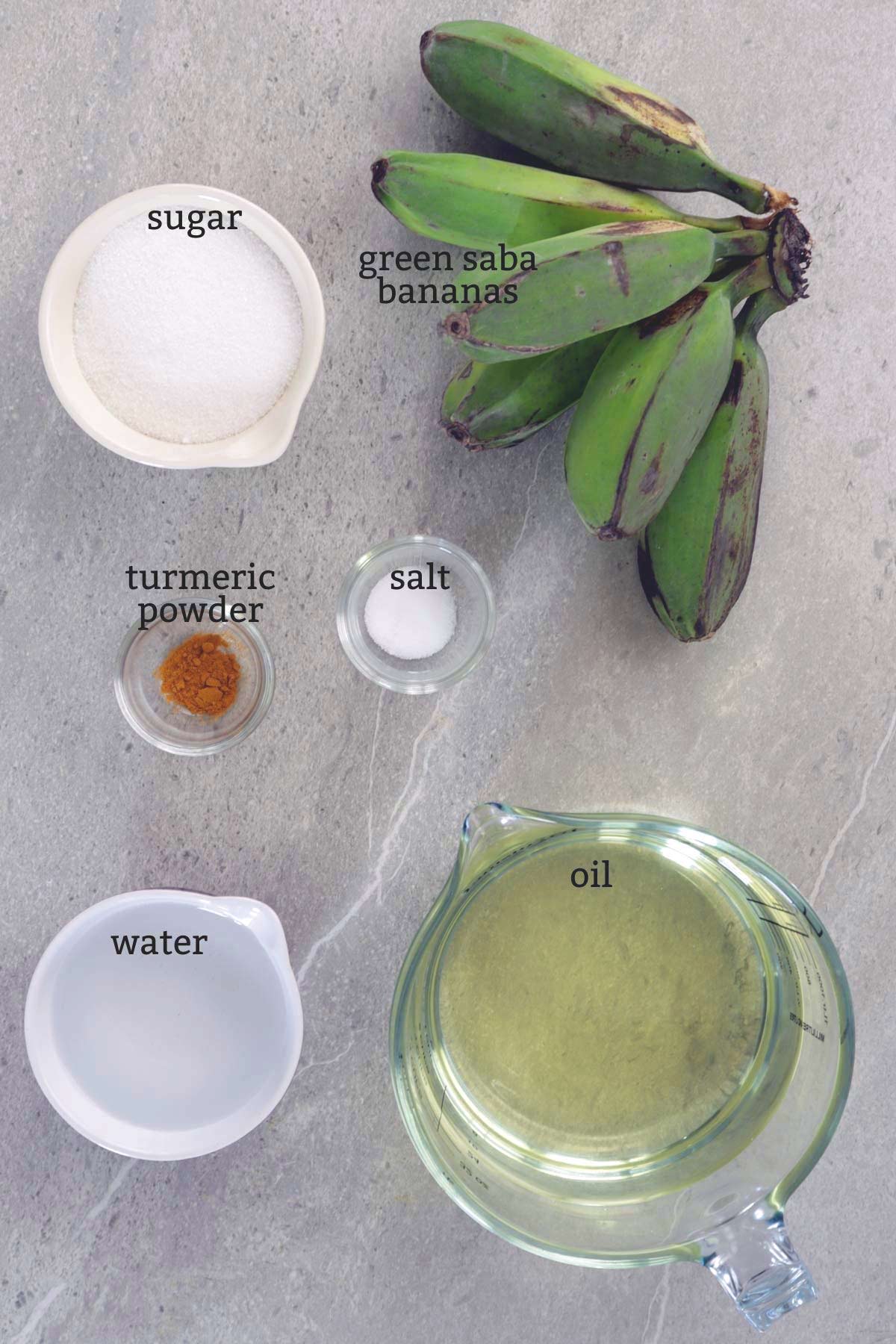 Green Saba or Plantain Bananas are firm and starchy types of banana. They are ideal for this recipe because they hold their shape well and have less water content, giving them that characteristic crunch once cooked.
Sugar- you can use light brown or white sugar in this recipe.
Water
Turmeric powder- this is is optional, so don't worry if you do not have it. It is used to give the chips a more appetizing golden color.
Salt- a small amount is added to the sugar mixture to balance the sweetness.
Oil- for frying. Use a neutral-tasting oil with a high smoke point like sunflower, grapeseed, or canola oil.
Secret to cripsy Banana Chips?
When peeling the green bananas, use gloves to prevent the sap from sticking to your hand. They can be challenging to remove.
The thickness of your banana slices matters. Make sure you cut them thinly, to achieve that crunch you desire. I recommend using a mandolin slicer to make it easier and quicker for you to have thin, evenly sliced bananas.
Pat the banana slices down with paper towels to dry them up before frying. The lesser the moisture on your banana, the better! It will result to nicer and crispier chips.
Make sure the oil is hot enough before adding in the banana slices, or else it will just absorb the oil and turn soggy. You may test the oil temperature first by dropping one slice.
Cook them in batches to ensure that you do not overcrowd the pan. Too many slices cooked at once might affect the oil temperature and make the chips greasy and mushy.
You will know if the chips are cooked through once they start floating.
Once cooked, immediately transfer the banana chips to a drip rack or colander to drain excess oil.
FAQs for Banana Chips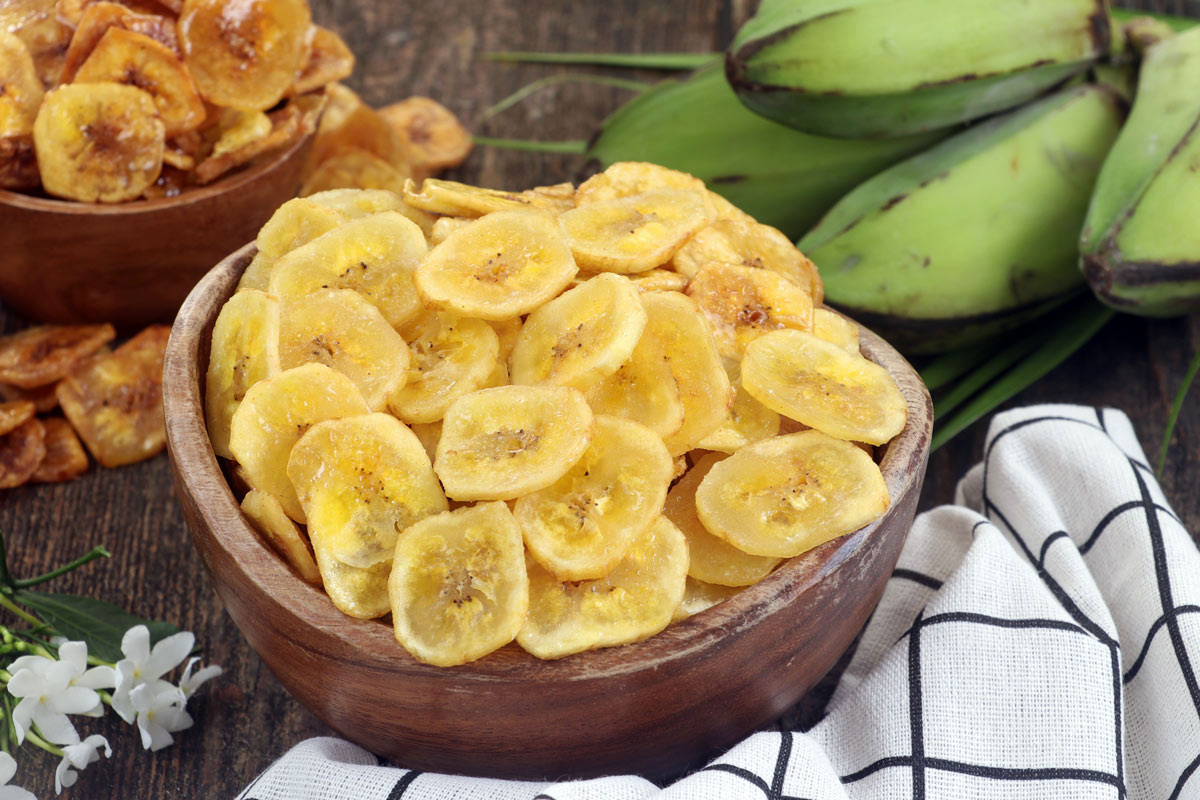 Can I use ripe bananas?
Yes, you can. However, the possibility of getting compact and crisp chips is lower because they are softer and contains more moisture.
How do I know if the banana chips are done cooking?
After adding the sugar mixture to the pan, it will bubble up and create splatters, so be careful. Once the oil settles and the chips have turned golden in color, you can remove them from the oil.
How can I revive softened chips?
You can bake them at a low temperature. Allow the chips to heat up for 5-10 minutes before taking them out and allowing them to cool. You'll see that all of the moisture has evaporated, restoring crispness to the chips.
Can I use my air-fryer instead?
I have not tried using my air fryer to make banana chips, but I know that it is possible.
Properly Storing Banana Chips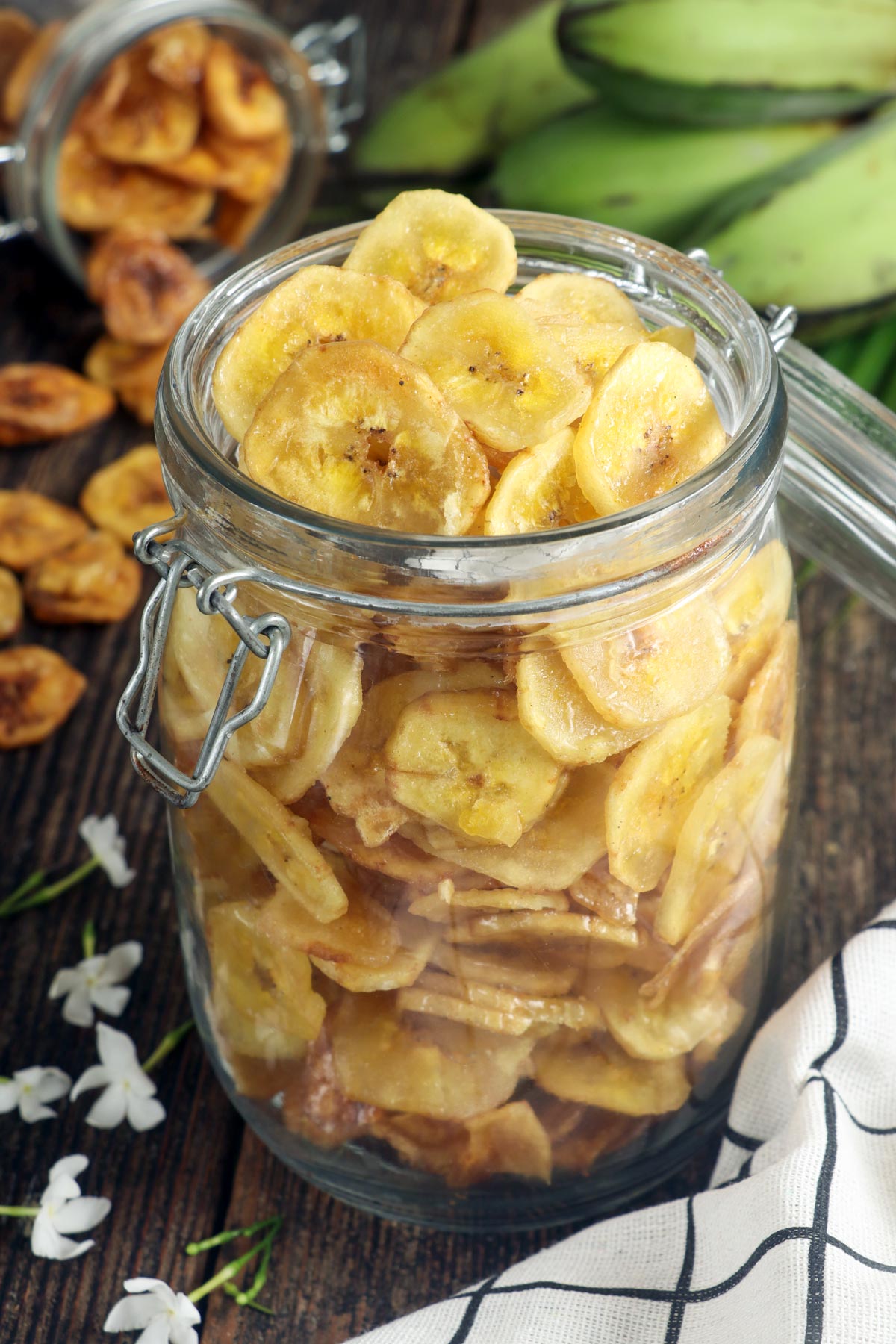 Storing your banana chips is easy. Make sure they have completely cooled down before placing them in a dry, air-tight container. Sealing them while still warm will create moisture that will affect the texture and may attract bacteria. If properly stored, they should last for weeks!
Printable Recipe
Banana Chips Recipe
Make your own crisp, sugar-coated Banana Chips at home using this quick and simple recipe. With just 6 ingredients, you can make this golden and crunchy snack that can be eaten as it is or mixed with other dried or candied fruits or nuts.
Ingredients
6

pieces

green saba/plantain bananas

⅔

cup

white sugar

or light brown sugar

⅔

cup

water

¼

teaspoon

turmeric powder

-optional

1

teaspoon

salt

3-4

cups

oil

for frying
Instructions
⅔ cup white sugar,

⅔ cup water,

¼ teaspoon turmeric powder,

1 teaspoon salt

In a small bowl, combine sugar, water, turmeric powder, and salt. Mix until sugar and salt are dissolved.

Heat oil in a medium deep pan or wok over medium heat.

6 pieces green saba/plantain bananas

Peel the green bananas. You may need to use gloves because of the sap from unripe bananas. They might have slight discoloration after peeling but that is fine.

Using a box grater or mandolin slicer, slice the bananas thinly. You can also use a knife just make sure that you slice them as thinly and evenly as possible.

Drop the sliced bananas directly into the hot oil. You can also slice them first and add them to the hot oil if you like. Try not to overcrowd the pan.

Fry the banana slices until they start to float, stirring from time to time for even cooking.

Lower the heat and when they are floating and are already crispy, add 2-3 tablespoons of the sugar mixture over the bananas, more if you like it sweeter. Be careful as it will bubble a lot and might also splatter. Once the bubbling subsided a bit, stir constantly so the bananas are coated evenly. You know it is done when the oil quietens and the bananas are golden in color.

Using a spider ladle or slotted spoon, scoop the banana chips, letting the excess oil drip back to the pan, and transfer to a drip rack or colander to remove any oil left. Then transfer to a baking tray or any wide dish to cool down.
Nutrition
Calories:
1718
kcal
Carbohydrates:
38
g
Protein:
1
g
Fat:
178
g
Saturated Fat:
13
g
Polyunsaturated Fat:
50
g
Monounsaturated Fat:
112
g
Trans Fat:
1
g
Sodium:
603
mg
Potassium:
60
mg
Fiber:
1
g
Sugar:
38
g
Vitamin A:
1
IU
Vitamin C:
1
mg
Calcium:
34
mg
Iron:
1
mg
More Dessert+Sweets Recipes