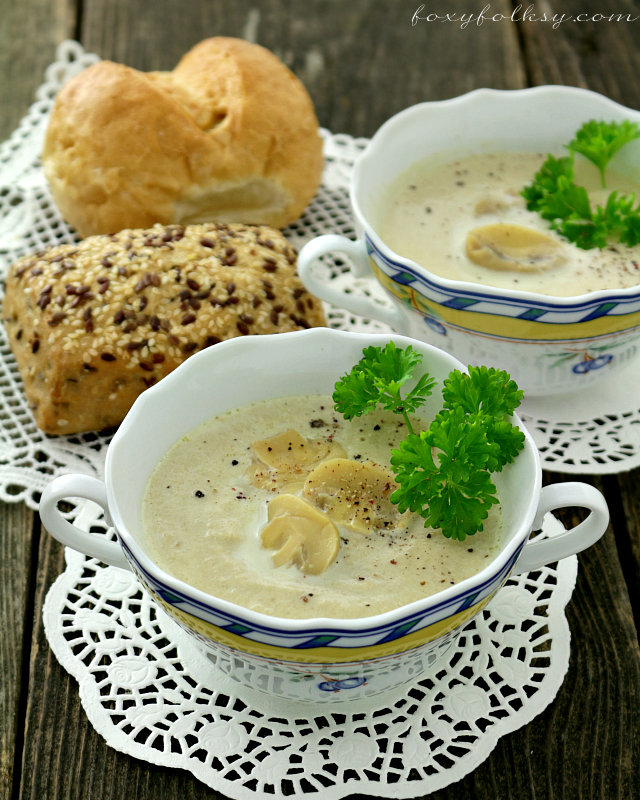 When I went home to the Philippines last January, one of the things I brought back to Germany were some food that I cannot easily find here, like dried spices and canned foods because they were the easiest to transport. If it was up to me I would have brought all the foodstuff I could but I guess I would have a problem with the customs. One of the items I brought was Cream of Mushroom Soup from Campbell's, yep the canned one. I usually use it as sauce from a chicken recipe I got from my mama. I tried looking for it here in Germany but it is not available at the groceries. It is being sold online though but for more than triple the price I get from the Philippines. 
Then one day I finally ran out of stock. What to do!!! Ok, I can always order it online, but the frugal just me won't let it happen, I just can't!. So the last option is to learn how to make my own cream of mushroom soup...and so I did! But I have to admit, I had to give it several attempts before I was able to get it right.
On my first attempt, I used fresh white champignon mushrooms because these I can easily buy here in Germany and I thought fresh is always good, right! When it was finally done, it was not that appetizing, I mean the taste was good but the look was not. The sauce turned dark grayish because the mushrooms were white from outside but the inner side was dark.  Armin and I still ate it albeit with a little hesitance. So, back to the drawing board!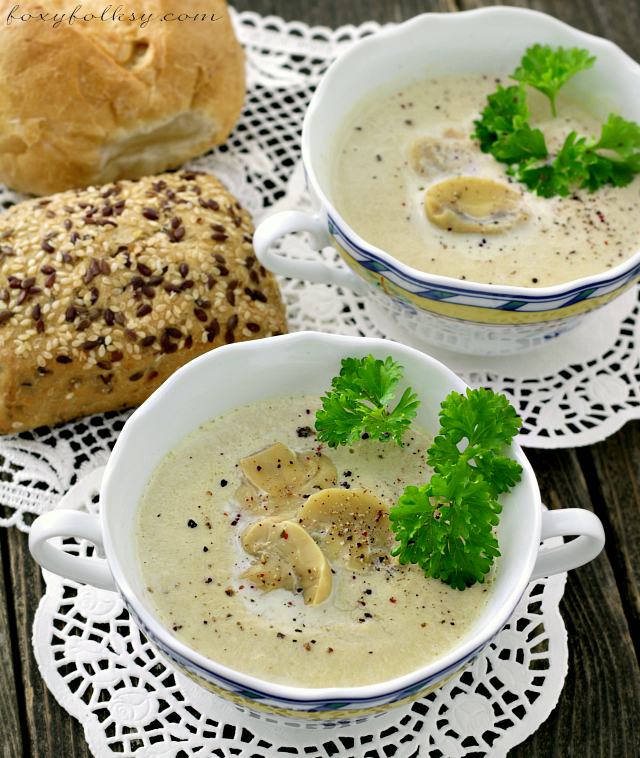 Next, I thought of using the bottled (or canned) champignon mushrooms for my next try! I thought it should work because they are usually lighter in color even after cooking...and I was right! This time it was not only successful but a great hit! I served it with my mama's chicken recipe for a get-together with my English-speaking friends and they all liked it.
Homemade Cream of Mushroom Soup
Make your own homemade cream of mushroom soup. Here is an easy and quick recipe for a creamy thick cream of mushroom soup!
Ingredients
2

tablespoons

butter

1

stalk

onion leeks

or 1 small onion - chopped

6

ounces

champignon mushrooms

- drained

2

cups

water

or chicken broth

½

cup

all-purpose cream

¼

teaspoon

salt
Instructions
In a pan, melt butter over medium heat.

Saute onion leeks or onion in butter for a minute or until soft and tender.

Add the mushrooms and saute for 2-3 minutes.

Add a cup water and let it simmer for a minute.

Remove from pan and transfer to blender or stab mixer.

Pulse several times until it turns into puree. Add more water if too thick.

Return puree to the same pan and add the cream. Season with salt and let it simmer for another minute.
Notes
Chicken broth cube can also be used but then no need to add salt.
Add more water and/or cream until desired thickness and creaminess is achieved.
Nutrition
Calories:
162
kcal
Carbohydrates:
2
g
Protein:
1
g
Fat:
16
g
Saturated Fat:
10
g
Cholesterol:
55
mg
Sodium:
215
mg
Potassium:
212
mg
Fiber:
0
g
Sugar:
0
g
Vitamin A:
610
IU
Calcium:
31
mg
Iron:
0.2
mg