Crunchy, tasty, and the real deal! This easy homemade Prawn Crackers recipe uses natural ingredients, making them healthier and more delicious than store-bought! Enjoy them as snacks or appetizers.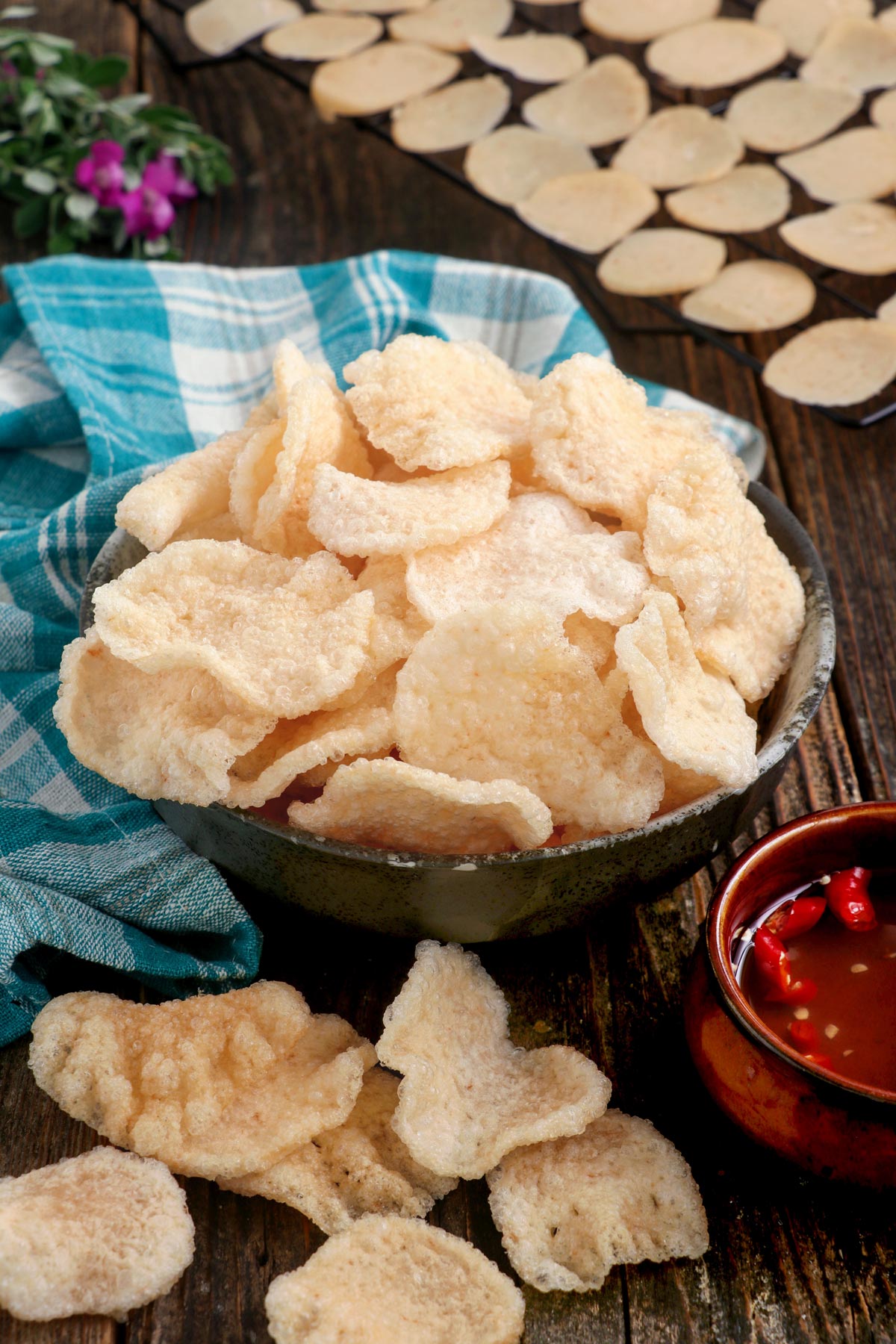 I have to admit, snacking is one of my guilty pleasures. I do it usually while watching movies, binge-watching our favorite series, or while working in front of the computer. More often than not, it has also saved me from hunger in between meals.
Good thing we have some healthy homemade snacks recipes that will make you enjoy snacking "almost" guilt-free. Try our Pasta Chips, Puff Pastry Sticks, Mojo Potatoes, Banana Chips, and this Prawn Crackers recipe.
What are prawn crackers?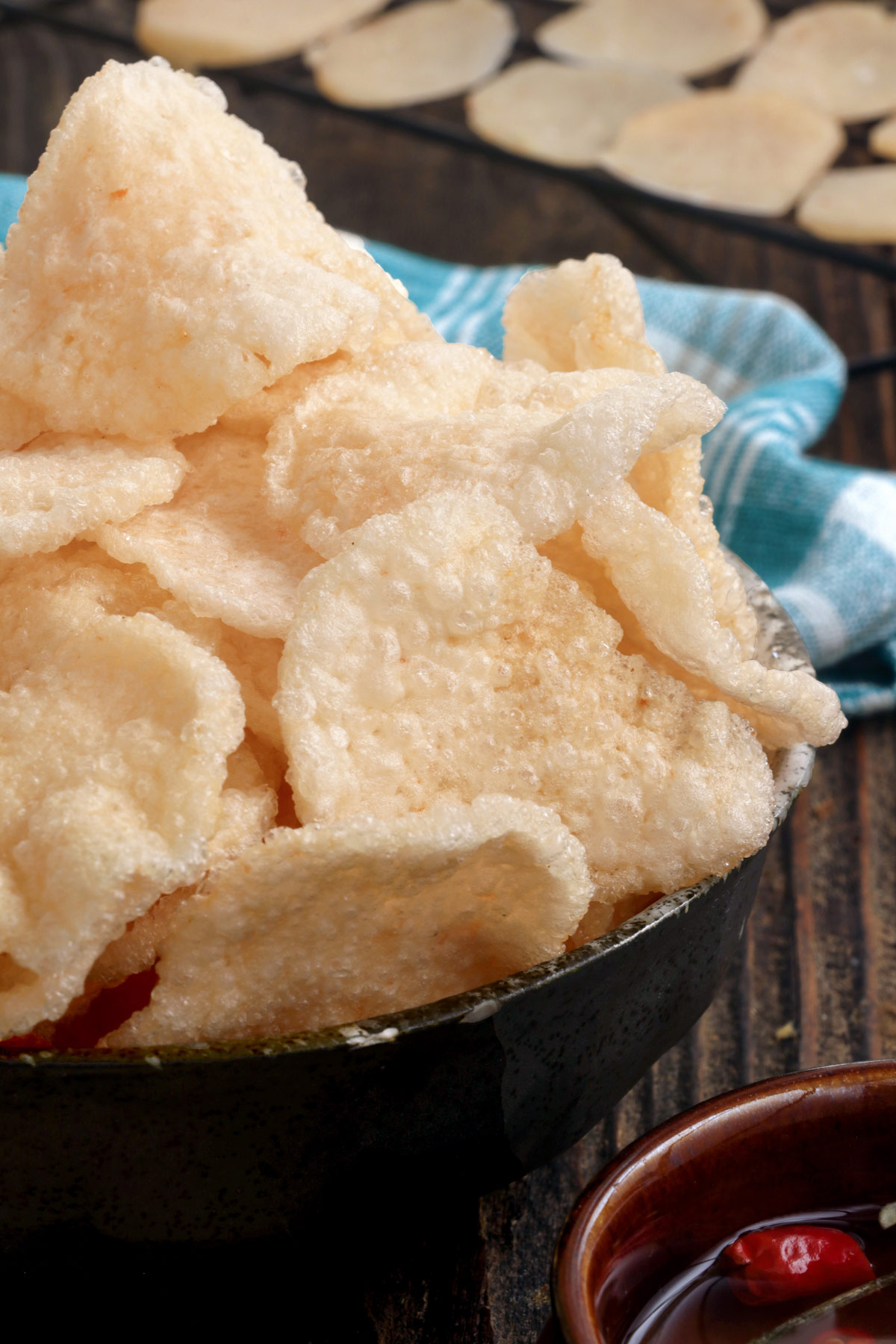 Prawn crackers are starch-based deep-fried crispy nibbles flavored with prawns. It is sometimes called shrimp chips, prawn chips, or shrimp crackers. These snacks are popular in Southeast Asian countries and are said to have originated in Indonesia and Malaysia. The ground prawn meat, tapioca starch, and seasonings are mixed together and formed into a dough. They are then sliced into thin round pieces and allowed to dry to remove excess moisture before deep-frying. You can typically find them as an appetizer in most Chinese restaurants in varying colors.
Why make them?
Easy to make. Once you have tried making prawn crackers from scratch, you will never go back to buying them off the shelves!
Flavorful and delicious. You will be surprised by how the crustaceous flavor shines through because you use more prawns and less starch.
Healthier than commercially sold prawn crackers. There are no preservatives and additives needed at all. Since there is no MSG or food coloring in them, it will make snack time more nutritious for the whole family.
Prawn Crackers Ingredients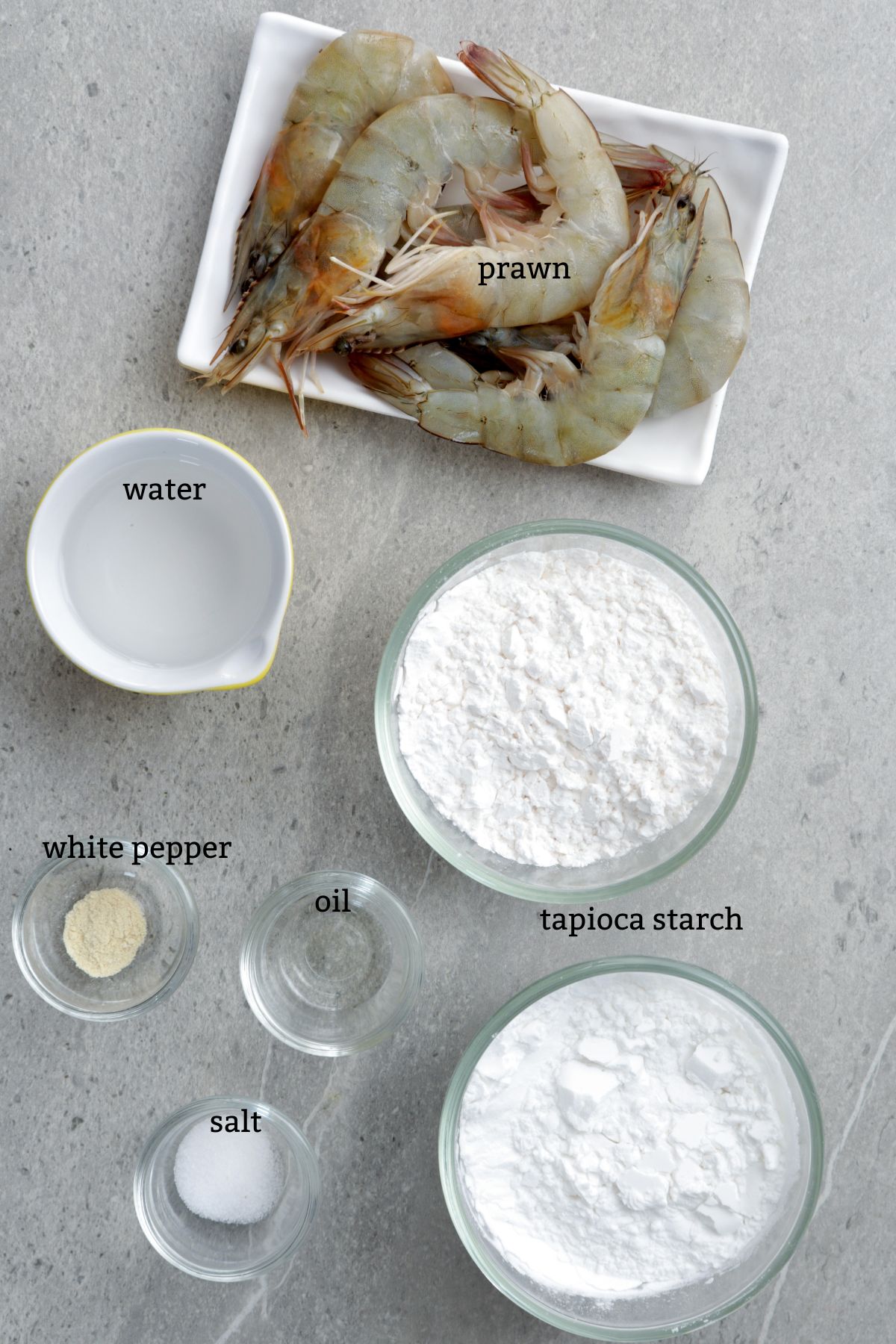 Prawn- peeled and deveined. Don't worry too much about deshelling them; you will ground them in the blender anyway. You can always buy packed frozen prawns already cleaned and peeled for easier preparation.
Tapioca Starch- It helps make the dough elastic and the crackers puff up as they cook.
Water- for easy processing and grinding of prawns.
Salt
White fine ground pepper
Oil- you'll use 1 teaspoon of this to add to the shrimp batter and a bit more for frying. Use any vegetable oil you have on hand.
How to Dry the Prawn Dough Slices
There are various ways to dry the fresh crackers. Here are three that you can try depending on what tools or equipment are available to you.
Sun-drying- arrange them in a single layer on a rack and let them sun-dry for 6 to 12 hours or until totally dried out. Make sure to place a protective net over them to keep the bugs away!
Oven- set it to the lowest temperature until they dry up. Again, the goal is to dry, not bake, so keep an eye on them.
Food dehydrator- this is an excellent option if you have one.
Cooking Tips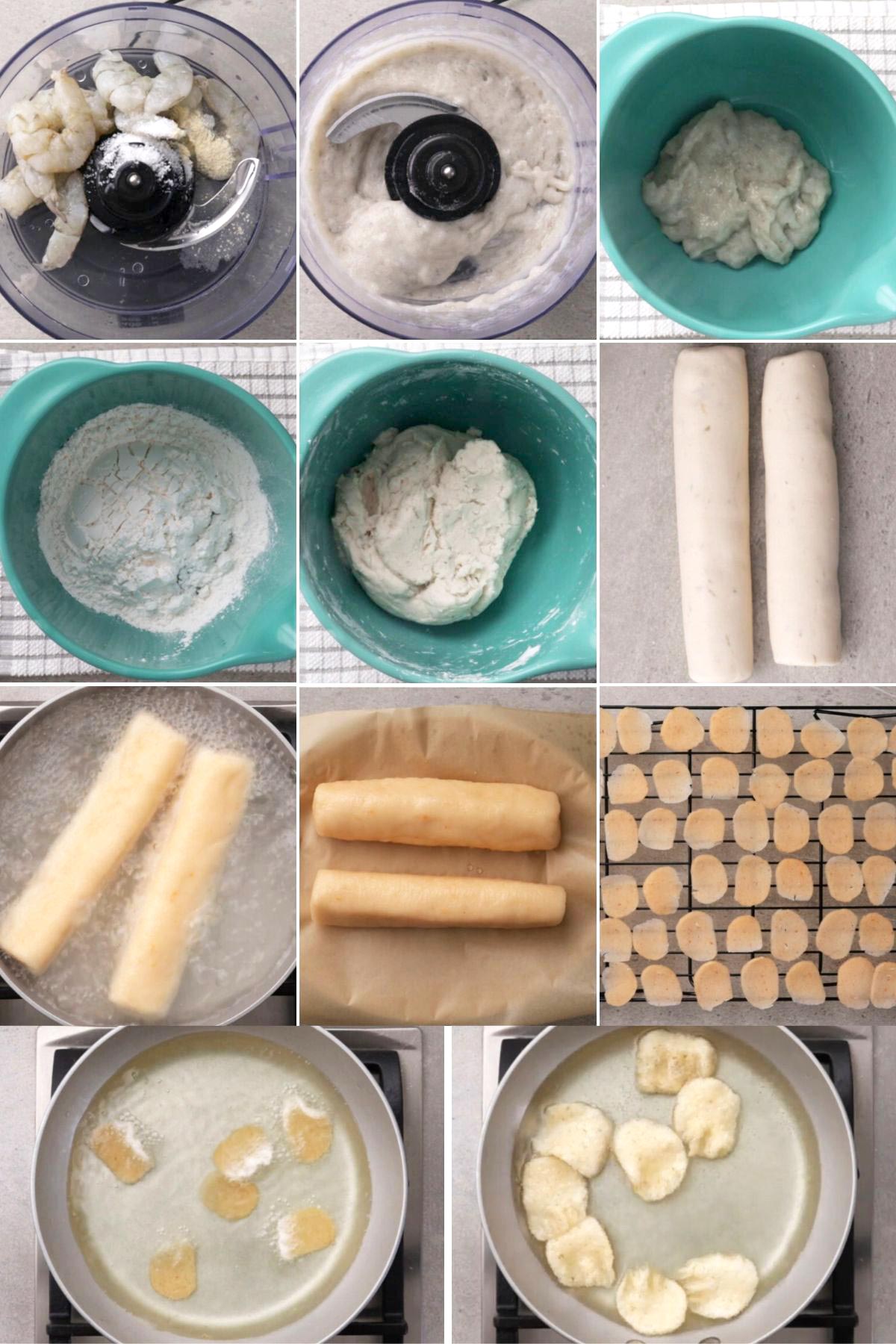 Make sure to blend the prawns really well. It should have a paste-like consistency. Having large bits and pieces of prawns will make it challenging to form a dough.
You might need to slightly adjust the amount of water or starch once you've combined the ground prawns and starch. If it's too wet, add starch. If the dough is too dry, add water. The goal is to have a dough that is not too soft or sticky. It should be compact enough to be rolled into a log.
Use a mandolin slicer or food processor to produce thin, even slices. This will make sure that they dry out all at the same time. If you do not have this, use a sharp knife and slice them as thinly as possible.
When drying the prawn slices, arrange them in a single layer. They should not overlap. It will ensure that you will not have any wet spots remaining.
Make sure that the dough slices are fully submerged in hot oil. If not, they may not fully puff up, leaving hard, dry, uncooked parts in the cracker.
Do not overcook your crackers. You should remove them from the pan seconds after they float. They will continue to firm up as they cool and dry.
How to Serve and Store
Serve the Prawn Cracker immediately with spiced vinegar as dipping sauce.
Store cooked prawn crackers in an airtight container for up to 2 days at room temperature.
To store dried uncooked prawn crackers, keep them is an airtight container in a cool, dry place for up to a week or two.
Printable Recipe
Prawn Crackers Recipe
Crunchy, tasty, and the real deal! This easy homemade Prawn Crackers recipe uses natural ingredients, making them healthier and more delicious than those you buy in stores! Enjoy them as snacks or appetizers.
Ingredients
¼

kg

prawn- peeled and deveined

⅓

cup

water

2

teaspoons

salt

¼

teaspoon

white fine ground pepper

1

teaspoon

oil

2

cups

tapioca starch

oil

for frying

water

for boiling
Instructions
¼ kg prawn- peeled and deveined,

⅓ cup water,

2 teaspoons salt,

¼ teaspoon white fine ground pepper,

1 teaspoon oil

Place prawns, water, salt, white pepper, and oil in a blender or food processor and blend into a homogenous paste. Transfer to a large bowl.

Add the tapioca starch and mix to form a dough, it should not be too soft or sticky. You may have to add more water or tapioca flour. Knead several times until smooth.

Roll the dough into a log, about 4 cm in diameter. Divide into two logs and roll to smoothen again.

Bring a pot of water to a boil over medium heat. Unwrap the dough and cook for 20-30 minutes turning it from time to time.

Transfer to a plate lined with parchment paper or greased lightly with oil and let it cool down completely. Refrigerate overnight to dry out for easy slicing.

Using a mandolin slicer, cut the dough into thin round slices. Place the slices on a rack and sun-dry for 6-12 hours or until totally dried out. You can also use your oven set to the lowest temperature (with fan is better) or a food dehydrator.

Heat about 2-3 inches of oil and fry the dried dough slices in hot oil for a few seconds after they float and remove from oil using a spider ladle.

Transfer to a colander to remove excess oil. Sprinkle some salt if needed and serve.
Nutrition
Calories:
132
kcal
Carbohydrates:
28
g
Protein:
4
g
Fat:
1
g
Saturated Fat:
0.1
g
Polyunsaturated Fat:
0.2
g
Monounsaturated Fat:
0.3
g
Trans Fat:
0.01
g
Cholesterol:
39
mg
Sodium:
767
mg
Potassium:
42
mg
Fiber:
0.02
g
Vitamin A:
56
IU
Vitamin C:
0.01
mg
Calcium:
18
mg
Iron:
0.5
mg
More Mouthwatering Appetizers and Snacks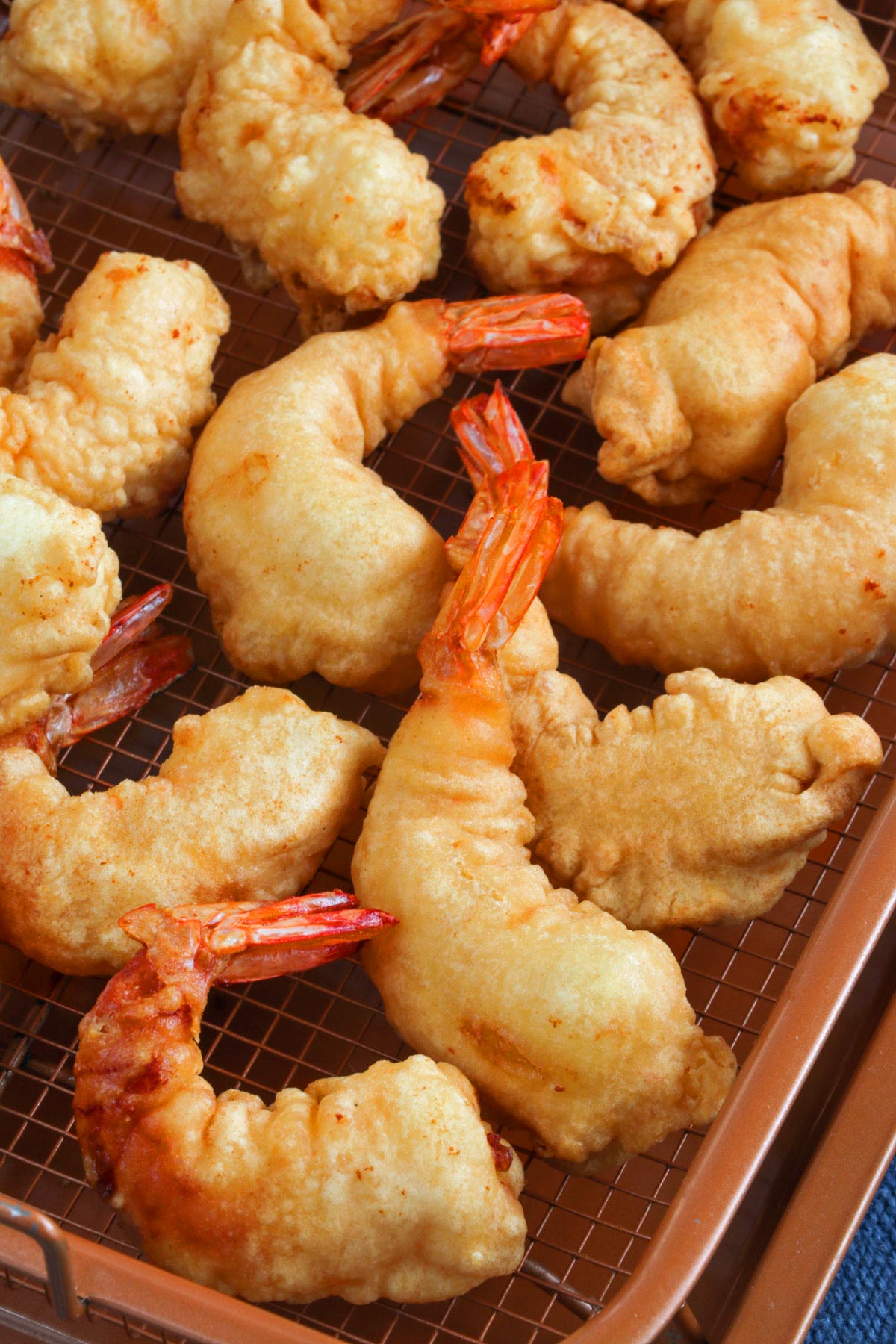 Frequently Asked Questions
Can I use shrimp instead?
Absolutely! In terms of flavor and texture, these two are interchangeable.
Can I steam the prawn log instead of boiling them?
Yes, you can. Just place it in a steamer basket lined with parchment paper. Steam until the log turns a darker shade of pink and the texture becomes elastic.
Are they healthy?
This homemade version is healthier because it is free from preservatives and additives. Take note, however, that they are still deep-fried. We recommend using heart-healthy cooking oil.
Are they gluten-free?
Yes, starches are free of gluten so these can be enjoyed by those on a gluten-free diet.