Bulalo with melt-in-your-mouth tender meat and comforting, flavorful stock from slowly simmering beef shanks and bone marrow. This classic Filipino beef soup is a year-round favorite but is a definite must-have during the rainy season.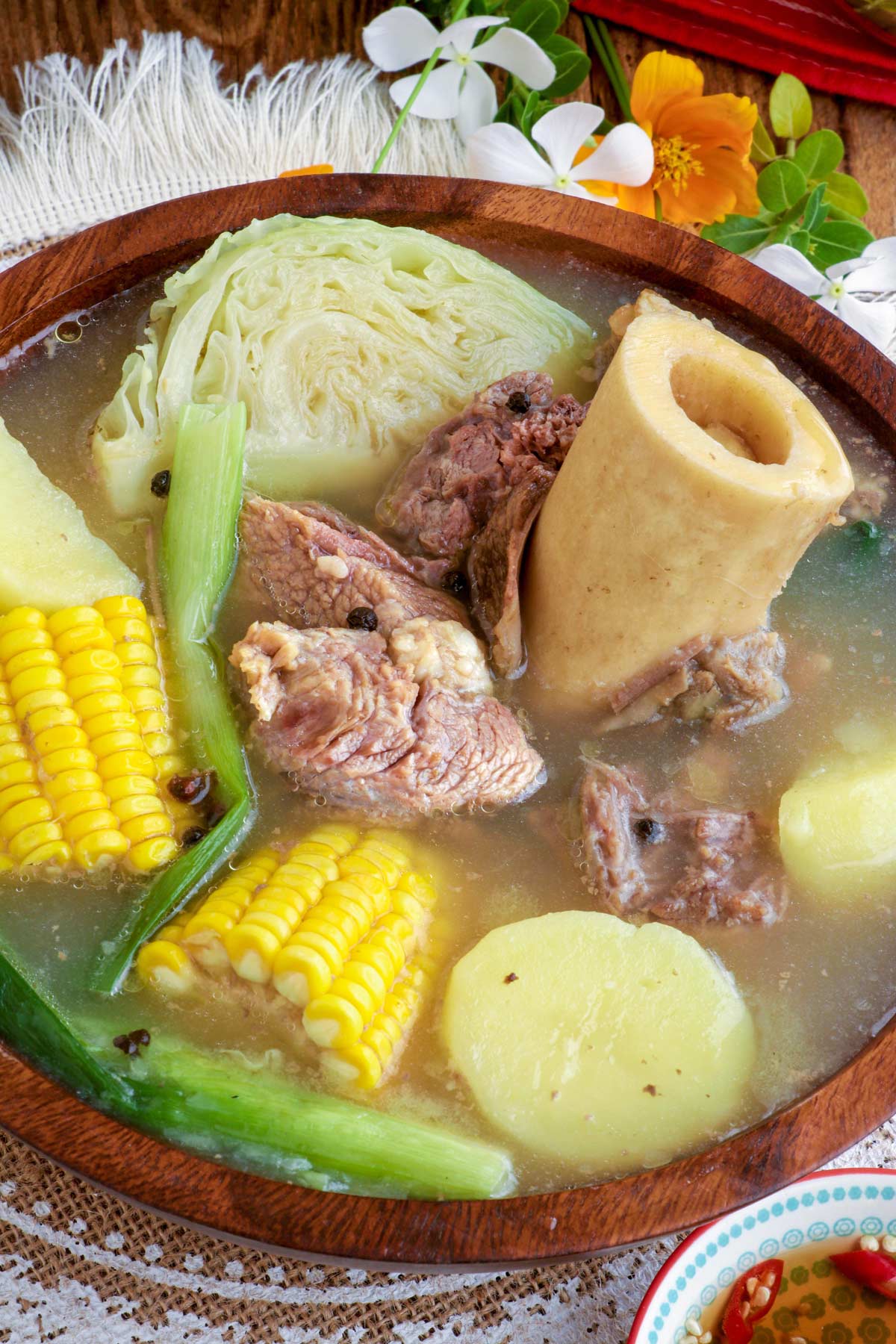 The Philippines only has two seasons- sunny and rainy. Rainy season usually starts in June and ends in November, and this is when Filipinos often crave classic comforting soup recipes like Sinigang, Tinola, Nilaga, and of course, Bulalo to warm them from head to toe.
What is Bulalo?
Bulalo is well-known for its tender, fall-off-the-bones meat and rich soup, but the part that folks mostly fight over is the collagen-rich, buttery bone marrows. It is cooked by simmering the beef shanks and bone marrow for hours until most of the fat and collagen have melted and melded into the stock. Bulalo usually includes a myriad of vegetables like cabbage, potatoes, onion leeks, and sometimes corn cobs.
It is native to the Southern Luzon region in the Philippines and is one of the most popular dishes in a Batangas and Cavite, particularly in Tagaytay which is a holiday town known for its all-year-round cold weather and spectacular view of the Taal Volcano.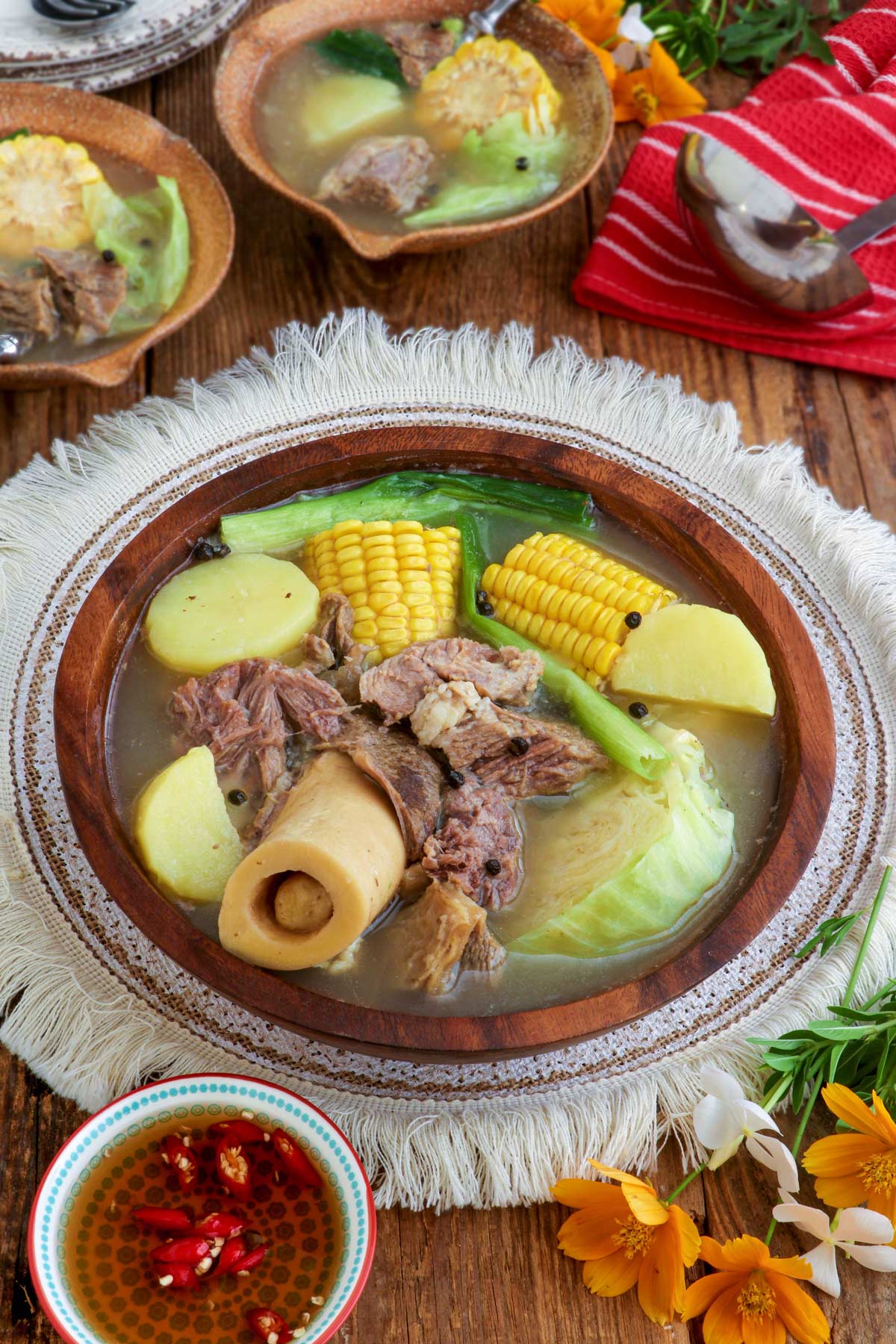 Why Make Bulalo Soup?
It requires minimal ingredients. The richness of the stew mainly comes from the beef shanks and the bone marrow; only a few seasonings and vegetables are added to balance the flavor.
It requires less effort than you think. The most that you have to do is prep and cut the veggies. The process involved in cooking Bulalo is mainly boiling the meat. And you don't really have to linger around it as this happens. Yes, it's quite a long wait but most of the work is done by your stovetop!
It's rewarding! After the long wait, Bulalo never disappoints. It tastes amazing and will instantly warm you up. That's why despite the lengthy process, it remains one of the most loved soup recipes in the Philippines.
Bulalo VS Nilaga
While these two quintessential rainy-day dishes are both made of beef boiled over time, they are quite different from each other. The main distinction lies in one ingredient: the bones. Bulalo is a type of beef stock. Making stocks involve boiling animal bones, in this case, the beef bone marrow, then the shanks or brisket later on. Nilaga, on the other hand, is an example of a beef broth. Broths are made by simmering meat in water, sometimes with herbs and vegetables.
Ingredients You'll Need in cooking Bulalo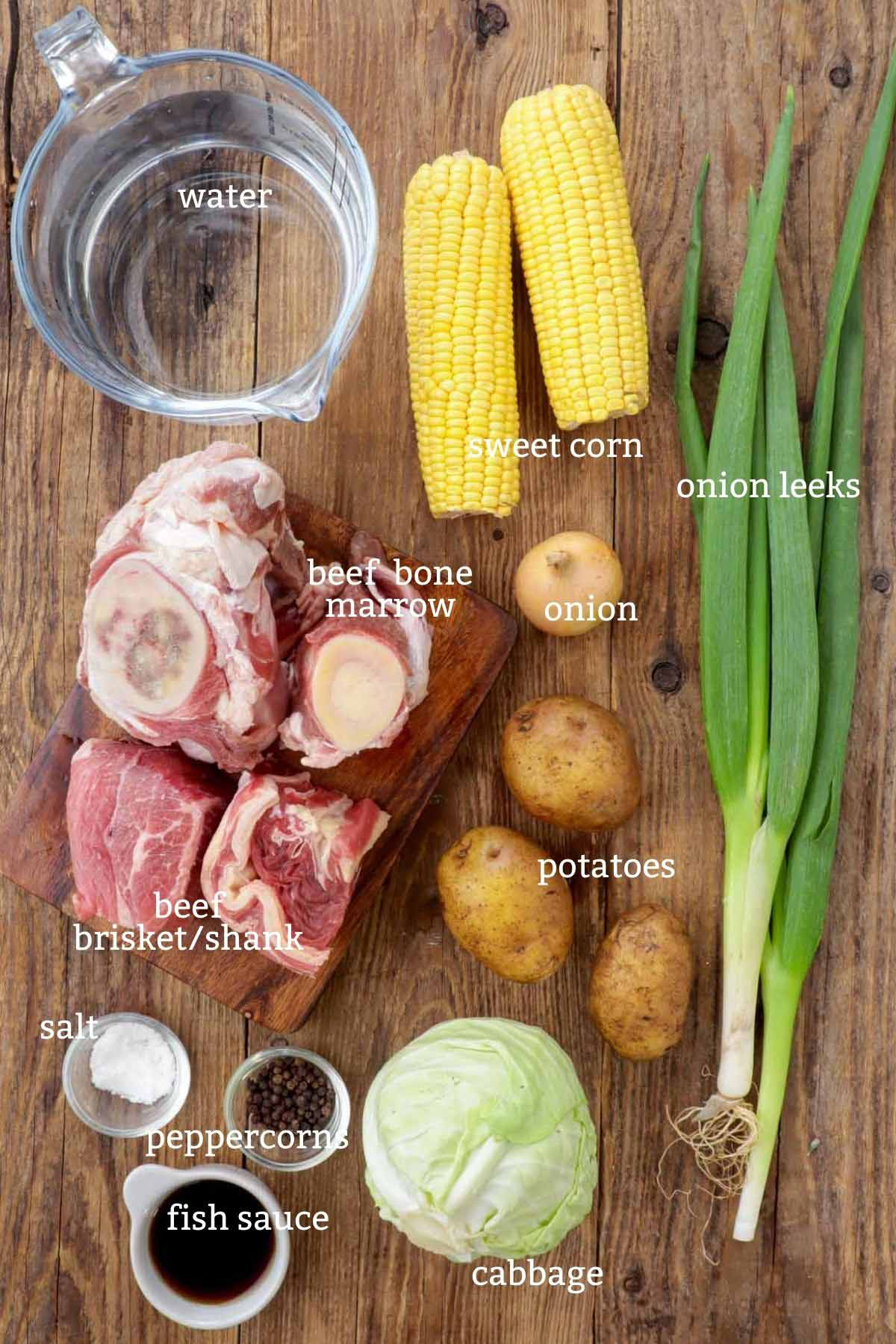 Protein- Meaty beef bone marrows and beef shank or brisket were used in this recipe. In the market, beef shanks are also called bulalo cuts.
Vegetables- Onion, potatoes, sweet corn, cabbage, and onion leeks were used.
Fish sauce- adds saltiness with a hint of umami flavor to the soup. If you prefer not to use this, you may also use soy sauce or add more salt, instead.
Salt and Peppercorns
Water
Cooking Tips
Meat preparation is important to ensure that you get rid of impurities first before cooking them. Pre-boil your meaty bone marrow to get rid of scum, and if using beef brisket, soak it in water first to draw out blood and other sediments.
If you do not have time to cook the beef for hours, you can always use your pressure cooker to reduce your cooking time.
You can add or omit veggies to your liking. I know some recipes where they add only cabbage and corn. You may also add pechay, bok choy, green beans, and even saba bananas.
How to Serve and Store
It is perfect with steaming hot rice (lots of it!) and soy sauce mixed with calamansi and red chilis as a dipping sauce.
For leftovers, store in a container with a tight-fitting lid and keep in the refrigerator for up to three days. You can reheat it using your microwave or stove.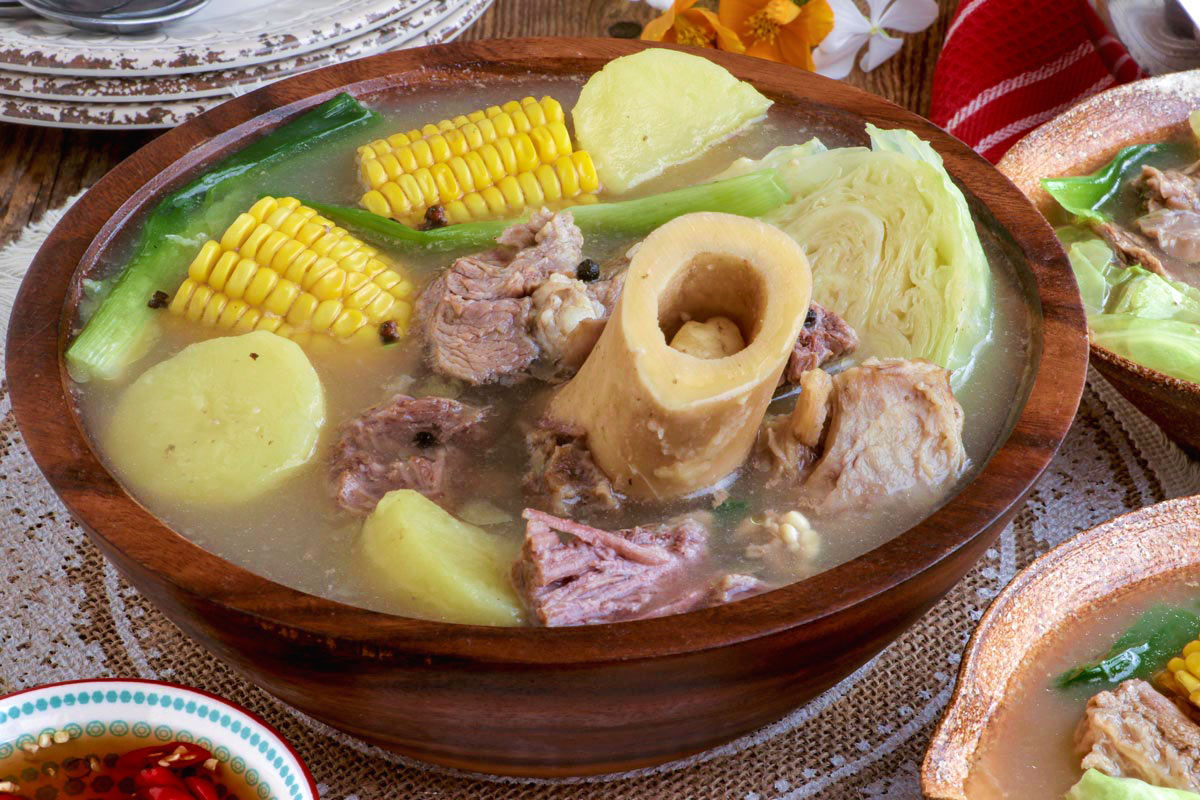 Printable Recipe
Bulalo Recipe
Bulalo Soup is a Filipino beef soup from slow-simmered shanks and bone marrow. Resulting to melt-in-your-mouth tender meat and flavorful clear stock with added vegetables making it a hearty soup. A soup is a year-round favorite but is a definite must-have during the rainy season.
Ingredients
2

pounds

meaty beef bone marrow

1

pound

beef brisket or shank

8-10

cups

water

1

tablespoon

peppercorns

¼

cup

fish sauce

1

medium

onion

quartered

3

medium

potatoes

cut in halves

2

ears

sweet corn

shucked and cut into 3 or 4 each

1

small

cabbage

quartered

2

stalks

onion leeks

white part and green part separated

Salt as needed
Instructions
1 pound beef brisket or shank

In a bowl, soak the brisket in water to draw out blood. Refrigerate until ready to use.

2 pounds meaty beef bone marrow

Rinse the beef bone marrow and then place in a pot and fill with enough water to cover. Bring to a boil over high heat then lower the heat to let it simmer for 5 minutes to let the scums out.

Drain and discard the water and clean the pot. Rinse the bones again to make sure no scum is left.

Return the beef marrow to the clean pot and fill with 8-10 cups of water to cover. Bring to a boil over high heat. Once it boils cover the pot and reduce heat to achieve a medium boil. Let it boil for an hour or 30 minutes if using pressure cooker.

1 tablespoon peppercorns,

¼ cup fish sauce,

1 medium onion,

2 stalks onion leeks

Add the soaked brisket (water drained), fish sauce, onion, the white part of onion leek, and peppercorns. Boil until meat is fork-tender, about 1.5 to 2 hours more or 30 minutes if using a pressure cooker. Add more water if needed to cover the meat.

Turn the heat off to let the fat settle on the surface. Skim off most of the fats then turn the heat back on and bring to a gentle boil.

3 medium potatoes,

2 ears sweet corn,

1 small cabbage,

Salt as needed

Add the potatoes and cook for 10 minutes or until tender. Then add the corn and cabbage and cook for 3-5 minutes. Lastly, add the green part of the onion leeks and salt if still needed then turn off the heat.

Transfer to serving bowls.
Nutrition
Calories:
317
kcal
Carbohydrates:
10
g
Protein:
14
g
Fat:
25
g
Saturated Fat:
1
g
Polyunsaturated Fat:
1
g
Monounsaturated Fat:
1
g
Cholesterol:
18
mg
Sodium:
870
mg
Potassium:
458
mg
Fiber:
4
g
Sugar:
5
g
Vitamin A:
199
IU
Vitamin C:
45
mg
Calcium:
83
mg
Iron:
3
mg