If you love ginger then this Chicken Tinola is for you. A simple everyday Filipino soup that is very healthy and flavorful.  This Tinola recipe is made with chicken, ginger, garlic, onion, fish sauce, chayote, red chili leaves, and with lemongrass.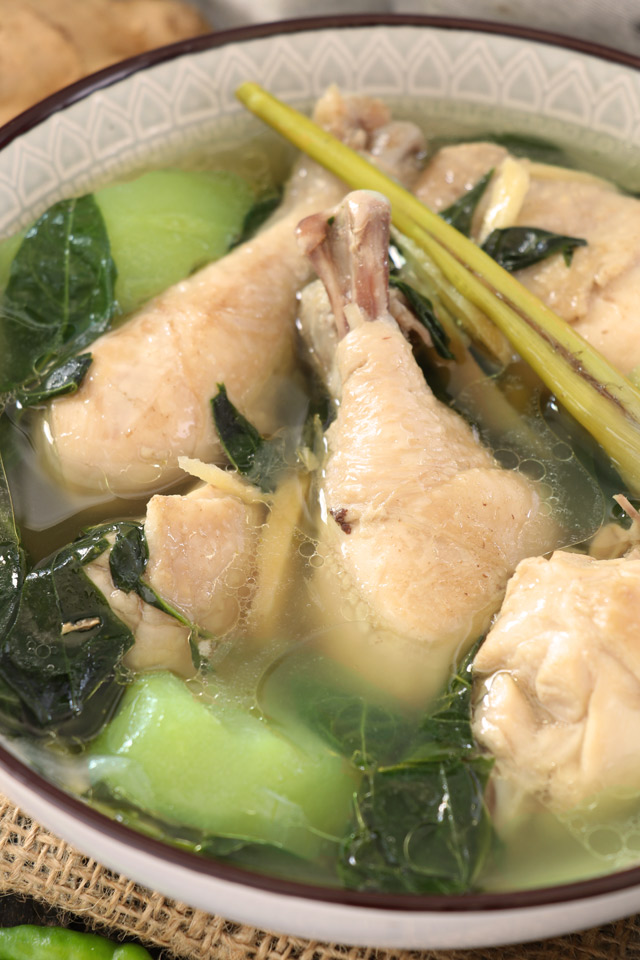 Chicken Tinola or just Tinola is 100% Pinoy dish. You will not find anything like it from our neighboring Asian countries or even around the globe. I would say that next to Adobo, Tinola is the most favorite dish in every Filipino household commonly served for lunch or dinner...with rice of course.
What is Tinola
Put simply, Tinola is a Filipino dish with chicken pieces cooked in ginger-flavored broth. It also usually has chayote or green papaya and green leaves like chili leaves or malunggay (moringa).
The addition of lemongrass is optional, but it enhances the ginger flavor of the soup and gives the dish a refreshing aroma.
It is no wonder that every time I feel that I am about to get sick or when it is getting too cold for me, I would crave for this dish. It is some kind of comfort food I guess...keeps you warm and healthy from all the good stuff in it.
Tinola Ingredients
The basic ingredients for Tinola are:
chicken pieces
ginger
garlic
onions
fish sauce
chayote (sayote) or unripe papaya
chili leaves or moringa (malunggay)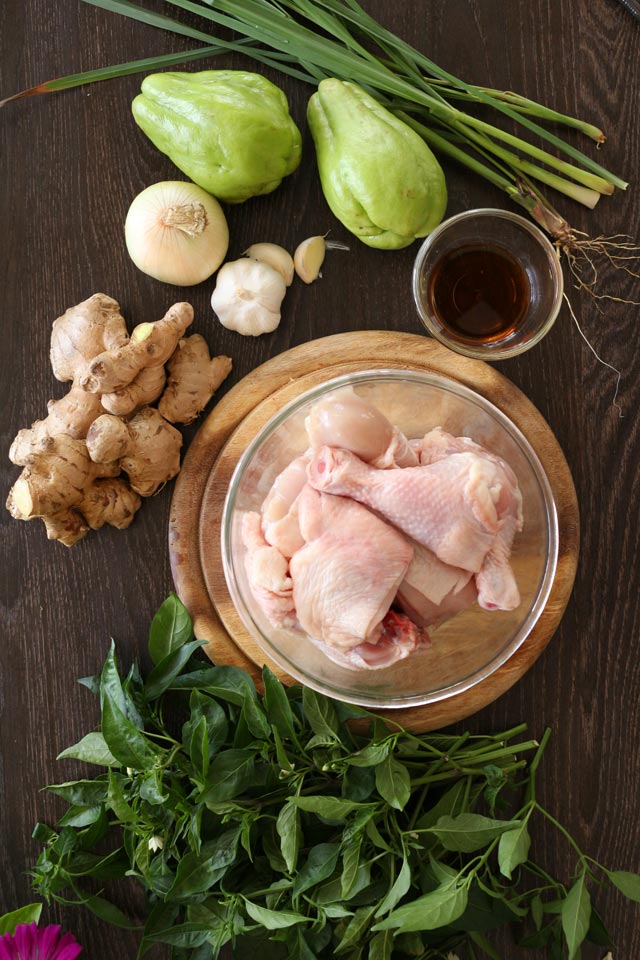 How to cook Tinola
Saute ginger, garlic, onions in hot oil until aromatic.
Add the chicken pieces and fish sauce and render until fats and juices come out.
Pour in water and bring to boil. Cook until meat is tender.
Add the sayote or green papaya and cook until soft.
Lastly, add the chili or malunggay leaves.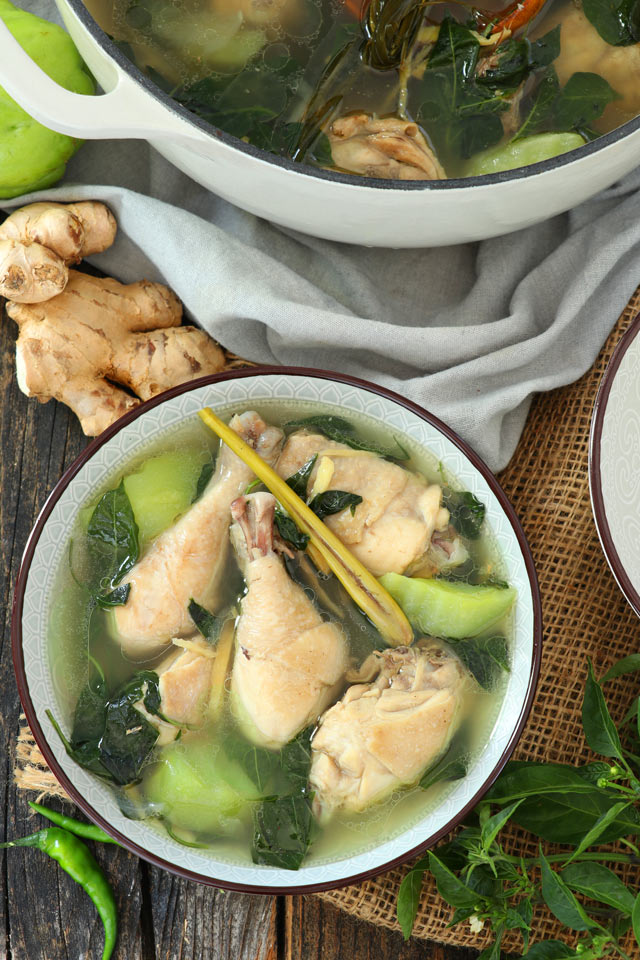 I was actually surprised (and feeling proud) that Armin liked Tinola the first time he tried it. He likes ginger, really like a lot! Which is good because I like it too!!! Sometimes he would actually request for it himself and, of course, I would happily oblige. But I have to put in some extra ginger or there will be war! It is like a contest on who gets to find more ginger strips from the soup bowl...or the fastest!
I was also surprised that he likes 'sayote' or chayote squash which is a typical ingredient of Tinola along with chili/pepper leaves. Unripe papaya is also commonly used instead of chayote squash.
I, personally, prefer chili leaves over malunggay for Tinola. They impart different tastes and I like the added leafy and mild peppery flavor of the chili leaves and sometimes it gives out a hint of spiciness.
I actually planted (a lot of) chili peppers just so I can have access to the leaves for cooking Tinola. That is fine as we like chili peppers too so its all good, almost nothing goes to waste from the plant then..hehe.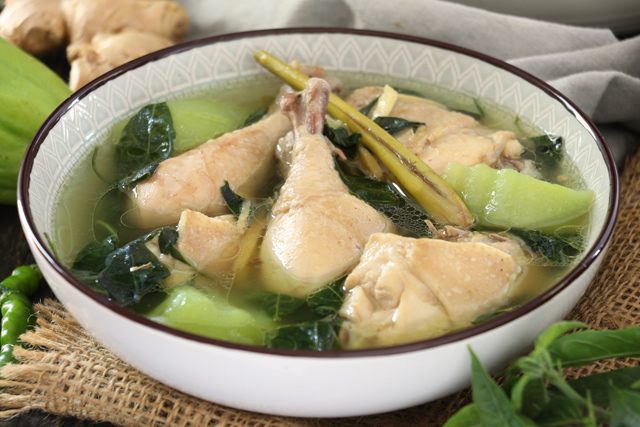 Other Filipino Soups to warm you!
Printable Recipe
Chicken Tinola (Tinolang Manok)
Tinola is a Filipino dish with chicken pieces cooked in ginger-flavored broth. It also usually has chayote or green papaya and green leaves like chili leaves or malunggay (moringa). Perfect during the rainy and cold season to keep you fit and warm.
Ingredients
2

tablespoons

cooking oil

3

thumb

ginger root

- cut into strips

2

big cloves

garlic

- minced

1

medium

onion

- coarsely chopped

2

pounds

chicken

- cut into serving pieces

4-5

tablespoons

fish sauce

6

cups

water

2

stalks

lemongrass

- optional

1

chayote or green pap

- cut into wedges

1

cup

chili or malunggay leaves
Instructions
In a pot over medium heat, saute ginger, garlic, and onion in oil until tender.

Add in the chicken pieces and fish sauce. Cover and let simmer for 5 minutes. Juices and some fat will usually come out from the chicken.

Add water and lemongrass. Bring to boil. Once it starts to boil, lower heat and cover pot. Let it simmer for 20 minutes or until chicken is tender.

Add the chayote or green papaya and let it cook for 5 minutes or until it becomes soft.

Add more fish sauce or salt if needed.

Lastly, mix in the chili or malunggay and simmer for another minute.

Transfer to bowls and serve while hot with rice.
Notes
In case you do not have fish sauce, you can use salt. 
Nutrition
Calories:
436
kcal
Carbohydrates:
6
g
Protein:
29
g
Fat:
32
g
Saturated Fat:
7
g
Cholesterol:
113
mg
Sodium:
1062
mg
Potassium:
428
mg
Fiber:
1
g
Sugar:
2
g
Vitamin A:
210
IU
Vitamin C:
8.5
mg
Calcium:
45
mg
Iron:
1.7
mg
This Tinola recipe was originally published in August 2015. Updated to include new photos and changed the recipe from 4 servings to 6 with the inclusion of lemongrass in the ingredients that makes the dish more flavorful.