Thai Fried Rice with Shrimp Paste
Khao Kluk Kapi is traditional Thai fried rice with shrimp paste. Usually served with various sides or toppings that are tossed together to make a flavor-bursting one-dish meal!
So far, I've only seen Thailand once and that was 10 years ago. And I loved it! Aside from the temples, elephants and weekend and floating markets, what I enjoyed the most is the food. I simply love Thai food! I love the lightness and freshness of it. Combining different textures that would either tickle your taste buds or bring it to an explosion.
And this Thai rice dish is a very good example of Thai cuisine. Combining four different taste: salty, sweet, sour and spicy.
The crispy cucumbers, sweet pork, and the sour green mangoes neutralize the strong shrimp paste flavor. The addition of fresh chili completes the package.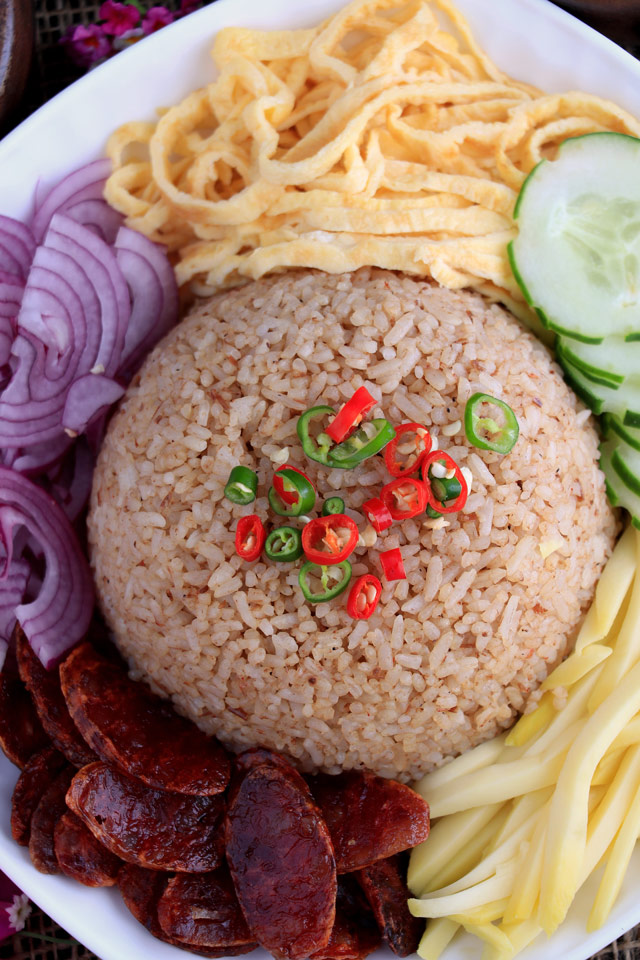 To Fry or Not to Fry?
The traditional way of making Khao Kluk Kapi actually does not involve stir-frying at all. Shrimp paste is simply mixed to the steamed rice.  The Thai word "Khao" means rice, while "Kluk"  is to mix and "Kapi" refers to shrimp paste. It is also made as simple as that.
But because of the pungent smell and flavor of the Kapi, modern version of frying it is done to tame the flavors a little.
Personally, I like the traditional no-fuss version. Well, that is me and I used and actually love the taste (and even the smell) of shrimp paste.
Although I have to note that the shrimp paste that we have in the Philippines is a bit different from that of Thailand's. The one we have is more liquid and loose and you can see the tiny crushed shrimps. The Kapi is firmer, dryer and finer in texture.
Sauteed shrimp paste is also available here, which is what I used for this recipe. It is less pungent and much more convenient to use. Just make sure you use a good quality shrimp paste because that is where the main flavor comes from.
Sweet pork is also a common accompaniment for the authentic Thai fried rice but I skipped it for now and just added Chinese sausages for the sweet factor. But both can actually be added.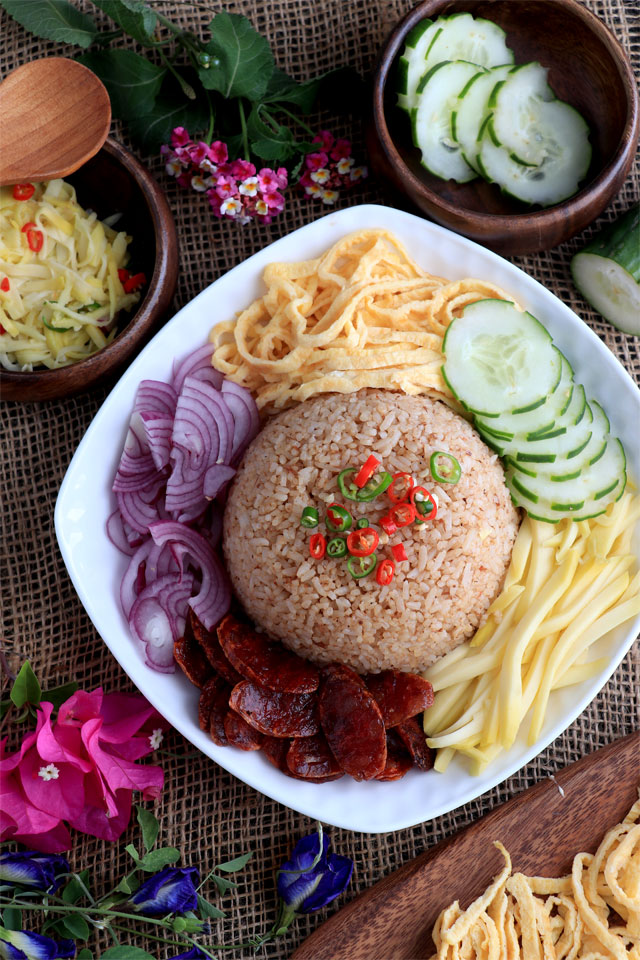 Tips for making Thai Rice with Shrimp Paste
If you are skipping the stir-fry part, use freshly cooked rice. It will be easier to work with. The steam from the rice helps soften the shrimp paste.
However, if using leftover rice, just warm it up in a microwave. Place the rice in a bowl with the shrimp paste underneath the rice. This will prevent the shrimp paste from splattering inside the microwave and will also keep the smell at bay.
For frying, rice which is a bit dry works best though. If your rice is too wet, place it on a plate and leave it uncovered for a while to dry out first.
You might also want to try these Thai Recipes
Pandan Chicken- sticky fried chicken wrapped in pandan leaves.
Pad Thai made easy
WANT MORE RECIPES? Subscribe to our newsletter and follow us on Facebook, Pinterest and Instagram for all of the latest updates.
Simple Thai Rice with Shrimp Paste
ThisThai fried rice with shrimp paste is usually served with various toppings that are tossed together to make a flavor-bursting rice dish!
Print
Rate
INGREDIENTS
oil

-

- for frying

2

pieces

eggs

1

piece

Chinese Sausage

-

- cut diagonally

1

medium

green mango

1

medium

red onion

1

small

cucumber

1-2

pieces

chili peppers

1-2

tablespoon

shrimp paste

4

cups

cooked rice
INSTRUCTIONS
Beat the eggs in a bowl until well mixed. Dab a tissue with oil to wipe the inside of the pan or use an oil spray. Pour half of the beaten egg and tilt the pan so the egg evenly coats the bottom of the pan. Cook on medium heat until set and golden. Flip it over to cook the other side. Transfer to a plate once done and do the same to the other half.

Arrange the two omelletes on top of each other and roll. Cut them into thin slices to create strips. Set aside.

Fry the slices of Chinese sausage in little oil for a few minutes until edges turn brown and some of the fats are rendered out. Set aside.

Wash green mango and peel off the skin. Use a shredder to shred the flesh. Or use a knife slice the mangoes on each side, avoiding the pit. Cut the flesh into julienned strips.


Peel the onion and cut into half lengthwise, from top to the roots. Then cut each half across into thin slices. Set aside.

Wash and peel off the skin of the cucumber. You may keep some part of the skin on for design. Cut diagonally into thin slices. Set aside.

Slice the chili peppers very thinly and set aside.
Preparing the Rice
METHOD 1. Place freshly cooked rice in a bowl and add the shrimp paste. Mix them well but gently with the back of a spoon until each individual grain is coated.

METHOD 2. In the same pan where the Chinese sausage was cooked, add the shrimp paste and cooked rice. Stir-fry until the rice starts to pop or bounce.

Pack the shrimp paste rice nice and tight into a bowl. Turn it upside down on a serving plate. Arrange the sliced red onions, shredded green mango, Chinese sausages, slices of cucumbers, shredded omellete around the rice. Top with sliced hot chili peppers.
VIDEO
Nutrition Facts
Simple Thai Rice with Shrimp Paste
Amount Per Serving
Calories 327
Calories from Fat 54
% Daily Value*
Fat 6g9%
Cholesterol 57mg19%
Sodium 322mg13%
Potassium 278mg8%
Carbohydrates 54g18%
Protein 11g22%
Vitamin A 540IU11%
Vitamin C 18.3mg22%
Calcium 47mg5%
Iron 1mg6%
* Percent Daily Values are based on a 2000 calorie diet.
Tried this recipe?
Tell us how it went. Tag us at @foxyfolksy or leave a comment and rating below.