An explosion of texture and flavors that is truly distinctive of this dish- a tangy salty taste with a hint of sweetness. This authentic Pad Thai recipe is perfect if you are looking for something light yet fulfilling.
What is Pad Thai?
One of the most- if not the most- well- known dishes in Thai cuisine, Pad Thai is a stir-fry rice noodle with meat or seafood, scrambled eggs, tofu, peanuts, bean sprouts, and other vegetables. It comes with a unique sauce that gives it it's signature flavor- a delicious balance of tanginess due to the tamarind, mild sweetness due to palm sugar, saltiness, and umami as it has fish sauce, and a trace of heat due to the chilies!
It is no wonder why this amazing dish is world-renowned! A single bite gives off so many flavors and texture that is so well-blended, one can't get enough of it. And you guessed it right, I am obviously a big fan of this dish!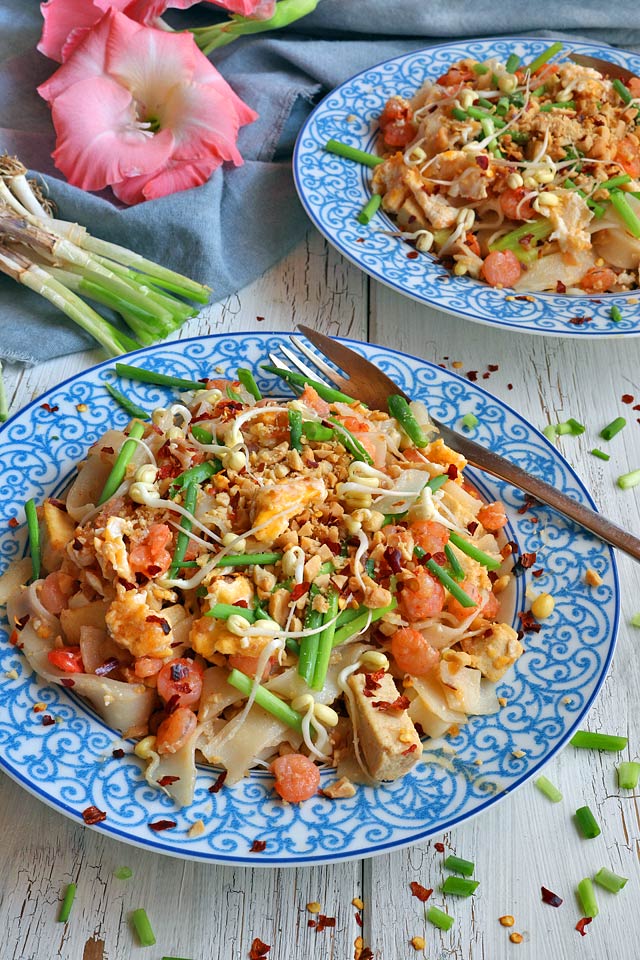 History and Variations
Rice noodle originally came from China and was introduced to Thailand. Pad Thai was then created as part of the country's focus to build a stronger national image during the mid-20th century. So this is not actually an old and ancient Thai recipe! But due to its unrivaled success, it is now known as one of Thailand's national dishes.
It's a staple in all Thai restaurants worldwide so it is no surprise why there are now so many variations of this dish. Different recipes have their own way of cooking Pad Thai. But this recipe is as simple and straightforward as it gets.
The best thing about this recipe- aside from it being very easy to make- is that it is also very versatile. You can use beef, chicken, pork, or shrimp - depending on what you are craving for. You can even go vegan if you want by using just tofu and leaving the egg out. Use soy sauce instead of fish sauce.
You can also make adjustments on the ingredients to make it less sour or spicy. It's up to you.
Alternative Ingredients
Palm Sugar- If you do not have this, then just use regular sugar but reduce the amount to maybe half.
Shrimp- feel free to use other proteins like beef, pork, or chicken. Or go all veggies and tofu only for a healthier option.
Tamarind Paste- you can use actual tamarind, tamarind sauce or powder, rice vinegar, or lime juice as substitutes. Please note that using vinegar or lime juice will make the dish taste different and less authentic. Tamarind is still the best way to go!
Chili flakes- you can use chili paste or Sriracha sauce instead.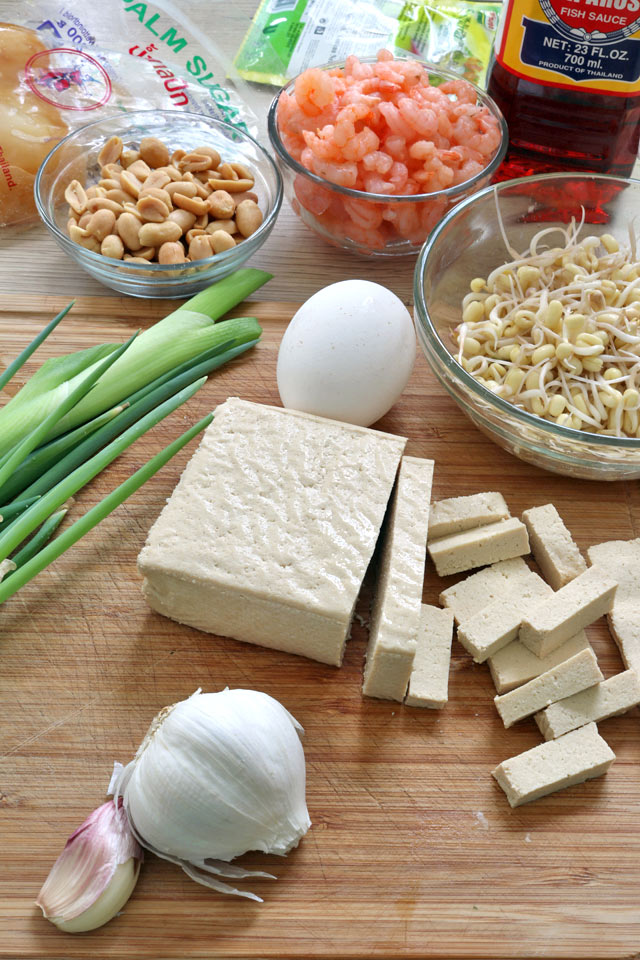 Foxy Tips when making Shrimp Pad Thai at home
No to soggy noodles- do not overcook your rice noodles! Pad Thai noodles should be "al dente". It should still be firm and chewy not mushy after boiling or else they will break and turn into pieces when you saute with other ingredients.
Make sure to also remove the noodles from the water right after boiling and drain properly using a colander. Remove as much water as you can and quickly put it in the wok with oil to saute. This way, your noodles will have that slippery strands versus clumped ones.
If you will cook your noodles ahead of time, you can wash them in cold water to get rid of the excess starch so they won't cling to each other and the cooling effect will halt the cooking process. Put them in a bowl and with a small amount of oil.
Pad Thai does not have a long table life- so it's best to consume everything after cooking. However, if you do have left-overs, make sure to refrigerate right away and keep it tightly packed. It can last for a maximum of three days if stored properly.
More peanut taste? - if you are a peanut lover and adding crunched peanuts is not enough for you, try adding peanut butter to the sauce.
Can't get enough of Thai food? Try these too:
WANT MORE RECIPES? Subscribe to our newsletter and follow us on Facebook, Pinterest and Instagram for all of the latest updates.
Shrimp Pad Thai Recipe
An explosion of texture and flavors that is truly distinctive of this dish- a tangy salty taste with a hint of sweetness. This authentic Pad Thai recipe is perfect if you are looking for something light yet fulfilling.
Print
Rate
INGREDIENTS
400

grams

rice noodles -

(uncooked)

3

tablespoons

oil

4

cloves

garlic

-

- minced

500

grams

shrimps

1

pack

firm tofu

2

medium

eggs

2

cups

bean sprouts

1

cup

green onions

-

- chopped

1

cup

unsalted peanuts

-

- chopped

2

teaspoon

chili flakes
SAUCE
6

tablespoons

fish sauce

4

tablespoons

palm sugar

-

or 1 tablespoon granulated sugar

6

tablespoons

water

4

tablespoon

tamarind paste

-

- or 2 tamarind / 2 tbsp vinegar
INSTRUCTIONS
Cook rice noodle as per package instructions.

In a small bowl, combine fish sauce, palm sugar, water, and tamarind powder. Mix well until sugar is completely dissolved. Set aside.

In a pan, cook firm tofu until it turns brown. Once cooked, remove from pan and cut into small cubes. Set aside.

In a wok or large skillet, heat oil over medium heat. Add garlic and cook until aromatic. Add cooked Tofu and shrimps and cook until shrimps turn pink/orange, about 3-5 minutes.

Move the shrimps and tofu on one side to make room on the skillet. Put eggs directly into the skillet and scramble them to break the yolk and mix with the whites. Fry the eggs for a minute or two or until cooked and then mix everything together.

Add the cooked rice noodles and pour in the sauce. Mix until well blended.

Add half of the bean sprouts, half of the chopped peanuts, half of onion greens and chili flakes. Toss until well distributed. Cook for another minute or two.

Transfer to a serving dish. Top with the rest of bean sprouts, chopped peanuts, and onion greens and chili flakes. Toss until well distributed.

Transfer to a serving dish and top it with the remaining bean sprouts, chopped peanuts, and onion greens.
VIDEO
Nutrition Facts
Shrimp Pad Thai Recipe
Amount Per Serving
Calories 686
Calories from Fat 225
% Daily Value*
Fat 25g38%
Cholesterol 265mg88%
Sodium 2243mg93%
Potassium 505mg14%
Carbohydrates 81g27%
Protein 36g72%
Vitamin A 443IU9%
Vitamin C 12mg15%
Calcium 274mg27%
Iron 5mg28%
* Percent Daily Values are based on a 2000 calorie diet.
Tried this recipe?
Tell us how it went. Tag us at @foxyfolksy or leave a comment and rating below.
This recipe was originally published in September 2017. Updated in November 2020 to include new photos, more tips, and a recipe video.