Filipino-style Arroz Ala Cubana is a hefty dish consisting of ground meat, sunny-side-up egg, fried cooking bananas, and fluffy rice. It's a great morning or lunch all-in-one dish that delivers big not only in serving size but also in flavors!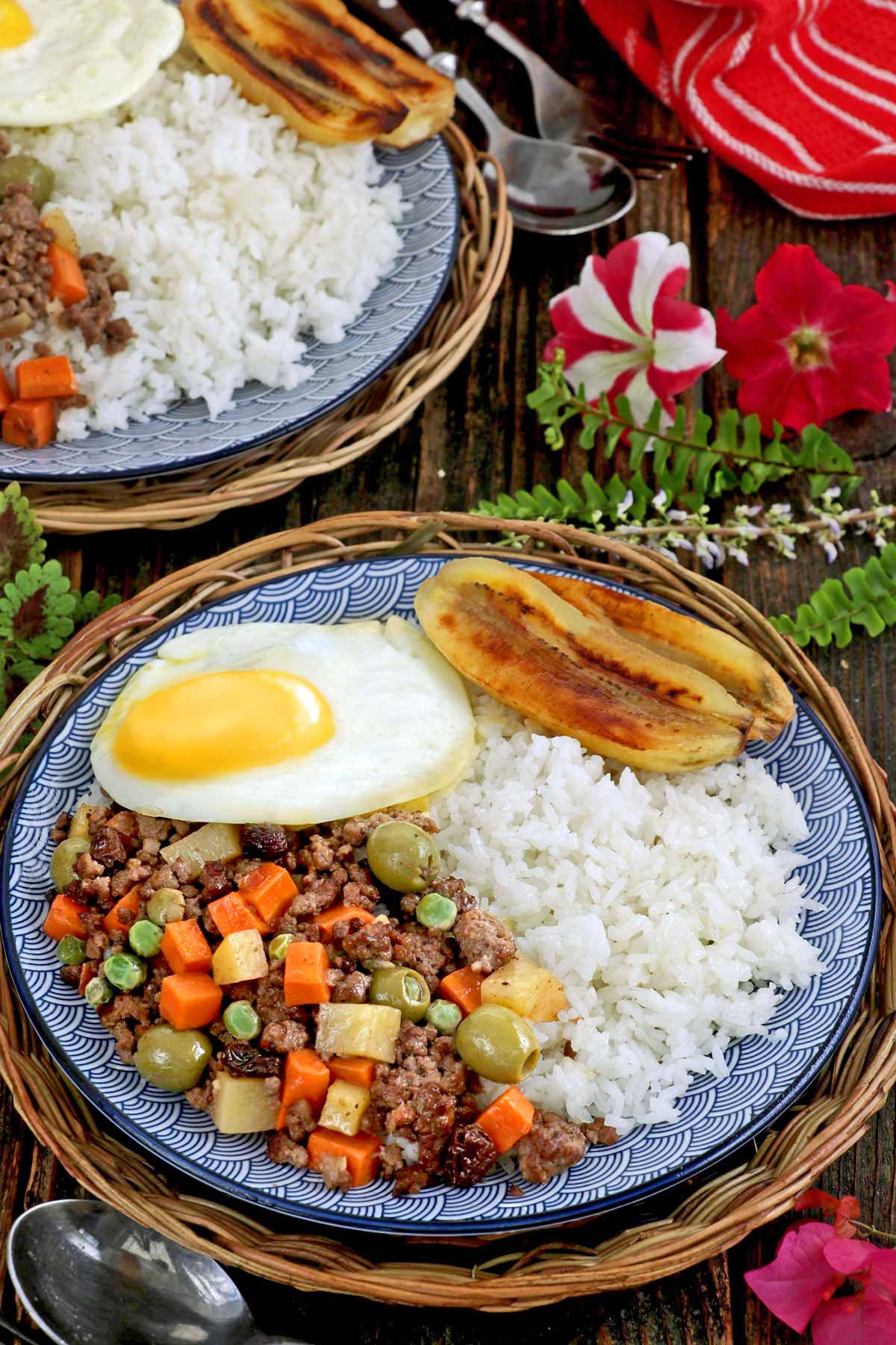 Jump to:
What is Arroz ala Cubana?
Arroz Ala Cubana or Arroz Cubano means Cuban Rice. Despite the name, the origin of this dish is still not confirmed, but it is very popular in Spanish countries. Here in the Philippines, it is a colonial dish that we can trace back from our history books. The original Spanish version is much simpler with just rice, eggs, and tomato sauce. However, with the passing of time, and true to it being a heritage dish, versions have sprung here and there. The most popular one being rice, with ground meat cooked in tomatoes or tomato sauce, fried saba, and fried eggs.
About the main ingredients
Ground meat. I made mine using my Picadillo recipe, though I know some who use Pork Giniling too. The ground meat can either be beef or pork, or a combination of both. It is usually cooked with tomatoes, peas, raisins, and olives. In other countries like Peru, they use hotdogs or sausages instead.
Banana. Since Saba banana is in ample supply here, it is the most common type of banana used for this recipe. They have firmer flesh which makes them great for frying. Plantain or cooking bananas may also be used.
Eggs. A golden, runny sunny side up is the most preferred for this dish. Though, do not get discouraged if you are a scramble egg lover! You can cook it any way you like it.
Rice. I used steamed rice, but fried rice works too!
Foxy Tips for you!
I recommend selecting Saba Bananas that are ripe yet still firm to the touch. This ensures that they don't turn mushy while frying.
If you like soft, plumer and less sweet raisins, soak them in warm water about 1 hour before cooking.
For perfectly cooked, runny eggs, warm oil over medium heat first. Once hot, place the egg on the pan then switch to low heat. Season and allow the egg white to completely set. Carefully remove from the pan once your yolk has the right consistency.
You can omit or add some of the veggies when cooking the ground beef. It's up to you!
Printable Recipe
Arroz ala Cubana
This Filipino-style Arroz Ala Cubana recipe is a hefty serving of ground beef with veggies, golden sunny-side-up egg, fried cooking bananas, and fluffy fried rice. It's a great morning or lunch all-in-one dish that delivers big not only in serving size but also in flavors!
Ingredients
Oil

for frying

4

medium

eggs

4 -6

pieces

saba bananas

each cut into 2 or 3 slices

4

cups

white rice

cooked

1

tablespoon

oil

2

cloves

garlic

minced

1

small

onion

diced

500

grams

lean ground beef

or pork or mixed

2

tablespoon

soy sauce

¼

teaspoon

ground pepper

4

pieces

ripe tomatoes

seeded and chopped

1

medium

potato

cubed

1

medium

carrot

cubed

½

cup

water

¼

cup

raisins

½

cup

green olives or capers

if big cut into halves

½

cup

green peas

salt

-if needed
Instructions
Heat oil over medium heat and saute garlic and onion until aromatic. Add the ground beef and break into smaller pieces with a wooden spoon. Cook until no longer pink. Add soy sauce and ground pepper and stir several times until it turns brown.

Add the tomatoes and cook until tomatoes become soft and start to break down a bit.

Add the potatoes, carrots, raisins, olives, and green peas and mix. Pour in water and bring to a simmer until carrots and potatoes are cooked and liquids are almost gone. Season with salt if needed.

In a pan or skillet, heat enough oil, fry the banana slices in hot oil on both sides until browned. Remove from the pan and set aside.

Next, fry the eggs sunny side up as you prefer it, either with runny yolks or lightly charred bottom.

Scoop a cup of cooked rice to a plate and scatter. Lay a portion of the picadillo on top of the rice then top with fried egg. Add the fried bananas. Arrange as you like and enjoy.
Nutrition
Calories:
4270
kcal
Carbohydrates:
686
g
Protein:
194
g
Fat:
73
g
Saturated Fat:
21
g
Polyunsaturated Fat:
11
g
Monounsaturated Fat:
36
g
Trans Fat:
2
g
Cholesterol:
965
mg
Sodium:
2816
mg
Potassium:
3781
mg
Fiber:
22
g
Sugar:
13
g
Vitamin A:
12045
IU
Vitamin C:
44
mg
Calcium:
487
mg
Iron:
25
mg
Looking for more amazing breakfast ideas?