Turn your day-old rice into this delicious Chao Fan. This Chinese-style vegetable-studded fried rice is super easy to make and is as good as anything you've had at your fave Chinese restaurants!
Jump to: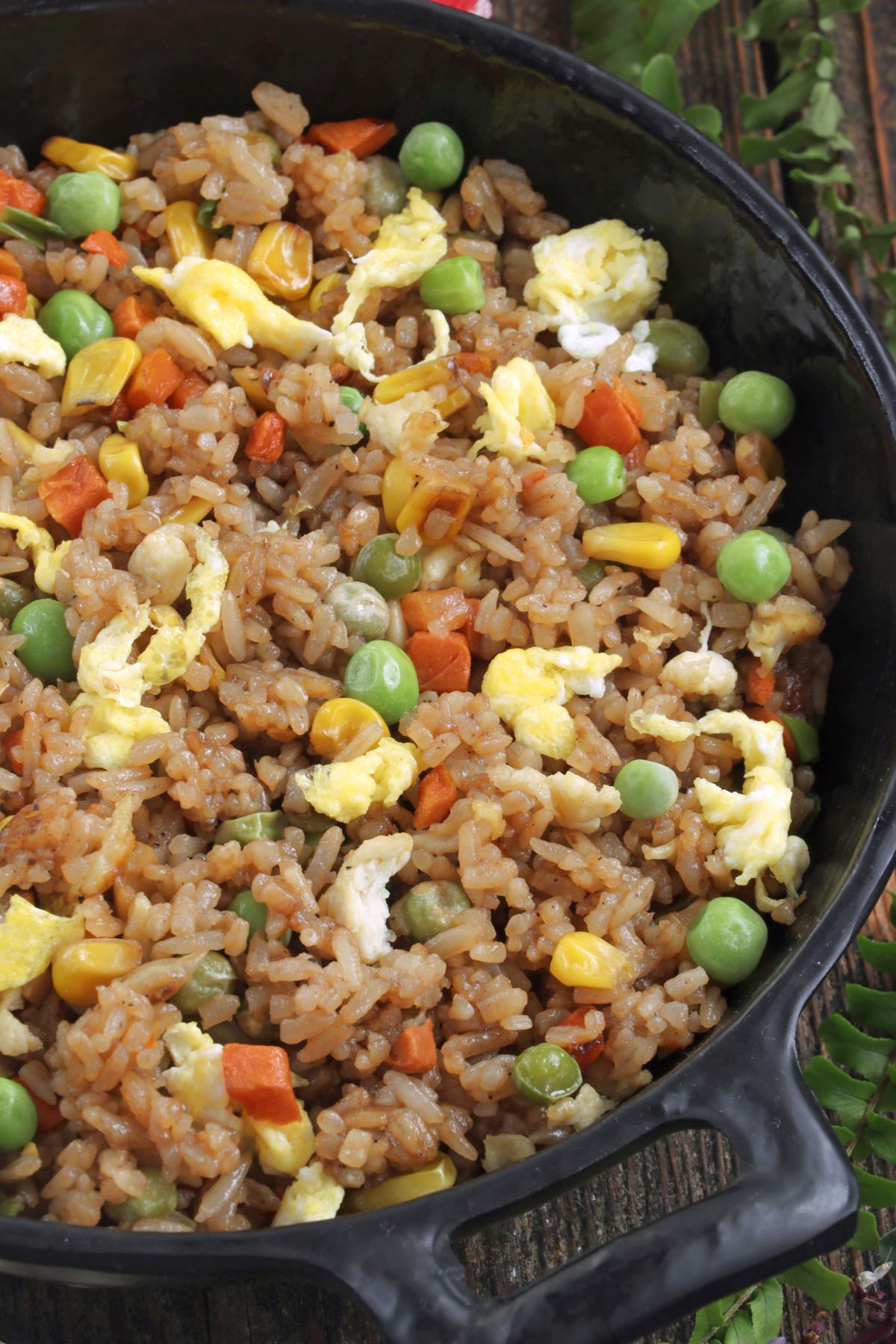 Asians just love rice! We have to have rice every day and it could mean every meal, I am talking about breakfast, lunch, and dinner. Constantly having rice means it is very also often to have leftovers. The best solution— make fried rice with a chockful of mixed veggies tossed with beaten eggs and seasonings!
This vegetable fried rice is super easy to make and made more simple by using frozen mixed vegetables. You can use any kind you like.
What is Chao Fan?
Chinese fried rice also called Chǎofàn or Chao Fan is a stir-fry of leftover rice that is normally mixed with pieces of vegetables, eggs, and sometimes meat. It is said to have originated from the Sui Dynasty in China. Since then, fried rice has evolved from different regions of the world. Asian countries, in general, make fried rice to repurpose their leftover rice.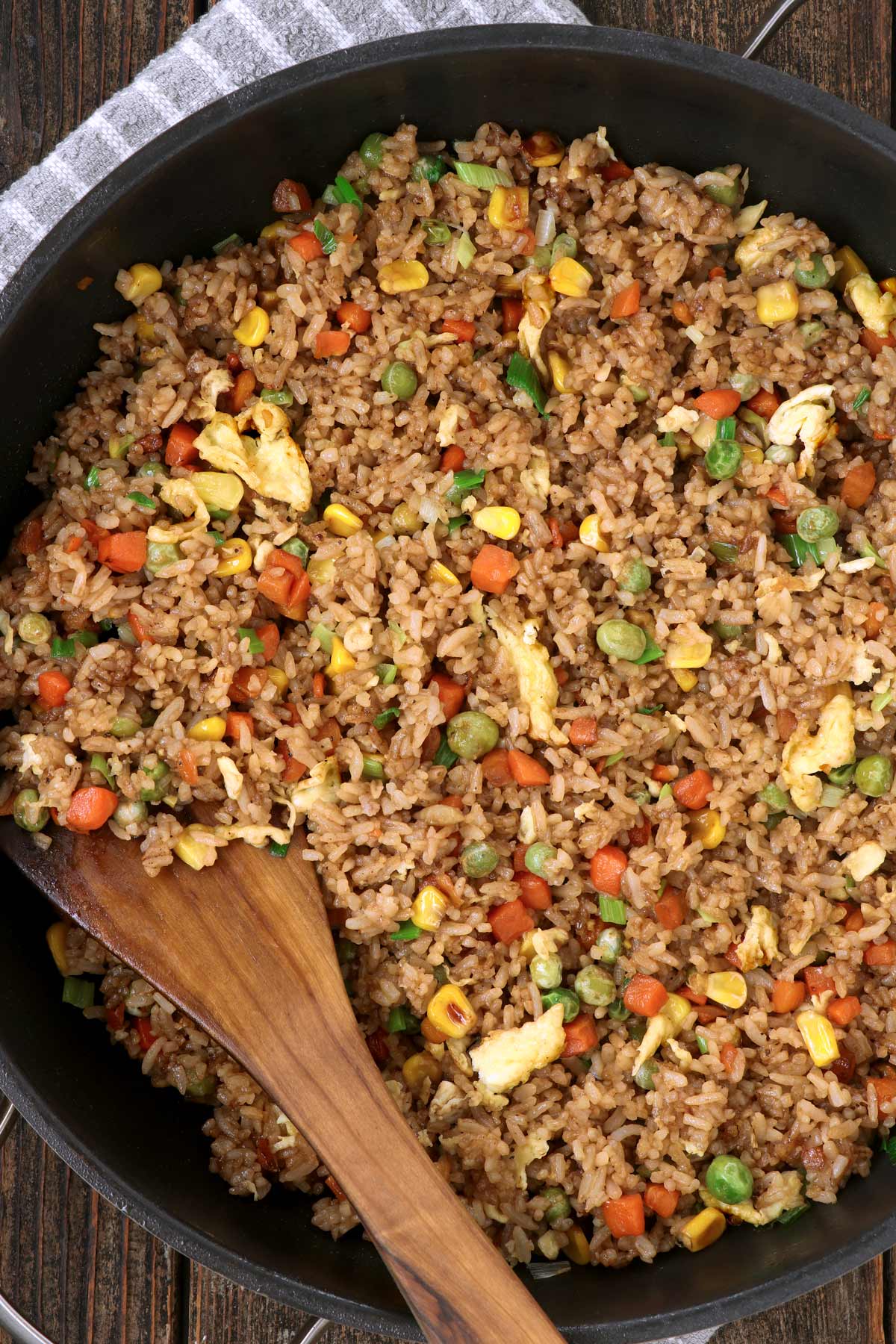 Why make it?
It is customizable. There is no one way of making this dish. In fact, it is what I'd like to call a "clean out your fridge" type of recipe. Any leftover veggies and cuts of meat you have stored on your chiller or freezer can go into it!
Quick and Easy. This vegetable fried rice recipe is so simple. It will only take 10-15 minutes of your time to have it ready.
A one-pan dish- You cook everything using a single pan only! This makes clean-up a breeze.
Budget-friendly. Most of the ingredients used are pantry staples or leftovers. So you can actually make this without buying anything.
A healthy, complete meal in one! This dish consists of carbohydrates (rice), protein (eggs), and various sources of vitamins and minerals (vegetables). It has everything you need to get you going for the day.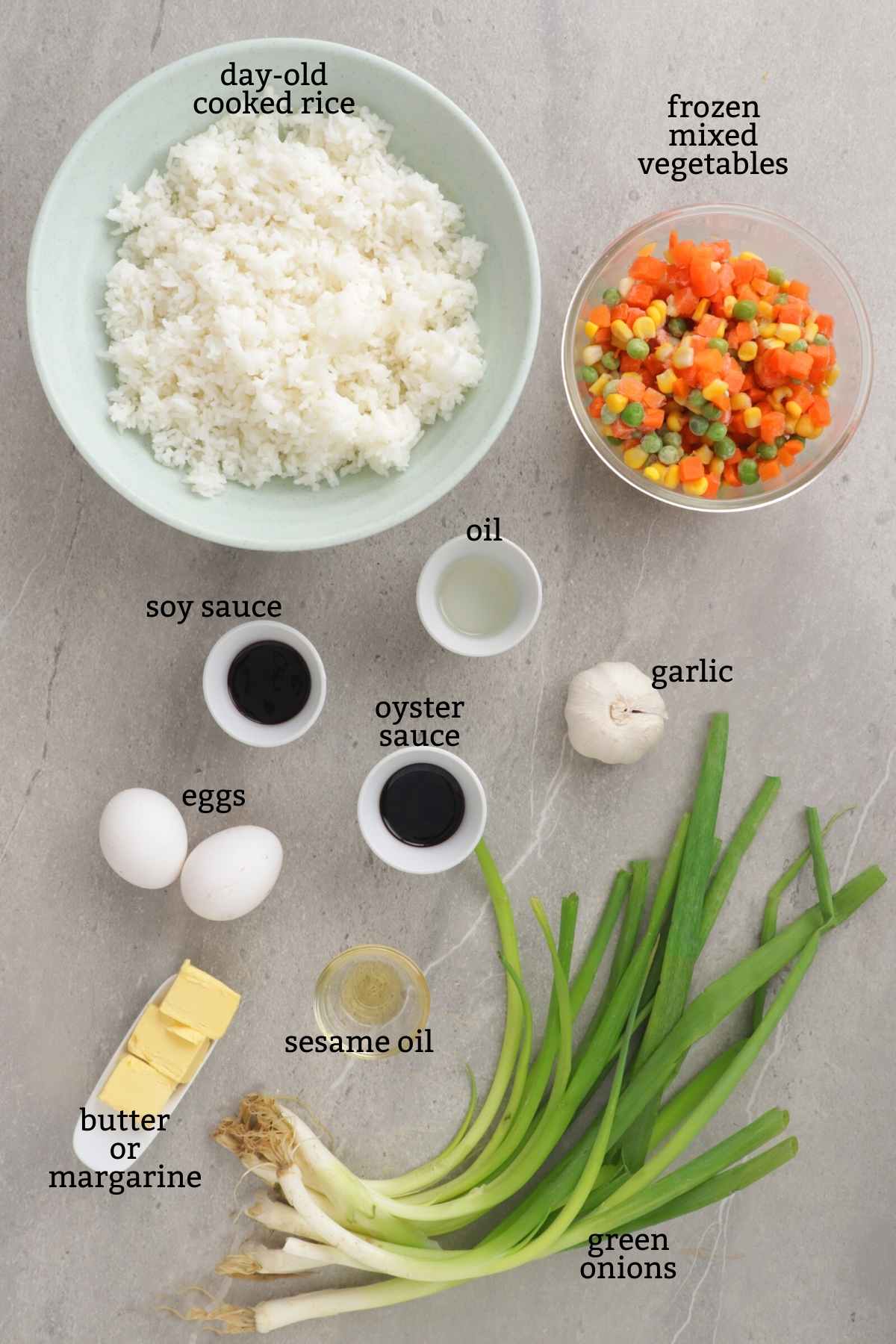 Ingredients needed
Here are the basic ingredients you will need to make this vegetable fried rice with eggs:
Leftover rice. Day old cold rice is the best type to use here. Cold rice is easier to mash and loosen.
Butter- you can also use margarine or just plain oil. It makes the fried rice a richer taste.
Garlic- The perfect aromatic base for this stir-fry recipe!
Mixed vegetables- you can use any frozen or fresh vegetables that you like!
Eggs- make the dish much more substantial and flavorful.
Soy sauce and oyster sauce- give the rice a sweet, savory and umami flavor. You can use other seasonings too like Worcestershire sauce, tamari, or hoisin sauce.
Garnishes- The green onions add a fresh taste while the sesame oil will give the fried rice a nutty undertone. Give it a bit of zing by sprinkling with chili flakes.
Cooking Tips
Cut your veggies in small uniform sizes. This is to make sure that they all cook evenly.
Take note that some veggies will take longer to cook than others. So if you have vegetables that require more time in the pan, cook them first before adding the rest. Does not apply if you are using frozen vegetables.
Make sure all your ingredients are ready and are within easy reach once you start stir-frying. You will be cooking in high heat so you have to move quickly so your ingredients do not burn.
Use a large wok or pan. Make sure that there is enough space in the pan to accommodate all the ingredients. An overcrowded pan will result in the rice and veggies steaming instead of frying.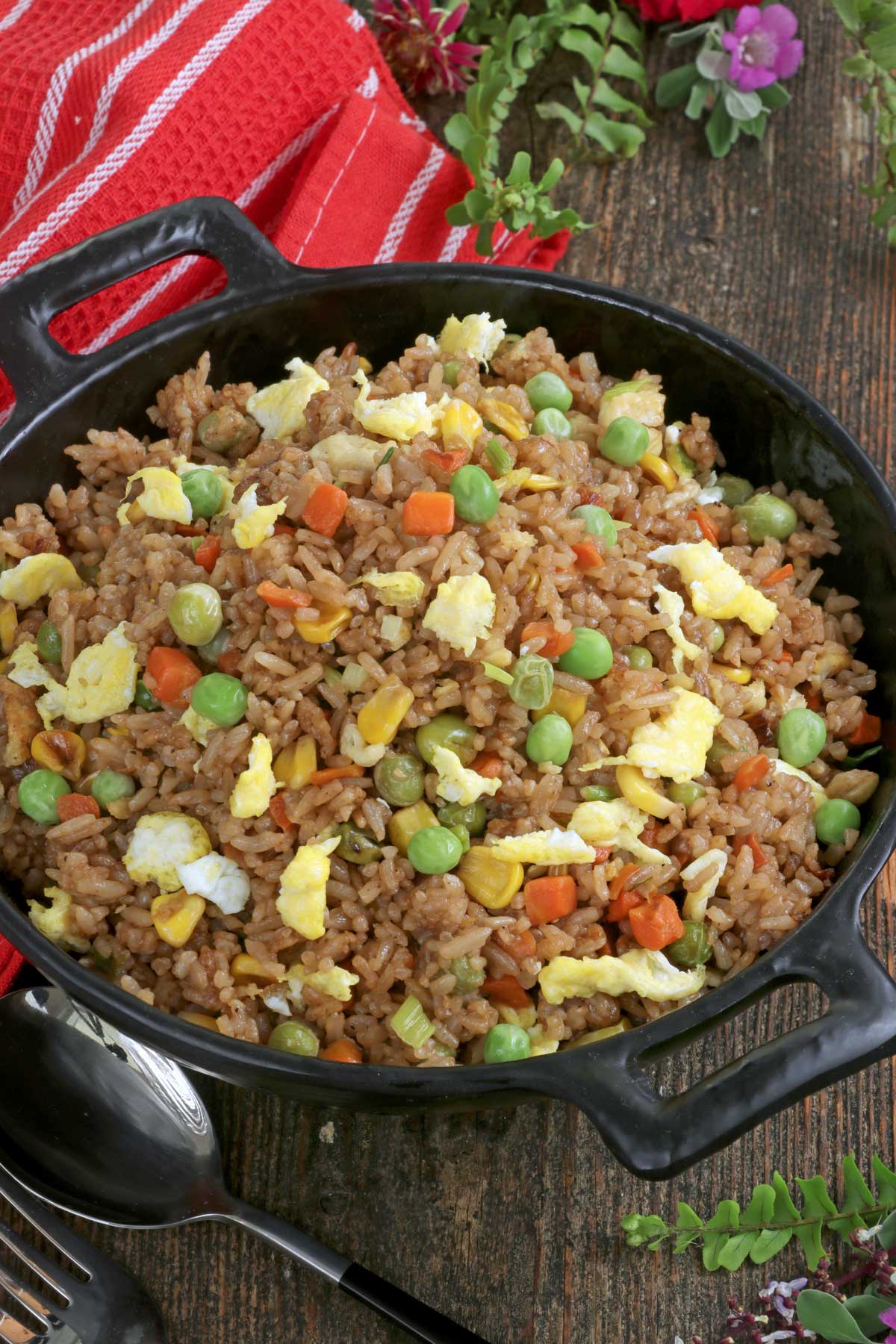 What to serve with fried rice?
Here are some recipes that go great together with this fried rice recipe to complete your Chinese dining experience: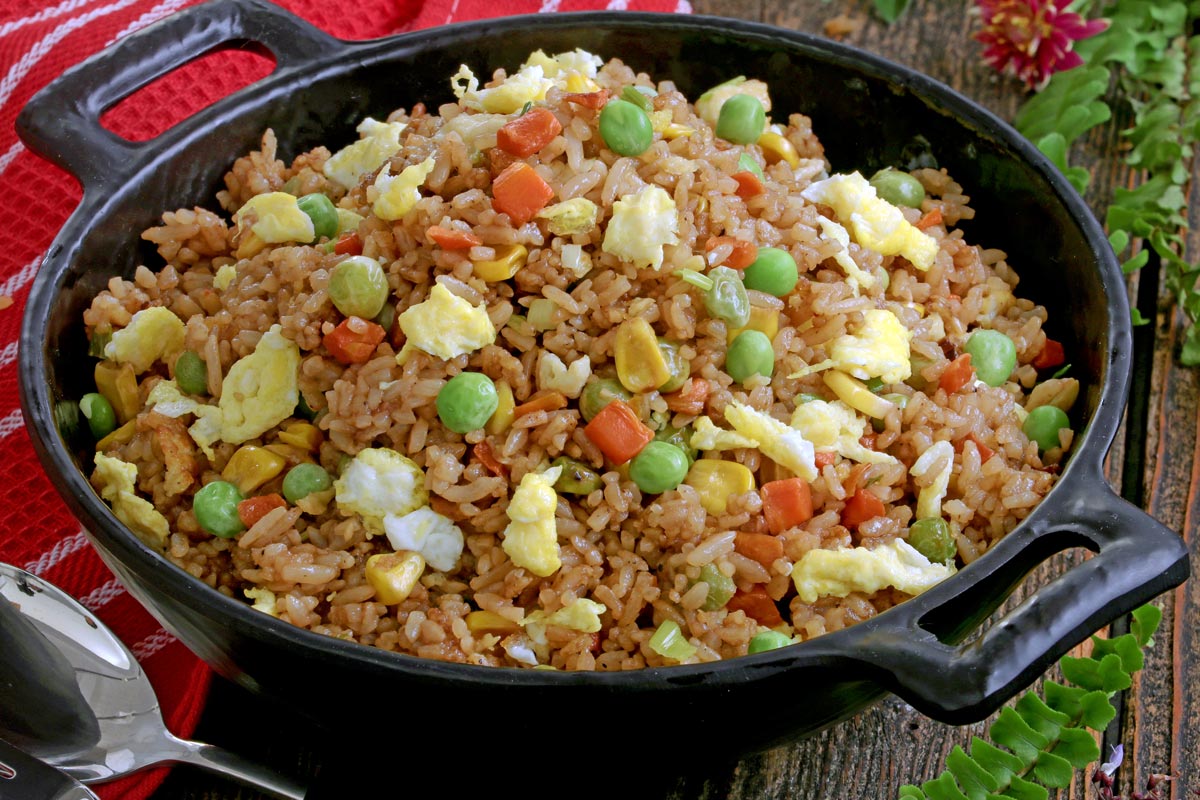 Printable Recipe
Chaofan (Chinese Fried Rice)
Turn your day-old rice into this delicious Chao Fan. This Chinese-style vegetable-studded fried rice is super easy to make and is as good as anything you've had at your fave Chinese restaurants!
Ingredients
4

cups

cooked rice

day old and refrigerated

3

tablespoon

butter

or margarine

3

cloves

garlic

minced

2

cups

mixed vegetables

diced (frozen or fresh)

2

tablespoon

soy sauce

2

tablespoon

oyster sauce

1

tablespoon

oil

or butter

2

large

eggs

beaten

½

cup

green onions

- optional

½

teaspoon

sesame oil

- optional
Instructions
Mash the rice gently with your hands to break apart lumps and loosen each grain. Set aside.

In a large pan or wok, heat butter or margarine over high heat until melted.

Add garlic and saute until golden. Add the frozen mixed vegetables and cook for 2 minutes or until no longer frozen and liquid evaporates.

Add the cooked rice, soy sauce, and oyster sauce and toss to mix. Cook for another minute, stirring from time to time.

Move everything to the sides and make room in the middle. Add a tablespoon of oil or butter then add the beaten eggs and stir and cook until scrambled. Make sure there are no big lumps.

Toss everything together several times to combine. Season with salt and pepper and stir. Cook for another minute or two without stirring.

Then add green onions and sesame oil and stir one last time before removing from heat.

Transfer to a serving plate.
Nutrition
Calories:
296
kcal
Carbohydrates:
42
g
Protein:
8
g
Fat:
11
g
Saturated Fat:
5
g
Polyunsaturated Fat:
2
g
Monounsaturated Fat:
4
g
Trans Fat:
1
g
Cholesterol:
77
mg
Sodium:
614
mg
Potassium:
246
mg
Fiber:
3
g
Sugar:
1
g
Vitamin A:
3611
IU
Vitamin C:
9
mg
Calcium:
50
mg
Iron:
1
mg
FAQs for Fried Rice
Can I use freshly cooked rice?
Yes, you can, though it may be hard to loosen them as they are still a bit sticky. A good tip is to place the rice in the freezer for 30 minutes before stir-frying.
Can I add some other proteins?
Absolutely! You can add leftover pork, beef or chicken meat as well as shrimps, fish, or sausages. Add them after the rice to warm them up.
What is the best rice to use for this?
Any type of rice can be used for this recipe. Though some prefer using long grain rice because they are less starchy.
How do I store leftovers?
It is best consumed on the same day but if needed, make sure the fried rice is no longer warm before putting it in the refrigerator. Remember to consume it within 3 days.