Sushi Bake is the latest gastronomic trend that gives you a deconstructed version of the original Japanese rolled Sushi. This delicious recipe also comes with my own method of making homemade Furikake.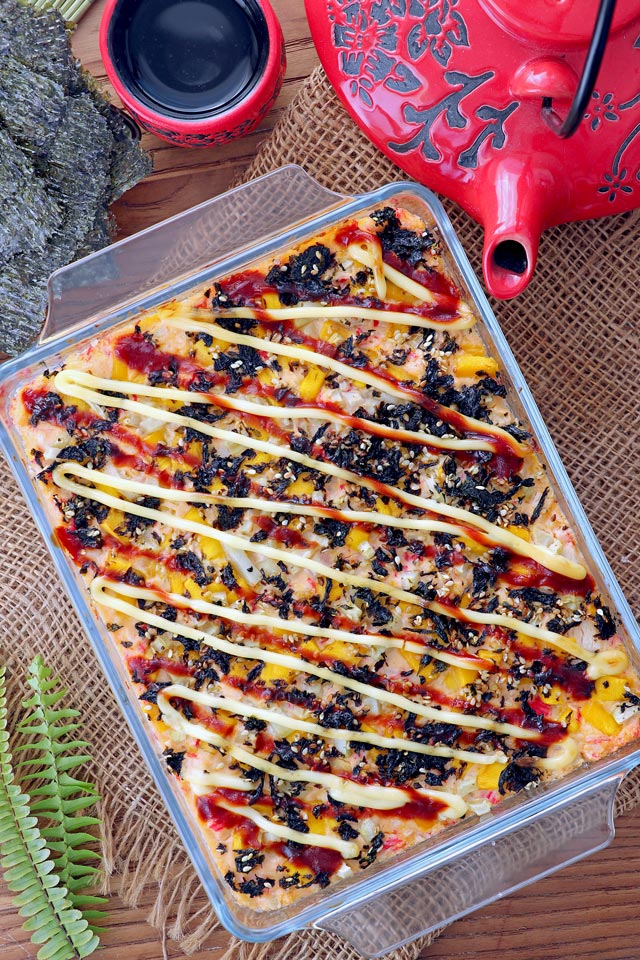 What's the hype all about?
We all know that Japanese food is well-loved by Filipinos, so it is not surprising that this deconstructed version of Sushi suddenly became a favored and in-trend dish. It has all the components of the scrumptious sushi roll but is baked in a casserole pan!
I also found that making this casserole baked version is much more cook-friendly and less intimidating compared to making rolled Sushi where you have to use a bamboo rolling mat. With this version, all you have to do is scoop a portion and wrap it in a small piece of roasted seaweed or nori sheet to eat.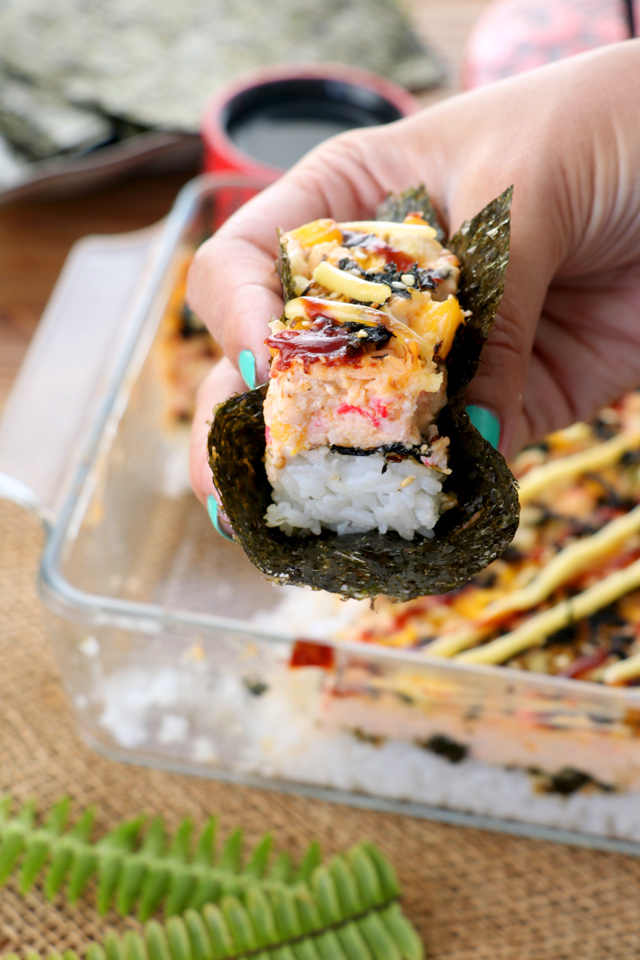 About the Ingredients
Sushi Rice- this is white rice mixed with Japanese vinegar, salt and sugar. Though it is highly recommended to use short-grain rice, I find that Jasmine and Dinorado work as well. As long as your rice does not end up fluffy and loose, you can use it.
Furikake-is a mixture of dry ingredients that is used as seasoning and sprinkled on top of cooked rice, fish, and vegetables. Since it was a bit challenging for me to find one in the supermarket, I just made one myself! I used roasted sesame seeds, Korean roasted seaweed flakes, and some salt and sugar.
If you are feeling more adventurous, you can explore by adding Tobiko or Flying fish roe. These are fish eggs that are a vivid red-orange in color and has a salty taste and crispy texture. It can be added as a topping for baked sushi.
Korean Roasted Seaweed - It is very similar to the regular Nori used for sushi but they are crunchier and normally seasoned. You can buy them as small sheets or bits mixed with sesame. I recommend using this instead of regular nori because the later is chewier. But if all you have is nori that would be fine too. You can also roast it yourself, by brushing one side of the nori with a bit of sesame oil and sprinkle with salt. Stack them up and roll together. Next is to roast them in a pan one by one until it turns green and crispy.
If this Japanese Sushi Bake put you in a mood for more Asian inspired recipes, you can try these next!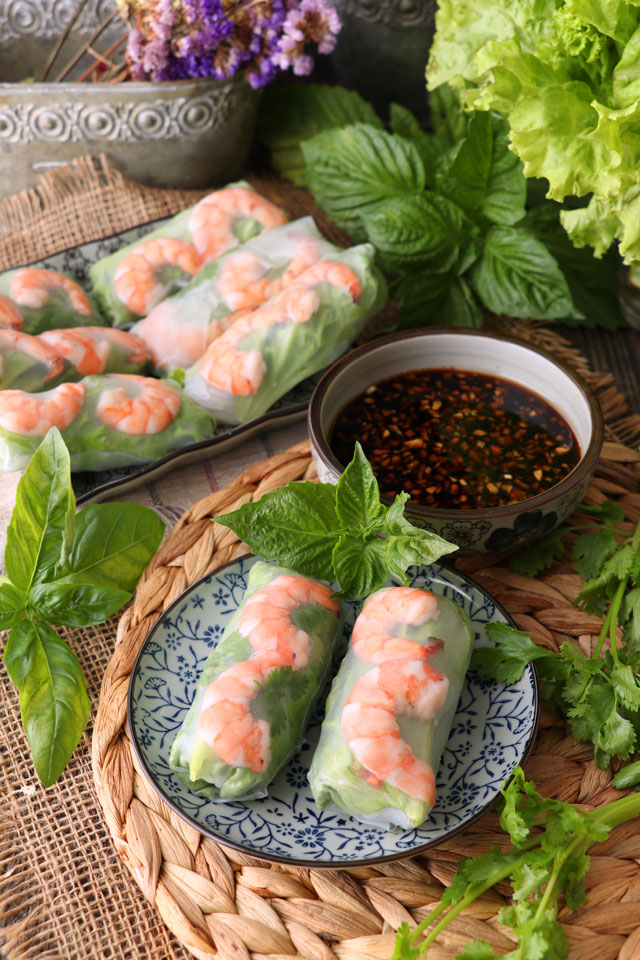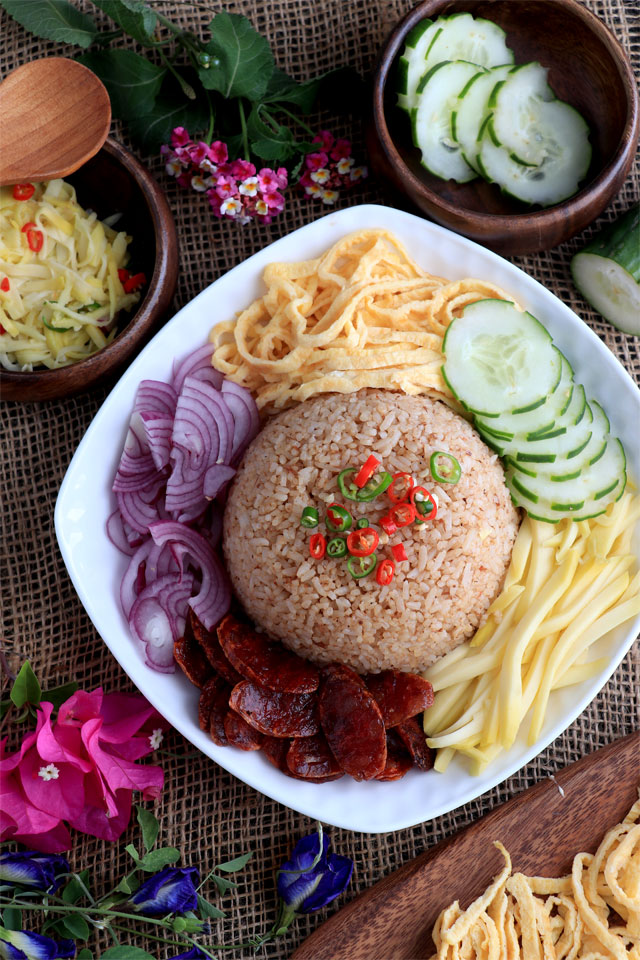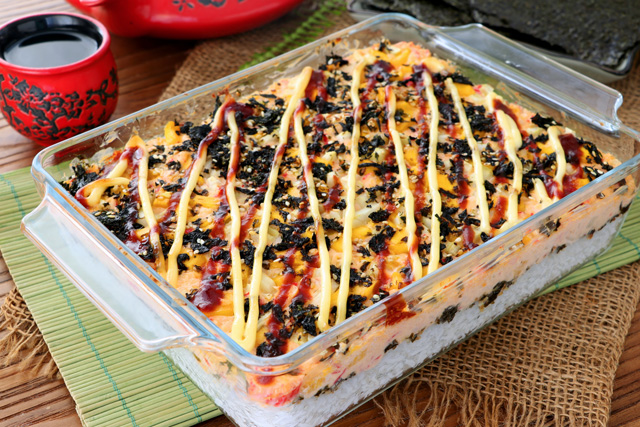 Printable Recipe
Sushi Bake California Maki
Baked Sushi is a gastronomic trend that gives you a deconstructed version of the original Japanese rolled Sushi. This delicious recipe also comes with my own method of making homemade Furikake.
Ingredients
SUSHI RICE
4

cups

freshly cooked rice

3

tablespoon

rice vinegar

1

tablespoon

sugar

1

teaspoon

salt
FURIKAKE
½

cup

sesame seeds

½

cup

Korean roasted seaweed

crumbled or cut into small bits

1

teaspoon

salt

to taste

1

teaspoon

sugar

to taste
CREAMY TOPPING
1

big

ripe mango

diced

1

medium

cucumber

diced

2

cups

Kani

shredded or cut into chunks

200

grams

cream cheese

¼

cup

Japanese mayonnaise

1

tablespoon

Sriracha

- adjust as desired

salt

to taste

20

sheets

Korean roasted seaweed sheets

- or use nori sheets
Instructions
SUSHI RICE
Mix the rice vinegar, salt, and sugar in a small bowl, mix well. Pop it in the microwave to warm until salt and sugar are totally dissolved.

Pour the mixture to the freshly cooked rice and toss until evenly distributed.
FURIKAKE
Using very low heat, toast the sesame seeds until fragrant and golden. Mix the crumbled nori pieces. Season with salt and sugar
CREAMY TOPPING
In a bowl, combine the cream cheese, Japanese mayonnaise, and Sriracha, then mix.

Add in the chopped Kani, ¾ of the mango, and ¾ of the cucumber. Make sure to leave enough mango and cucumber for additional layering later. Add salt to taste.
BAKED SUSHI ASSEMBLY
In a rectangle pan (8x6in), spread the sushi rice evenly then lightly press down. Sprinkle a thin layer of Fukikake on top of rice until fully covered.

Add the creamy topping then spread evenly. Sprinkle the remaining mango and cucumber bits and a bit more Furikake on top. Drizzle with Japanese Mayonnaise and Sriracha if desired.

Bake at 200°C/390°F for 15 to 20 minutes. Enjoy by scooping a portion then wrapping it in nori.
Nutrition
Calories:
147
kcal
Carbohydrates:
16
g
Protein:
3
g
Fat:
7
g
Saturated Fat:
3
g
Cholesterol:
14
mg
Sodium:
408
mg
Potassium:
57
mg
Fiber:
1
g
Sugar:
2
g
Vitamin A:
144
IU
Vitamin C:
1
mg
Calcium:
52
mg
Iron:
1
mg