Looking for something healthy. Try this chicken broccoli rice topping, a quick and easy meal that takes only a few minutes to prepare.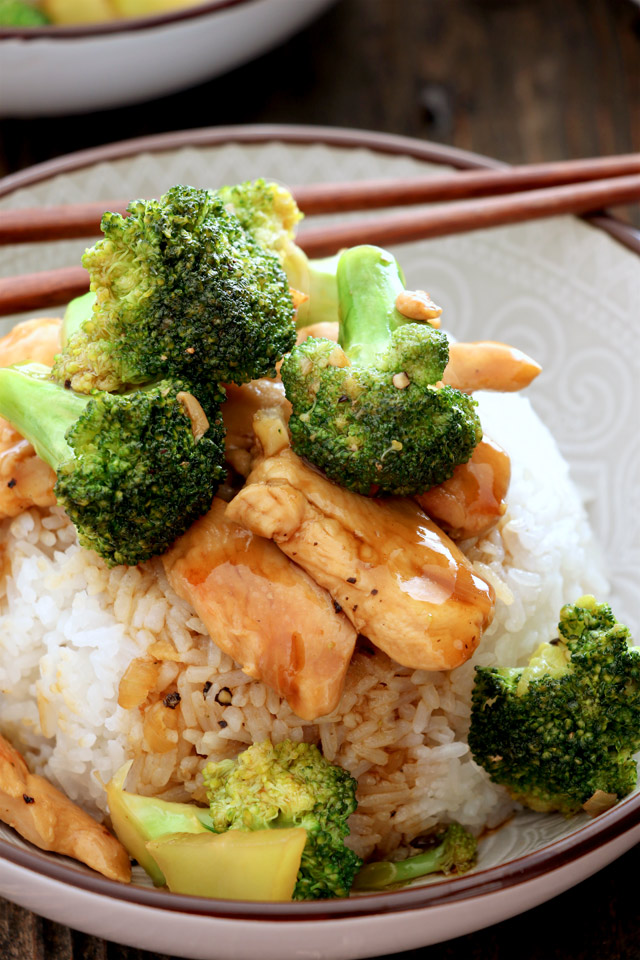 A quick healthy recipe for when you are in a hurry or do not have enough time to cook an elaborate lunch or dinner for your everyday meal.  
This Chicken Broccoli is great as rice topping with a sauce that is a touch of sweet and savory.  A complete meal in a bowl.
Armin and I enjoy having it  as "TV dinner" on our movie nights. Saves me a lot of time during the prep so we have more time for relaxing. And with just two bowls to clean afterward... perfect!
I prefer to have broccoli a little undercooked so it remains crisp and not all soft and mushy. You get more of the nutrients eating them this way, or raw even better. 
Broccoli is considered a good source of nutrients. It is rich in vitamin C, carotenoids (vitamin A-like substances), fiber, calcium, and folate.
It is also a source of many substances called phytochemicals, a plant chemical that may have anticancer properties. So better eat your broccoli!!!
Tips to get perfectly cooked broccoli
When buying broccoli, choose the ones that have even green coloring. The florets should look compact and stems firm. Don't buy the ones with yellow or brown florets, they are older and not as crisp.
Cut the florets in uniform size. This will make them cook evenly to prevent other smaller pieces to get overcooked and soggy while waiting for the bigger pieces to cook.
Cook broccoli just until the florets turn bright green and the stems are tender (about 3-4 minutes). Remove from heat to prevent them from cooking further.
Do not throw away the main stem. Cut away the thick outer layer until you reach the more tender part inside. This is also edible. Cut it into cubes or wedges.
Other Stir-fry and Rice Toppings Recipes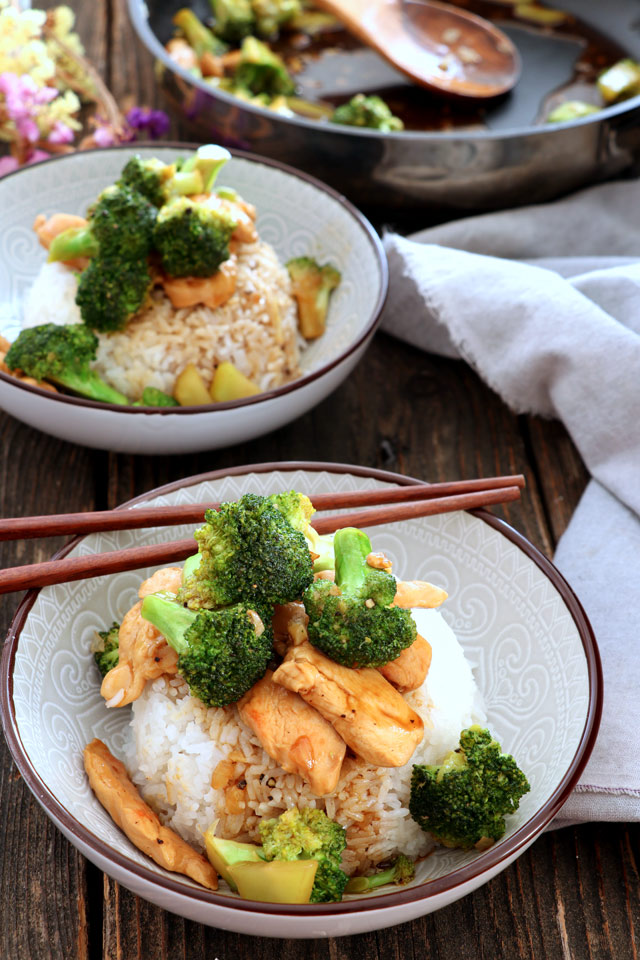 Printable Recipe
Chicken Broccoli Rice Toppings
Looking for something healthy. Try this chicken broccoli rice topping, a quick and easy meal that takes only a few minutes to prepare.
Ingredients
½

pound

chicken breast fillet

- cut into small slices

1

pound

broccoli

- cut into florets

2

cloves

garlic

- minced

1

small onion

- chopped

2

tablespoons

soy sauce

2

tablespoons

brown sugar

1

tablespoon

cornstarch

1

cup

water

2

tablespoons

oil

salt and pepper
Instructions
In a small bowl, dissolve cornstarch and brown sugar in 1 cup water.

In a pan under medium-high heat, saute garlic and onion in hot oil for a few seconds then add the slices of chicken and stir until all sides are cooked.

Stir in the washed broccoli florets and add the water with cornstarch and sugar and soy sauce. Cover pan and lower heat to medium-low and simmer until sauce starts to thicken about 3 minutes. Add salt and pepper and continuously stir while sauce gets thicker for another minute.

Remove from pan from heat and top chicken broccoli on steamed rice and serve.
Nutrition
Calories:
447
kcal
Carbohydrates:
32
g
Protein:
40
g
Fat:
18
g
Saturated Fat:
1
g
Cholesterol:
95
mg
Sodium:
1264
mg
Potassium:
1385
mg
Fiber:
6
g
Sugar:
15
g
Vitamin A:
1460
IU
Vitamin C:
208.6
mg
Calcium:
134
mg
Iron:
2.8
mg