Get this quick and easy Beef Broccoli stir-fry recipe with oyster sauce. Learn the secret to achieve that fork-tender beef with crispy-tender broccoli that you wish for. Try it and believe!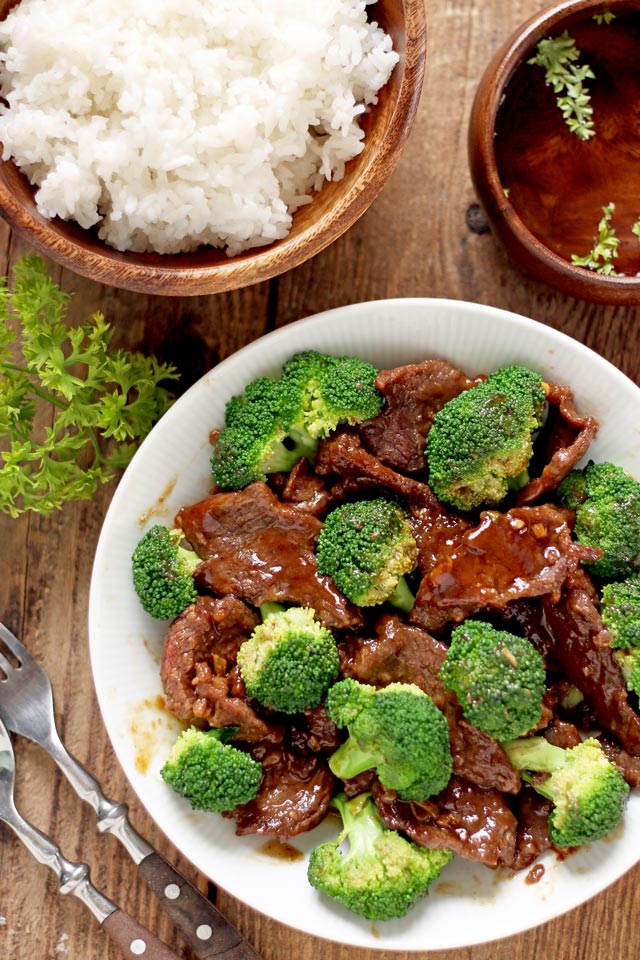 My mama cooks beef and broccoli differently and it is also good so maybe I will also write about that. But I wanted to try this recipe from Simply Recipes with oyster sauce and dry sherry or wine. I changed the ingredients and method just a bit, simple, easy and quick is my thing.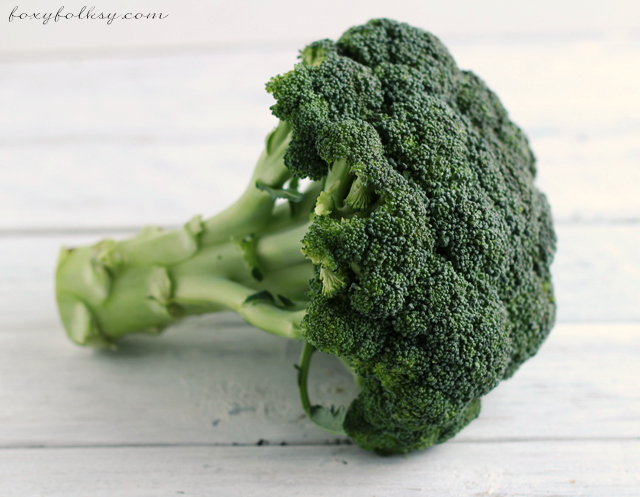 Why is Broccoli good for you?
I like the combination of beef and broccoli, I think they really go well and complement each other's flavor. I especially like the crunchiness that fresh broccoli offers so I usually just cook them halfway.
Not only is broccoli delicious it is also another superfood. A very good source of dietary fiber and vitamins, like vitamins B1, B6, E, and A (in the form of carotenoids). Broccoli also contains minerals like potassium, magnesium,  zinc, calcium, iron, manganese, phosphorus and lots more. It is also loaded with cancer-fighting antioxidants and omega-3 fatty acids.
Whew...that is a lot and that is not all. You just have to google it to see the rest and all the benefits broccoli can give you.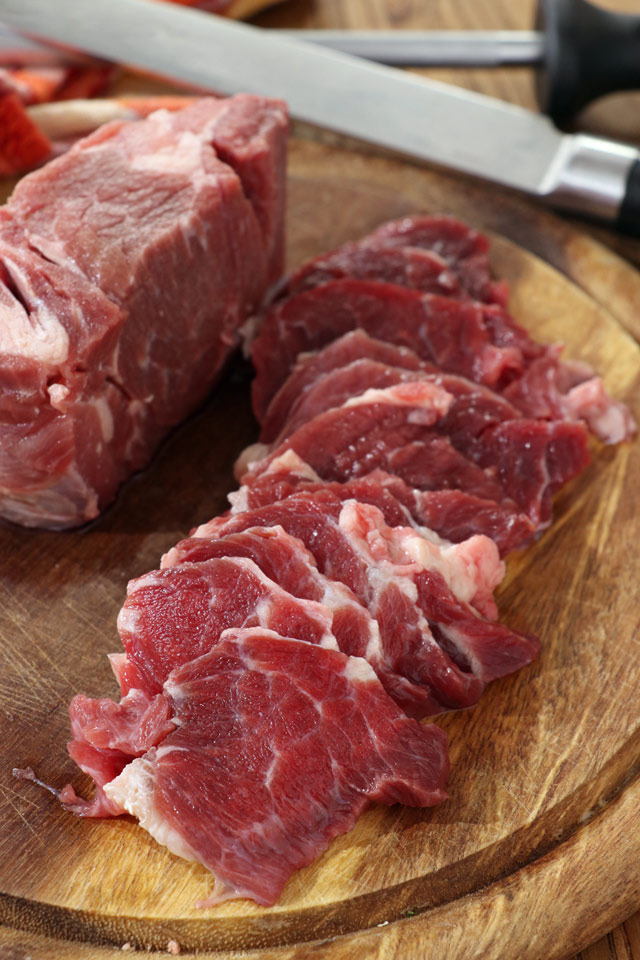 Cooking broccoli to a perfect balance of crisp and tender is the easy part, the problem I have is usually with frying beef. They could get hard, dry and tough sometimes. It is like chewing on rubber or chewing gum. This was really a common dilemma for me before.. until I learned I was doing it wrong when stir-frying beef.
It seems that I tend to overcook my beef because I usually like my meat well done. If I am to grill it, I like my meat with some sides burnt! I know you are not supposed to eat burnt food but that is one of my indulgences.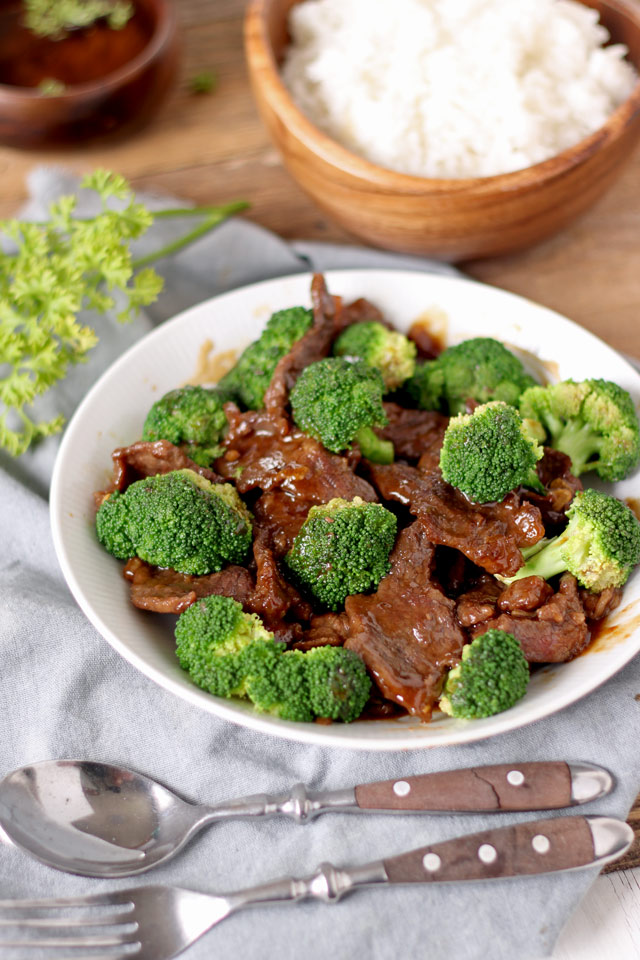 Here are some tips to achieve that that oh-so-tender and perfect Beef Broccoli Stir-fry
Can you use flour instead of cornstarch?
I used cornstarch for this recipe both for coating the meat and as sauce thickener but you may use flour.
What is the best cut of beef for stir fry?
For beef stir-fry, it is important to use the most tender cuts of beef. You can use tenderloin,  top loin, shoulder center (Ranch Steak), shoulder top blade (Flat Iron),  sirloin, tri-tip, and ribeye.
How do I make stir fry meat tender?
The secret to retaining the tenderness of the beef is to cook it at high temperature but really quick just until the meat is cooked through. Exposing it to heat longer than necessary will make it chewy and dry.
How and why do you cut against the grain?
Cutting against the grain will also help to make sure that the meat is more tender. You do this by looking for the direction of the grain or which way the muscle fibers are aligned, then cut across it, not parallel with it.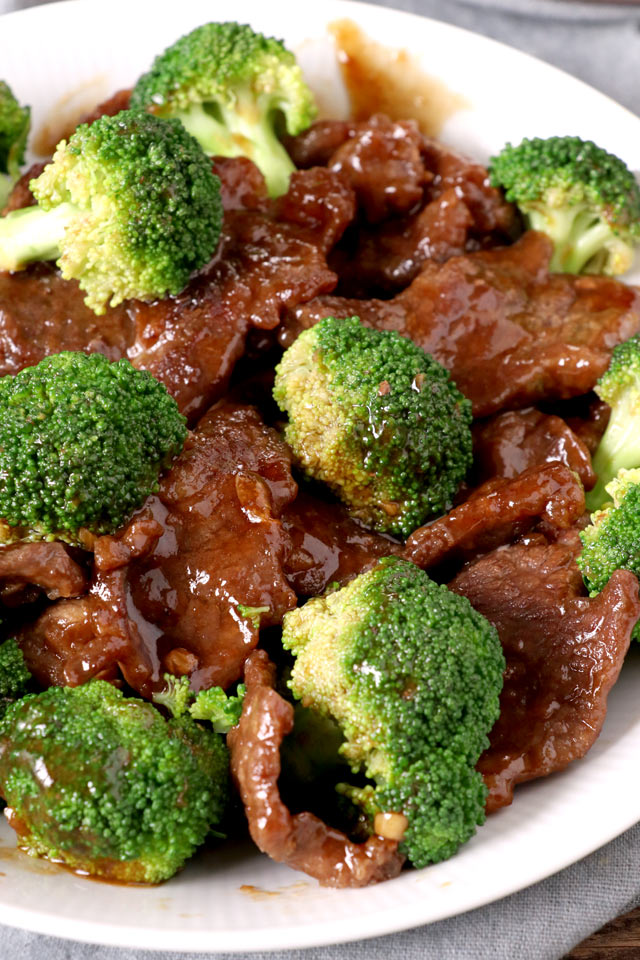 More Stir-Fry and Broccoli Recipes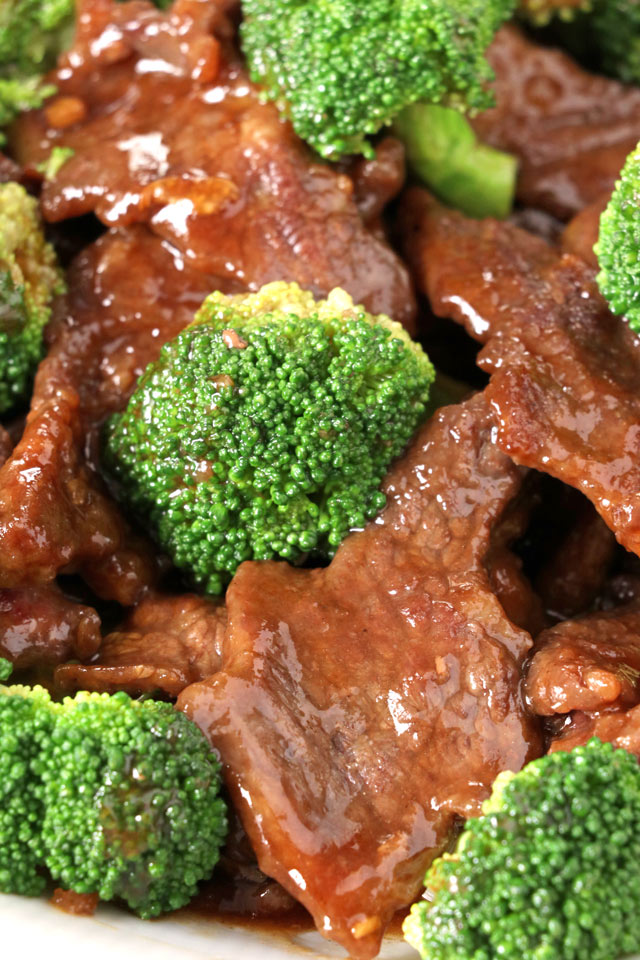 Printable Recipe
Beef Broccoli Stir Fry
Get this quick and easy Beef Broccoli stir-fry recipe with oyster sauce. Learn the secret to achieve that fork-tender beef with perfectly crispy-tender broccoli that you wish for. Try it to believe!
Ingredients
1

pound

beef tenderloin/sirloin

- cut into thin slices

¼

teaspoon

salt

¼

teaspoon

pepper

1

tablespoon

cornstarch

- for coating

1

pound

broccoli

- cut into florets

2-3

tablespoons

vegetable oil

1

clove

garlic

- minced

1

tablespoon

soy sauce

2

tablespoons

oyster sauce

1

teaspoon

dry sherry

- or wine (optional)

¼

cup

water

1

teaspoon

cornstarch

- for sauce thickener

ground black pepper
Instructions
In a bowl, mix together the cornstarch, salt and pepper. Add the beef slices coating each slice with the cornstarch mix.

Blanch the broccoli florets in boiling water for 2-3 minutes or just until they are half cooked or tender but still crisp. Remove from water and drain.

In a wok or saute pan, heat oil over high fire. Add beef slices and stir-fry for about 2-3 minutes. Do not overcook so the beef remains tender. Remove the beef from oil and set aside.

In the same oil, but over medium heat, saute garlic until slightly browned. Add the soy sauce, oyster sauce, and dry wine and let it simmer.

Dissolve 1 teaspoon cornstarch in ¼ cup water. Add this to the pan and stir until sauce thickens. Add the cooked broccoli florets and beef and cook for another half a minute. Transfer to a serving plate and drizzle some oyster sauce on top.

Serve immediately with hot steamed rice.
Nutrition
Calories:
428
kcal
Carbohydrates:
11
g
Protein:
24
g
Fat:
32
g
Saturated Fat:
15
g
Cholesterol:
79
mg
Sodium:
736
mg
Potassium:
712
mg
Fiber:
2
g
Sugar:
2
g
Vitamin A:
705
IU
Vitamin C:
101.4
mg
Calcium:
64
mg
Iron:
3.6
mg