Shumai is a Cantonese style dumpling made of pork, shrimp, and shiitake mushrooms. This delectable Siu Mai or Siomai recipe will remind you why it is one of the favorite dim sums in the world.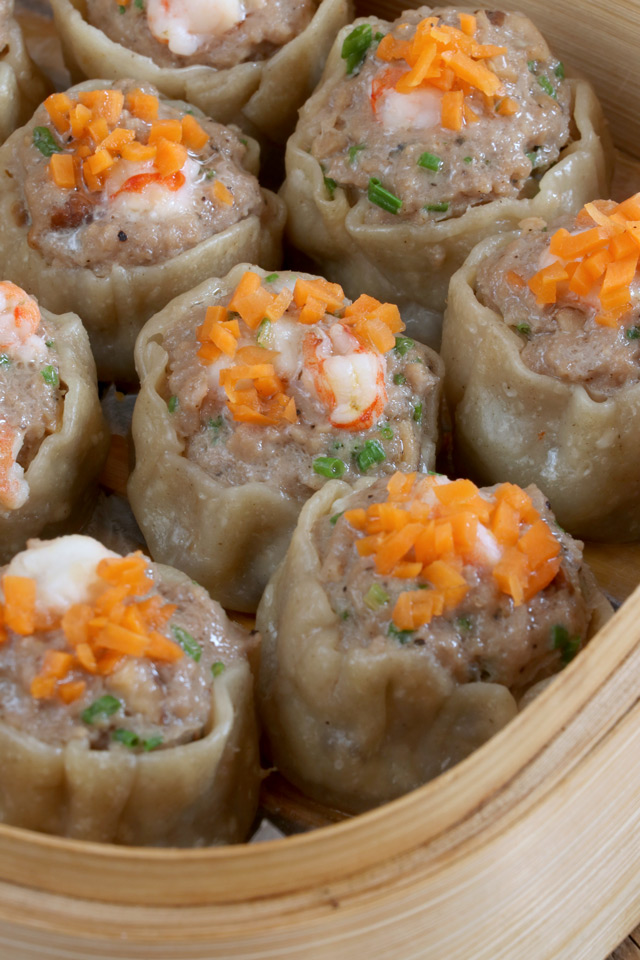 What is Sui Mai or Siomai?
Sui Mai is a type of dumpling that originated from China with many different variations all over Asian countries. Normally ground pork and shimp are used for the filling. Shiitake mushrooms, green onions, and ginger are also commonly added.
Though steaming is the traditional way of cooking these savory dumplings, it can also be deep-fried, pan-fried, or boiled. Whatever method is used, one thing is for certain- it's delicious!
Of course, what good is a great Siomai without an equally yummy dip right? The usual dip is made from soy sauce mixed with calamansi juice (Philippine lime). To make it more appetizing, chili-garlic is added to the mix.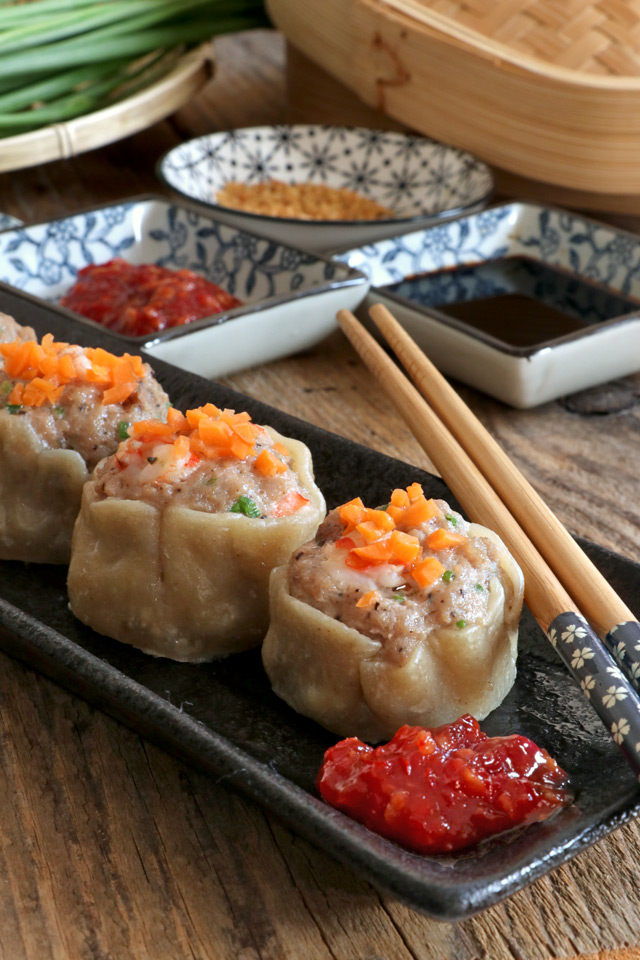 What are the different variations of Sui Mai?
This popular dim sum has so many variations that it becomes somewhat confusing. Though it is mostly made with meat wrapped in dumpling skin, different Chinese regions or other Asian countries have a distinct characteristic that sets them apart.
Sui Mai- this Cantonese dumpling is the most popular version known in the West. Itis commonly referred to as "pork and mushroom dumpling". It is round in shape and uses a thin sheet dumpling wrapper. The filling is not fully wrapped, leaving top bare, which is easier to do especially for beginners. This is where the orange (fish roe or carrot) or green (pea) dot on the top of the dumplings came from as a decorative presentation.
Shaomai- this type of dumpling is a bit larger in size and shaped differently compared to the Cantonese version. The dough is fully wrapped and the top resembles a "chrysanthemum" petal formation. It is made mainly of glutinous rice and minced marinated meat.
Shumai- this is the Japanese variation. The difference is that the filling is normally simpler like ground pork and minced onions and some seasoning for flavor.
Siomay- an Indonesian version that uses mainly fish (usually tuna), tofu, hard-boiled eggs, and steamed potatoes topped with peanut sauce and sweet soy sauce. This is not as popular as the Chinese and Japanese versions as we are used to having pork, beef, or shrimp in it and dipped in soy sauce.
Siomai - has also become so popular in the Philippines that you see it almost everywhere- from high-end restaurants to food courts at malls and even on street food carts. Typically filled with either ground pork or beef. Shimp is normally reserved for special ones.
Foxy tips for a successful homemade Pork Siu Mai
On ready-made wrappers- There are a variety of dumpling wrappers out in the market that you can choose from. If you are buying a ready-to-use one, make sure to grab them last before checking out of the grocery store and put them in the freezer right away. These wrappers should be kept frozen to keep them pliant and moist for easy shaping.
There are two common dumpling wrappers that you will find, white and yellow. The yellow ones have eggs on it and will give you a softer and tender outcome. If you plan to fry them, opt for the white ones for a crispier and chewier end result.
You can also opt to make your own dumpling wrappers. It is so easy and you'll give yourself a big pat on the back knowing you've made your dumplings all from scratch!
Don't rush it! I know the dilemma of wanting to devour the food you are making right away! The aroma of the ingredients is enough to make our stomach grumble. However, it is advisable to keep your Siomai in the freezer overnight before steaming it so it holds its shape better and will not fall apart while and after steaming.
One good tip is to make a lot in one go and store the rest on the fridge for later. They can stay frozen for 1 to 2 months without spoiling as long as they are tightly packed.
Steaming reminders. Always line up the bottom of the steamer with parchment paper to make sure the wrapper does not stick. Make sure to poke enough small holes on the paper so the moisture does not get trapped. Too much moisture will make the wapper very soggy and will tear.
If you are using a double-decked steamer, also remember to switch the bottom and upper decks halfway through steaming to make sure that all pieces receive the same amount of steam and moisture.
No bamboo steamer? No worries. If you do not have one at home, you can always use any plate that can withstand the steaming heat and place it on top of a wire metal rack. Then place both on top of a wok with boiling water. There you go, instant steamer!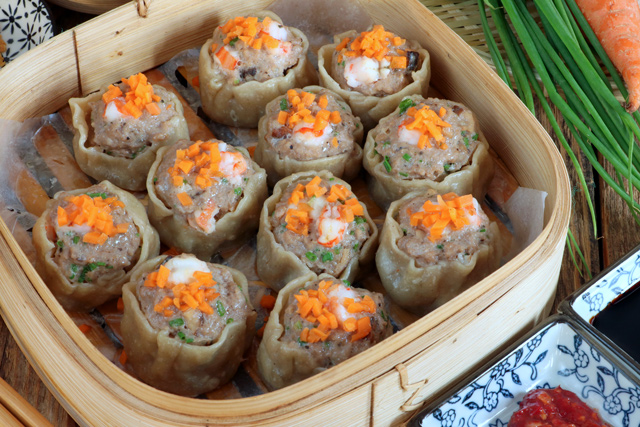 If you plan to binge on Chinese food, try these as well!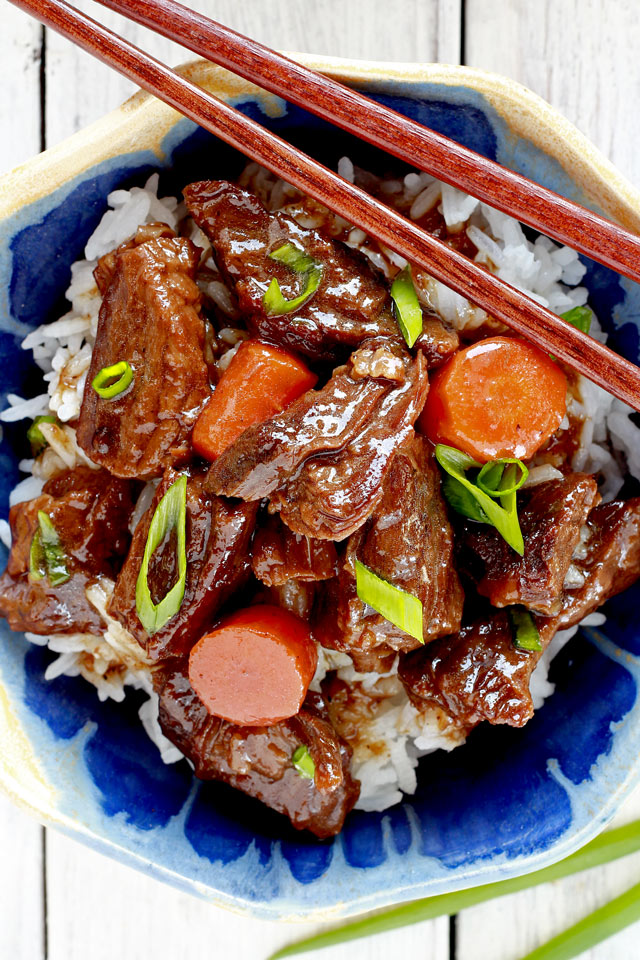 Printable Recipe
Shumai (Siu Mai - Chinese Steamed Dumpling)
A Cantonese style dumpling made of pork, shrimp, and shiitake mushrooms. This delectable Pork Siu Mai or Siomai recipe will remind you why it is one of the most favorite dim sums around the world!
Ingredients
½

cup

dried shiitake mushrooms

500

grams

lean ground pork

2

tablespoons

corn starch

2

tablespoons

cooking wine

-alternative: Shaoxing wine or Mirin

1

tablespoon

sesame oil

2

tablespoons

oyster sauce

½ to 1

teaspoon

salt

½

teaspoon

white pepper

250

grams

shrimp

-chopped

¼

cup

green onions

-chopped finely

20-30

sheets

round dumpling wrappers

-preferably 3 ¼-inch diameter

2

tablespoons

carrot

- finely diced for garnishing
DIPPING SAUCE
vinegar or lemon

roasted garlic

chili paste/oil
Instructions
FILLING
Place dried shiitake mushrooms in a bowl. Pour enough hot water to cover and let it sit for 10 minutes. Drain then chop the mushrooms finely.

In a large bowl, combine the ground pork, cornstarch, cooking wine, sesame oil, oyster sauce, salt, and pepper. Mix with a wooden spoon or with hands vigorously until it becomes pasty.

Add the mushrooms, shrimp, and the green onions and mix just until well combined.
FORMING THE FILLING
Form a circle with your forefinger and thumb. Place a wonton wrapper over the circle and place about 1-2 tablespoon of filling over it and push down into the hole while your ring and little finger hold it at the bottom.

Use a butter knife to smear more filling and fill it all the way to the top of the wrapper.

Place it on a work surface while still holding the sides with your hand then move your hand in a circular motion to flatten the base.
STEAMING THE SIU MAI
Line a bamboo steamer (or stove steamer) with parchment paper with small holes. Place the siu mai inside and top the center of each with diced carrots. Cover steamer with lid.

Fill a wok or pot big enough to hold steamer with 2-3 inch water, making sure that it does not touch the steamer. Bring the water to a gentle boil over medium heat.

Place the steamer with siu mai over the simmering water.

Steam 8 minutes (per layer), or until internal temperature of dumplings is 75°C. Remove steamer from wok.

Serve immediately with dipping sauce!
Nutrition
Calories:
97
kcal
Carbohydrates:
6
g
Protein:
6
g
Fat:
5
g
Saturated Fat:
2
g
Cholesterol:
42
mg
Sodium:
230
mg
Potassium:
92
mg
Fiber:
1
g
Sugar:
1
g
Vitamin A:
358
IU
Vitamin C:
1
mg
Calcium:
23
mg
Iron:
1
mg