Updated: November 12, 2019
Buchi or Butsi are glutinous rice balls covered in sesame seeds filled usually with sweetened red bean paste which are then deep fried. In the Philippines, they are usually served at Chinese restaurants as dessert but it could also pass as a snack as they could be really heavy and filling. This Buchi recipe has extra ingredient for a crispier Buchi!
I wanted to give Buchi a try for some time now and because I have nothing much to do last weekend, I thought to make an experiment. I tried making a bean paste from canned kidney beans..hehe..Ok, it was more because I do not have the red bean paste or even just red beans lying around and I was really in the mood to make Buchi. As it turn out, it actually tasted good as well. The recipe for Red Bean Paste using kidney beans can be found below at the bottom of this post.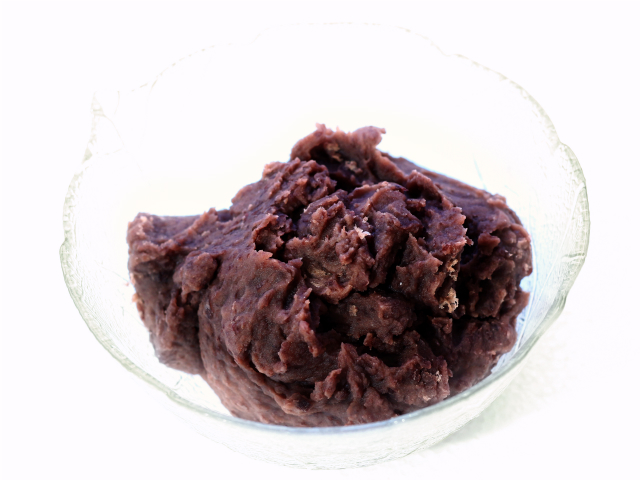 The only problem I had with my first attempt to make Buchi was that they would pop while frying, which is really not so much of a big deal, only that they didn't look so nice on the photos. So I tried to give it another go today to see if I can stop them from popping and maybe be able to get some good pics. I tried frying different batch at varying temperatures. And this is what I learn…the Buchi pops if they are cooked in too high temperature. So I lower the heat to low and at last no popping Buchi, but then after they floated to the top (which usually means that they are done) and I put them on a wire rack to drain, they became soft and saggy. So I put them back to the hot oil and cooked them longer until they turn a bit more brown. Now they are perfect.
I also heard about Buchi having Ube or purple yam filling and what do you know… I have some of my Purple Yam Jam freezing in the fridge. So might as well try it too right!!! This Buchi recipe has also something extra… I added some potato flakes. The Buchi I made last weekend were without potato flakes and they were fine but I like these ones with potato flakes better because the outer skin is crispy.
WANT MORE RECIPES? Subscribe to our newsletter and follow us on Facebook, Pinterest and Instagram for all of the latest updates.
Buchi
Buchi are fried glutinous rice balls filled with red bean paste rolled in sesame seeds. This Buchi recipe has extra ingredient for a crispier Buchi!
Print
Rate
INGREDIENTS
1 1/2

cups

glutinous rice flour

1/4

cup

brown sugar

1/4

cup

mashed potato flakes

-

(optional)

3/4

cup

warm water

-

(+ 1/2 cup if adding potato flakes)

1/8

teaspoon

salt

1/2

cup

sesame seeds

1

cup

red bean paste or Ube jam
INSTRUCTIONS
In a small bowl, dissolve sugar and salt in the warm water.

In a bigger bowl, combine the glutinous rice flour and potato flakes and then add the sugar water and mix until they form a dough. You might need to add a bit of water or more rice flour to get the right consistency. It should be soft and bit wet but not too sticky.

From this dough, form small balls about 1 1/2 inch in size.

Press each ball flat using both palms. The dough should not make big cracks on the edges if it has the right consistency.

Add some filling on the center (about half teaspoon) and then gather the edges to enclose the filling inside. Roll again between your palms to make the ball smooth and round.

Once all balls are filled, it is time to cover them with sesame seeds. Place enough sesame seeds on a flat surface. Wet your palms with some drops of water and rub them together. Take a ball and roll it a few times between your palms. Roll the ball pressing ever so light lightly with sesame seeds.

In a deep pan or a pot, heat oil over medium heat. Make sure that the oil is deep enough so the balls will be fully submerged while frying. Place enough balls in the hot oil but do not overcrowd. Fry each batch for 6-8 minutes or until golden brown and after the balls float to the surface. Drain in a wire rack.

Serve while warm.
Nutrition Facts
Buchi
Amount Per Serving
Calories 99
Calories from Fat 18
% Daily Value*
Total Fat 2g 3%
Cholesterol 0mg 0%
Sodium 22mg 1%
Potassium 36mg 1%
Total Carbohydrates 17g 6%
Protein 1g 2%
* Percent Daily Values are based on a 2000 calorie diet.
Tried this recipe?
Tell us how it went. Tag us at @foxyfolksy or leave a comment and rating below.
Recipe for Red Bean Paste from Kidney Beans
2 cups (1 can) kidney beans
1/4 cup water
1/4 Sugar
Put all in a mixer or blender and pulse until it becomes fine.
Transfer in a pan and cook under medium heat for about 15 minutes or until it becomes really thick and water is all gone while continuously stirring to prevent from burning.
Let it cool down before using.