Learn an easy way to make Dumpling Wrapper at home for your favorite dim sum recipes! Why use frozen ready-made ones when you can make it fresh, right?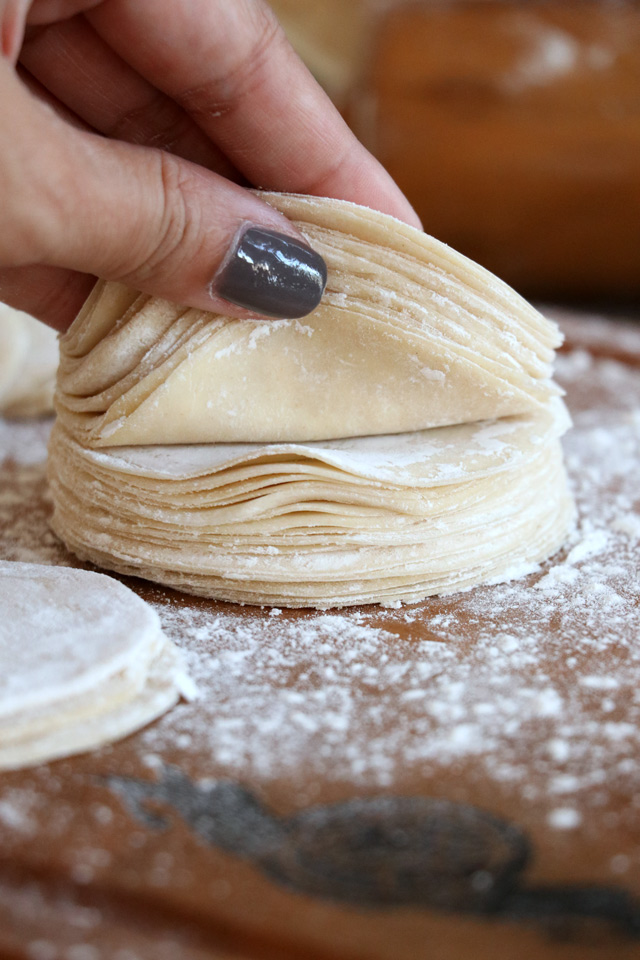 What are Dumplings?
Dumplings are a classification of dishes that are very common in Asian countries. Made from different fillings like meat, fish, vegetables, and sweets wrapped in thin dough or dumpling wrappers that are usually bite-sized.
There are also several ways to prepare and cook dumplings- steaming, pan-fying, deep-frying, boiling and simmering are some of the most common ones.
The one we will be doing here is made specifically for Siu mai but can be used for other dumplings but might require a few modifications.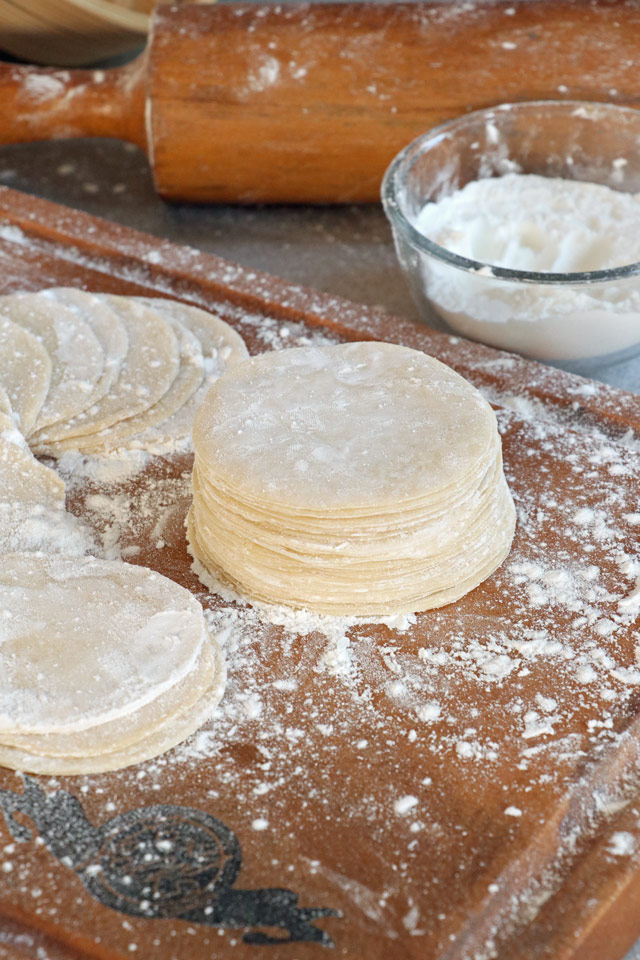 Dumpling Wrappers 101?
Dumplings wrappers or skins are thin sheets of dough that are mainly made from flour or other starch sources. It comes in different variety- shapes, size, color, and thickness. The key is to know what to use depending on what type of dumpling you are making and how you plan to cook it.
Shapes- the most common are either squares or round. The round-shaped wrapper is what we usually use for Siomai or Gyoza, while the squares are used for Molo or Wonton.
Size- the usual ready-made dumpling wrapper size is around 3 inches. But some are bigger depending on what the dumpling is. Mandu- or Korean dumplings, are usually bigger in size.
Color- you also need to consider the color of the wrapper when making your dumplings. Light yellow colored ones are those with egg content. These are slightly softer and are best used if you plan to boil your dumplings. The white ones are firmer and are good for fried dumplings as they tend to become crispier and chewier. There is also the Crystal-like variety which is translucent, chewy, and soft. These versions have more starch content in it.
Thickness- the thick dumpling wrappers are good for pan-frying and deep-frying while the thinner ones are good for boiling and simmering dumplings.
Foxy Tips on How to Make Better Dumpling Wrappers
The Poke Test- this is the equivalent of the windowpane test for dough with yeast. Since this recipe does not use yeast, a good method to use is to poke the dough using your fingers, if it springs back immediately, it means it is sufficiently kneaded.
Use warm water- to make a softer wrapper, instead of using regular water, use warm water to your dough instead.
Use corn starch- use cornstarch NOT flour to dust the surface when flattening the dough with a rolling pin. Adding extra flour will make it tough. Adding cornstarch to the dough will result in a shinier wrap finish and is more tender.
Add Salt- adding salt to the dough will make it more elastic and supple.
Resting time- to achieve that soft yet supple finish, resting the dough for at least an hour is important.
Use right away- the wrappers need to be moist and supple for shaping and sealing, so make sure to use them right away or else you will struggle once it drys up.
Printable Recipe
How to make Dumpling Wrappers
Learn an easy way to make your very own Dumpling Wrapper at home for your favorite dim sum recipes! Why use frozen ready-made ones when you can make it fresh, right?
Ingredients
2

cups

flour

or more

½

teaspoon

salt

1

large

egg yolk

½

cup

water

or more

cornstarch

add as needed
Instructions
Sift flour into a large bowl. Add salt and mix.

Add beaten egg yolk, mix well. Gradually pour water. Mix in between additions to prevent it from becoming too watery. Gather the mixture then form in a dough. Cover the bowl with lid or plastic wrap and let it rest for 30 minutes.

Tip the dough in a surface dusted with cornstarch and knead until smooth. Do the poke test to check if the dough is kneaded enough. Put the dough back in the bowl and cover. Let it rest for an hour.

Take half the dough and place it on a cornstarch dusted surface. Using a rolling pin, flatten the tough until very thin. Dust with cornstarch from time to time to prevent it from sticking to the pin or the surface.

Cut into pieces using an 8 cm or 3 inch dumpling cutter.
Nutrition
Calories:
20
kcal
Carbohydrates:
4
g
Protein:
1
g
Fat:
1
g
Saturated Fat:
1
g
Cholesterol:
4
mg
Sodium:
24
mg
Potassium:
6
mg
Fiber:
1
g
Sugar:
1
g
Vitamin A:
5
IU
Calcium:
1
mg
Iron:
1
mg