This Java Rice recipe is a great way to spruce up your plain white rice with just a few added ingredients in less than 15 minutes. It is vibrantly colored and so flavorful. Pair it with your favorite grilled meats or seafood, and you are in for one yummy meal.
If there's one thing Asians know best, it's rice. You would rarely see a meal setting without this beloved food staple on an Asian table. It is to Asians what mashed potatoes are for Westerns or pasta for Italians. And just like any well-loved food, rice comes in different forms depending on the country. Some examples of these delicious rice variations are the Chinese Chao Fan, Thailand's Thai Fried Rice, Japan's very popular Omurice, and let's not forget Korea's Kimchi Fried Rice. Of course, the Philippines wouldn't be left out as we have Garlic Fried Rice or sinangag and Java Rice.
What is Java Rice?
It is a type of stir-fried rice known for its yellow-orange color and delicious subtle flavors. Natural spices are typically used as coloring agents like Annatto, turmeric, and paprika powder which gives it its appealing hue.
While folks cannot pinpoint the exact origin of this popular fried rice variation, one can always trace it back as a menu staple in a Filipino-Chinese restaurant chain called Aristocrat. It quickly became one of the crowd favorites and soon became as common as garlic rice in many households. Making it at home is so easy and requires minimal ingredients. Not is it only flavorful, but super budget-friendly too!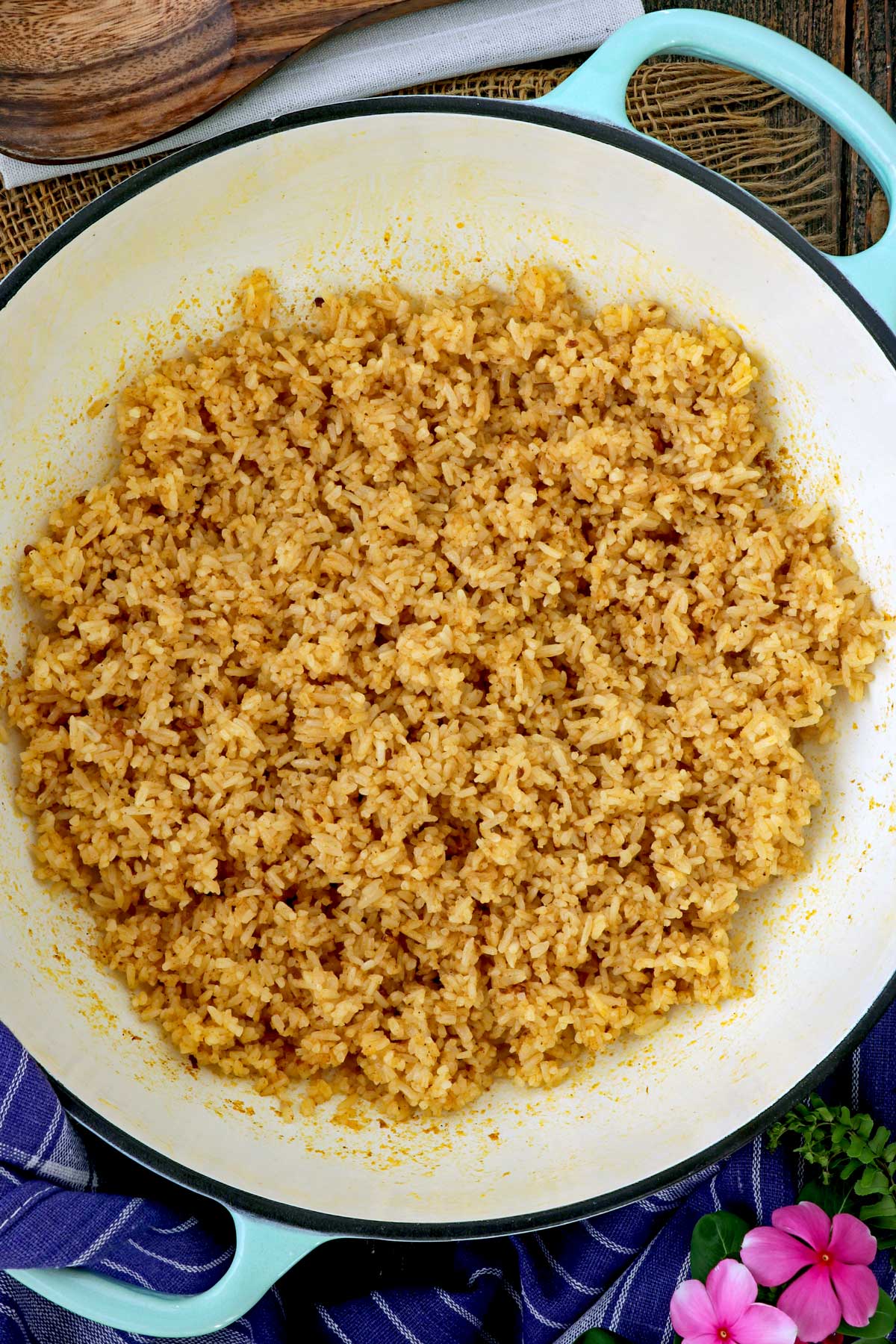 Why Make It?
Java rice is an excellent alternative to your usual steamed or fried rice.
You do not need any special ingredients to make this. It requires simple pantry staples and cooked rice.
It is the perfect way to use and transform cold and forgotten rice before they go to waste. In fact, day-old cold rice is preferred because it lost excess moisture making them loose and perfect for frying.
Ingredients Needed to Make Java Rice
Oil - you can use vegetable oil, canola, or olive oil
Margarine – you can also use butter as an alternative.
Garlic- no fried rice is complete without one!
Annatto powder- also locally called atsuete. This is commonly used as a food coloring but also imparts a nutty and slightly peppery flavor. If you prefer turmeric powder for an added flavor, then feel free to do so.
Paprika powder- known for imparting a red-orange hue, this spice has a mild sweetness and mellow spiciness.
Cooked rice- long-grain rice is best for this recipe but you can use any type of day-old and refrigerated rice.
Salt- to taste.
Garnishes- you can use green onions or chives and fried garlic bits.
Foxy Tips in cooking Java Rice
Use your hands to easily un-clump and loosen each grain of the rice. The looser the rice, the better the result.
If using freshly cooked rice, you can spread it out on a wide platter or baking sheet and refrigerate it until completely cool and has dried out.
Don't have annatto powder? You can use annatto seeds instead. Heat the seeds in the pan with margarine until they release their flavor and color. Scoop the annatto seeds off the pan before continuing the cooking process.
Instead of salt, you can use other sauces like fish sauce or soy sauce to flavor your Java Rice. If you do, make sure that you don't put too much. Too much liquid will make your rice have a mushy texture instead of firm and loosened grains.
It's best to use a wok for this recipe, but you may also use a large pan or skillet. It lets you have the space to toss the rice and fully coat every grain in flavor without making a mess.
Get all your ingredients ready and within easy reach. Since this is quick stir-fry rice, you won't have time to measure or chop once the stovetop is on.
To make your Java Rice more substantial, you can add chopped vegetables, eggs, and small cuts of meat. Just make sure to cook them in order. Meat first, eggs and veggies next, then the rice.
Frequently Asked Questions about Java Rice
Why is it called Java Rice?
Due to the mix of Asian cultures, it's unclear why Java Rice is called such. It could be derived from Indonesia's Nasi Kuning, which means "yellow rice". It looks the same but it is mostly cooked with turmeric powder (instead of annatto and paprika) and coconut milk.
What makes the fried rice yellow or orange?
The use of annatto, paprika, turmeric, and saffron are the most common causes of why white rice turns into a rich amber color when cooked.
Do you season the rice before or after cooking?
While it can be done, either way, it's best to season while the rice is being cooked. Flavors intensify with heat, so adding salt early on is better so you can make the necessary adjustments.
How to Serve and Store
Enjoy Java Rice while still warm with your favorite grilled or fried pork, chicken, or fish. It is also perfect with atchara on the side.
Allow leftovers to completely cool before storing them. Place in an airtight container and keep it in the refrigerator. Make sure to consume it within 3 to 5 days. You can reheat using a microwave or stovetop.
More Delicious Rice Recipes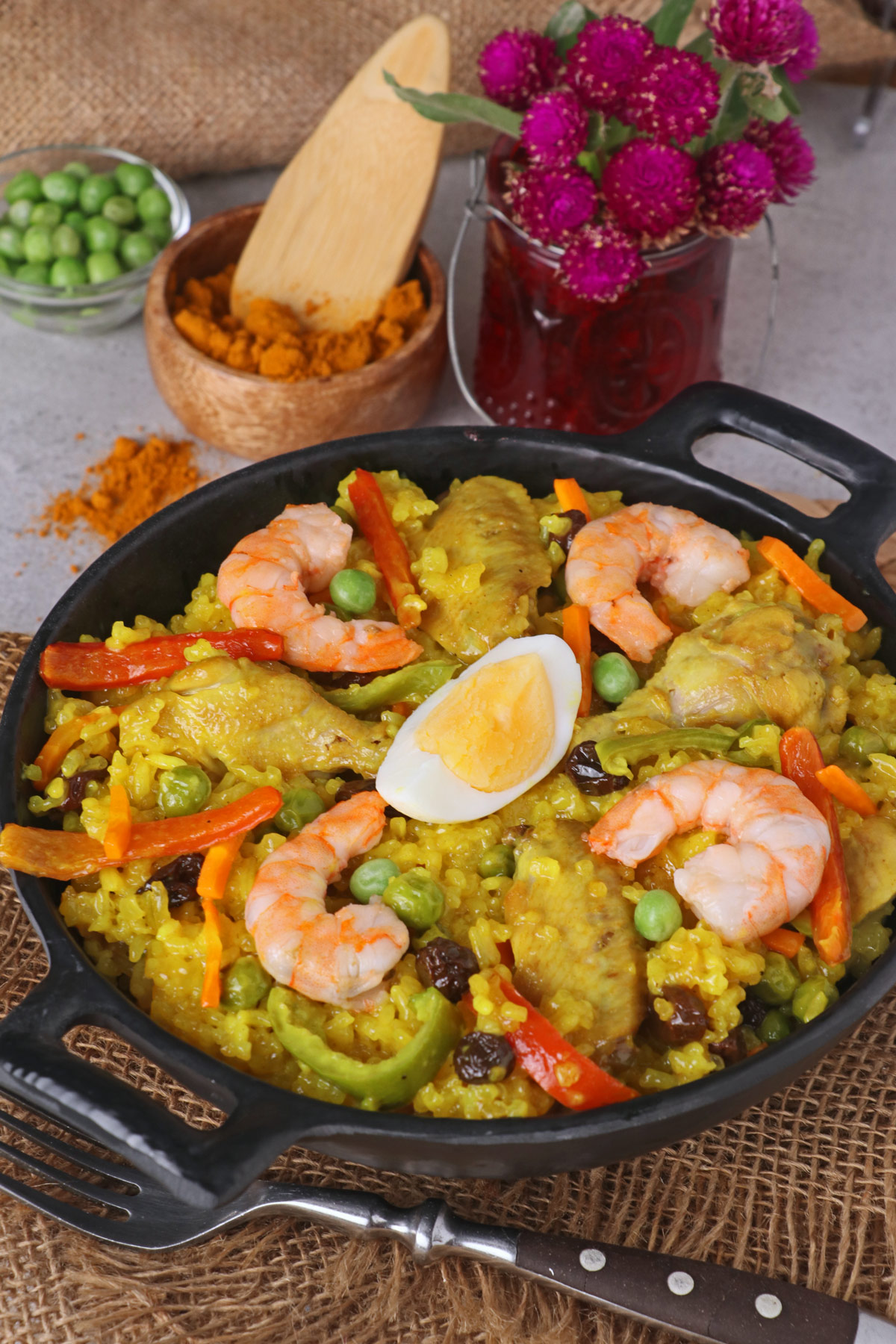 Printable Recipe
Java Rice Recipe
Java Rice is a great way to spruce up your plain white rice in less than 15 minutes! It is vibrantly colored and so flavorful.
Ingredients
1

tablespoon

oil

2

tablespoon

margarine

3

cloves

garlic

minced

1

teaspoon

annatto powder

½

teaspoon

paprika powder

4

cups

cooked rice

day old and refrigerated

Salt

Salt

to taste

Green onions or chives

for garnishing

Fried garlic bits

for garnishing
Instructions
Mash the rice gently with hands to break apart lumps and loosen each grain. Set aside.

1 tablespoon oil,

2 tablespoon margarine,

3 cloves garlic

In a large pan or wok, heat oil and margarine over medium heat. Add garlic and sauté until light brown.

1 teaspoon annatto powder,

½ teaspoon paprika powder

Add annatto powder and paprika powder and stir until oil turns deep orange.

Add the cooked rice and stir until well coated. Season with salt as needed. Cook cook for another 2 minutes, stirring from time to time.

Green onions or chives,

Fried garlic bits

Transfer to a serving plate. Garnish with green onion and fried garlic bits. Enjoy with your favorite fried or grilled dish.
Nutrition
Calories:
304
kcal
Carbohydrates:
48
g
Protein:
5
g
Fat:
10
g
Saturated Fat:
2
g
Polyunsaturated Fat:
3
g
Monounsaturated Fat:
5
g
Trans Fat:
1
g
Sodium:
69
mg
Potassium:
76
mg
Fiber:
1
g
Sugar:
1
g
Vitamin A:
379
IU
Vitamin C:
1
mg
Calcium:
23
mg
Iron:
1
mg