Try this scrumptious version of Sisig using canned tuna. It has all the goodness of the classic Kapampangan sisig you know but is lighter, healthier, and more budget-friendly! A perfect dish to serve on your next get-together with family and friends - either as a main dish with rice or a pulutan (booze food).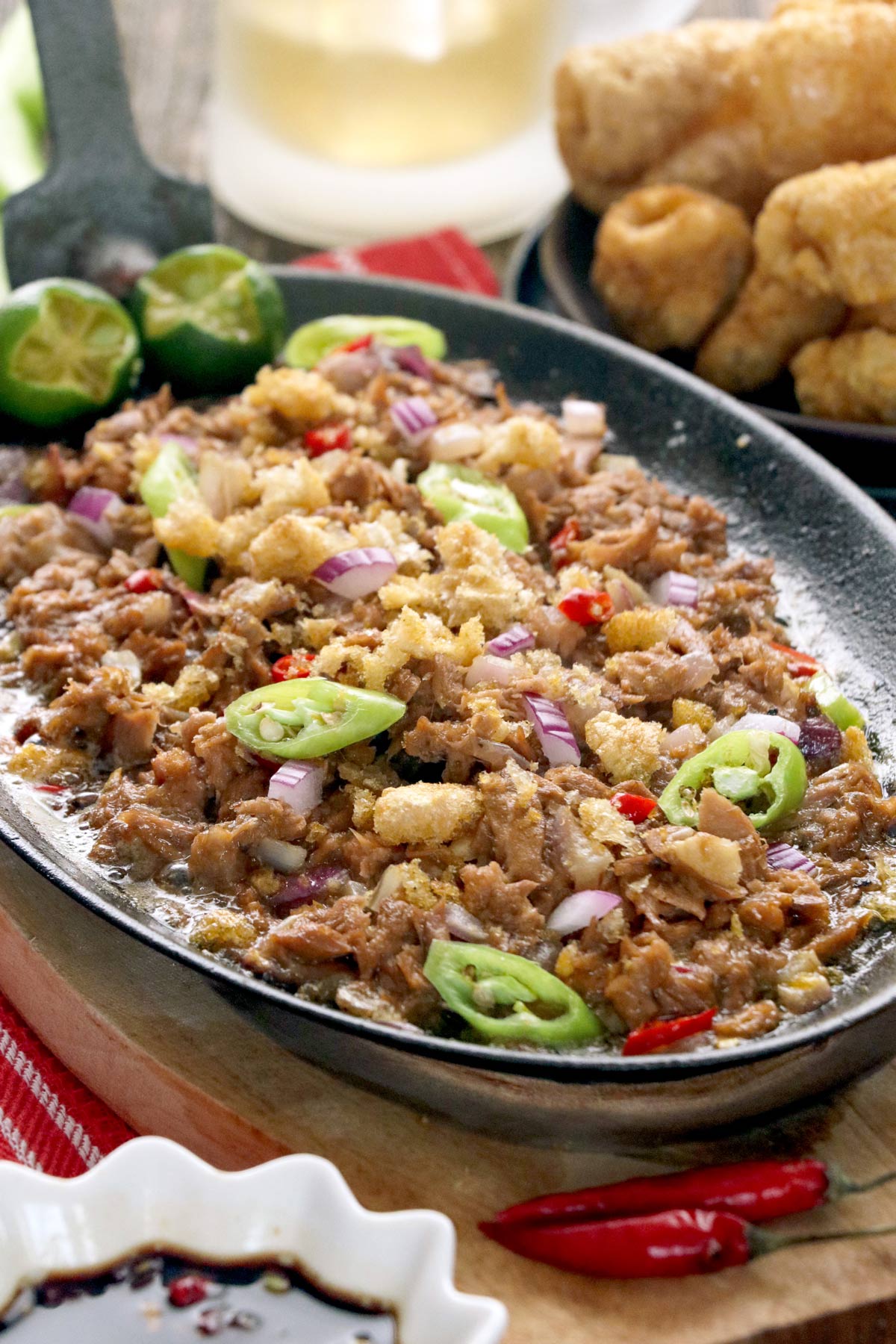 Sisig has always been a crowd favorite and an in-demand Filipino appetizer or "pulutan" (booze food) alongside Dinakdakan, Sizzling Tofu, and Pulutok. It is also a delectable entrée when served with steamed white rice (lots of it!). So, if you're craving sisig but want something less greasy, sizzle up a hot plate and try this delicious tuna version!
Why Make Tuna Sisig?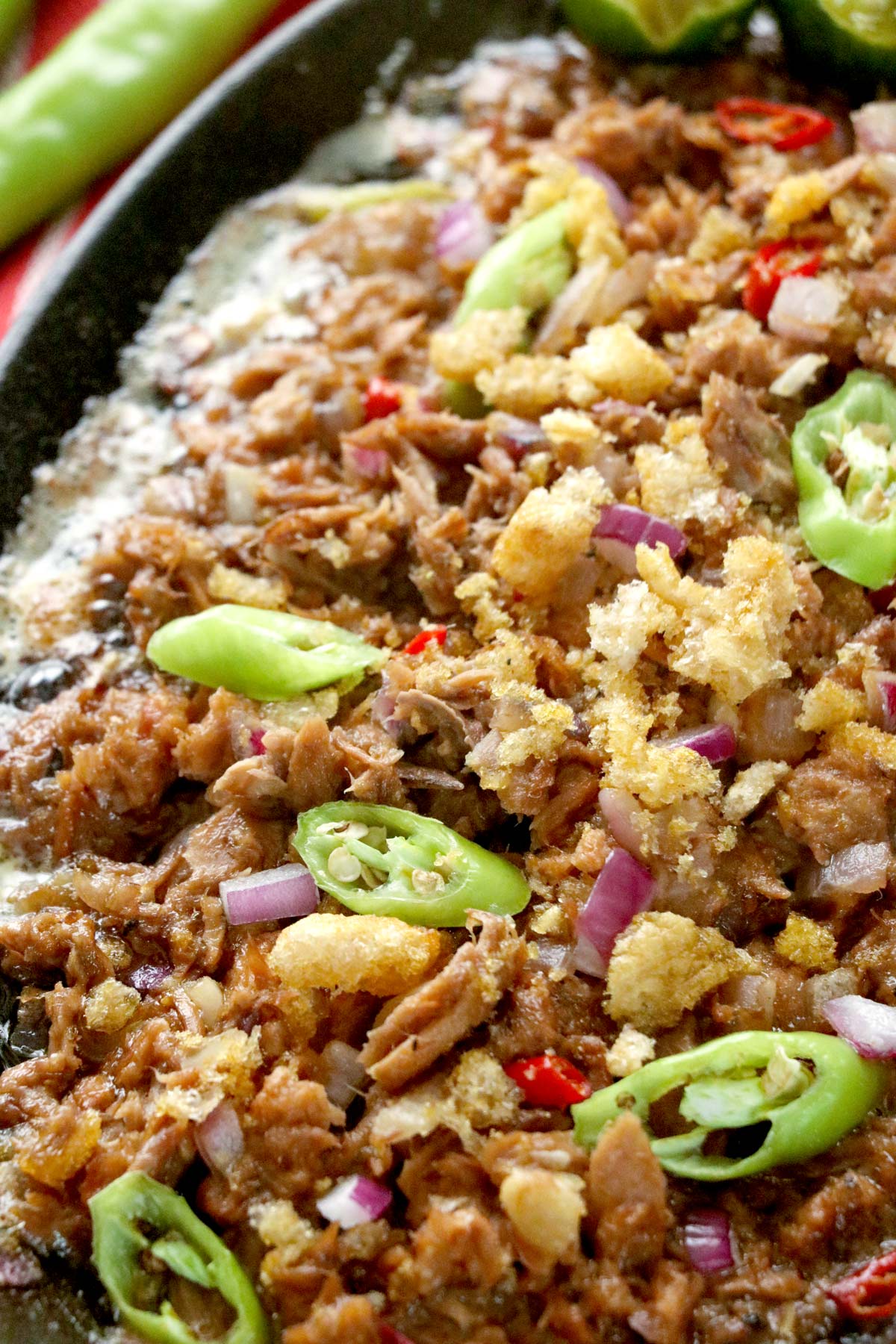 Maybe more of the question is, why not? If you're a big sisig lover but want a healthier alternative, this recipe is perfect for you! Tuna is an excellent source of low-fat, low-calorie protein and is also high in Omega-3 which is good for the heart. Tuna meat is very tasty and tender—a perfect ingredient to cook up some flavorful sisig.
Apart from it being a healthier option, this Tuna Sisig recipe is also budget-friendly as it requires only the use of canned tuna and a few pantry staples. Plus, it is easier to make because you have fewer preparations. Skip the boiling and grilling, open up a can or two of tuna, and sizzle away!
Ingredients You'll Need
Canned tuna - you can use any brand. I prefer using plain canned tuna in oil , but feel free to use other types like tuna in water, or even the flavored ones.
Soy sauce - this will add an umami taste and a dash of saltiness to the dish.
Onion - you can use either red or yellow.
Red and green chili - to add a punch of heat to your Sisig. You can omit this if you want to make it kid-friendly.
Crushed chicharon (crushed pork rinds) - adds more flavor and texture.
Calamansi (optional) - a dash of citric juice brighten the dish and cuts through all the savory and salty flavors. You can also use lime or lemon juice.
Butter or Margarine
Ground pepper- to taste.
Cooking Tips when Making Tuna Sisig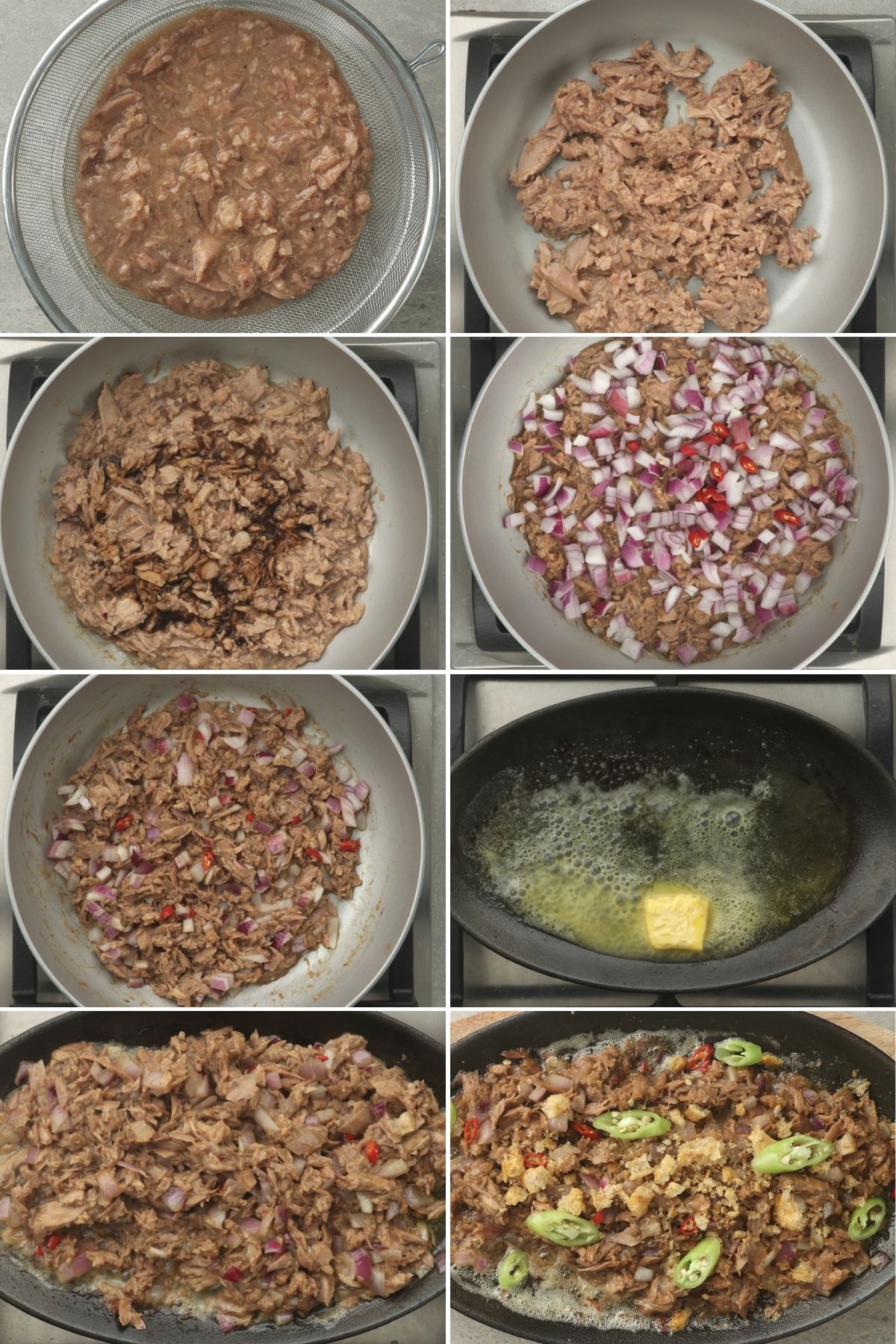 Drain the liquid very well from the canned tuna before pan-frying. This is to avoid splatter of oil and will also make it easier to cook.
To easily crush the pork rinds (chicharon), place them in a Ziplock bag and pound a few times with a rolling pin.
No sizzling plate, no problem! You can use any pan available in your kitchen and still have the same great-tasting dish.
If you are not a big fan of a super spicy dish, a simple trick to lessen the fieriness of the chilis is to slice them open and then scrape off the seeds before chopping.
Make the necessary adjustments based on what canned tuna type you are using. If you are using spicy tuna, omit the red chilis unless you like it hot. If using tuna in water, a bit more butter will help make it richer in flavor.
Frequently Asked Questions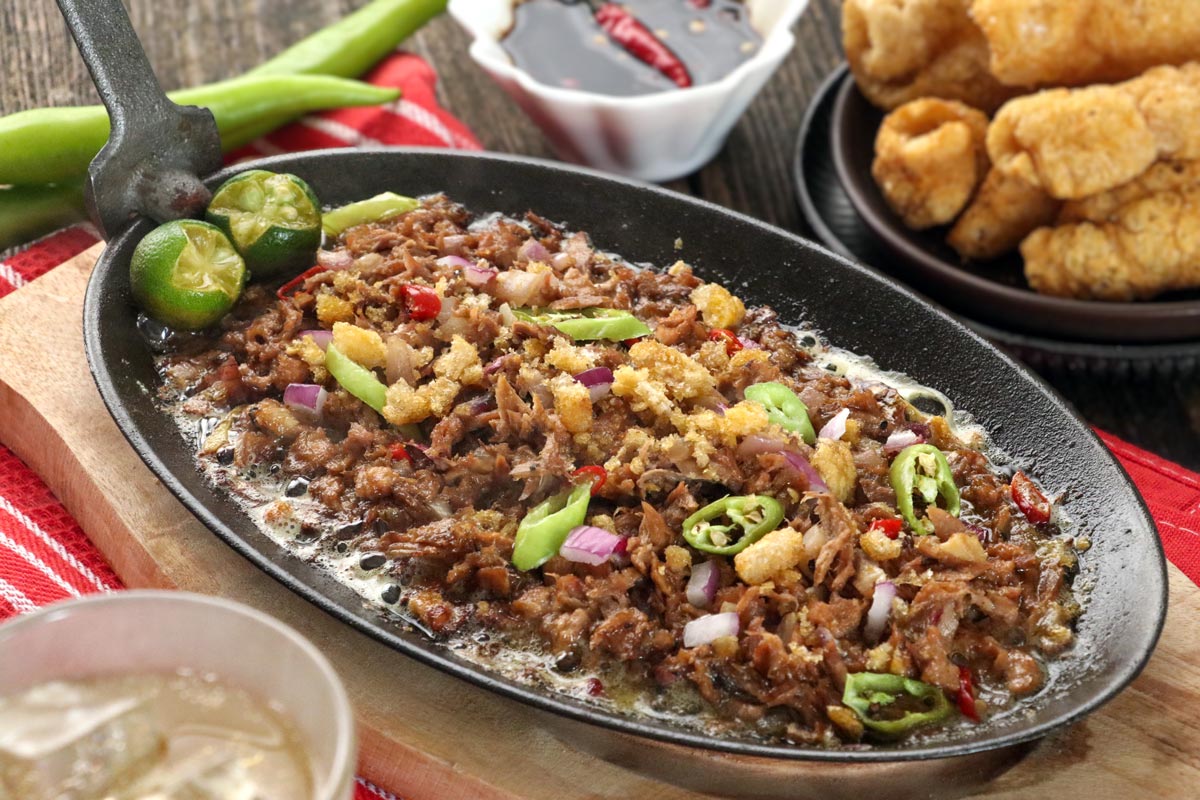 Can I use fresh tuna?
Sure, it might require more work as you need to clean the fish, then either boil, steam or grill it before breaking the meat it into flakes.
Can I add eggs and mayonnaise?
Some prefer adding egg and mayo to their Sisig. Though that is not how Sisig is served traditionally, they can be great add-ons for a richer, creamier take.
How to store leftovers?
Any leftovers can be stored in the fridge for three to five days. You can also freeze it for a month or two if you made a big batch as part of your meal prep. To reheat, just place individual portions in the microwave. When heating a bigger serving, it is better to use your stovetop.
More Fish and Seafood Recipes to try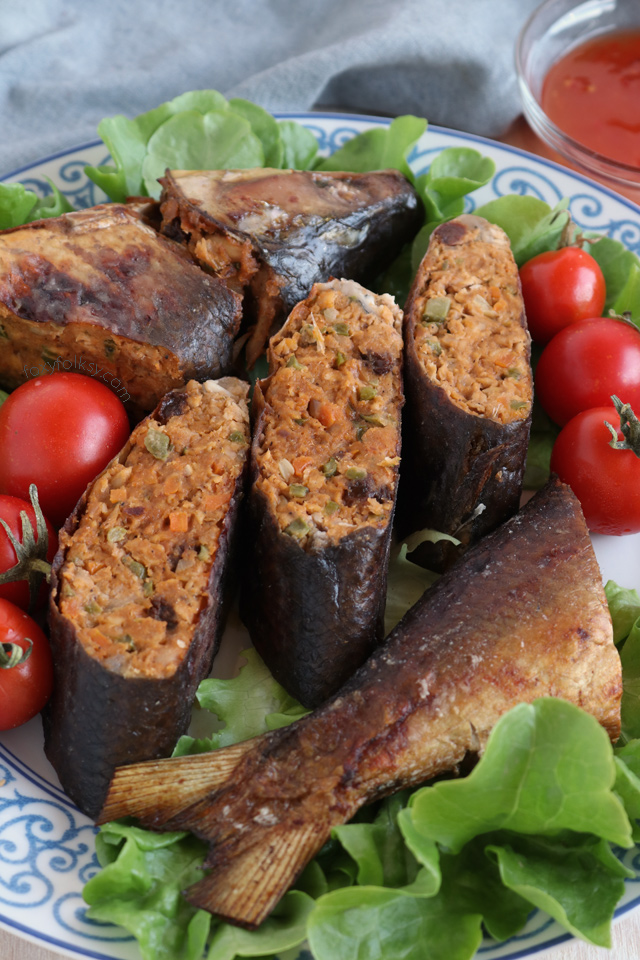 Printable Recipe
Tuna Sisig Recipe
All the goodness of the classic Kapampangan sisig but made with canned tuna making it lighter, healthier, and more budget-friendly! A perfect dish to serve as everyday ulam or pulutan (booze food).
Ingredients
Instructions
Drain the canned tuna very well. In a pan over medium heat, cook the tuna until browned.

1 tbsp soy sauce,

ground pepper

Add soy sauce and pepper. Stir until well incorporated.

1 medium onion,

2 pieces red chili

Add the onion and red chili. Stir until well-distributed. Remove from heat.

1 tbsp butter or margarine

Place a sizzling plate over medium-high heat. Once heated through, melt the butter. Transfer the tuna mixture and let it sizzle for a few minutes.

chicharon,

green chili for toppings,

calamansi

Remove from heat then top with chicharron, green chilies, and calamansi.
Nutrition
Calories:
281
kcal
Carbohydrates:
6
g
Protein:
44
g
Fat:
8
g
Saturated Fat:
4
g
Polyunsaturated Fat:
1
g
Monounsaturated Fat:
2
g
Trans Fat:
0.2
g
Cholesterol:
96
mg
Sodium:
1051
mg
Potassium:
501
mg
Fiber:
1
g
Sugar:
3
g
Vitamin A:
316
IU
Vitamin C:
6
mg
Calcium:
57
mg
Iron:
4
mg