Sisig is probably the most famous Kapampangan dish ever! Get this easy and authentic Sisig recipe using grilled pork belly! Crunchy and spicy just the way it should be.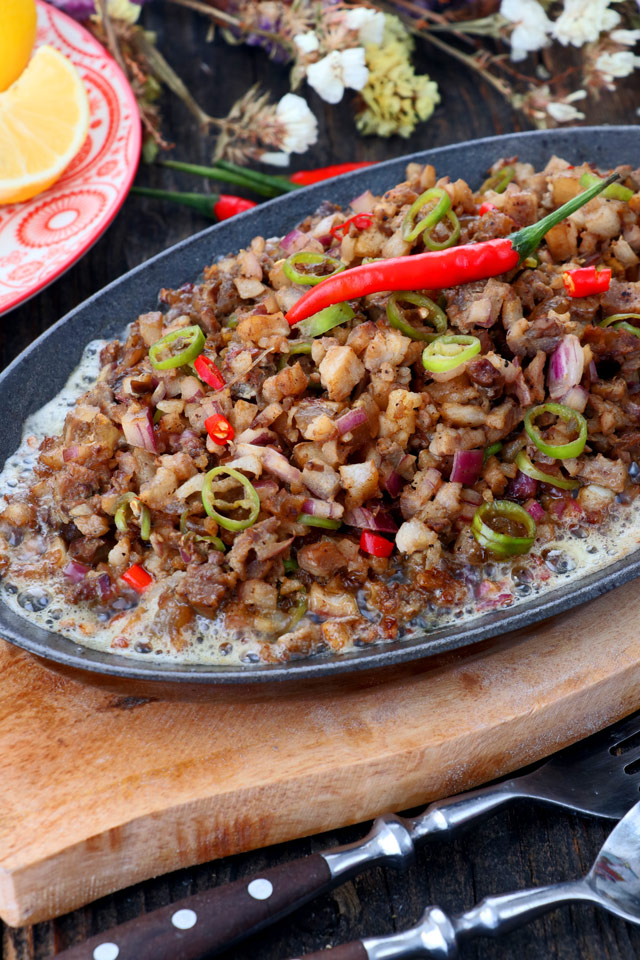 What is Sisig?
Sisig is probably the most famous Kapampangan dish in the Philippines that is also gaining a lot of attention worldwide. You would easily find it in the menus of most restaurants, bars, or even common small food stalls called, Carinderias.
The Sisig that most people know is a modern-day version of what it was in earlier years. The Kapampangan word 'sisig' actually means to snack on something sour (normally unripe fruit in vinegar dressing). It was originally a very sour dish because of all the vinegar and/or calamansi juice in it. It was not until later that pork or other meat was used.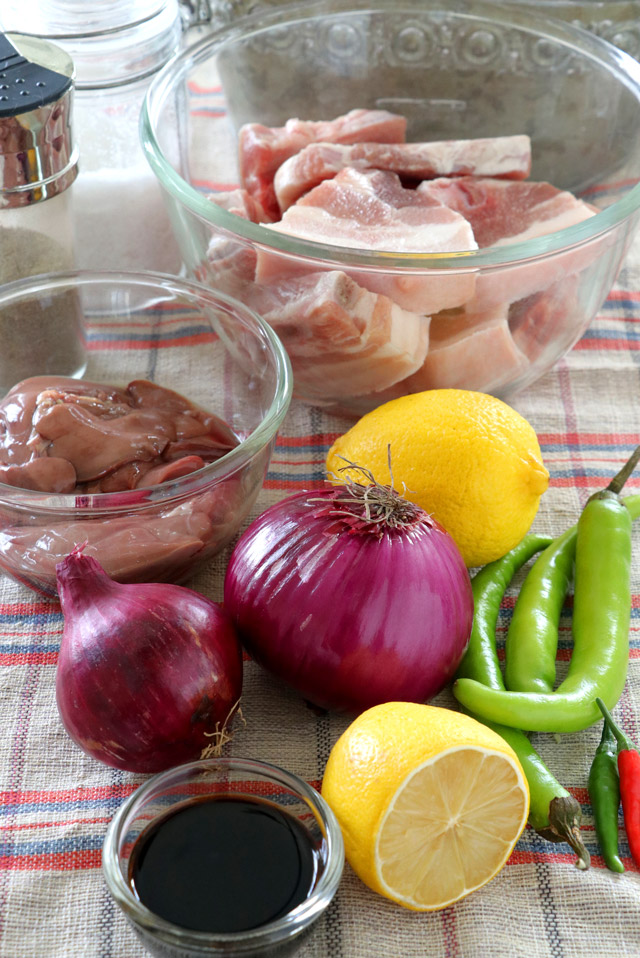 Modern Sisig
Sisig was re-invented and became what it is today, thanks to the ingenious thinking of Lucia Cunanan a.k.a."Aling Lucing" who served it in her carinderia in Angeles City. She thought of a way to make use of the pigs' heads that would rather be thrown away by the commissaries who prepared the meals for the American troops when they occupied the Clark Airbase. It became quite popular as "pulutan" or beer-food in this late-night joint. Later on, the idea of serving it on a sizzling plate was introduced by a rival, Benedicto Pamintuan. Not one to be left behind, Aling Lucing also started to serve her sisig in the same manner.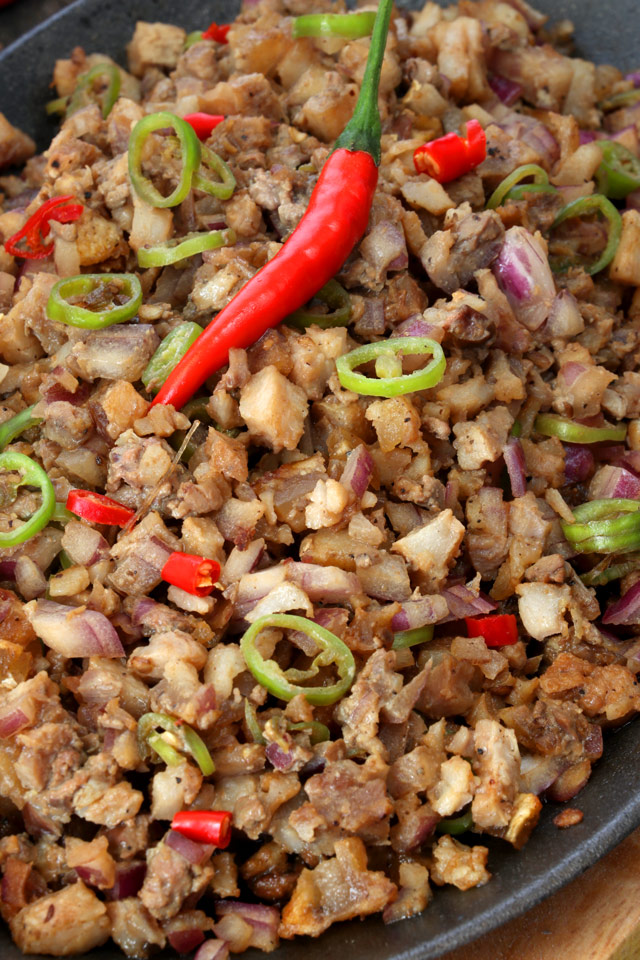 In Pampanga, it is also common to eat it as a viand, to be eaten with rice. But as a "pulutan' it is normally served on a sizzling plate and in other areas topped with raw egg. This, however, is not a norm in Pampanga and definitely no mayonnaise.
There are also several variations of the original pork sisig these days, like chicken sisig, tuna sisig, and squid sisig to name some. I have tried different kinds of Sisig from all over the country. The one from Pampanga, with or without the sizzling plate, plain and simple without all the extra trimming, is still the best in my humble opinion. I don't say that because I am from Pampanga, but it is just a known fact.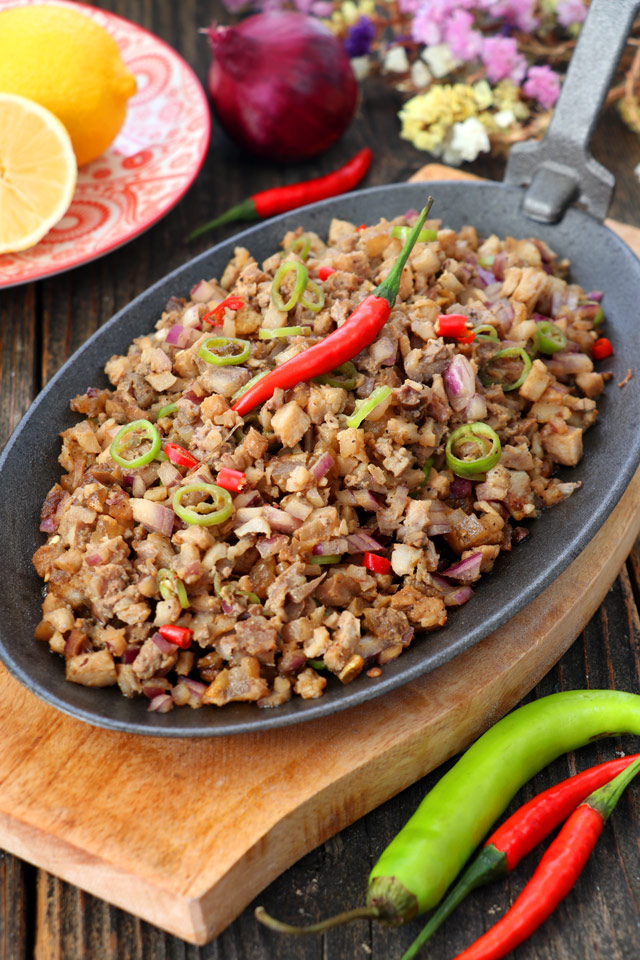 How to make authentic yet easy Pork Sisig?
The process of making the popular present-day Kapampangan Sisig involves boiling and then grilling the meat. It is then chopped into fine bits and the rest of ingredients are added. Grilled chicken liver is also added for flavor and creaminess.
This is not as saucy like the ones they make restaurants, nor does it contain mayonnaise and the ingredients are so much more simple.
To make it more authentic, you can use pig mask and ears. But I chose to use pork belly for this recipe. That way, Armin can also eat it. It also tastes very similar but not as fatty. I skipped the boiling part and just marinated the belly before grilling. You don't want to overcook the meat by cooking it 3 times (boiling, grilling, pan-frying, or sizzling) to avoid it from getting dry unlike when you are using pig's head which has more fats in it that can withstand long and various stages of cooking.
Want more delicious Kapampangan dishes? Try these...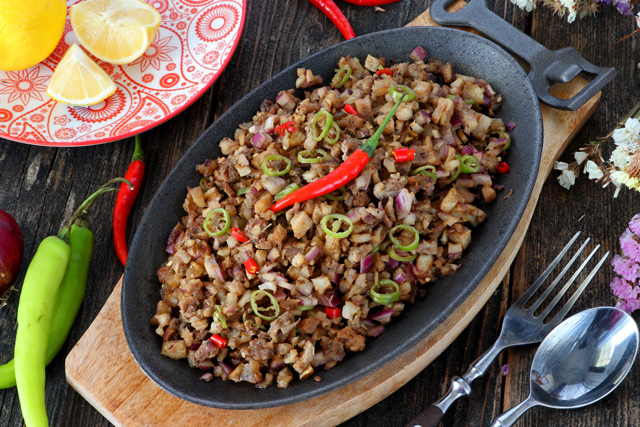 Printable Recipe
Sisig recipe using pork belly
Sisig is probably the most famous Kapampangan dish ever! Get this easy Sisig recipe from grilled pork belly! Crunchy and spicy just the way it should be.
Ingredients
1

pound

pork belly

- sliced about half-inch thick

salt and pepper

3

pieces

chicken liver

1

big

red onion

- finely chopped

½

lemon

or 3-4 kalamansi juice

1-2

chili peppers

- minced or ¼ tablespoon chili flakes

½

tablespoon

soy sauce

⅛

teaspoon

ground black pepper
Instructions
Season pork belly slices with salt and pepper. Let it marinate for at least 30 minutes.

Grill pork belly and chicken liver until well done. Pork skin should be crispy.

Once grilled, chop the pork belly and chicken liver into small fine pieces.

In a bowl, combine the chopped meat, onions, lemon juice and chili pepper. Season with soy sauce and pepper.

Warm it in a pan with a bit of oil if desired. Alternatively, heat a sizzling plate and add a some butter or margarine. Add the Sisig and serve while still sizzling hote.
Nutrition
Calories:
605
kcal
Carbohydrates:
4
g
Protein:
11
g
Fat:
60
g
Saturated Fat:
21
g
Cholesterol:
84
mg
Sodium:
164
mg
Potassium:
268
mg
Fiber:
0
g
Sugar:
1
g
Vitamin A:
115
IU
Vitamin C:
9.6
mg
Calcium:
15
mg
Iron:
0.8
mg
This recipe was originally published in May 2015. Updated in May 2020 to include new photos and recipe videos and additional information. The recipe remains the same.