These homemade Fish Balls are easy to make and require only a few simple ingredients. Experience how different these are from those you usually buy on the streets.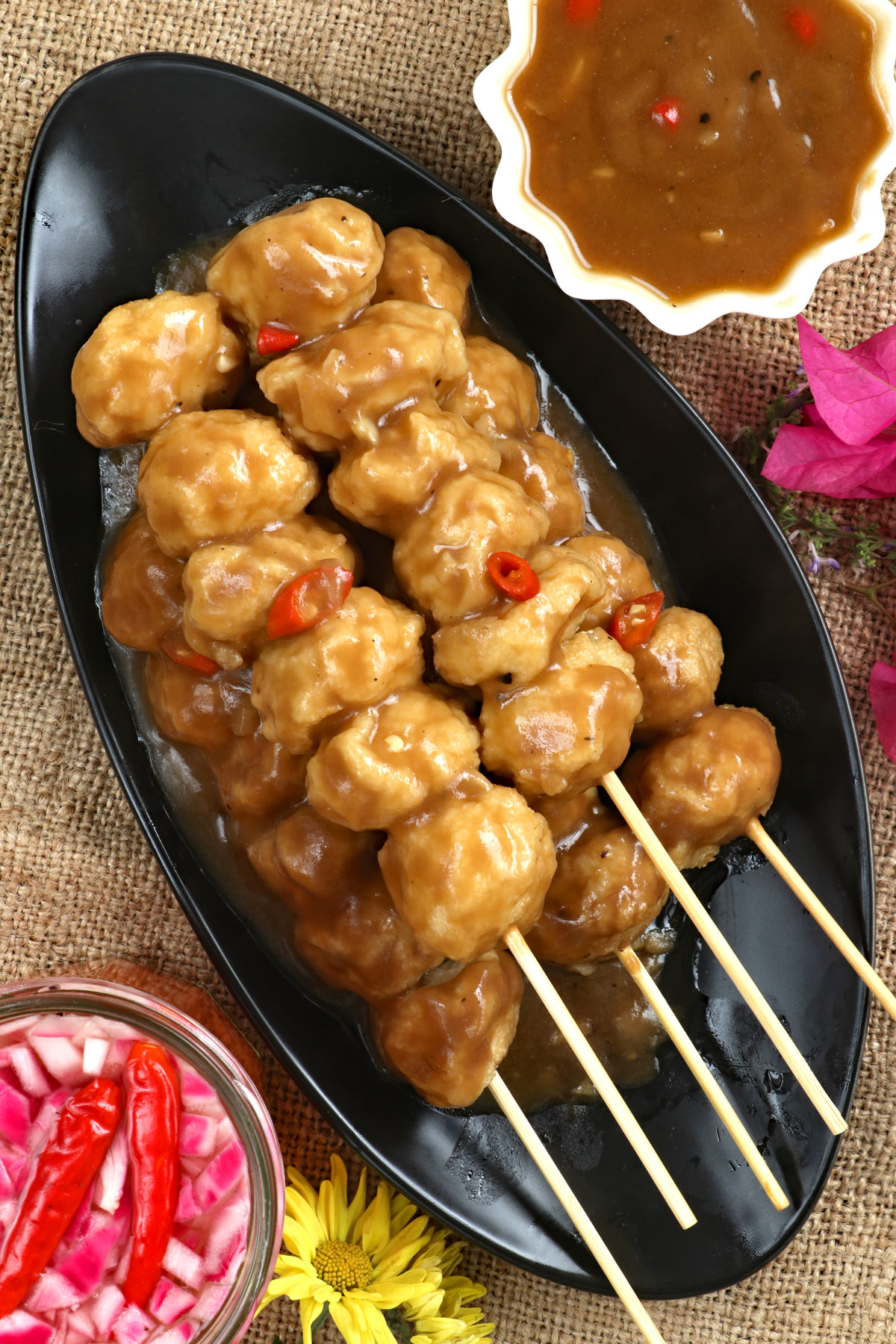 Jump to:
I love street food as much as the next person. They are tasty, inexpensive, and filling. I have been enjoying them for as long as I can remember. One of the most popular of these is fish balls. You will see them being sold on mobile food carts almost everywhere you go in the Philippines.
However, as much as I appreciate them, these kinds of commercialized street food can be full of extenders and artificial flavors. So I have been sharing how to make them at home using all-natural ingredients like my Siomai, Calamares, and Kwek-Kwek recipes. They are easy to make and can be stored easily so you can stock them up. You'll never know when the cravings might hit!
What Fish to Use?
Generally, you can use any type of fish to make fish balls. But the ideal type to use is the ones with fewer bones and more gelatin. You can have fresh ones or use frozen ones. Frozen fillets are, of course, the easier choice.
Here are some common fishes normally used for making fish balls:
mackerel
sole
cream dory
tilapia
I used frozen cream dory fillets to make mine and it turned out great. If using fresh whole fish, just fillet them scrape the flesh of the skin using a spoon then remove any bones.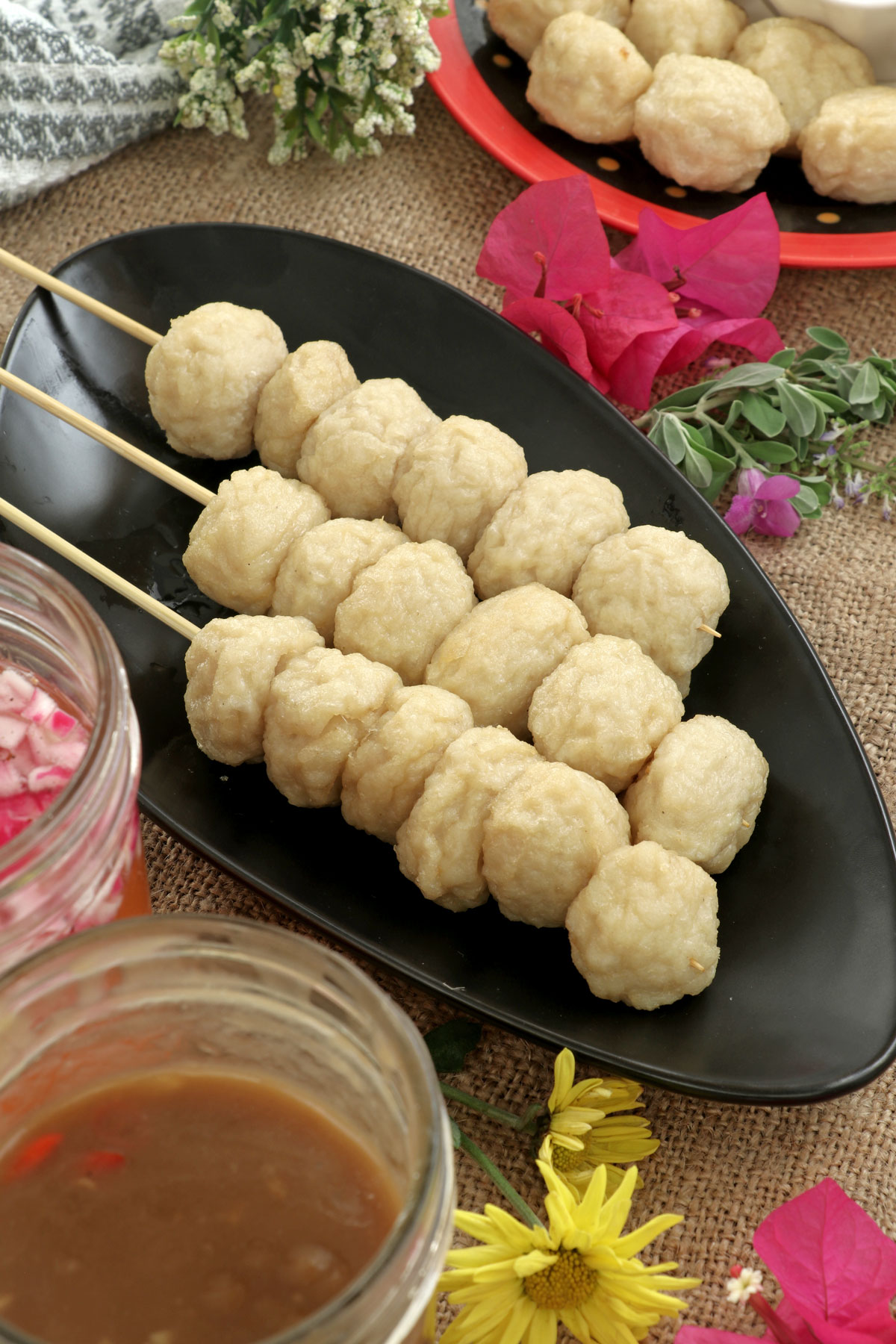 Homemade Fishball Sauces
As with any Asian-inspired food, the sauce plays a big role in the holistic appeal of the dish. Here in the Philippines, there are 3 usual types of dips used to enjoy deep-fried fish balls.
Spiced Vinegar. I make mine using vinegar, red onion, salt, and ground pepper. I also add chopped hot chili to make it a bit spicy.
Sweet and Sour Sauce. If you want to make this, check my Sweet and Sour Meatball recipe.
Manong's sauce. Everyone's favorite!" Manong" is a Tagalog term for "mister". That is how we call the fishball vendor who makes the sauce. It's a one-for-all dipping sauce that is used for a variety of street food. It is sweet and spicy, brown in color, and has a thick consistency. Made using water, flour, sugar, soy sauce, garlic, red chili, ground pepper, and salt.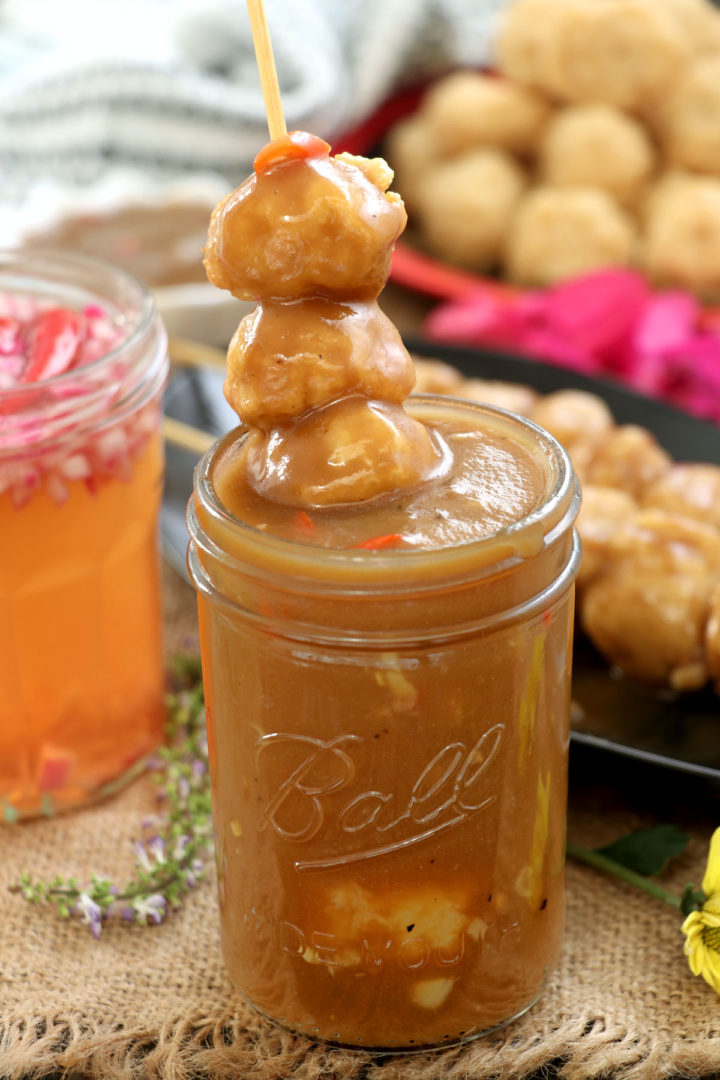 How to Store Fish Balls?
If you are making a big batch of fish balls with the intention of keeping some for future use, make sure to store them properly to prevent spoilage. Let the balls cool down completely after boiling before placing them on ziplock bags.
In the fridge- it can stay fresh for at least 5 days. You will know if it is still good from the texture and smell. If it is coated in a slimy film and has an overpowering fishy smell, get rid of it immediately.
In the freezer- these yummy balls can stay frozen for months without spoiling. Make sure they are properly sealed to prevent freezer burns.
Serving Ideas
There are a lot of different ways to enjoy fishballs! You can deep-fry or air-fry them and serve them with your favorite dipping sauce as an afternoon snack. You can also use them for soups and hotpots. I often add them to my Pancit Canton or Pancit Bihon as toppings.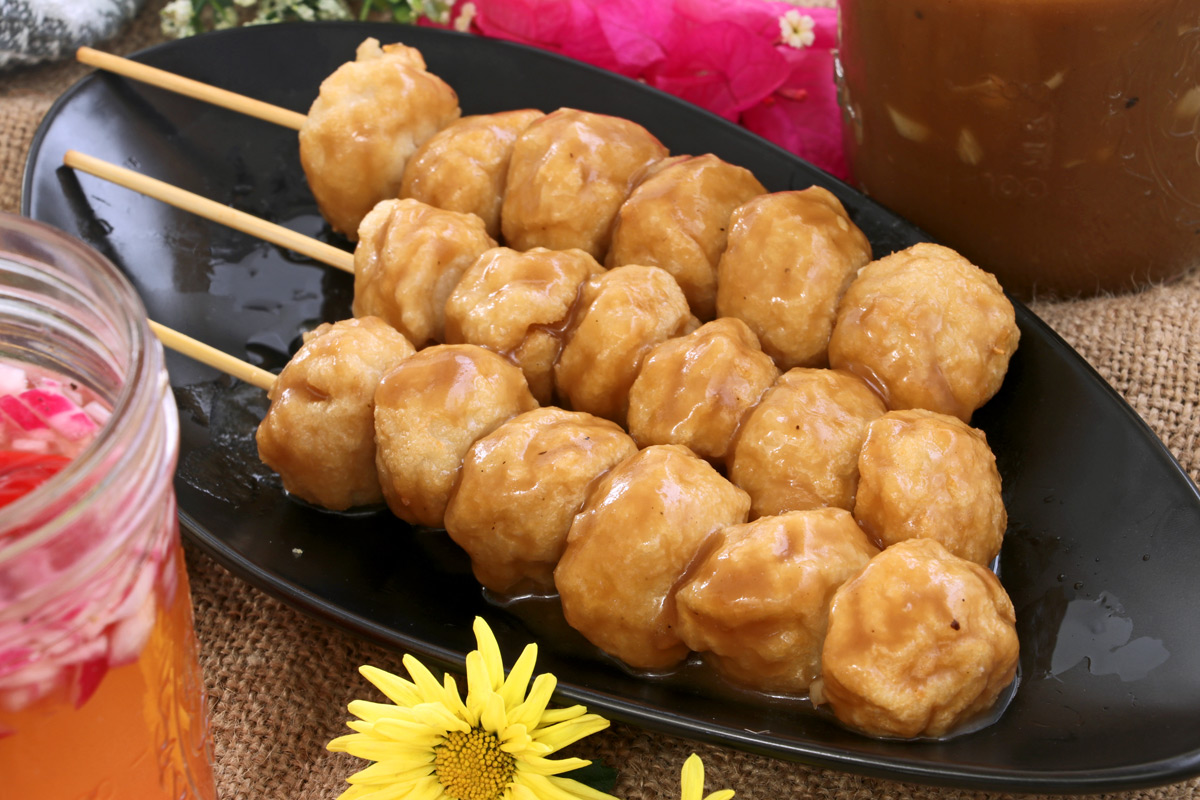 Printable Recipe
Homemade Fishballs
Made from a well-seasoned fish batter (paste) and formed into yummy and springy balls, these homemade Fish Balls are easy to make and require only a few simple ingredients. Experience how different these are from those you usually buy on the streets.
Ingredients
500

grams

fish fillet

use while still cold or a bit frozen

1

tablespoon

onion powder

1

teaspoon

garlic

2

teaspoon

salt

- more or less

1

teaspoon

sugar

1

teaspoon

white ground pepper

1

tablespoon

oil

½

cup

flour

½

cup

potato starch

or tapioca or cornstarch

1

teaspoon

baking powder

1

large

egg white

½

cup

ice cold water

Oil

for deep frying
Instructions
Cut fish fillet into small pieces and place in a food processor or blender.

Add onion powder, garlic powder, salt, sugar, ground pepper, oil, flour, starch, baking powder and egg white.

Pulse for a couple of minutes gradually adding the ice water in between until it get a homogeneous texture. About 2-3 minutes depending on speed of processor. Transfer content to a bowl.

Prepare a large bowl of lukewarm water (40°C).

Shaping. Lightly grease one hand with oil. Then scoop a fistful of mixture. Create a small round opening with your thumb and index finger. Then gently squeeze the mixture to push it up and out through the opening to make a small ball. Using a spoon, scoop the ball and transfer it to the lukewarm water. Do this to the rest of the mixture.

Fill a large pot with enough water and bring it to a very gentle simmer. Scoop the balls using a strainer and transfer them in the hot water. Do not let the water into a rolling boil or it might break the fish balls. Cook for 20 minutes then remove the balls using a strainer and transfer them in a colander to drain excess water.

Let them cool down and store in ziplocks to freeze or you can fry them and serve with fish ball sauce.
Nutrition
Calories:
30
kcal
Carbohydrates:
3
g
Protein:
3
g
Fat:
1
g
Saturated Fat:
1
g
Trans Fat:
1
g
Cholesterol:
6
mg
Sodium:
127
mg
Potassium:
74
mg
Fiber:
1
g
Sugar:
1
g
Vitamin A:
1
IU
Vitamin C:
1
mg
Calcium:
8
mg
Iron:
1
mg
More Filipino street food Ideas