Boneless Bangus (milkfish) belly fried to a golden crisp then coated with a savory soy-calamansi glaze, this Bangus ala Pobre dish is super easy to make using simple and affordable ingredients.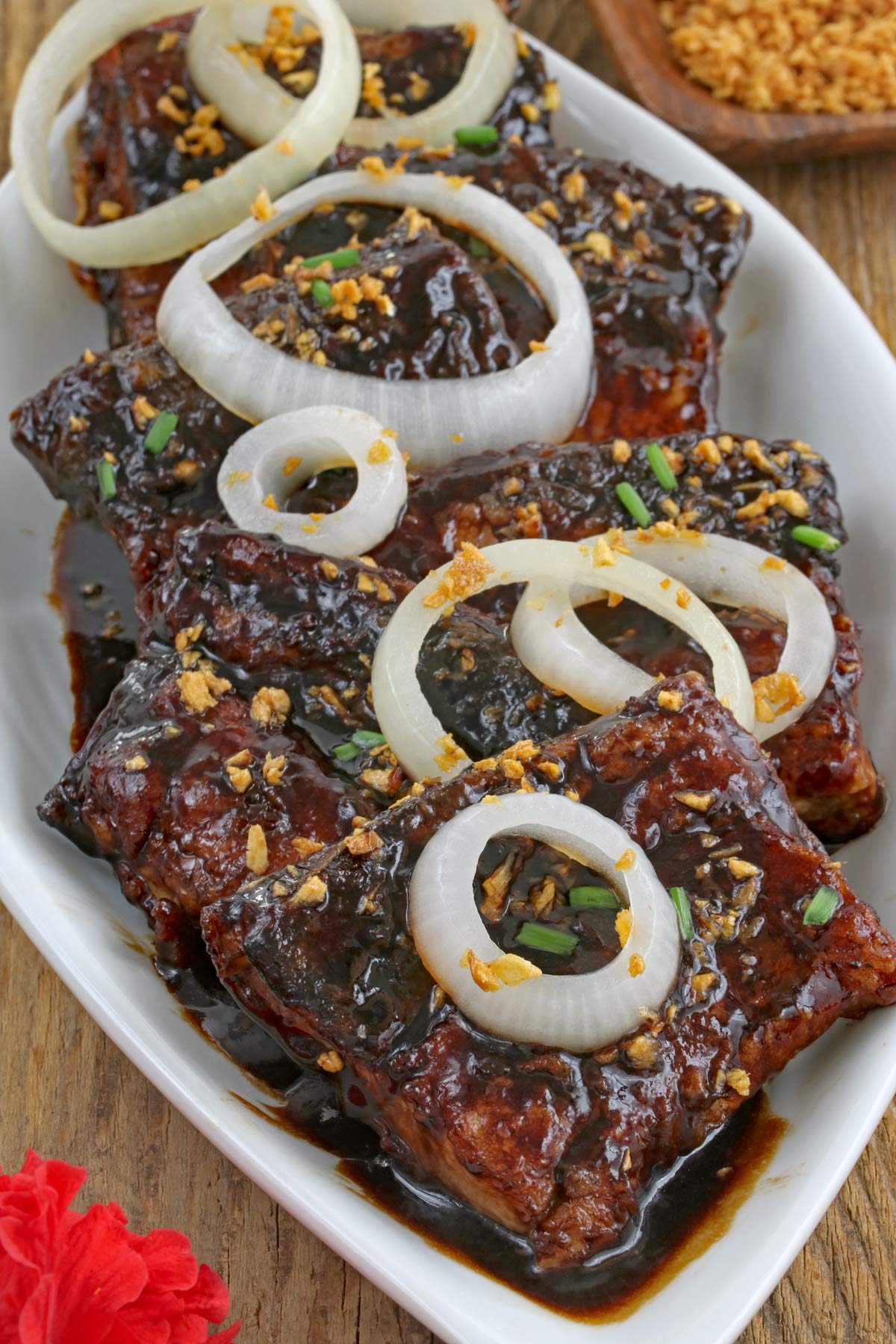 Jump to:
If you have read my Rellenong Bangus post before, you would probably already know my aversion to frying milkfish. I had a kitchen mishap in my teens that left a scar on my right hand. But alas, my love for cooking has always been greater than my fear of splattering hot oil! Plus, who can resist those fatty fish bellies, right? So I am back with another milkfish recipe that does involve frying. However, this recipe is super quick and easy, and I used a boneless bangus belly which is easier to manage in a pan!
What is Bangus ala Pobre?
The Spanish term "ala Pobre" means "the poor". Perhaps because of the economical way of preparing the dish, using ingredients that are cheap and more likely already present in the pantries of most Filipino households. But Bangus ala Pobre and its variations have made it to the menus of many Filipino restaurants, these days, all spruced up with loads of caramelized onions and toasted garlic.
About the ingredients and alternatives
Milkfish- I like using belly fillets for this recipe because it is simply the best part. However, feel free to use other parts too. Salmon would also be agreat alternative.
Soy sauce - this condiment is rich in umami and savory flavors! I use dark soy sauce but lighter one can be used for less saltiness.
Oyster Sauce- a sweet and salty condiment that has a distinctly Asian flair, it can be optional if you do not have any.
Calamansi - also known as the Philippine lime, they provide a bright and tangy flavor to the sauce. Lemon can be used as alternative.
Cornstarch- I used it first for dredging. Aside from giving the fish a crunchy and golden finish, this will also prevent the fish from sticking to the pan and as it absorbs the liquid from the fish it lessens the chances of oil splattering. I also added some to the sauce to give it a slightly thick and silky consistency.
Butter- gives the sauce a richer taste.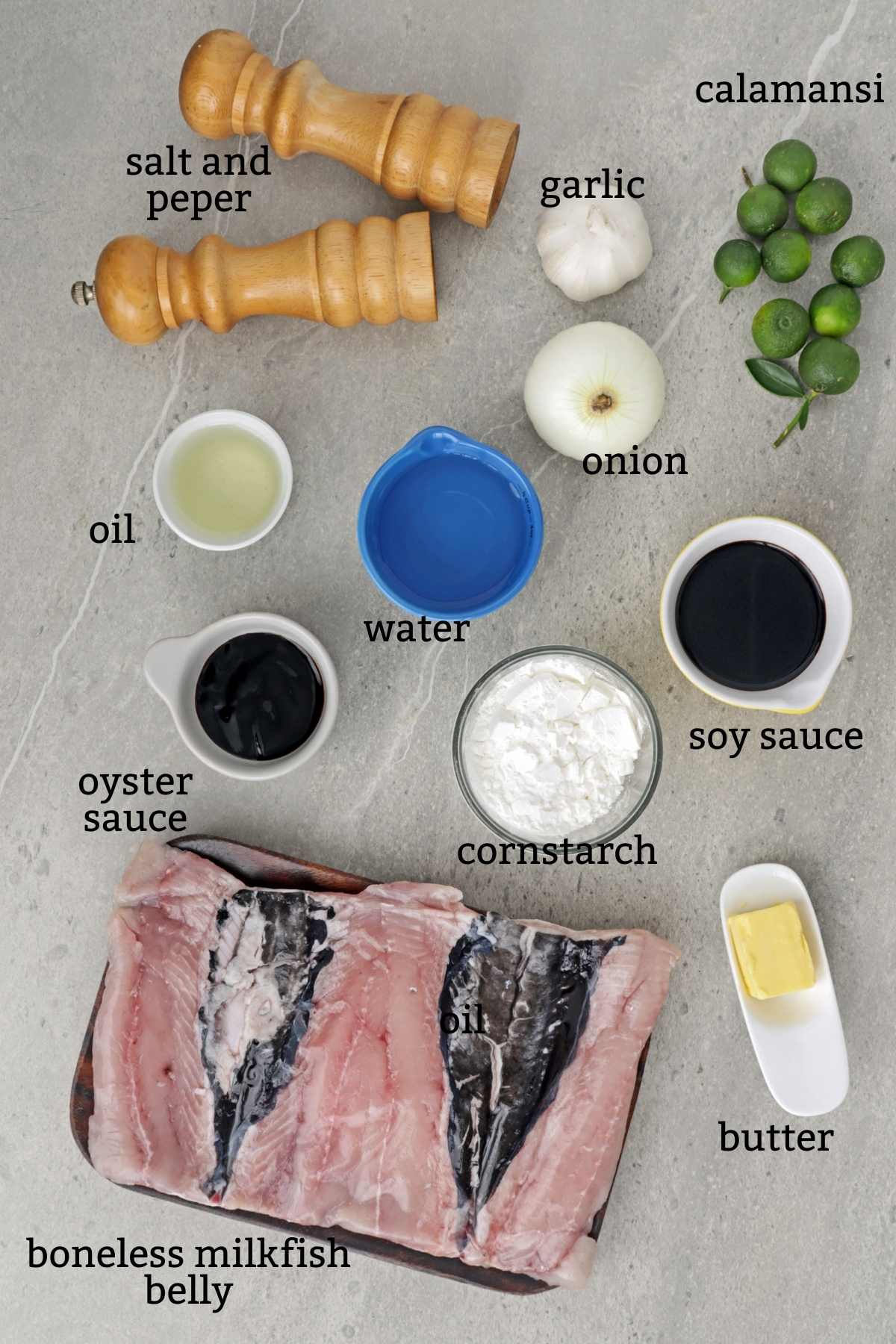 Cooking Tips
When cooking the garlic, make sure to remove them from heat once they are lightly golden. They will continue to cook even when removed from the oil. Overcooked garlic bits will turn bitter.
Sweat the onions, do not caramelize them. Sweating means letting them soften just enough to reduce the sharpness of raw onions. I like them this way because they still have a crisp texture and a bite to them.
Use a large pan or cook the fish in batches. This ensures that you do not overcrowd the pan and keep the cooking oil consistently hot, resulting in perfectly fried milkfish.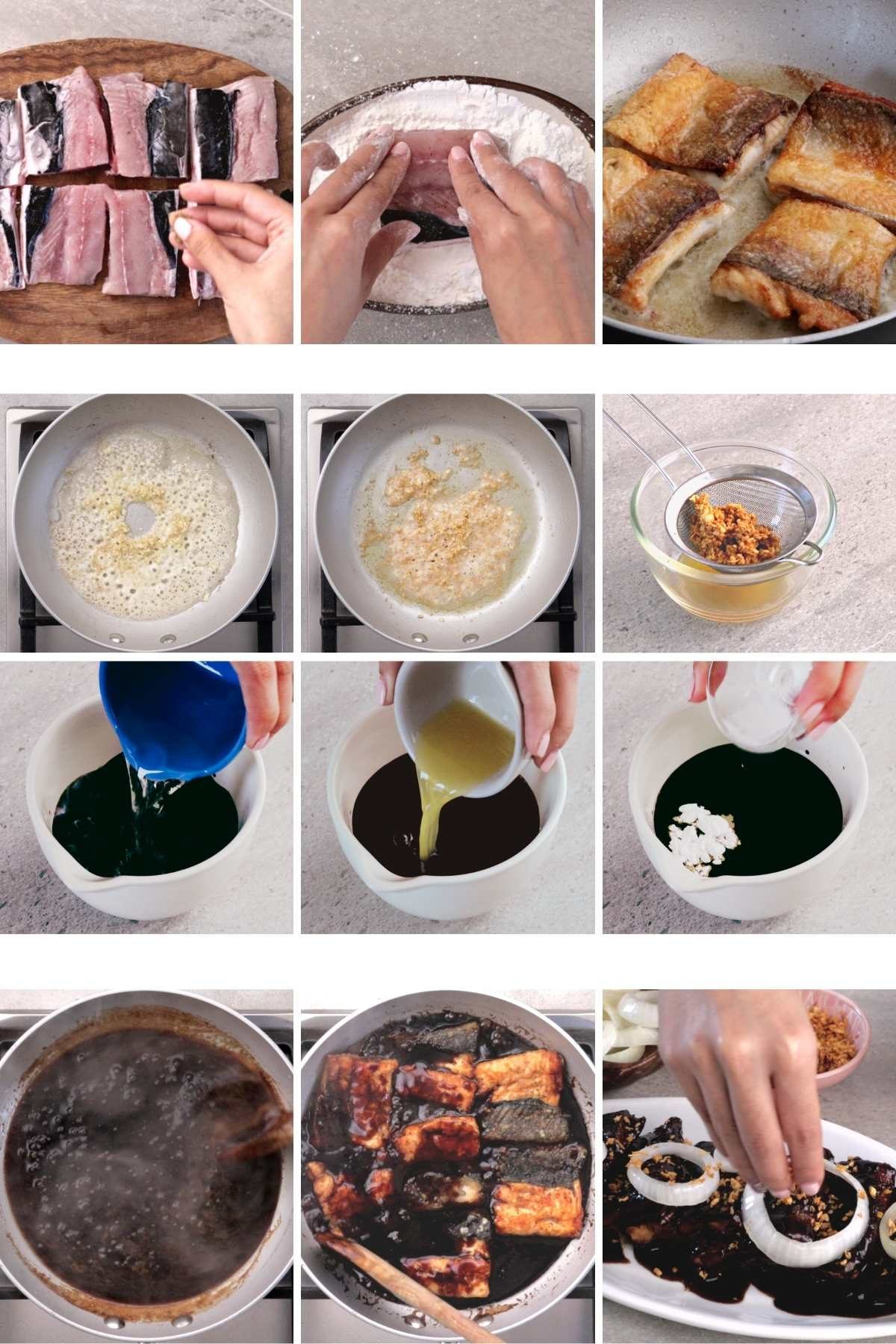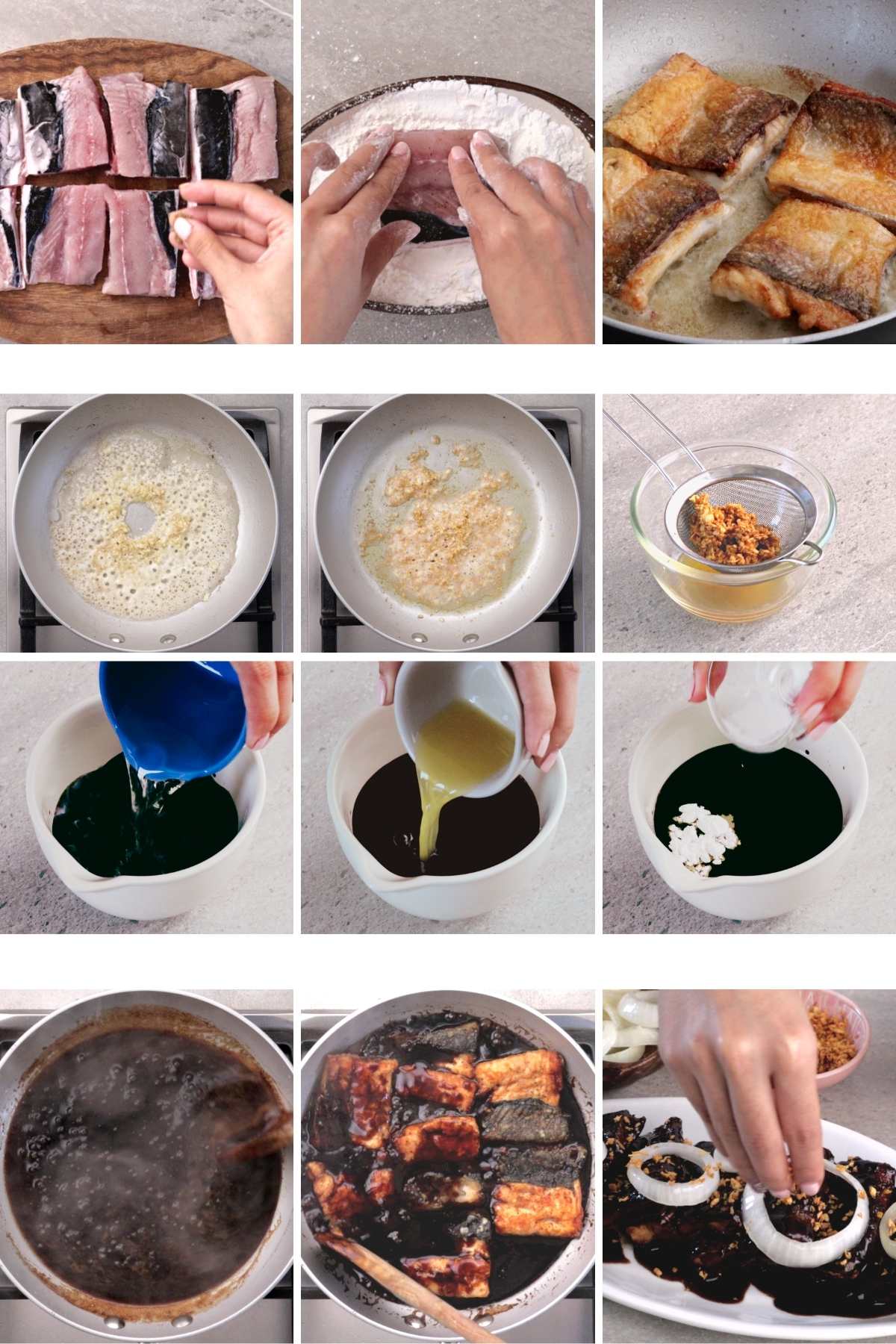 Dietary Variations
Vegan Option- To make this vegan, use vegan butter and vegetable oil. You can also omit the oyster sauce and replace it with an equal amount of soy sauce mixed with maple syrup or agave nectar.
Gluten-free Option - Use tamari instead of soy sauce. Also, take note that there are select brands that have gluten-free oyster sauce options. So make sure you check first before using them.
Paleo Option- Swap the soy sauce with coconut aminos and replace the oyster sauce with coconut aminos + honey. You also need to substitute butter with ghee and cornstarch with arrowroot powder.
How to store leftovers?
Transfer them in a lidded container and refrigerate for 3-5 days. You can reheat using the microwave for a minute on high. If using your stovetop, reheat the dish using medium heat for at least 2 minutes.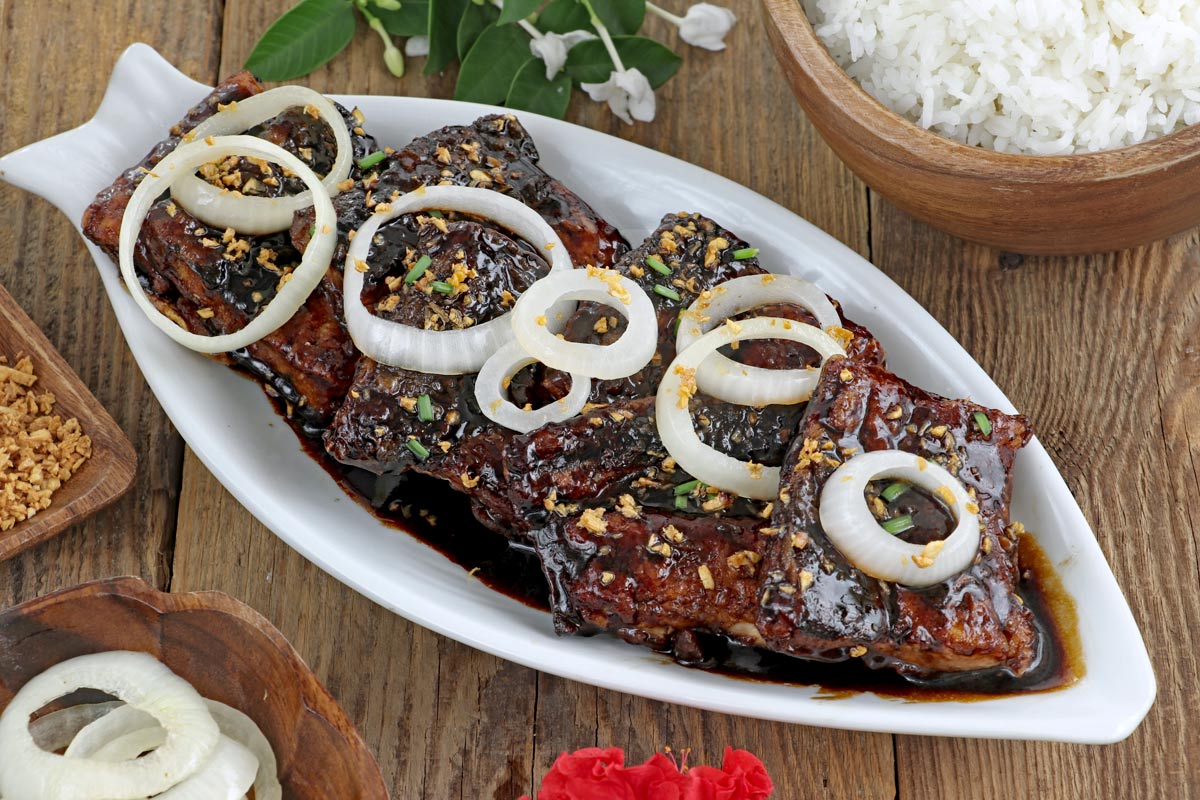 Printable Recipe
Bangus ala Pobre
Boneless Bangus (milkfish) belly fried to a golden crisp then coated with a savory soy-calamansi glaze, this Bangus ala Pobre dish is super easy to make using simple and affordable ingredients.
Ingredients
500

grams

boneless bangus belly

cut into serving size

¼

cup

cornstarch

for dredging

5

cloves

garlic

minced

1

big

yellow onion

cut into rings

oil

for frying

salt and pepper

to taste
SAUCE:
¼

cup

soy sauce

2

tablespoon

oyster sauce

optional

2

tablespoon

lemon

or calamansi juice

1

tablespoon

butter

1

teaspoon

cornstarch

from the leftover dredge

⅓

cup

water
Instructions
Heat just enough oil in a skillet or frying pan, over medium-high heat.

Lightly season fish belly cuts with salt and pepper. Then dredge lightly in cornstarch, shaking off excess if needed.

Fry directly in hot oil, skin side down first, turning it over once to cook both sides to a golden brown. Remove fish from pan and set aside.

In the same oil over medium-low heat, toast minced garlic until golden and then remove immediately from oil using a sieve and set aside. It will go on cooking from the residual heat so do not let it brown in the hot oil too much.

Combine all the ingredients for the sauce in a bowl and mix until well blended. Set aside.

Next, sweat the onions in the same oil over medium heat then remove and set aside.

Add the butter or margarine to the skillet with the remaining oil and let it melt. Then add the sauce mixture and cook until it thickens.

Now put the fried fish back into the pan to coat the fish with sauce then remove and arrange on a serving dish. Turn off the heat. Pour the remaining sauce on top of the fish and top with the cooked onions and toasted garlic.
Nutrition
Calories:
81
kcal
Carbohydrates:
12
g
Protein:
2
g
Fat:
3
g
Saturated Fat:
2
g
Polyunsaturated Fat:
1
g
Monounsaturated Fat:
1
g
Trans Fat:
1
g
Cholesterol:
8
mg
Sodium:
1133
mg
Potassium:
64
mg
Fiber:
1
g
Sugar:
1
g
Vitamin A:
91
IU
Vitamin C:
5
mg
Calcium:
16
mg
Iron:
1
mg
More Budget-friendly recipes