Rellenong Bangus (Stuffed Milkfish)
Updated: September 3, 2019
Bangus or milkfish is notoriously known for having a lot of fish bones. They are also known to make a lot of splatters when fried. Therefore, for those who love milkfish but not all the thing I mentioned above, this Rellenong Bangus recipe is the perfect one for you!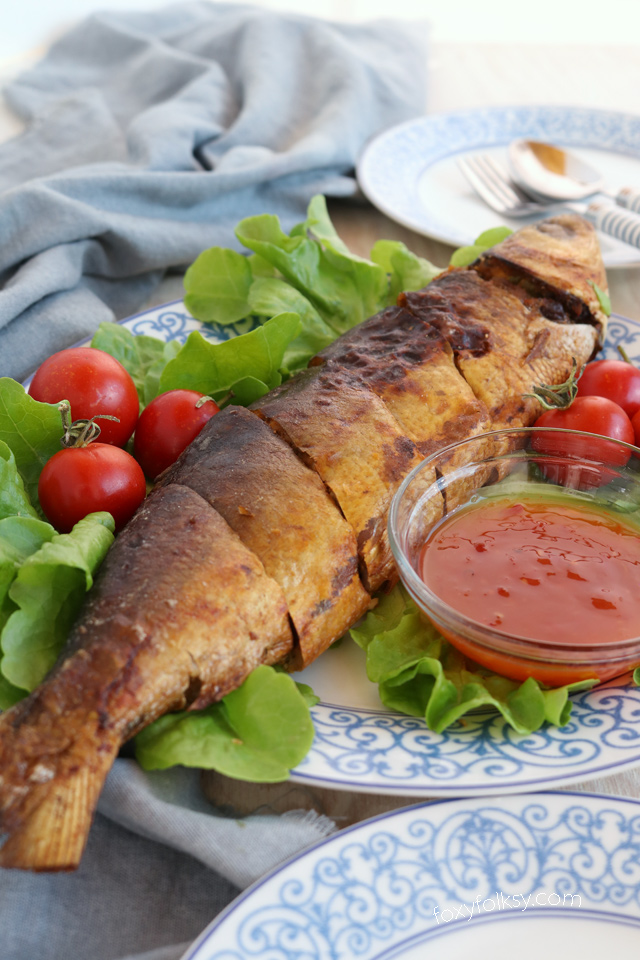 Rellyenong Bangus is a stuffed milkfish, wherein the meat is removed without breaking the skin of the fish and stuffed back after the meat is seasoned and cooked. Afterward, the whole milkfish is usually fried to golden crisp.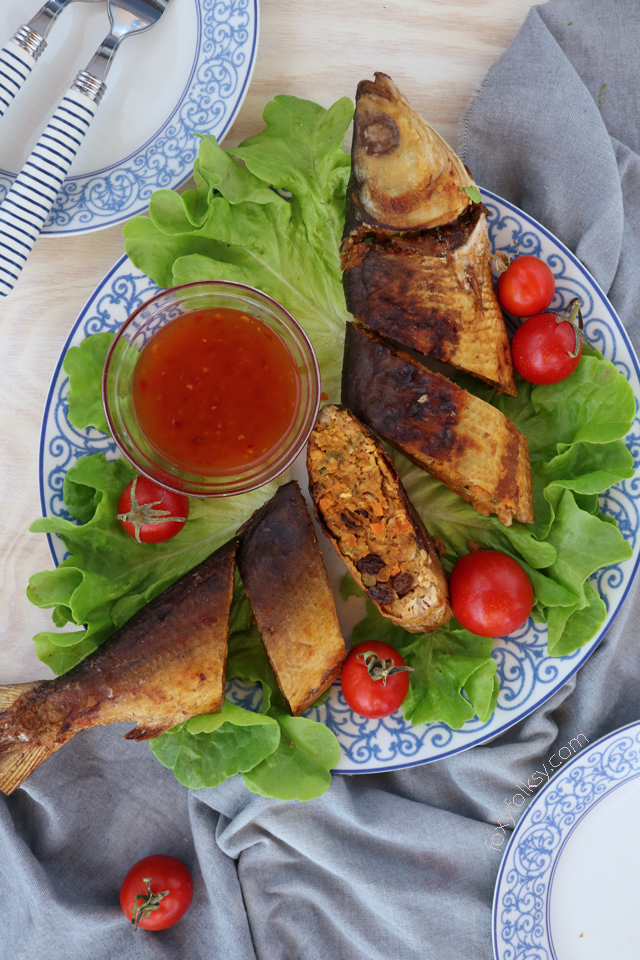 I for one have an aversion to frying milkfish, well to anything that involves frying actually and you can understand that if you notice the big scar on my right hand on my videos. I share this scar with my mama as we were both in same kitchen accident some ancient years ago that involves frying (chicken). But the fear of oil splatters is still there.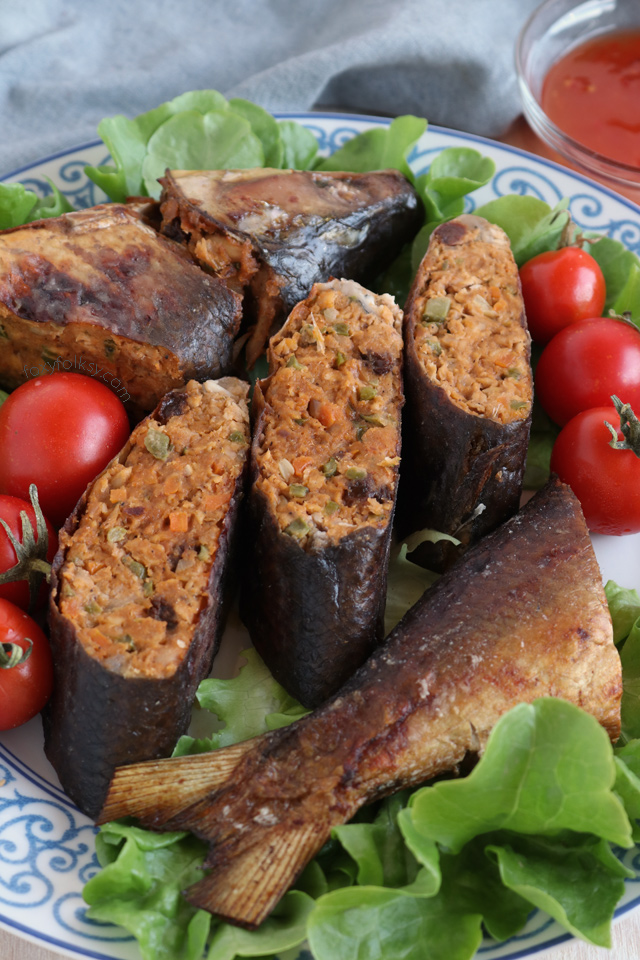 So, since I hate frying, I baked my Rellenong Bangus instead and I think this will be how it is for me from now on. Not only was it painless it is also more practical since I do not have a frying pan that will fit the whole milkfish in.
Warning! The following images contain graphic content! Hehe! Here I am trying my best to illustrate how I removed the fish meat keeping the skin whole and intact.
Photo 1 (top, left): Remove scales by using a blunt knife. Remove the guts and intestines through the top opening. Remove the gills as well. Wash and pat dry with paper towel.
Photo 2 (top, right): Tilt the fish head up, snapping the spine in the process. Break also the bone at the bottom near the tail.
Photo 3 (bottom left): Insert a spatula in between the meat and skin through the opening to separate the meat from the skin. Move it up and down and around inside the skin. Don't worry the skin is tougher than you think and will not break so easily.
Photo 4 (bottom, right): If correctly done, the meat should come out when the bone is pulled out from the opening. If not just push the meat out.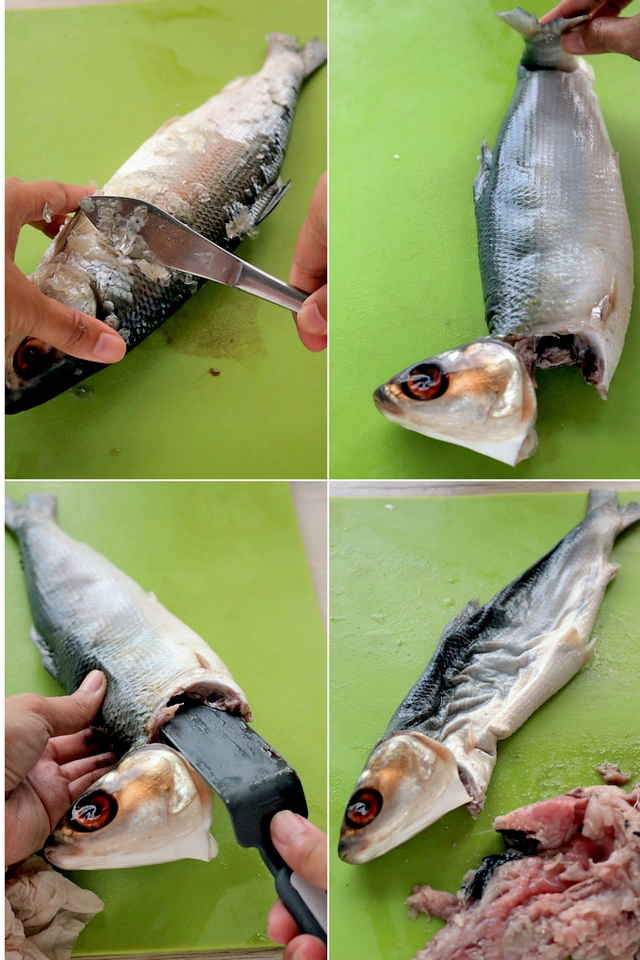 WANT MORE RECIPES? Subscribe to our newsletter and follow us on Facebook, Pinterest and Instagram for all of the latest updates.
Rellenong Bangus (Stuffed Milkfish)
Try this Filipino Stuffed Milkfish or Rellenong Bangus recipe. Deboned, flaked and re-stuffed with vegetables and spices! Baked or fried to golden crisp!
Print
Rate
INGREDIENTS
1

medium or big

milkfish / bangus

1

tablespoon

soy sauce

1

tablespoon

lemon

-

or calamansi juice

2

tablespoons

oil

1

medium

onion

-

- chopped

2

big cloves

garlic

-

- minced

1

small

carrots

-

- cut into small cubes

1

small

potato

-

- cut into small cubes or 1/2 cup green peas

1

small

green bell pepper

-

- cut into small cubes

1/4

cup

raisins

2

tablespoons

pickle relish

1

tablespoon

tomato paste

1

tablespoon

soy sauce

1-2

tablespoons

water

-

(if needed)

salt

1/4

cup

flour

1

egg

1

tablespoon

oil

-

- for brushing
INSTRUCTIONS
Prepare the milkfish as indicated in the instructions above. Place the fish skin on a plate or small bowl. Add 1 tablespoon of soy sauce and lemon or calamansi juice and marinade until ready to use.

Place fish meat in a pot or pan and add a little water. Bring it to boil and cook until the meat is done. Drain water and transfer to a plate and remove the fishbones.

Heat oil in a pan over medium heat. Saute garlic and onions until limp and aromatic. Add carrots and potatoes and cook for 3 minutes.

Add the fish meat, bell pepper, raisins, pickle relish, soy sauce and tomato paste. Season with salt if needed. Cook for another 3-5 minutes. Remove pan from heat. Add the flour and mix then the egg and mix again until well blended.

Fill the marinated skin with the mixture and then place the stuffed milkfish on a baking sheet lined with aluminum foil. Brush both sides with oil and bake at 180°C for 10-15 minutes each side or until skin turns crisp and golden brown.

You may also fry the fish instead of baking it.
Nutrition Facts
Rellenong Bangus (Stuffed Milkfish)
Amount Per Serving
Calories 268
Calories from Fat 135
% Daily Value*
Total Fat 15g 23%
Cholesterol 54mg 18%
Sodium 860mg 36%
Potassium 349mg 10%
Total Carbohydrates 28g 9%
Protein 5g 10%
* Percent Daily Values are based on a 2000 calorie diet.
Tried this recipe?
Tell us how it went. Tag us at @foxyfolksy or leave a comment and rating below.