Hawaii has Poke and Peru has Ceviche, the Philippines has Kinilaw! A different kind of appetizer from raw fish in vinegar and spices.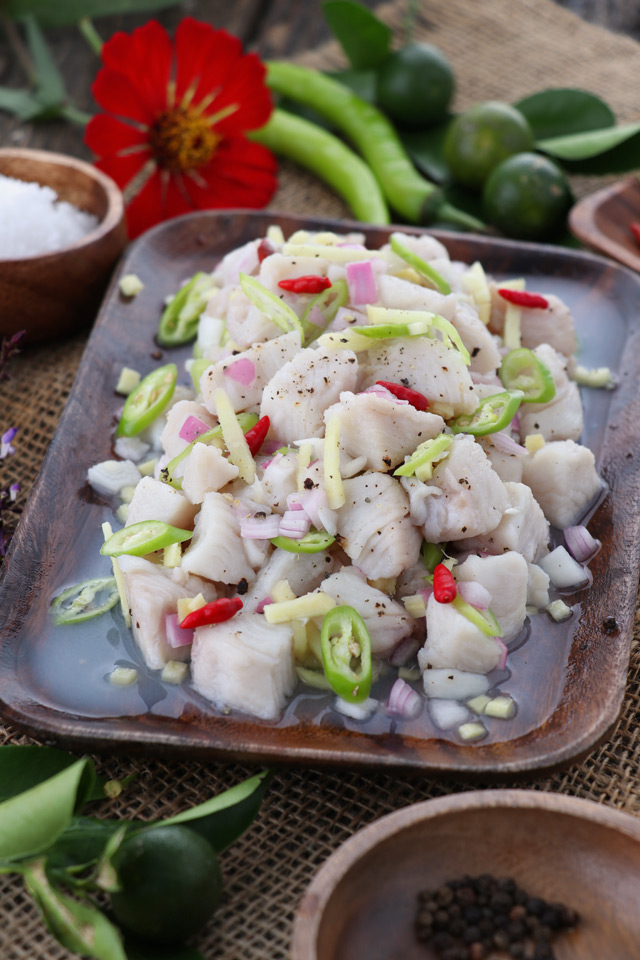 What is Kinilaw?
It is not actually the dish but the process of preparing it. It hailed from the Visayan region and is derived from the word, kilaw, which means raw or uncooked. The meat, normally a fish, is 'cooked' without the application of heat but is rather cured in vinegar.
Additional souring agents like calamansi, kamias, tamarind, or green mangoes to enhance its tartness.  To complete the dish, black pepper, onions, ginger, and chili peppers are also added.
A kinilaw recipe is simple to make and is normally serve for casual gatherings. It a popular "pulutan" or a food served during a casual drinking session. However, it also makes an excellent appetizer.
Kinilaw versus Ceviche?
Usually termed as a Filipino-style ceviche. Perhaps since they are both made from raw fish or seafood. But once you've tried it, you'll know they are not the same. One of the main differences is the use of vinegar in Kinilaw, while ceviche is citrus-based. Other ingredients like ginger and calamansi are also used in the first, while the latter usually have cilantro and lime.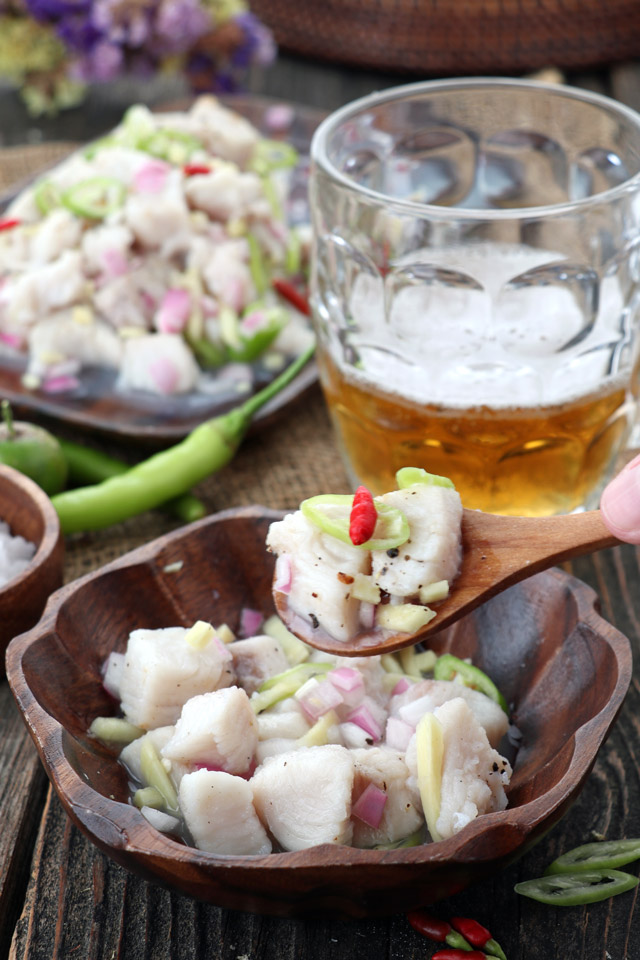 What fish can you use?
Various kinilaw recipes use different kinds of seafood, but fishes are mostly standard. Tanigue (Spanish mackerel) and Tambakol (yellowfin tuna) are the most common types of fishes used for Kinilaw.
You can also use other fish that have firm, fleshy meat. Like marlin, tulingan (mackerel tuna), labahita (black surgeonfish),  lapu-lapu (miniata grouper), or mahi-mahi (dolphinfish).
If you want to try other seafood other than fishes, squid, shrimp, crabs, oyster, seaweed, and clams will taste equally best for kinilaw.
Just remember that since it will not be cooked in heat, choose only the freshest fish or seafood.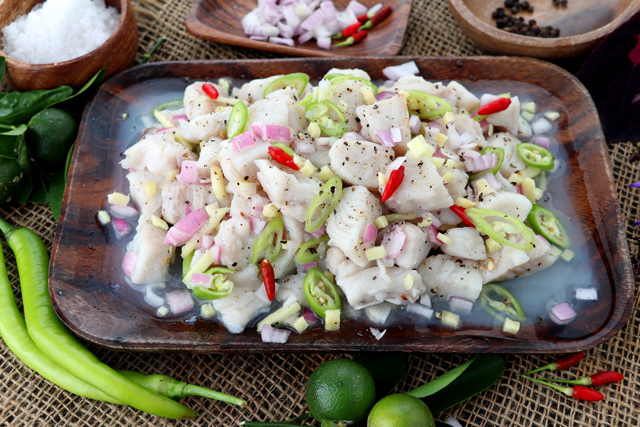 Printable Recipe
Kinilaw Recipe
Kinilaw is the Filipino version of Ceviche...only so much simple and better!
Ingredients
1

pounds

Tanigue or Tuna

skinned and deboned

1

cup

vinegar

4

pieces

calamansi

or half of a lemon

2

thumbs

ginger

minced

1

medium

red onion

minced

2

pieces

green chili

or Thai chili, cut into thin slices

salt

fresh ground pepper
Instructions
Wash the fish meat and tap dry with paper towels. Cut into 1-inch cubes.

Place the fish cubes in a bowl. Pour in the vinegar and the juice from calamansi. Season with salt and pepper. Add the ginger, onion, and chili. Toss gently until well blended.

Cover and marinate for an hour or up to 3 hours in the fridge. The fish should lose its translucent and pinkish color and should turn whiter and opaque.

transfer to a serving dish and serve immediately.
Nutrition
Calories:
187
kcal
Carbohydrates:
3
g
Protein:
27
g
Fat:
6
g
Saturated Fat:
1
g
Cholesterol:
43
mg
Sodium:
48
mg
Potassium:
326
mg
Fiber:
1
g
Sugar:
1
g
Vitamin A:
2475
IU
Vitamin C:
2.6
mg
Calcium:
19
mg
Iron:
1.2
mg