Bopis, or "Pulutok" in Kapampangan is a delicious dish of unique and bold flavors! Let your tastebuds have an adventure with its exotic ingredients and piquant taste!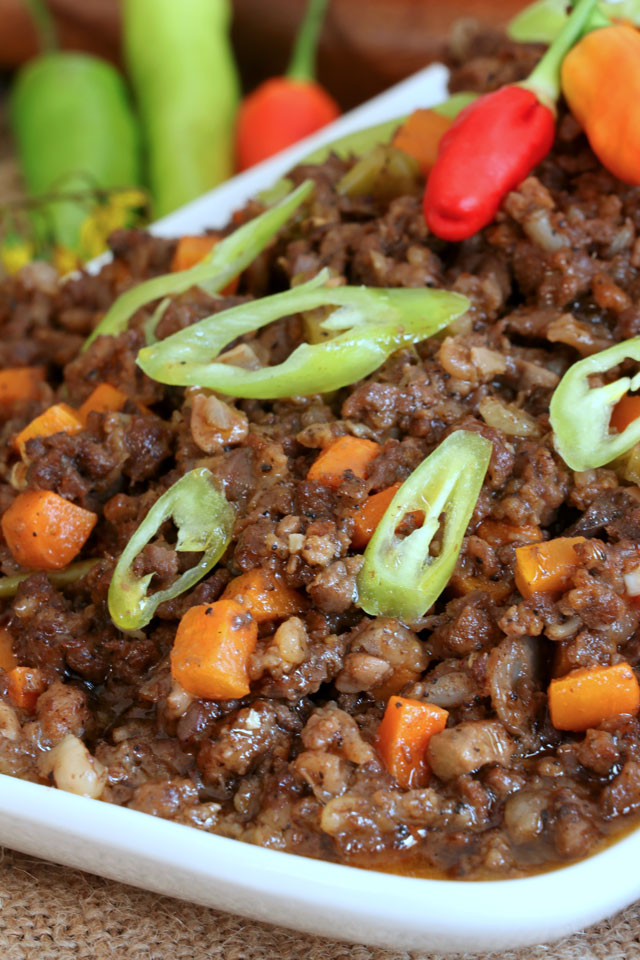 What is Bopis?
Bopis is a Filipino dish that is made from minced pork lungs and heart mixed with vinegar, onions, garlic, and carrots. Yes, you read it right! But don't go dismissing this dish just yet! There is a reason why it's one of the most loved dishes of the Kapampangans.
There is a depth of flavor that is so unique to this dish, I can't think of another dish to compare it to exactly. It has that perfect amount of spiciness and tartness. A piquancy that will keep you reaching for more! You will find yourself addicted to it after a few bites and won't even mind what kind of meat it is! It's that good!
Bopis is served as a main with steaming white rice for lunch or dinner. But this is also a favored booze food or "pulutan" for many.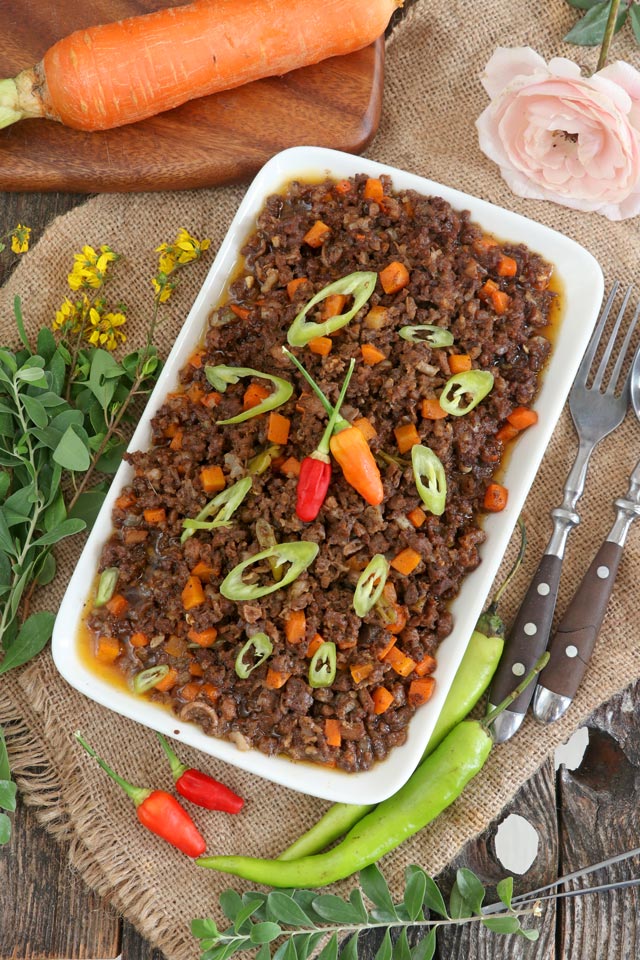 Kapampangan Style- Pulutok!
Different regions have different versions of this scrumptious dish- from the spices and flavoring used, ingredients involved, and cooking methods. When my Mama cooked this before as part of her array of food trays in our canteen, it has a bit of sauce in it and the bits were soft and tender. But on special occasions, she would also cook the Kapampangan version-Pulutok!
Putulok, aptly named because of the popping sounds the pieces of meat makes while sizzling in the pan, also means "pumuputok" in Tagalog. This version of Bopis is fried in the pan until the sauce disintegrates and the natural oil from the meat seeps out. It has a crispier texture and in my opinion, a more concentrated taste.
This family recipe uses only pork lungs, but feel free to add some more offal as desired!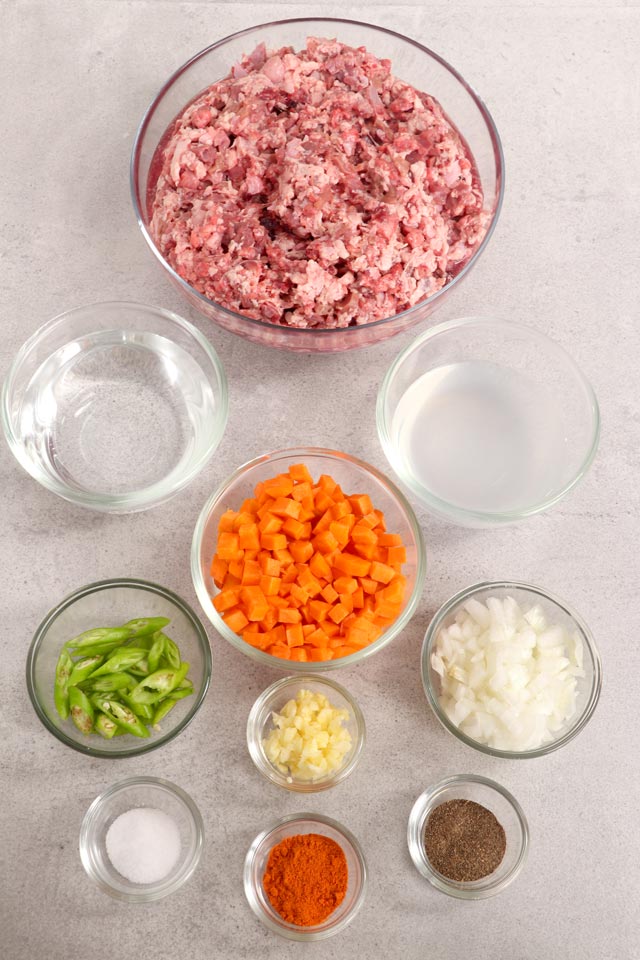 Foxy Tips for an Amazing Bopis Experience
Make sure that you order the pork lungs and other offal in advance, these parts are not as common as other meats in the market
Check to make sure that innards are cleaned properly prior to buying them to save yourself the hassle of doing so. If you want to further get rid of those with a strong pungent odor, you can first boil them in water with lemongrass or pandan.
If you are cooking this for the first time, make sure not to stir right after pouring in the vinegar! You have to let the acids settle down and burn off the "raw" taste. Otherwise, you will end up will a very sour dish!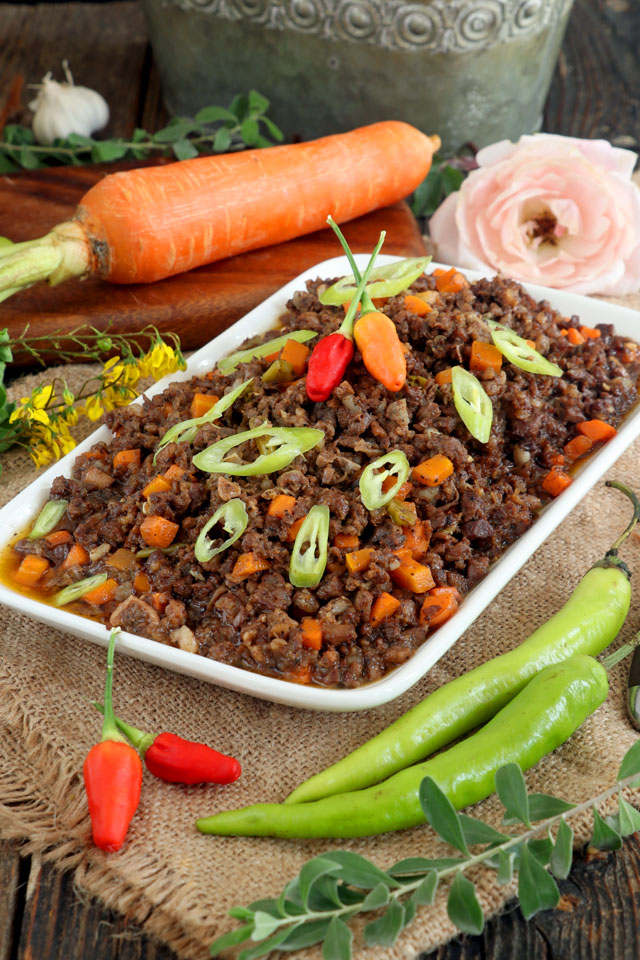 If you are looking for other Boozeppetizers, try these!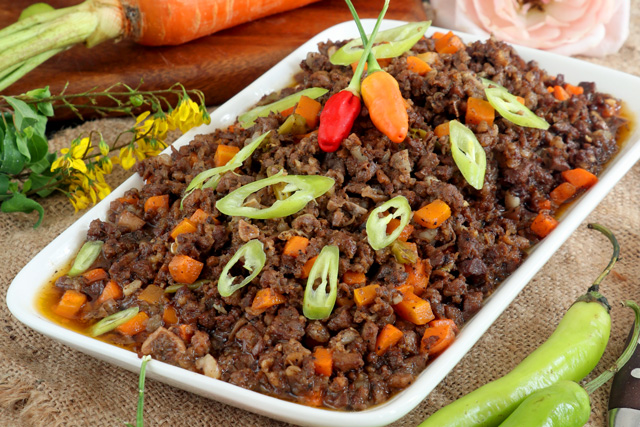 Printable Recipe
Bopis
Bopis, or "Pulutok" in Kapampangan is a delicious spoonful of unique and bold flavors! Let your tastebuds have an adventure with its exotic ingredients and pungent-spicy taste!
Ingredients
1

tablespoon

oil

for frying

2

tablespoon

annatto powder

or annatto seed

1

medium

onion

chopped

3

cloves

garlic

minced

1 ½

kilo

pork lungs

minced

½

cup

vinegar

1

tablespoon

salt

1

teaspoon

ground pepper

1

cup

carrots

cut in small dices

2

pieces

green finger chili

cut into thin diagonal pieces
Instructions
In a deep pan over medium heat, add oil and annatto powder. Stir until annatto powder is dissolved and oil turn orange. Do the same if using annatto seeds just remove the seeds once it has colored enough, do not overcook or it might turn bitter.

Saute garlic and onion in annatto oil until soft and aromatic.

Stir in the pork lungs and cook for 5 minutes or until it turns brown in color.

Pour in vinegar and let it simmer for 2 minutes without stirring.

Season with salt and pepper and mix. Cover the pan with the lid and let it simmer until meat is tender. The juices will come out from the meat so no need to add water, but in case it becomes too dry and the meat is still tough, then add ½ cup at a time.

Once meat is tender, remove the cover and add the carrots and green finger chili. Cook further, stirring from time to time, until most liquids are gone.

You can stop at this point or cook it further to dry it out. Take a skillet or sizzling plate and scoop a batch into it. Cook over high heat until it starts to make popping sounds.

Transfer in a serving plate or serve on a sizzling plate directly.
Nutrition
Calories:
44
kcal
Carbohydrates:
4
g
Protein:
1
g
Fat:
2
g
Saturated Fat:
1
g
Sodium:
1179
mg
Potassium:
101
mg
Fiber:
1
g
Sugar:
2
g
Vitamin A:
3564
IU
Vitamin C:
3
mg
Calcium:
14
mg
Iron:
1
mg