Bite into these perfectly baked Pan de Coco- soft and fluffy buns stuffed with sweetened grated coconut! They are the perfect treats to sweeten your morning or afternoon break.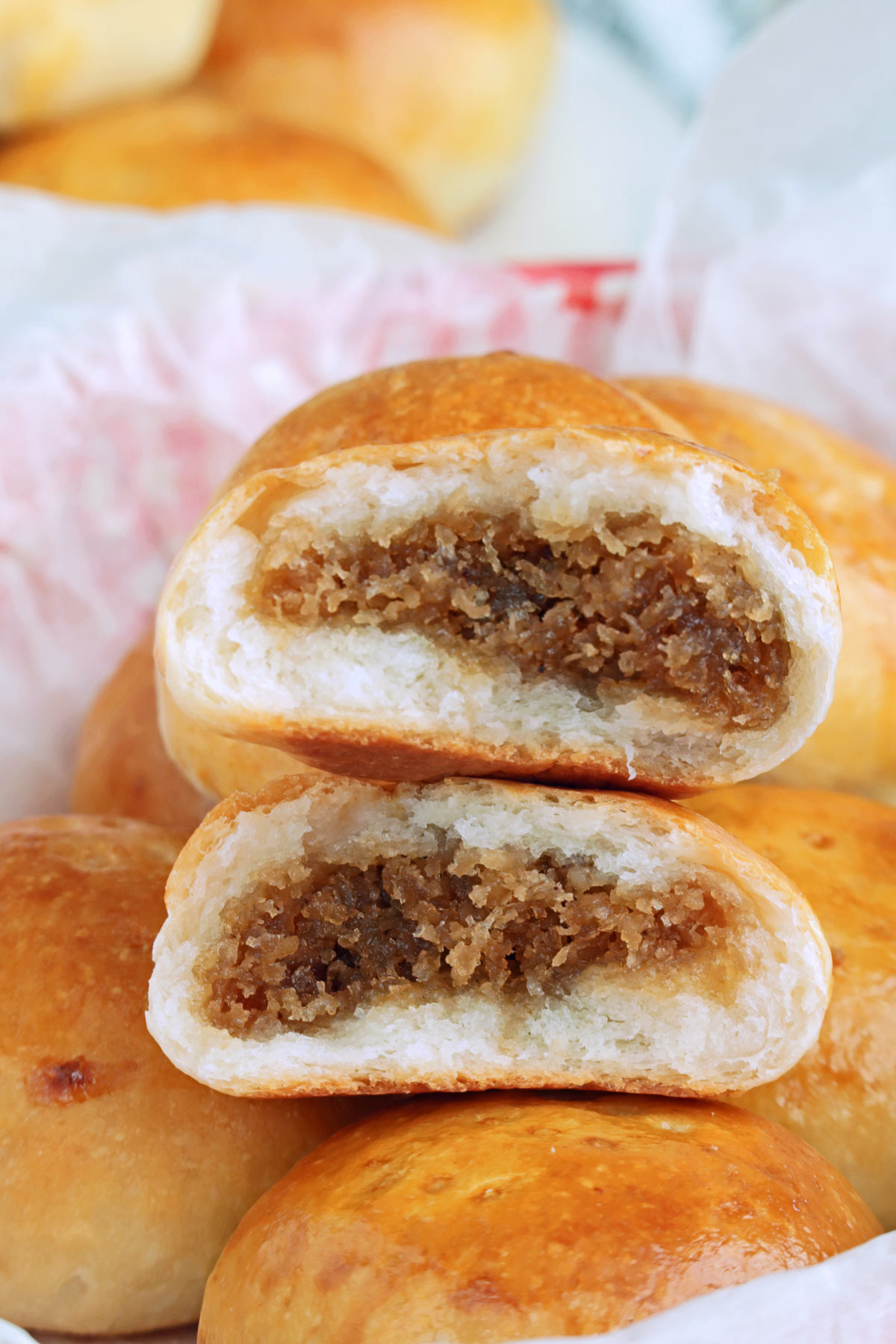 If you have read my previous articles, you would know that we used to live next door to a bakery that offers a variety of Filipino bread. They have Spanish bread, Pandesal, Egg pies, Cheese bread, Cheese rolls, and of course, Pan de Coco! My family and I would usually buy them in the morning freshly baked. It's the next best thing to having homemade bread- sans the elbow grease that comes with baking!
I made these while living in Germany and a bite of it instantly brought me back home to the Philippines. I love how soft and fluffy the buns are and the mildly sweet coconut filling gives you that local, homey feel.
What is Pan de Coco?
Pan de Coco is a kind of Filipino bread roll stuffed with sweetened grated coconut. It is a famous bakery bread in the Philippines that is usually served as a morning or afternoon snack.
Though the origin is somewhat vague, it is believed to have originated from Honduras and was introduced to us by the Spanish during the 1600s. However, the Pan de Coco that we now enjoy is made differently from how it was then. The Honduran version actually has the coconut meat mixed in with the bread itself instead of using it as a filling as we do.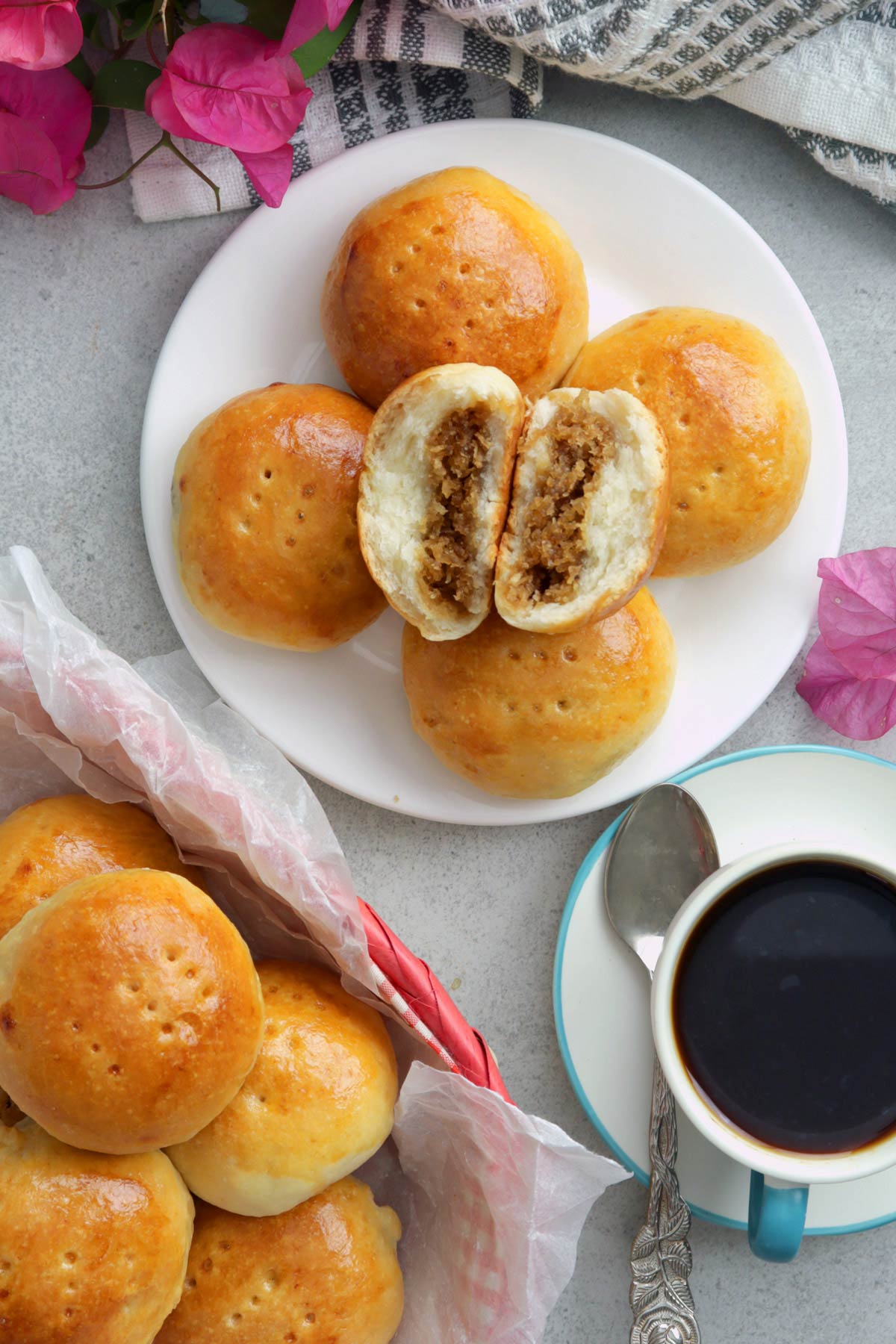 About the Filling
Bukayo is traditionally made by simmering young grated coconut meat in water and muscovado or brown sugar until it turns caramel-y and the coconut meat is chewy. However, there is also a dry and crumbly version of this called Bocarillo.
For this recipe, I made the coconut filling the same way but added butter and vanilla extract for more flavors. It is also a bit on the crumbly side. If you want it to be a little sticky and denser, just dissolve a tablespoon of flour in ¼ cup of milk or water once the liquid is absorbed. Stir regularly for 2-3 minutes until your desired consistency is met.
Alternative to freshly grated coconut:
If you do not have freshly grated coconut, you can use desiccated coconut instead. If you will be using this, rehydrate them first by mixing them in ½ cup of coconut milk. This will also boost its flavor. If you do not have coconut milk, water will do. This is what I used in my Pichi-pichi post.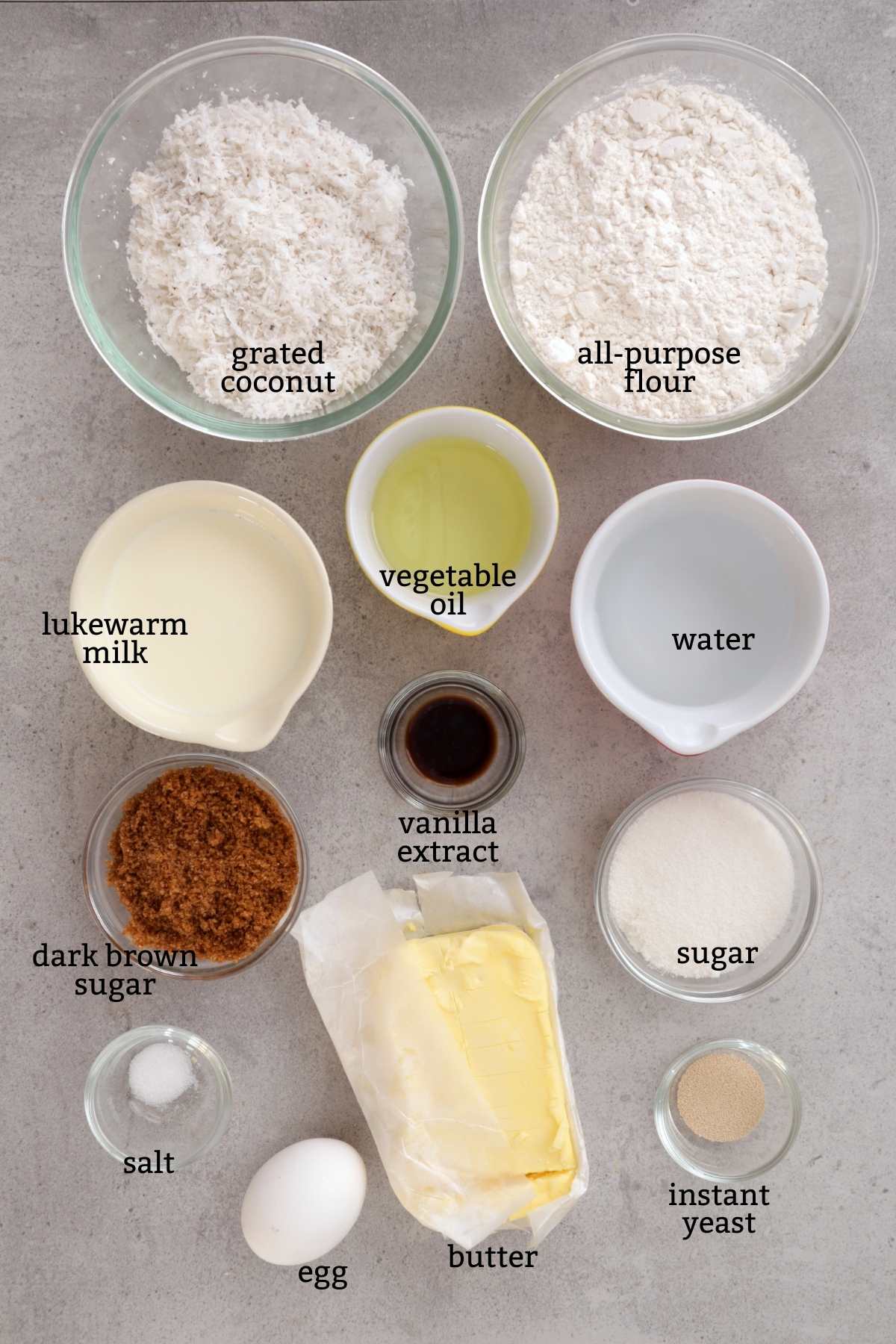 Tips when making Pan de Coco
If you are not sure if your yeast is still good, test before using it by dissolving a teaspoon in warm water mixed with a teaspoon of sugar. Wait for 3-5 minutes and observe. If it creates a creamy foam, your yeast is still good.
Do not over-knead your dough or the bread will turn out dry and hard. Always check if the dough is sufficiently kneaded by doing a windowpane test or a poke test.
When stuffing, do not press the dough too thin and refrain from adding more filling when assembling the bread roll. If your dough is too thin and the filling is too much, it might ooze out during baking.
Do not forget to poke some holes on top of the buns before baking to let the steam from the coconut filling out, else it might puff up making uneven buns or create a hole by themselves.
Printable Recipe
Pan de Coco Recipe
Filipino soft, sweet yeast buns stuffed with sweetened grated coconut. A popular bakery bread enjoyed for breakfast or afternoon snack.
Ingredients
Dough
2

cups

all-purpose flour

⅓

cup

sugar

¼

teaspoon

salt

1

teaspoon

instant dry yeast

¾

cup

lukewarm milk

¼

cup

vegetable oil
For the Filling
½

cup

water

2

tablespoons

butter

½

cup

brown sugar

unpacked

1 ½

cup

fresh grated coconut

1

teaspoon

vanilla extract

-optional
For the Egg Wash
1

small

egg

1

tablespoon

water
Instructions
Prepare the Dough:
2 cups all-purpose flour,

⅓ cup sugar,

¼ teaspoon salt,

1 teaspoon instant dry yeast

In a large bowl, sift together the flour and sugar, and salt. Then sprinkle the instant dry yeast and mix.

¾ cup lukewarm milk,

¼ cup vegetable oil

Add the wet ingredients. Using a wooden spoon or spatula, mix until it forms a dough.

Turn the dough on a flat surface and knead. If it is too wet or sticky, apply some oil to your hands and on the surface to prevent the dough from sticking. If it is too dry, add some more oil to the dough. As you continue kneading, the dough should be less and less tacky and easier to handle. Try not to add more flour as this might result in dense rolls. It may take you as fast as 7 minutes or longer depending on different factors. Perform the windowpane test to be sure.

Place the dough in a greased bowl and cover with a plastic wrap or a clean kitchen towel. Leave it to rise for 30 minutes to an hour or until it has almost doubled its size.
FILLING
½ cup water,

2 tablespoons butter,

½ cup brown sugar

While waiting, prepare the filling. In a pan over medium heat, bring water to a boil. Add butter and add brown sugar and let it simmer until it starts to thicken.

1 ½ cup fresh grated coconut,

1 teaspoon vanilla extract

Add the grated coconut and cook for some minutes until all the syrup is absorbed. Remove filling from heat and allow to cool down.
Forming and Assembly
Gently punch down the dough to deflate. Tip it over to a flat surface. Shape the dough in a rectangle and cut it lengthwise in 3 equal parts. Then crosswise in 4 equal parts, making 12 pieces in total. Shape each piece into a ball. Once done, cover the dough pieces with a kitchen towel and let them rest for at least 3-5 minutes.

Flatten each dough with the palm of the hand. Hold the flattened dough in the curve of your palm and add about 1 tablespoon of coconut filling in the center.

Pinch the corners together to fully enclose the filling and roll it in between your palms to make them round again.

Arrange the filled dough on a baking sheet lined with parchment paper 1 inch apart. Slightly press the buns to flatten a bit.

Using a fork, poke small holes in the center of each filled dough. Cover with a clean kitchen towel and let them rest for another 20-30 minutes or until it doubles in size.
Egg Wash
1 small egg,

1 tablespoon water

Combine 1 egg and 1 tablespoon of water and beat until frothy. Set aside.
Baking
Bake in a preheated oven at 170°C/325°F for 10 minutes. Take the baking pan with the buns from the oven and brush with egg wash. Return to oven and bake for another 5 minutes or until the buns turn golden brown.

Remove the buns from the oven and let them cool down a bit before serving. Enjoy with a cup of coffee or tea.
Notes
If freshly grated coconut is not available in your area, you can also use desiccated coconut, rehydrated in a bit of warm water or coconut milk.
Nutrition
Calories:
245
kcal
Carbohydrates:
36
g
Protein:
4
g
Fat:
10
g
Saturated Fat:
8
g
Polyunsaturated Fat:
1
g
Monounsaturated Fat:
1
g
Trans Fat:
1
g
Cholesterol:
7
mg
Sodium:
81
mg
Potassium:
130
mg
Fiber:
3
g
Sugar:
17
g
Vitamin A:
85
IU
Vitamin C:
1
mg
Calcium:
34
mg
Iron:
1
mg
More Filipino Bakery Bread