These could easily be the best homemade ensaymada you could ever make. Who could resist this soft and buttery sweet dough that is baked to become pillowy buns? Coated with buttercream frosting and topped with lots of grated cheese. The perfect mate for your coffee and tea. A warning though, one piece will never be enough.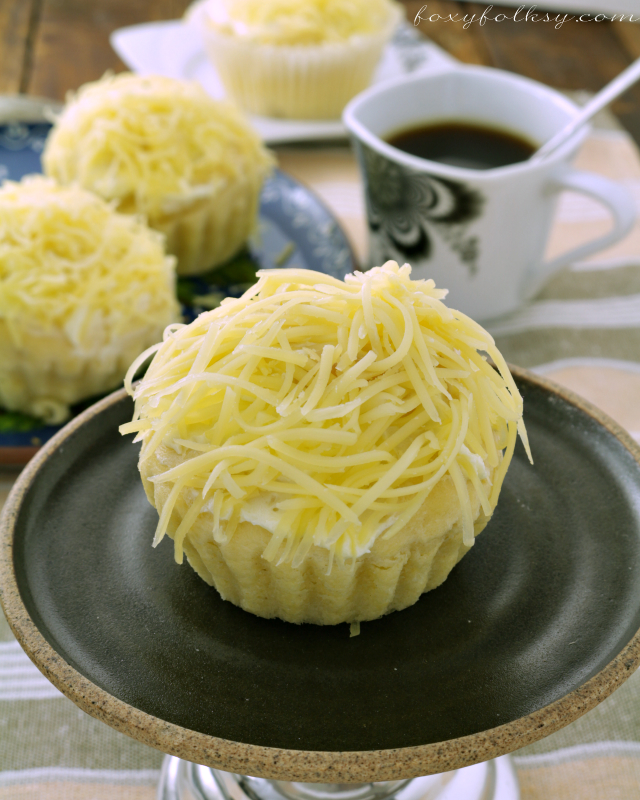 I have been craving for Ensaymada for some time now. For my Filipino readers, you know exactly what I am talking about. But for those who are not familiar with it, let me introduce it to you. 
What is Ensaymada
Ensaymada is a type of Filipino soft, sweet dough pastry covered with butter and sugar then topped with lots of grated cheese. 
It was adapted from the Spanish Ensaïmada but has evolved throughout the years to become what it is now that is loved by many Filipinos.
The province of Bulacan is famous for this bread. I remember when we were little and our parents would go to Bulacan (my mother's home province) for a visit, they would bring back home some special Ensaymada.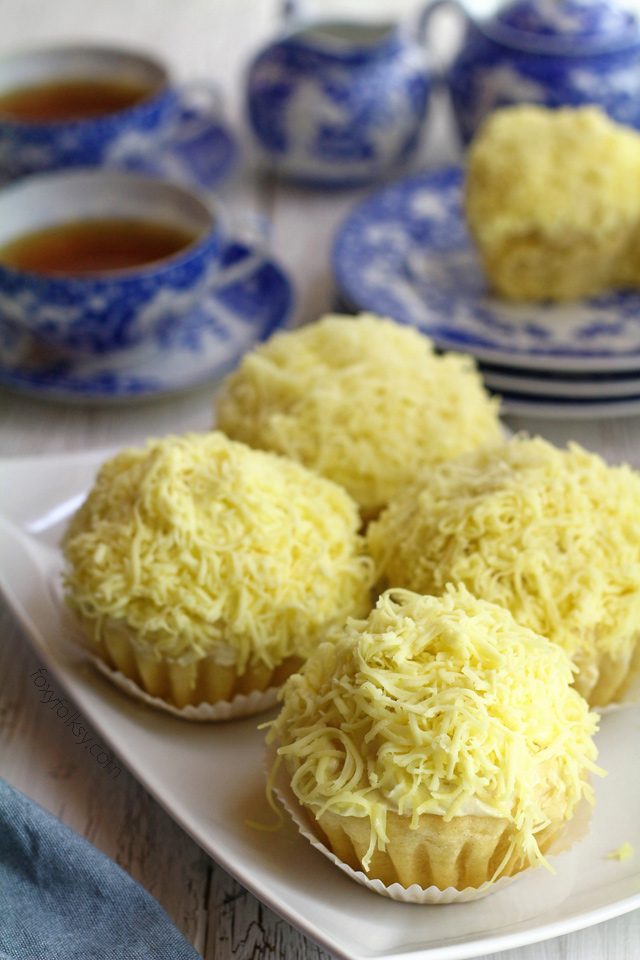 Back in those days, ensaymada was simply just coated with butter, sprinkled with sugar then topped with cheese. Additional toppings of sliced salted egg made them a lot more special.
The ensaymada that is popular nowadays is the really soft ones. Usually creamed with buttercream frosting and topped with grated cheese. They are very tasty and this recipe is exactly that.
I was reading a lot about making really soft Ensaymada and I am quite happy with the outcome of this recipe.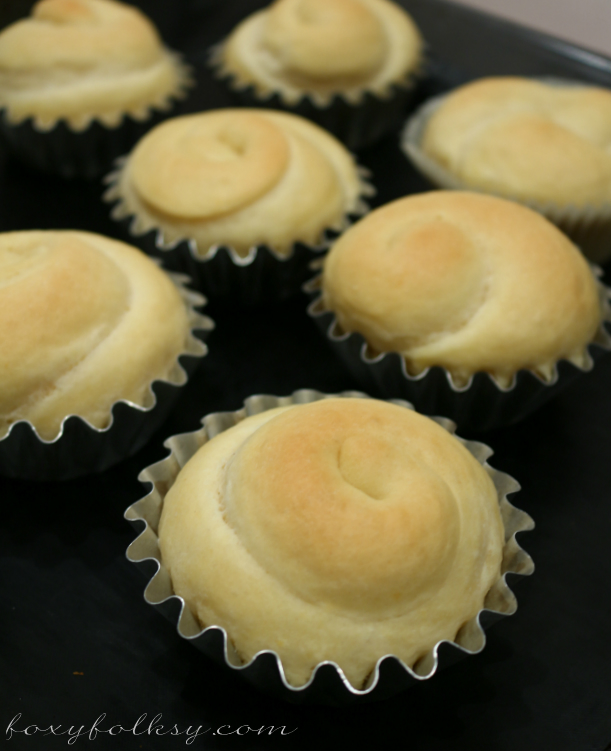 The secret to the best, fluffy Ensaymada
While in the process of making it, I have to say that the dough was really sticky and I was in a bit of a doubt if it is going to rise at all.  
But I was surprised that it did rise and really well. I learned a lot from the process of making Ensaymada that I will have to edit my recipe for baked doughnuts.
The trick, I learned, was patience... (actually, I fell asleep while waiting for the dough to rise..so.. ) after three hours of "waiting" patiently, I was amazed to see that my really sticky dough more than doubled its size..hehe...I did the same on my second and third trial (except for the nap) and the result was the same.  But I stopped it from rising further than almost double. We do not want to over-rise them.
This recipe makes 16 soft, cheesy and delicious Ensaymadas.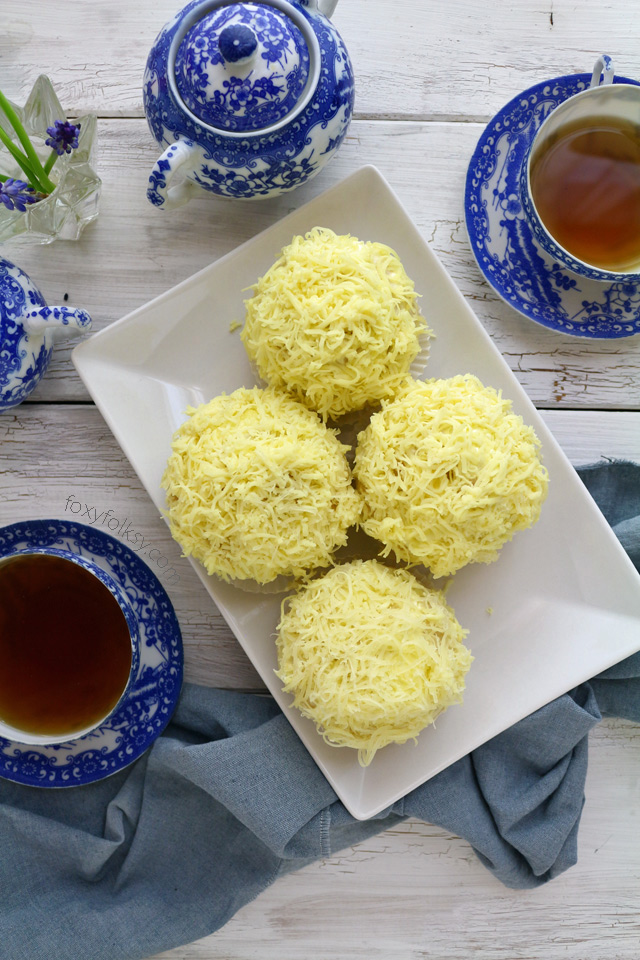 For those who are asking about a mold you can use to make ensaymada, I found these on Amazon. But you could always use a muffin form or just do it without any mold, like how it is done before.
Notes on this Ensaymada Recipe
This dough is quite soft and sticky in the beginning. As the gluten structure builds, it will become more elastic and less sticky. Try to avoid adding too much extra flour. As you knead the dough the stickiness will lessen.
This dough can be made a day ahead.  After kneading, cover it with plastic wrap and store it in the refrigerator overnight. Before using it, allow it to sit at room temperature for about 30 minutes, then deflate it and shape it.
Using dry active yeast takes a longer time for the dough to rise than using instant yeast. I highly recommend using SAF Instant Gold (specifically made for sweet dough) or Red Star Platinum brands. Because they rise faster, it eliminates the chance of taking on a slightly tangy, fermented flavor.
I used shortening for the dough but a lot of people ask if they can use butter. The short answer is, yes. But while butter will make delicious buttery bread rolls, using shortening makes it fluffier and lighter-textured baked goods.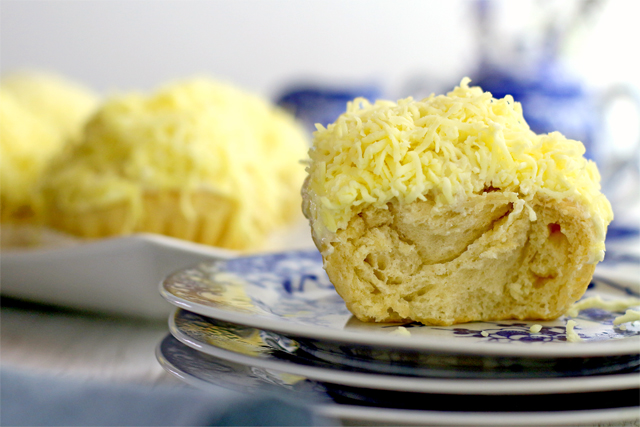 Other Filipino bread and pastries to try
Printable Recipe
Ensaymada Recipe
Try this ensaymada recipe for that soft, sweet bread covered with buttercream then topped with lots of grated cheese. Just yummy!
Ingredients
1

cup

milk

⅓

cup

sugar

½

cup

shortening

-softened to room temperature

1

envelope

active dry yeast

(about 7-9 grams (¼ oz) or 1 tablespoon) - proofed in ¼ cup warm water ( See Note 1 for alternative)

3 ½

cup

flour

3

egg yolks

¼

tablespoon

salt

¼

cup

butter

- softened to room temperature- for brushing
TOPPINGS
½

cup

butter

- softened to room temperature

½

cup

powdered sugar

1

cup

Kraft cheese

or other grated cheese
Instructions
In a mixing bowl, mix together milk, shortening, sugar and salt.

Add half of the flour and the bloomed yeast and mix for 3-5 minutes at medium speed until a paste-like consistency is achieved.

Add the egg yolks and the rest of flour and mix for another 3 minutes. Add more flour if the mixture is too liquid or too sticky but not too much.The dough is supposed to be sticky.

Scrape the sides while folding the dough in the middle of the bowl and then cover with kitchen towel. Let it rest and rise in a warm place for 2-3 hours or until it doubled its size.

Scrape the sides of the bowl while tipping the sticky dough over to the thinly floured working surface.

Roll the dough into a log and cut into 2. Roll each log again and cut into 2. Repeat this process until you end up with 16 slices.

Using a rolling pin, roll a slice into a rectangle (about 8x4 inch) and brush the surface with softened butter. Roll it from one end of the long side to the other end, creating a long, thin log then shape it into a coil (spiral) with the end tucked under.

Place each coiled dough in a greased mold and let it rest in a warm place for about 30 minutes to 1 hour until it has risen to almost double its size.

Bake them in a preheated oven at 300°F /150°C for 20-25 minutes. Once baked let them cool down for a few minutes before removing from molds.Then let them cool completely.

Meanwhile, prepare the buttercream by creaming ½ cup of softened butter and ½ cup powdered sugar.

Using a knife or spoon, cover the top of the ensaymadas with buttercream and lastly with a generous amount of grated cheese.
Notes
Note 1 - You may also use instant yeast which requires no proofing and can be added directly to the flour before kneading. Using instant yeast will also cut the rising time. Add the ¼ cup of water for proofing ADY to the liquids instead.
Note 2 - For puffier and faster rising, I recommend using SAF Instant Gold which is made for sweet dough.
Nutrition
Calories:
325
kcal
Carbohydrates:
32
g
Protein:
5
g
Fat:
19
g
Saturated Fat:
9
g
Cholesterol:
69
mg
Sodium:
340
mg
Potassium:
68
mg
Fiber:
0
g
Sugar:
10
g
Vitamin A:
420
IU
Calcium:
120
mg
Iron:
1.4
mg