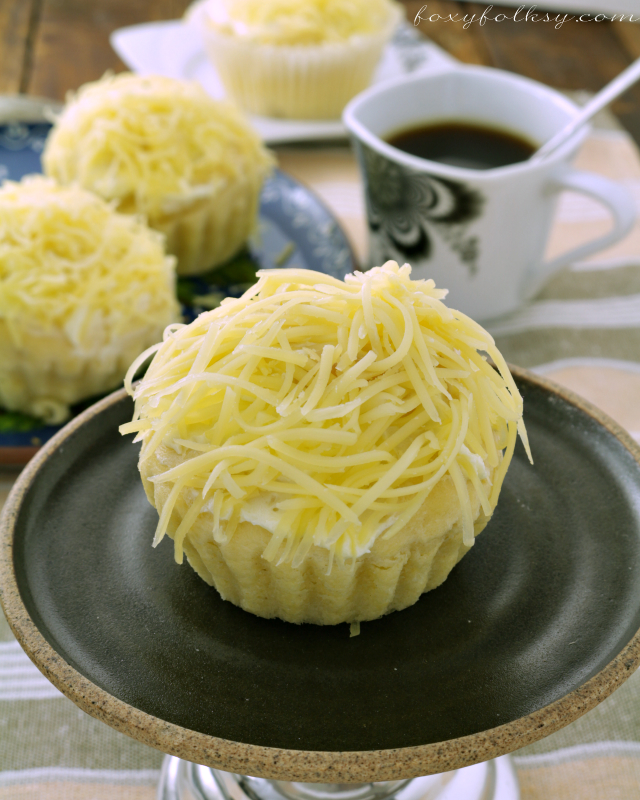 I have been craving for Ensaymada for some time now.
That soft, sweet bread covered with butter and sugar then topped with lots of grated cheese.
Ensaymada was adapted from the Spanish Ensaïmada but has evolved throughout the years to become what it is now that is loved by many Filipinos.
The province of Bulacan is famous for this bread. I remember when we were little and our parents would go to Bulacan (my mother's home province) for a visit, they would bring back home some special Ensaymada.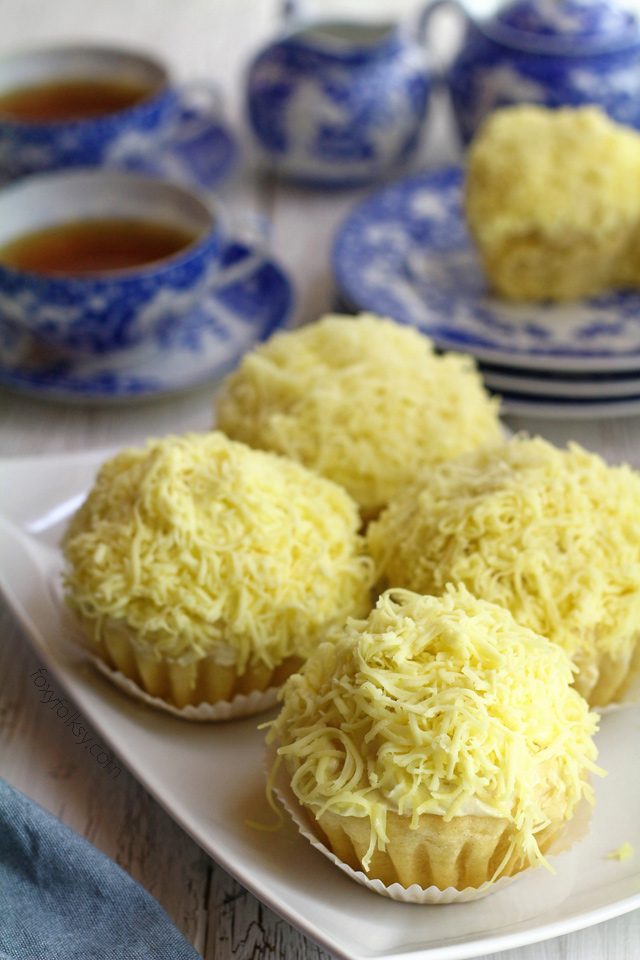 Back in those days, ensaymada was simply just coated with butter, sprinkled with sugar then topped with cheese. Additional toppings of sliced salted egg made them a lot more special.
The ensaymada that is popular nowadays is the really soft ones with buttercream frosting and topped lots of cheese which are also very tasty. This recipe is the later.
I was reading a lot about making really soft Ensaymada and I am quite happy with the outcome of this recipe.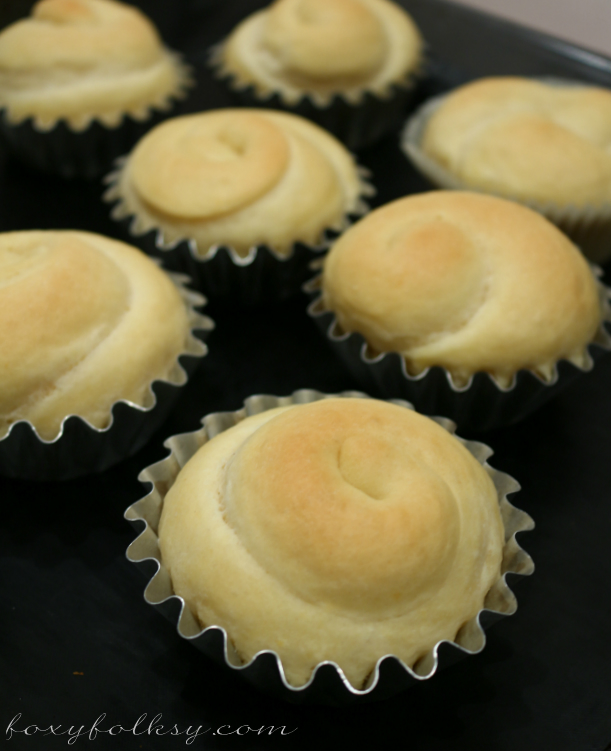 While in the process of making it, I have to say that the dough was really sticky and I was in a bit of a doubt if it is going to rise at all.  
But I was surprised that it did rise and really well. I learned a lot from the process of making Ensaymada that I will have to edit my recipe for baked doughnuts.
The trick, I learned, was patience… (actually, I fell asleep while waiting for the dough to rise..so.. ) after three hours of "waiting" patiently, I was amazed to see that my really sticky dough more than doubled its size..hehe…I did the same on my second and third trial (except for the nap) and the result was the same.
This recipe makes 16 soft, cheesy and delicious Ensaymadas.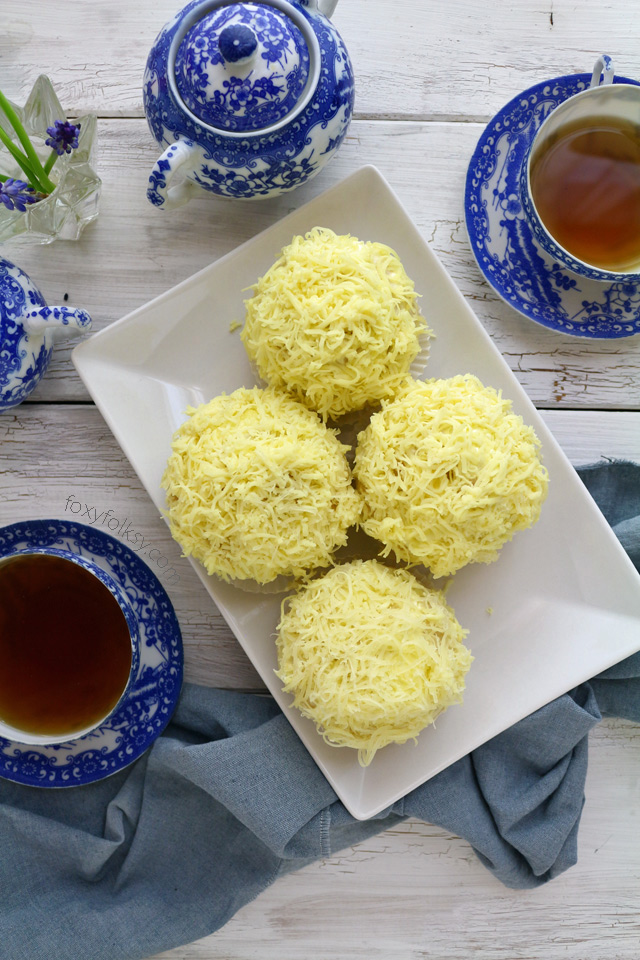 Updated on April 7, 2017
For those who are asking about a mold you can use to make ensaymada, I found these on Amazon. But you could always use a muffin form or just do it without any mold, like how it is done before.
I've been receiving a lot of requests for a video on how to make these yummy Ensaymada. At last, it is here! Enjoy! 
Ensaymada Recipe
Try this ensaymada recipe for that soft, sweet bread covered with buttercream then topped with lots of grated cheese. Just yummy!
Total Time
1
hour
5
minutes
Ingredients
1

cup

milk

1/2

cup

+ 2 tablespoons sugar

1/2

cup

shortening

-softened to room temperature

1

envelope

instant yeast

(about 7-9 grams (1/4 oz) or 1 tablespoon) - proofed in 1/4 cup warm water with 1 teaspoon sugar

3 1/2

cup

flour

3

egg yolks

1/4

tablespoon

salt

1/4

cup

butter

- softened to room temperature- for brushing
TOPPINGS
1/2

cup

butter

- softened to room temperature

1/2

cup

powdered sugar

1

cup

Kraft cheese

or other grated cheese
Instructions
In a mixing bowl, mix together milk, shortening, sugar and salt.

Add half of the flour and the bloomed yeast and mix for 3-5 minutes at medium speed until a paste-like consistency is achieved.

Add the egg yolks and the rest of flour and mix for another 3 minutes. Add more flour if the mixture is too liquid or too sticky but not too much.The dough is supposed to be sticky.

Scrape the sides while folding the dough in the middle of the bowl and then cover with kitchen towel. Let it rest and rise in a warm place for 2-3 hours or until it doubled its size.

Scrape the sides of the bowl while tipping the sticky dough over to the thinly floured working surface.

Roll the dough into a log and cut into 2. Roll each log again and cut into 2. Repeat this process until you end up with 16 slices.

Using a rolling pin, roll a slice into a rectangle (about 8x4 inch) and brush the surface with softened butter. Roll it from one end of the long side to the other end, creating a long, thin log then shape it into a coil (spiral) with the end tucked under.

Place each coiled dough in a greased mold and let it rest in a warm place for about 30 minutes to 1 hour until it has risen to almost double its size.

Bake them in a preheated oven at 300°F /150°C for 20-25 minutes. Once baked let them cool down for a few minutes before removing from molds.Then let them cool completely.

Meanwhile, prepare the buttercream by creaming ½ cup of softened butter and ½ cup powdered sugar.

Using a knife or spoon, cover the top of the ensaymadas with buttercream and lastly with a generous amount of grated cheese.
Recipe Video
Nutrition Facts
Ensaymada Recipe
Amount Per Serving
Calories 325
Calories from Fat 171
% Daily Value*
Total Fat 19g 29%
Cholesterol 69mg 23%
Sodium 340mg 14%
Potassium 68mg 2%
Total Carbohydrates 32g 11%
Protein 5g 10%
* Percent Daily Values are based on a 2000 calorie diet.