Wake up to a brighter morning with these delicious Peach-Mango Pocket Pies. This is the easy version using ready-made puff pastry sheets.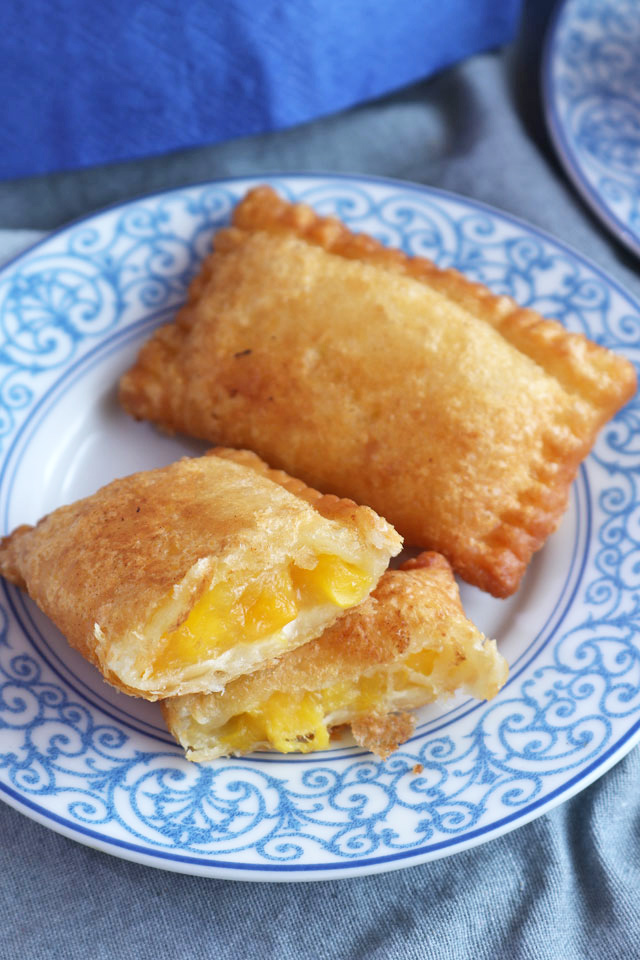 Peach-Mango Pocket Pies or simply peach mango pie is a popular dessert from a fast-food restaurant in the Philippines, called Jollibee. This is our local version of Mc Donald's. It is truly a delicious treat and one I usually indulged in whenever we go there to eat or even for a take-out.  The combination of peach and mango could not be more perfect and the light, crispy fried crust that encloses is enough to make you want to have a bite as soon as it's heavenly aroma hits you in the face. Believe, I've burned my mouth (and esophagus) countless of times from these.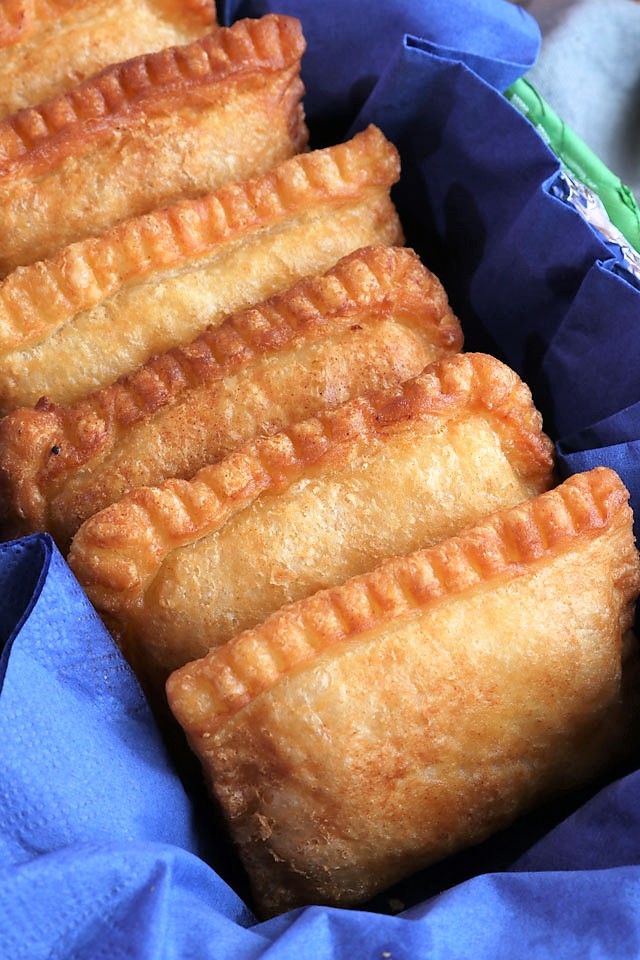 I know this recipe is a bit of a cheat but who has time to make puff or flaky pastry anyways. But if I were to make the dough from scratch, then I would definitely do it using this equally easy flaky pie crust recipe.  Or I would also use the same dough I use to make my chicken empanada.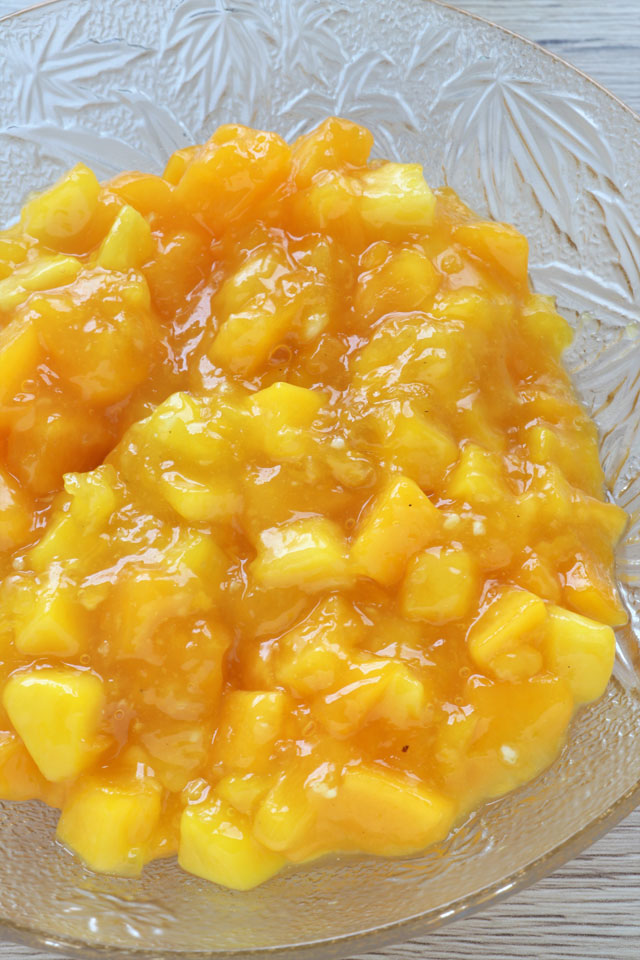 This Peach-Mango Pie recipe is actually requested by one of our readers. Unfortunately, I am not able to find the message. I've searched my emails, blog comments, and Facebook page and other social media and I can't find it so I hope this reaches you and feel free to comment because it is really driving me crazy when I look for things and can't find them (*sigh*) Sign of aging, you think? Nah, I am really just forgetful and a mess (of excitement and stress) at the moment from all the things running in my head about our imminent migration back to my homeland!  See you soon, Philippines!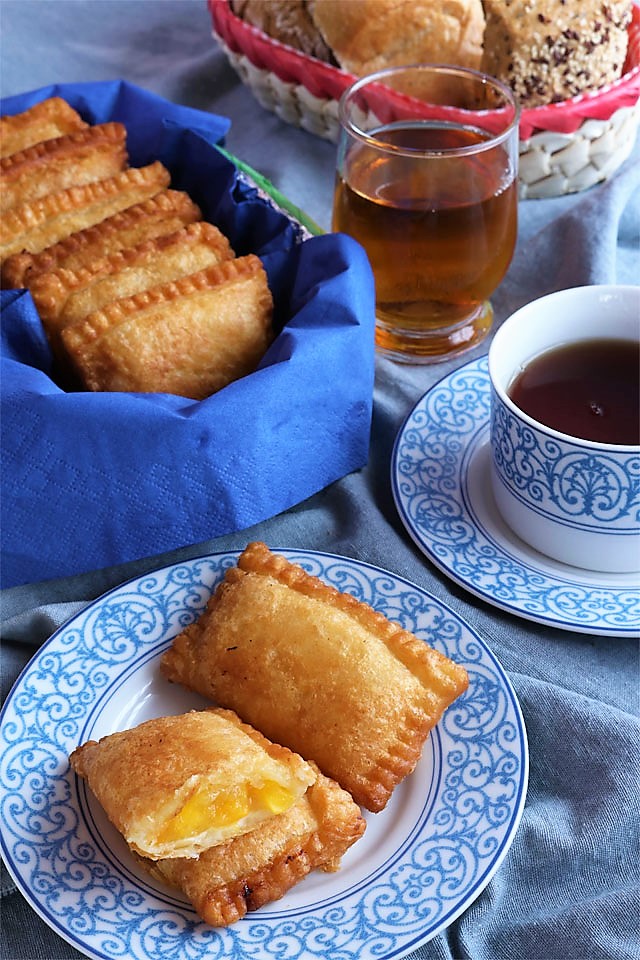 Printable Recipe
Peach Mango Pocket Pies
Wake up to a brighter morning with these delicious Peach Mango Pocket Pies. This is the easy version using ready-made puff pastry sheets.
Ingredients
1

cup

canned peaches

- cut into cubes

1

cup

ripe mango

- cut into cubes

1

tablespoon

cornstarch

¼

cup

sugar

dash of

salt

5

tablespoons

peach syrup

1

puff pastry sheet

oil

- for deep frying
Instructions
In a small bowl, mix the cornstarch and sugar together.

In a saucepan or small pot, combine the peaches, mangoes, sugar-cornstarch mix, salt, and the syrup from canned peaches. Mix well. Bring to a simmer over medium heat and continue cooking for 3-5 minutes or until it becomes really thick like jam.

Remove from heat and let it cool down to room temperature.

Lay the puff pastry on a flat surface. Scoop three separate spoonfuls of the filling and lay it on top the puff pastry sheets as shown in the photos. Fold the pastry sheet over the fillings and push the edges down to close in the fillings. Cut into three pocket pies and seal the edges.

Transfer the pocket pies on a baking sheet or a plate and place in the freezer for at least 6 hours or overnight.

Heat enough oil for deep frying over medium heat. Fry the pocket pies in hot oil while still frozen, 3-4 pieces at a time until golden and crisp, about 3-5 minutes. Transfer cooked pocket pies on a plate lined with paper towels to rid of excess oil.
Notes
If you prefer to have them baked instead of fried.
Place pocket pies on a baking sheet lined with parchment paper in a single layer. Brush each with the egg wash to make them shiny and brown after baking. Poke (3-5) small holes on each using a toothpick or fork to let the steam out and prevent them from bursting open while baking.

Bake at 360°F/180°C for 18-20 minutes or until they appear light brown and shiny.
Nutrition
Calories:
176
kcal
Carbohydrates:
21
g
Protein:
2
g
Fat:
9
g
Saturated Fat:
2
g
Cholesterol:
0
mg
Sodium:
61
mg
Potassium:
85
mg
Fiber:
0
g
Sugar:
9
g
Vitamin A:
255
IU
Vitamin C:
7.5
mg
Calcium:
4
mg
Iron:
0.7
mg