This Filipino chicken empanada is packed with flavorful filling of shredded chicken, potatoes, carrots, peas and raisins. Enclosed in a mildly sweet flaky pastry that is baked to golden crispy perfection.  Ideal for snacks, light meals or breakfast!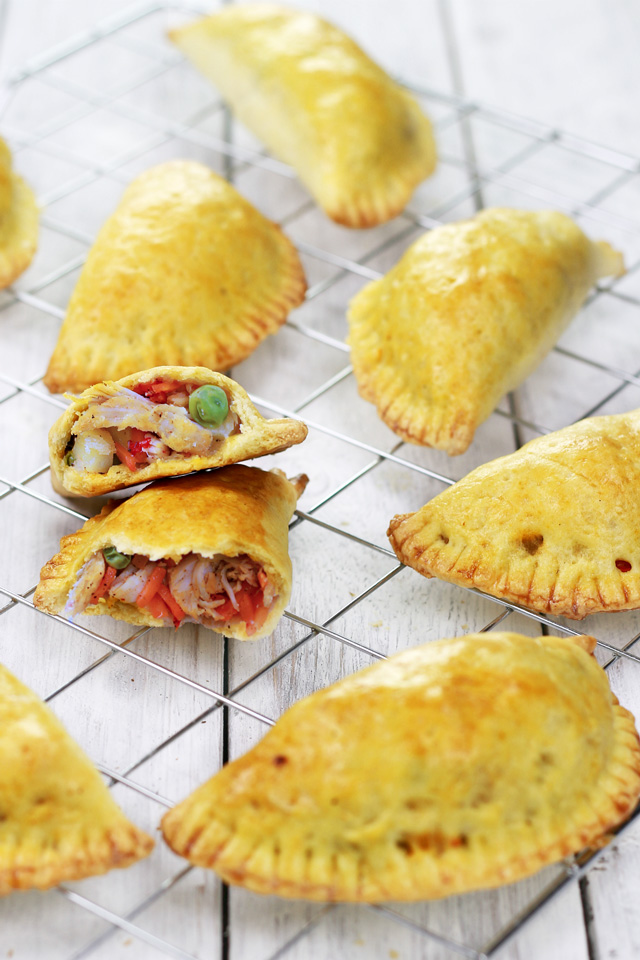 What is Empanada?
Empanada is a pastry turnover famous around the globe, especially in Latin and South America and, of course, in the Philippines. It is a half-moon shaped pastry made by folding the dough over the fillings.
Empanada's fillings and flavor varies in each region and country but is stuffed, commonly, with meat—either ground pork, beef, or chicken—cheese, vegetables, potatoes, or corn.
It also ranges in size and can be either by fried or baked.
Variations of it can also be found in other cultures, such as Italian Calzone, Cornish Pasty, turnovers and Runza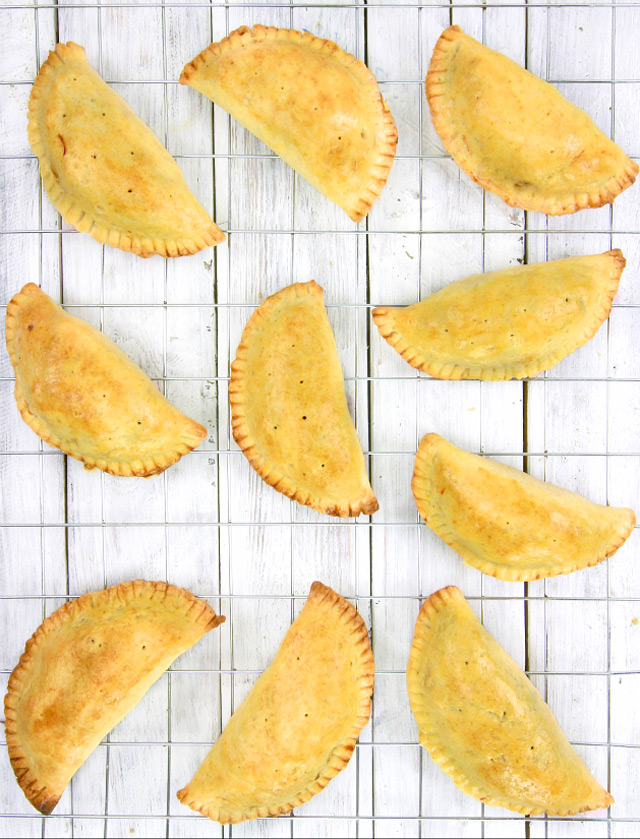 Where did Empanada originate?
Like any other cuisines, Empanada's origin points to countless stories. Many countries claim that this pastry originated from them. To mention a few, these are Mexico, Argentina, and the Philippines where this treat is very popular.
It is believed, however, that Empanada has originated in Spain. The word Empanada was derived from the Spanish word "empanar" which translates to "to cover in pastry"—which exactly how this pastry is made. Empanada was mentioned as a Catalan recipe, as early as 1520, in a local cookbook called Libre del Coch written by Catalan chef Robert de Nola.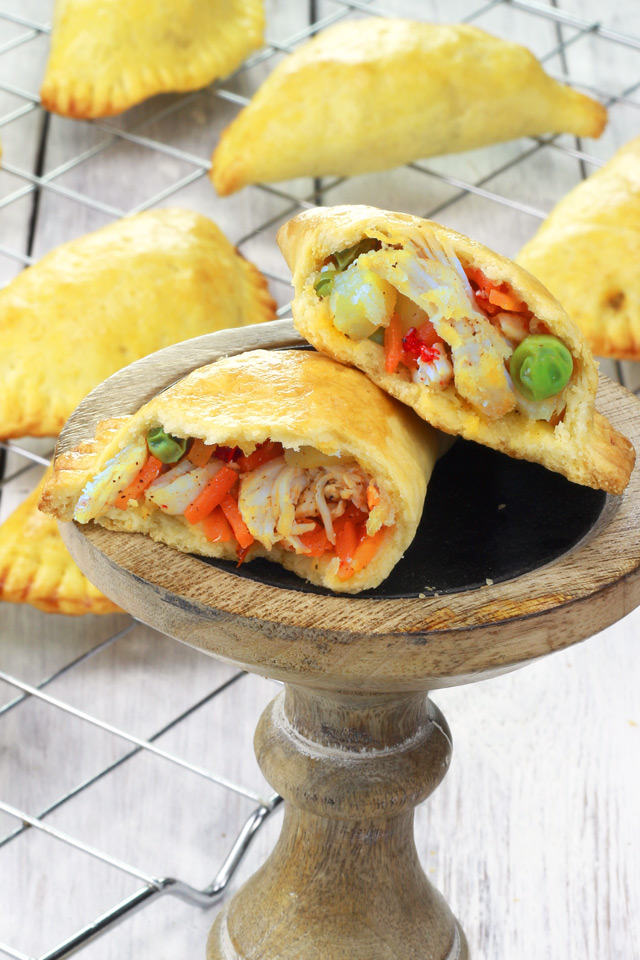 What other Filling can you use?
This stuffed bread or pastry treat was obviously introduced to the Philippines by the Spanish people in the early years. But the Filipino empanadas are also quite unique, using a slightly sweet empanada dough.
Filipino Empanadas have different kinds of fillings, among the most popular are ham and cheese,  ground pork or beef and chicken. But I am rather partial to Chicken Empanadas.
This recipe involves baking the empanadas as opposed to the traditional way of cooking them, which is by frying. And the empanada dough I used for it is just perfect--with flaky buttery texture, and it is just wonderful.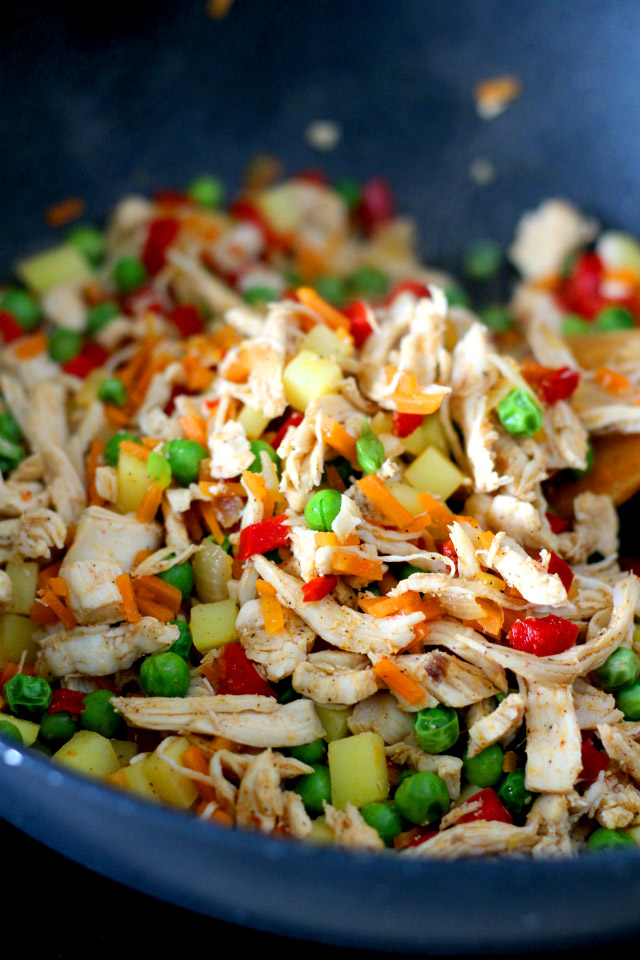 Normally, I would also add some raisins to the filling for my chicken empanada. But Armin's taste buds are (still) untrained for the sweet and salty combination in food. Like, I can't believe he does not like my fave chocolate bar with salted pretzels in it-- which is kind of great because it means more for me..😉 ! I am not sure if it is a German thing or it is probably just him!
If you like this recipe, I would also suggest checking out our Jamaican Patties with spicy beef filling enclosed in a puff pastry. It is amazingly delicious!
But if you are looking for something sweet, then our Peach-Mango pocket pies are for you!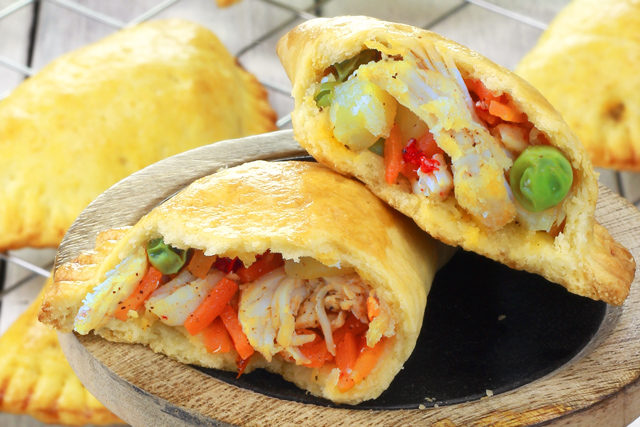 Printable Recipe
Chicken Empanada
Baked Empanadas filled with shredded chicken, green peas, potatoes, carrots and onions wrapped in a mildly sweet flaky pastry. Perfect for snacks or light meals!
Ingredients
Empanada Dough
3

cups

flour

4

tablespoons

sugar

½

teaspoon

baking powder

½

teaspoon

salt

1

cup

cold unsalted butter

- cut into small cubes

6-10

tablespoons

cold water
Chicken Filling
2

tablespoons

oil

1

medium

onion

- chopped

1

cup

potato

- cut into small cubes

½

pound

chicken breast fillet

- boiled and shredded or cut into small pieces

1

cup

carrots

- cut into small cubes

1

cup

red bell pepper

- cut into small cubes

½

cup

water

1

cup

green peas

½

cup

raisins

(optional)

½

tablespoon

salt

¼

teaspoon

ground pepper
Eggwash
1

egg

and 1 tablespoon of water, beaten together
Instructions
Heat oil in a wok or skillet over medium-high heat. Saute onions and add the potatoes then cook with cover until potatoes are half cooked.

Add the shredded chicken, carrots, red bell pepper and stir several times. Add the water and season with salt and pepper. Let it simmer while stirring occasionally until almost all liquids are gone. Lastly, add the green peas and raisins and cook for another few minutes until all liquids are gone. Transfer the cooked filling in a colander to remove any excess liquid. Set aside to let cool before using.

In a mixing bowl mix together the flour, baking powder, sugar, and salt. Cut in butter using the mixer by pulsing until mixture resembles coarse meal, with a few pea-size pieces of butter remaining. Add water, a tablespoon at a time, pulsing until dough is no longer too crumbly and holds together when squeezed. Squeeze the dough together to form a ball. Cut the dough into 4 equal parts.

Take a piece of the dough and roll it out to flatten to not more than half-centimeter thick. Cut out disks using a large cookie cutter or any round object with the desired size ( I use a small glass bowl). Do the same with the remaining dough. Gather all excess dough cuttings and press together and repeat the process until all dough is used.

Place a dough disk on your palm and spoon enough empanada filling in the center. Fold in half towards the edges and pinch the sides to close. Use a fork to press and seal the sides tight.

Place empanadas on a baking sheet lined with parchment paper in a single layer. Brush each empanada with the egg wash to make them shiny and brown after baking. Poke (3-5) small holes on each empanadas using a toothpick or fork to let the steam out and prevent them from bursting open while baking.

Bake at 360°F/180°C for 18-20 minutes. Empanadas are done when they appear light brown and shiny.
Notes
If you do not have a mixer, just use a pastry blender or a fork to mix the dry ingredients together and then use your hands to incorporate the butter into the flour mixture until the required texture is achieved. 
Avoid over-handling the dough specially with warm hands. It may cause the butter to melt and prevent from creating the flaky texture of the pastry.
This recipe can make upto 16 large empanadas or 24 smaller ones.
You can also fry the empanadas instead of baking, just skip Step 6.
Nutrition
Calories:
308
kcal
Carbohydrates:
33
g
Protein:
8
g
Fat:
16
g
Saturated Fat:
8
g
Cholesterol:
56
mg
Sodium:
481
mg
Potassium:
291
mg
Fiber:
2
g
Sugar:
5
g
Vitamin A:
1900
IU
Vitamin C:
17.5
mg
Calcium:
29
mg
Iron:
2.2
mg
This recipe was originally published in June 2016. Updated on October 2019 to include new photos and notes. Recipe itself remains the same.