Enjoy the popular sweet toasted Filipino flatbread fresh off the pan with this homemade Piaya recipe! You can go classic with a rich, sticky muscovado filling or purple yam (ube). Nothing beats freshly made Piaya with a hot cup of tea or coffee.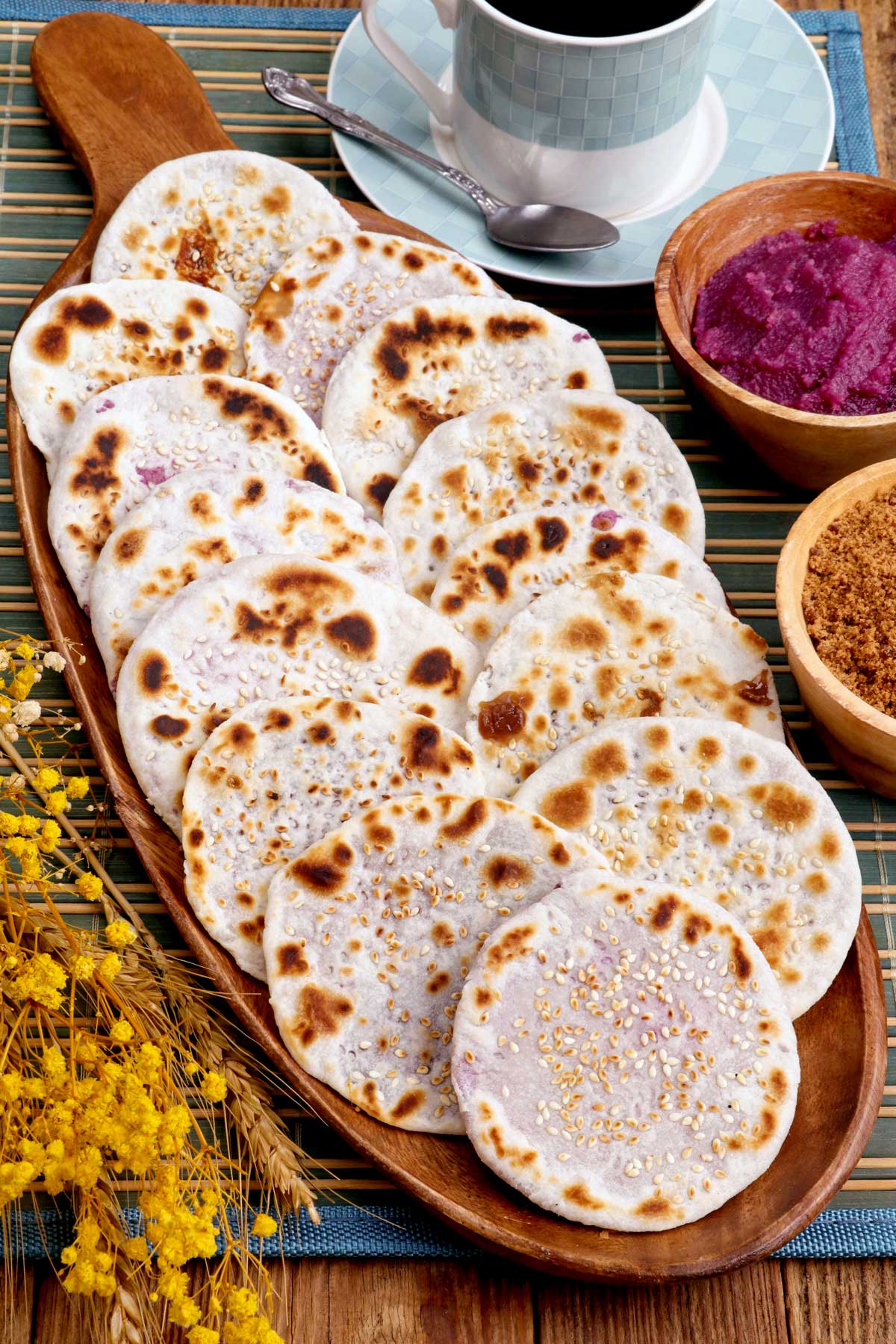 One of my brothers-in-law is from Bacolod, and Piaya is one of the most anticipated pasalubong when they visit his hometown. I love the thin, crispy bread with a sugary filling! This mini-pancake-looking treat ranks alongside Hopia, Biscocho, Macapuno balls, Pastillas, and Lengua de Gato, when it comes to Filipino snacks in popularity. I've always enjoyed Piaya from the package, however, he said nothing beats freshly made Piaya with the warm, flaky bread and melty, hot filling. So I decided to make it right in the comfort of my kitchen, and he was right! It is so delicious, and I never have to wait for someone to buy it for me anymore.
What is Piaya?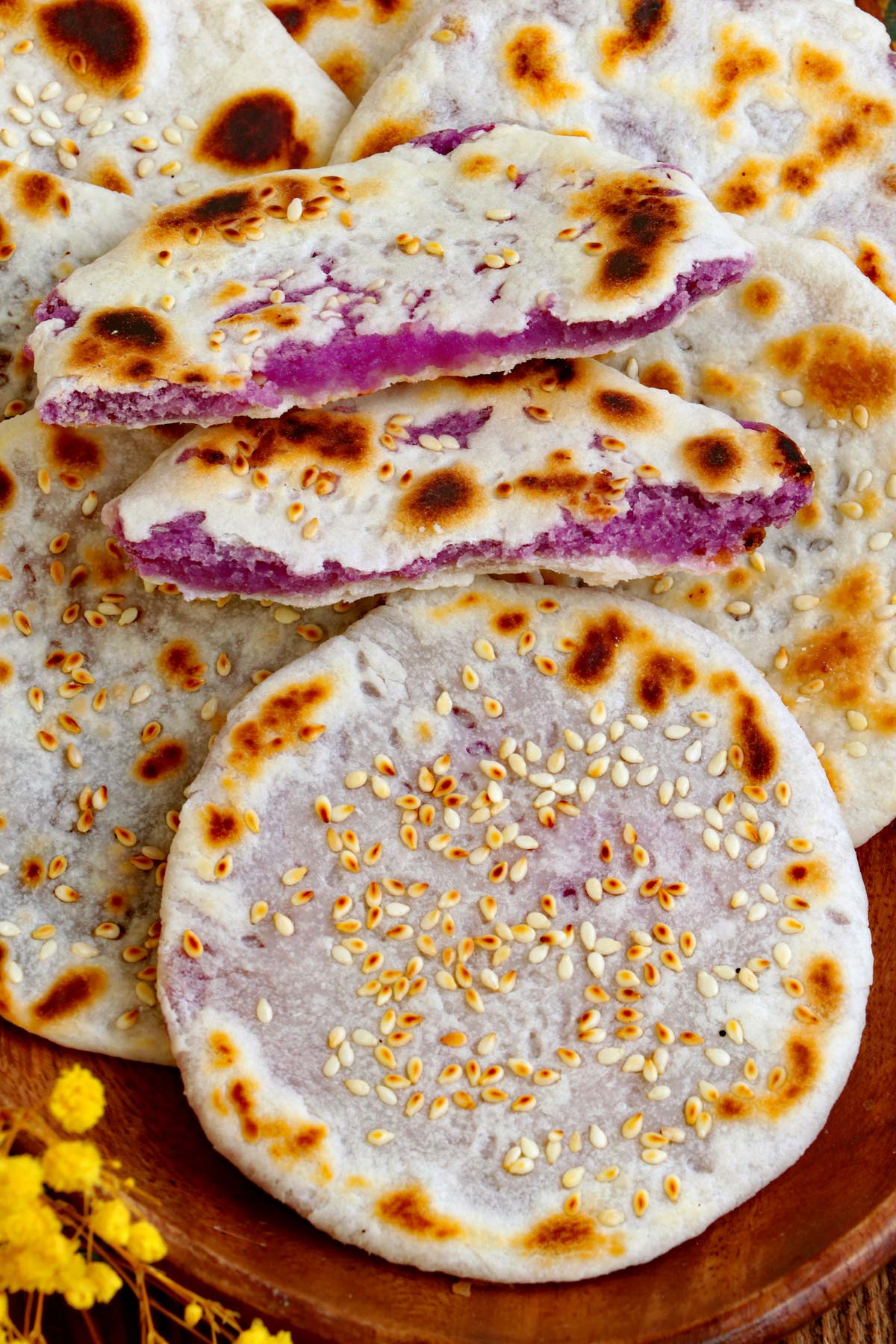 Piaya, or Piyaya, is a thin, flaky unleavened flatbread that envelops a sweet filling. This pressed pastry is a well-known delicacy from Negros Occidental, specifically Bacolod, a place known for its vast sugarcane plantations. This is why the classic version of this delectable treat has a thick muscovado filling.
Nowadays, you will find a lot of filling varieties of this popular pastry, such as ube halaya, mango jam, and chocolate. Some less-known ones are buko-pandan, strawberry, and calamansi-filled Piaya. There are even artisanal Piaya, such as Oregano, Turmeric, and Basil Pesto, for those who prefer more organic flavors.
Other Filipino Bread with Filling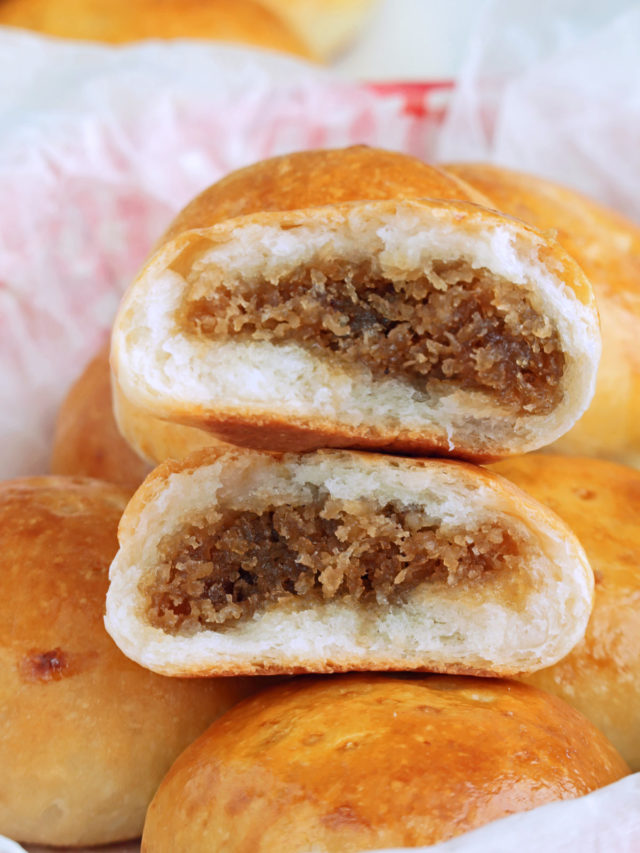 Ingredients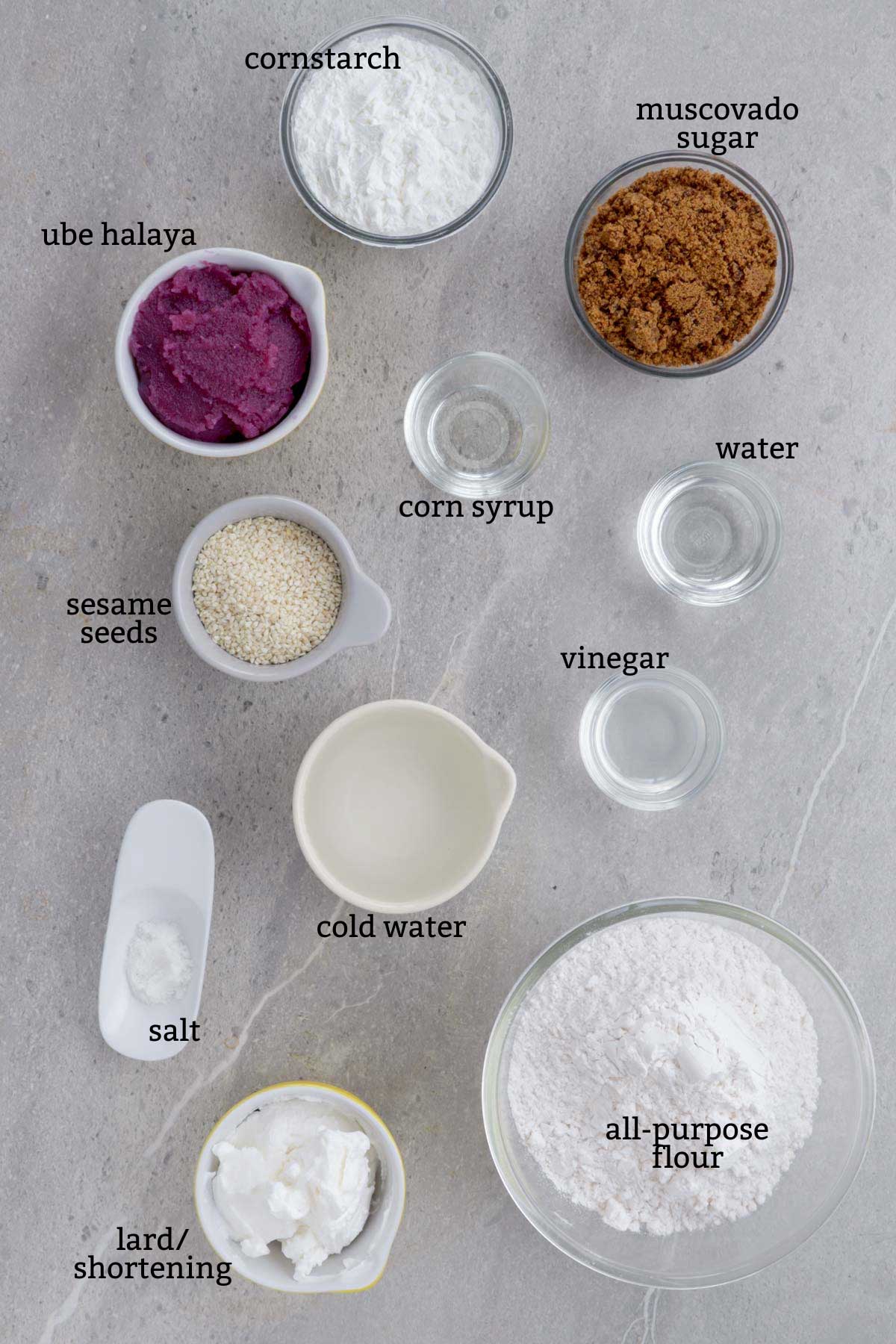 All-purpose flour or plain flour. If unavailable, you may also use bread flour.
Fine salt- this blends into the crumbly dough better, especially since you will only be kneading it for a short while.
Shortening- this is used to make the dough flaky and crumbly! You can also use lard as a good substitute. Butter, margarine, and vegetable oil are acceptable alternatives but might leave a distinct taste.
Vinegar- is known to inhibit the formation of gluten, which the recipe needs. It stabilizes the pastry dough, making it tender and moist inside while keeping the outer layer crispy. Don't worry; you won't be able to taste its sharp flavor at all.
Cold water- will help keep the shortening from warming up and melting into the flour. It also helps achieve the desired flakiness of the pastry dough.
Sesame seeds- are sprinkled on the surface of the pastry right before frying them to give them a nutty flavor and extra crunch.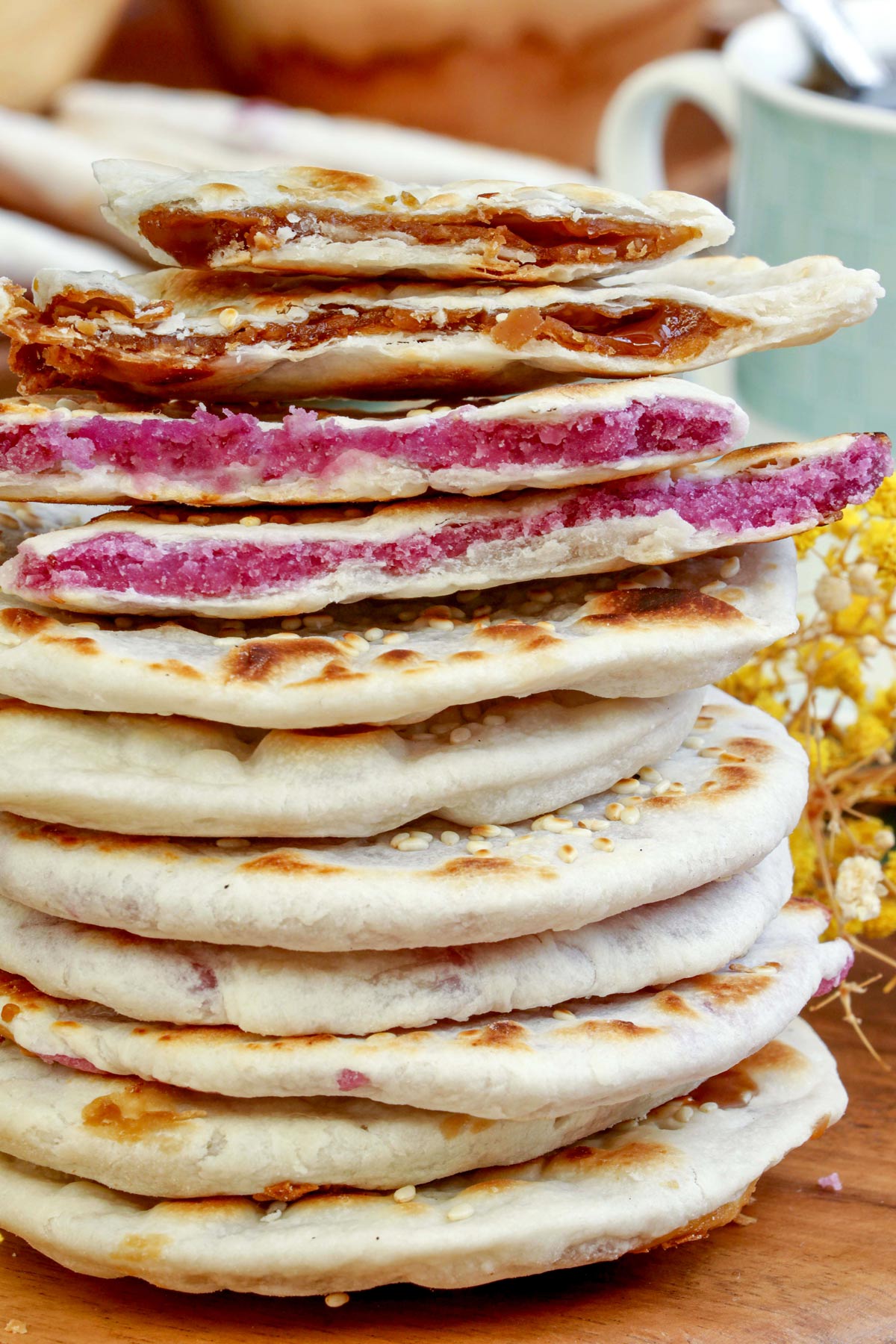 Fillings
Classic
Muscovado sugar - you may also use dark brown sugar if this is unavailable.
Cornstarch- to thicken the filling. You can also use flour if that is what you have.
Glucose- this will give the mixture a sticky consistency or corn syrup. It also does not crystalize, which means your filling will stay moist for days. You can also use corn syrup as a substitute.
Water
Ube (Purple Yam)
Ube Halaya
Cornstarch- to thicken the filling. You can also use flour if that is what you have.
Cooking Tips
The shortening should be cold when used. Do not take it out of the fridge unless ready to use it.
Do not overwork your dough. It should not end up too smooth and elastic. Knead only until it sticks together and becomes a bit smoother than it originally was.
When making the muscovado filling, add the water gradually. The mixture should be firm enough to be formed into a ball. If the filling becomes too wet, add more cornstarch or flour.
Gently flatten the dough balls with the filling inside with a rolling pin. Make it as thin as possible but do not add too much force, or the filling might burst out. A few small tears are fine, though.
It's important to cook the Piaya in batches, especially when working with a small pan. The dough of the Piaya will puff up a bit as it cooks, so if you don't want to deal with your Piaya sticking to each other and ruining the shape, space them out.
Storing Piaya
You can store uncooked piaya in the freezer for months. Once cooked, place them in a sealed container and put them in the refrigerator; they should last for weeks.
You can reheat the Piaya on a pan over medium heat for about 1 minute on each side.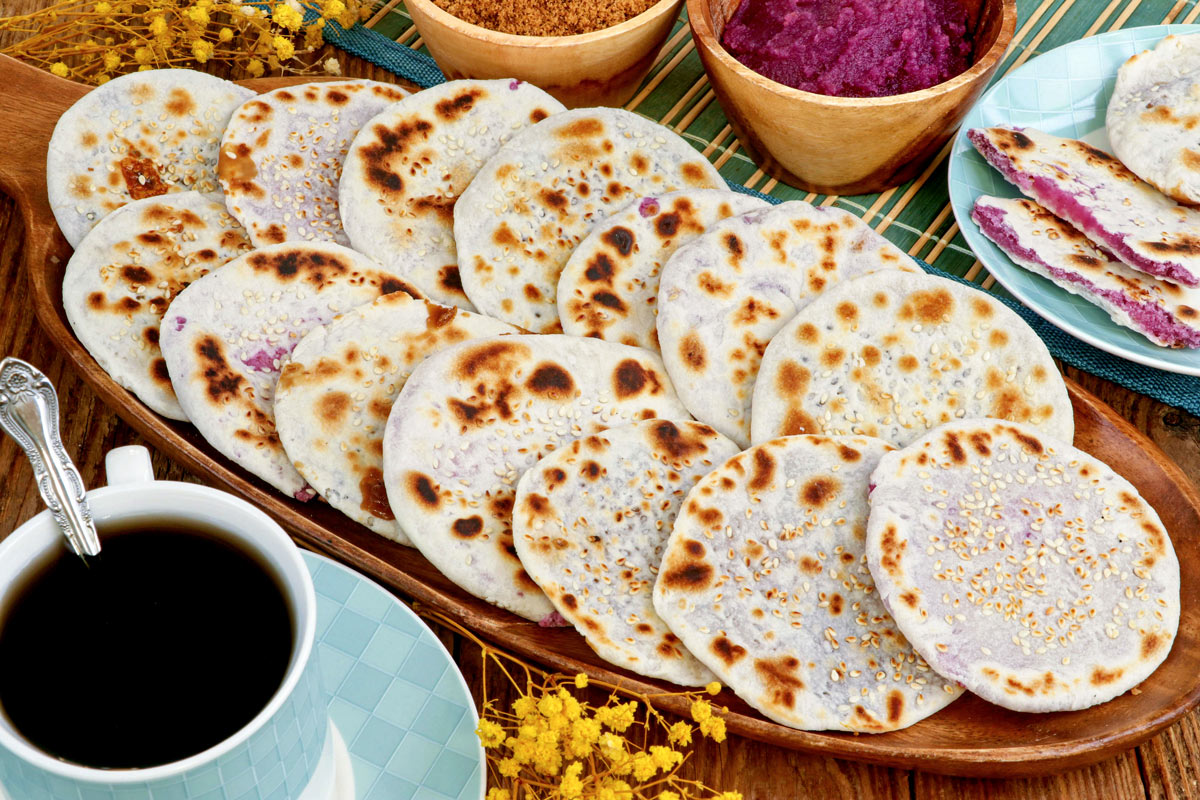 Printable Recipe
Piaya/Piyaya Recipe
This homemade Piaya recipe will allow you to enjoy this popular sweet toasted Filipino flatbread fresh off the pan! You can go classic with a rich, sticky muscovado filling, or choose any filling of your choice. Nothing beats freshly made Piaya with a hot cup of tea or coffee.
Ingredients
2

cups

all-purpose flour

½

teaspoon

fine salt

½

cup

shortening

or lard

2

tablespoons

vinegar

½

cup

cold water

or more

1-2

tablespoon

shortening

for spreading

¼

cup

Sesame seeds
CLASSIC FILLING
1

cup

Muscovado sugar

1

cup

cornstarch

or flour

1

tablespoon

glucose

corn syrup

2

tablespoons

water

or more as needed
Instructions
2 cups all-purpose flour,

½ teaspoon fine salt,

½ cup shortening,

2 tablespoons vinegar,

½ cup cold water

Mix together the flour and salt in a large bowl. Cut in the shortening using a pastry cutter or bread knife until it turns into very small pieces. Mix the vinegar with the cold water and gradually add 6 tablespoons to the flour mix (1 tablespoon at a time).

Using a wooden spoon mix until everything starts to stick together to form a crumbly dough. If it is still too dry and crumbly, add more cold water, one tablespoon at a time, mixing and checking before adding the next. You can check by taking a handful and squeezing them together in your hand, it should stick together but not wet.

Tip the crumbly dough on a surface and press them together to form a ball. Then start kneading, it will break up in the beginning but as you press and knead it will start to form a proper dough. Knead just until it is no longer crumbly and a bit smooth, but it does not have to be super smooth (No windowpane testing here, we do not want gluten to form, so do not over-knead, or it will not be flaky). Form into a ball and return to the bowl. Cover with a kitchen towel and let it rest for 15-20 minutes.

1 cup Muscovado sugar,

1 cup cornstarch,

1 tablespoon glucose,

2 tablespoons water,

1 cup Ube Halaya,

½ cup cornstarch

While waiting, make the filling. Just combine the ingredients for each type of filling you like to use. For the original muscovado filing, add water a tablespoon at a time. Remember that the sugar will also melt as it absorbs moisture, so mix well and wait before adding the next addition of water.

The texture you are looking for is soft but firm enough to form into a ball. Roll the filling into a log and divide it equally into 16 pieces. If you plan to do both, then just use half of the measurements for each. Form each piece into a ball. Cover with plastic foil and set aside until ready to use.

Using a rolling pin, roll the dough thinly (½ cm) into a rectangle. Cut the dough lengthwise into 2 equal parts.

1-2 tablespoon shortening

Spread a very thin layer of shortening over the top of the dough. You can also use oil, but I recommend shortening or lard. Roll each cut tightly to form a cylinder. Try to make it as tight as possible. Cut each into 8 equal parts making 16 in total. Cover them with a kitchen towel and rest for 5-10 minutes.

Take a piece of the dough and flatten it. It should be big enough to wrap around the ball of filling. Wrap and pinch the edges together to close, then roll in your palms to smoothen all over. Dip one side of the ball in sesame seeds.

Lightly flour a surface and flatten it to a disk, using a rolling pin, as thin as you can without the filling breaking out the dough. It is no big deal if it tears a bit. Do the same to the rest.

Heat a large flat pan over low heat. Then add a batch of the flat dough in a single layer. Let it cook for 3-4 minutes or until the bottom turns light brown. Some parts might puff, but this is normal. Turn them over and cook the other side for 3 minutes or light brown. Remove from pan and transfer to a serving plate. Cook the rest.

Enjoy with coffee or tea while still warm.
Nutrition
Calories:
261
kcal
Carbohydrates:
43
g
Protein:
2
g
Fat:
9
g
Saturated Fat:
2
g
Polyunsaturated Fat:
3
g
Monounsaturated Fat:
4
g
Trans Fat:
1
g
Sodium:
83
mg
Potassium:
130
mg
Fiber:
1
g
Sugar:
15
g
Vitamin A:
14
IU
Vitamin C:
2
mg
Calcium:
41
mg
Iron:
1
mg