Super soft and fluffy buttery rolls glistening with melted butter and granulated sugar on top with melty and gooey cheese inside! Cheese Rolls is a classic Filipino bakery bread you won't get enough of.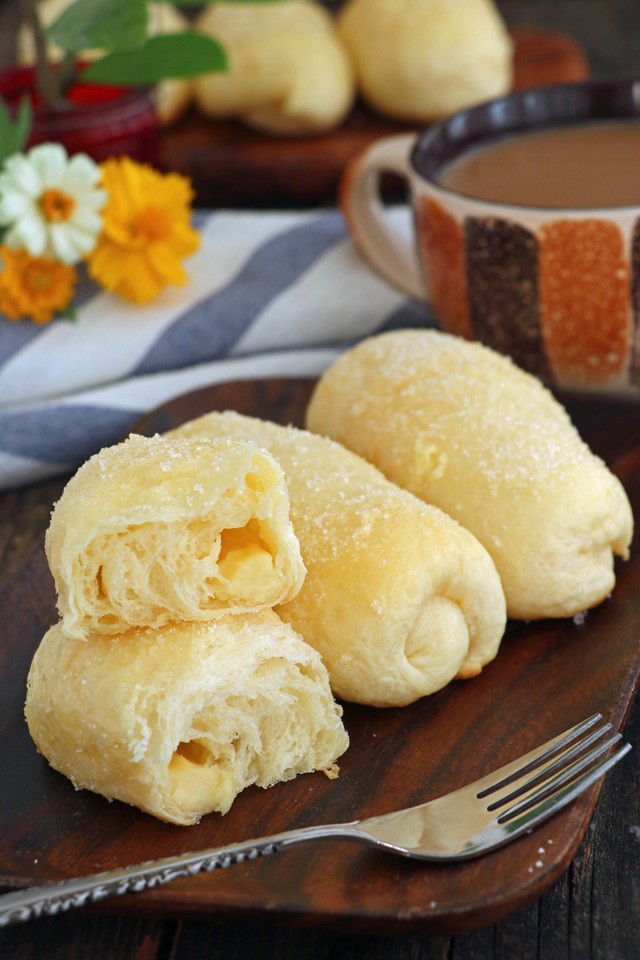 Relish in the sweetness of the bread topping combined with the savory and sharp flavor from the cheese at every bite. It is a great accompaniment to your afternoon coffee, hot chocolate, or tea!
What is Filipino Cheese Rolls?
The Filipino Cheese Rolls are basically bread stuffed with cheese. After baking, the rolls are then brushed with softened butter and generously sprinkled or rolled in sugar.
Making this bread is almost identical to making Ensaymada, another favorite Filipino bread, with a few differences in the ingredients and instructions.
It is one of the most popular bread sold at bakeries and cafes. It doesn't matter if this is your run-off-the-mill "panaderia" or a posh, upscale cafe, or sold as an artisan bread in a specialty bakeshop, these goodies are always a big hit and a crowd favorite.
I remember buying these delicious cheese-stuffed bread at the bakery next door to us in the past. And let me tell you- one piece is never ever enough!
There is just something so addicting with the taste and texture of this richly flavored but light rolls that tickles everyone's fancy.
Notes about this Cheese Roll Bread Recipe
To make these super fluffy and soft cheese rolls, I have some notes and tips for you:
I used all-purpose flour in this recipe, however, bread flour can also be used. Using bread flour will give you a chewier texture while APF results to softer crumbs as it has less protein content. Take note that different types of flour follow different flour-to-water ratio. The higher the protein/gluten content, the more water it needs so you may need to add a bit more milk when using bread flour. 50/50 all-purpose to bread flour will also work great.
This recipe uses instant yeast also called rapid-rise or quick-rise yeast. It is simply added directly to the dry ingredients. If you are using active dry yeast, it normally needs to be hydrated first in (¼ cup) warm water or milk (taken from the recipe) for a few minutes or until foamy before using it. If your yeast is stored in the refrigerator or freezer, it is recommended to let the dry yeast come to room temperature before using it.
Expect for the dough to be very sticky and shaggy in the beginning. As you go on kneading, it will become smooth and elastic and less sticky as you the gluten builds.
Do not give in to the temptation of adding more flour to your sticky dough or you will end up with tough and dense rolls later on.
If you have a stand mixer then I highly recommend using that to save you a lot of muscle work and no sticky hands. But if you will knead manually make sure to grease your surface and hands with a liberal amount of oil. It will prevent dough from sticking.
In kneading sticky dough by hand, do the slap and fold kneading technique also known as "French fold". So once you tip the dough in an oiled surface lift it by holding the top side and invert it over slapping it to the surface in the process. Then fold the bottom part over the top and repeat the slapping. You do this in a fast manner and the dough will not stick that much to your hands.
Always check if your dough is sufficiently kneaded before baking by doing the windowpane test. Stretch a portion of the dough away from the mixture until it creates a thin membrane. If it stretches without tearing or breaking, then it means that the gluten is well-developed and the dough is ready. It normally takes about a minimum 10 minutes of kneading to get to this stage.
I've used my gas oven for baking this one. Because gas oven normally uses bottom heat, I usually add another tray at the lowest rack to prevent the bottom of the rolls from getting too brown.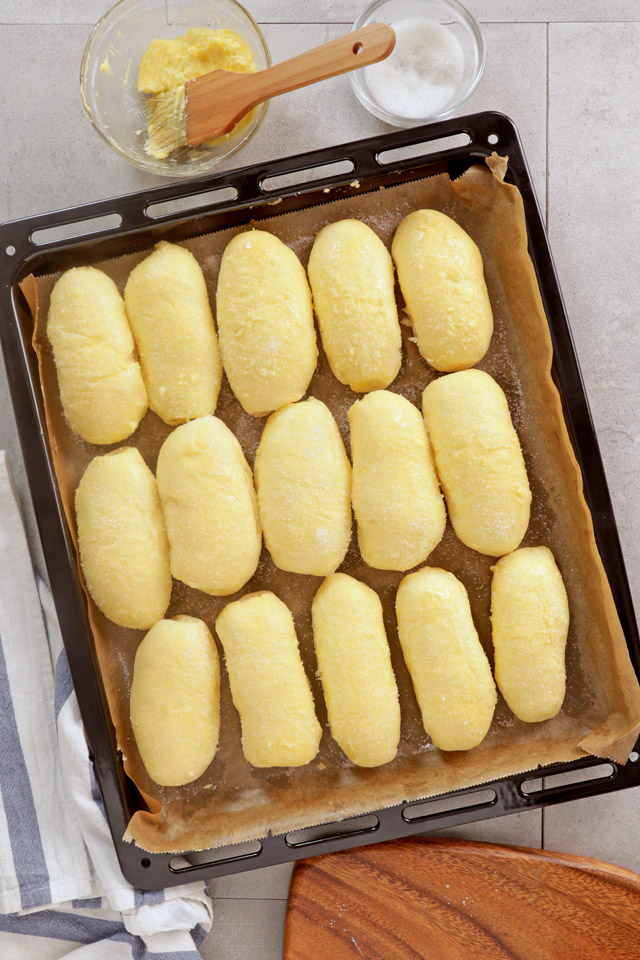 Make-ahead dough/rolls
If you are planning to make a batch and do not want to do all the work in one day, you can make your dough ahead of time.
Right after kneading, cover the bowl of dough with a plastic wrap then refrigerate. Once you are ready to use it, let it sit in at room temperature for half an hour, then deflate and shape the dough.
Alternatively, you can refrigerate it after the rolls have been filled and shaped. Arrange them in the baking tray as usual covered loosely with plastic wrap. Let it come to room temperature before baking.
You can also freeze the shaped rolls. Follow the same steps when above but put it in the fridge and freeze for an hour. Then take the tray out of the fridge and transfer the rolls in a ziplock bag. Put back in the fridge and store up to 4 weeks.
It is highly recommended to use active dry yeast for longer or overnight rising. If you intend to freeze the dough, use a double amount of yeast as some of it will be killed during freezing.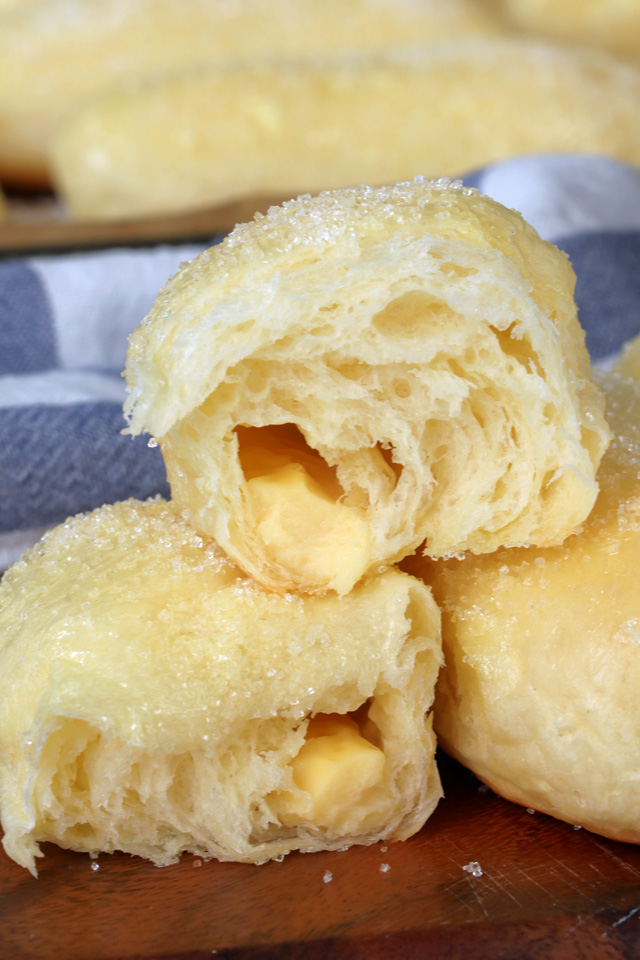 If you are in a baking frenzy, here's some more Filipino bakery recipes you can try!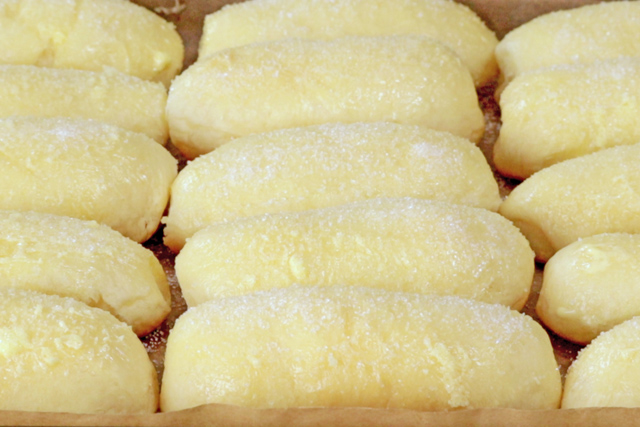 Printable Recipe
Soft and buttery Cheese Rolls
Super soft and fluffy bread glistening with melted butter and granulated sugar on top with melty and gooey cheese inside! Cheese Roll is a classic Filipino bakery bread you won't get enough of.
Ingredients
DOUGH
3 ⅔

cups

all-purpose flour

⅓

cup

sugar

¼

teaspoon

salt

1

tablespoon

instant yeast

1

cup

milk

lukewarm

2

medium

eggs

1

stick

unsalted butter

or shortening
FILLING
16

pieces

cheese sticks

3-inch long and 1cm thick
COATING
¼

cup

unsalted butter

softened

¼

cup

granulated sugar
Instructions
Combine flour, sugar, and salt in a bowl and mix. Sprinkle instant yeast and mix again. Make a well at the middle of the dry mixture.

Add warm milk and eggs and beat them within the well. Once combined, mix with the rest of the flour mix to create a sticky dough.

Add the softened butter and knead within the bowl until butter is completely incorporated. Use your hands or an electric mixer with a dough hook attachment. For manual kneading, transfer the sticky dough on a greased surface and knead, using slap and fold method, at least 10 minutes or until smooth and has passed the windowpane test.

Form into a ball and place on a bowl. Cover with plastic wrap and let it rise until it doubles in size.

Remove the cover and gently punch the dough down to release the gas bubbles. Tip the dough on an oiled surface, then cut into 16 equal pieces.

Take a piece and roll into a ball. Using a rolling pin, flatten a piece into about 4x4-inch square. Place a cheese stick on one side and roll towards the end tucking the sides in to fully enclose it within the dough. Repeat with the rest.

Arrange the rolls in a baking sheet lined with parchment paper leaving enough spaces in between. Cover with a kitchen towel and let them rise until they double in size. Bake at 160°c for 12-15 minutes in a preheated oven.

Take out of the oven and let them cool a bit. Brush each one with softened butter and sprinkle with sugar.
Nutrition
Calories:
226
kcal
Carbohydrates:
30
g
Protein:
5
g
Fat:
10
g
Saturated Fat:
6
g
Cholesterol:
45
mg
Sodium:
85
mg
Potassium:
63
mg
Fiber:
1
g
Sugar:
8
g
Vitamin A:
324
IU
Calcium:
29
mg
Iron:
1
mg