Monay is a popular Filipino bread known for its dense texture and slightly sweet, milky flavor. It is perfect for breakfast or merienda with a cup of coffee or ice-cold juice.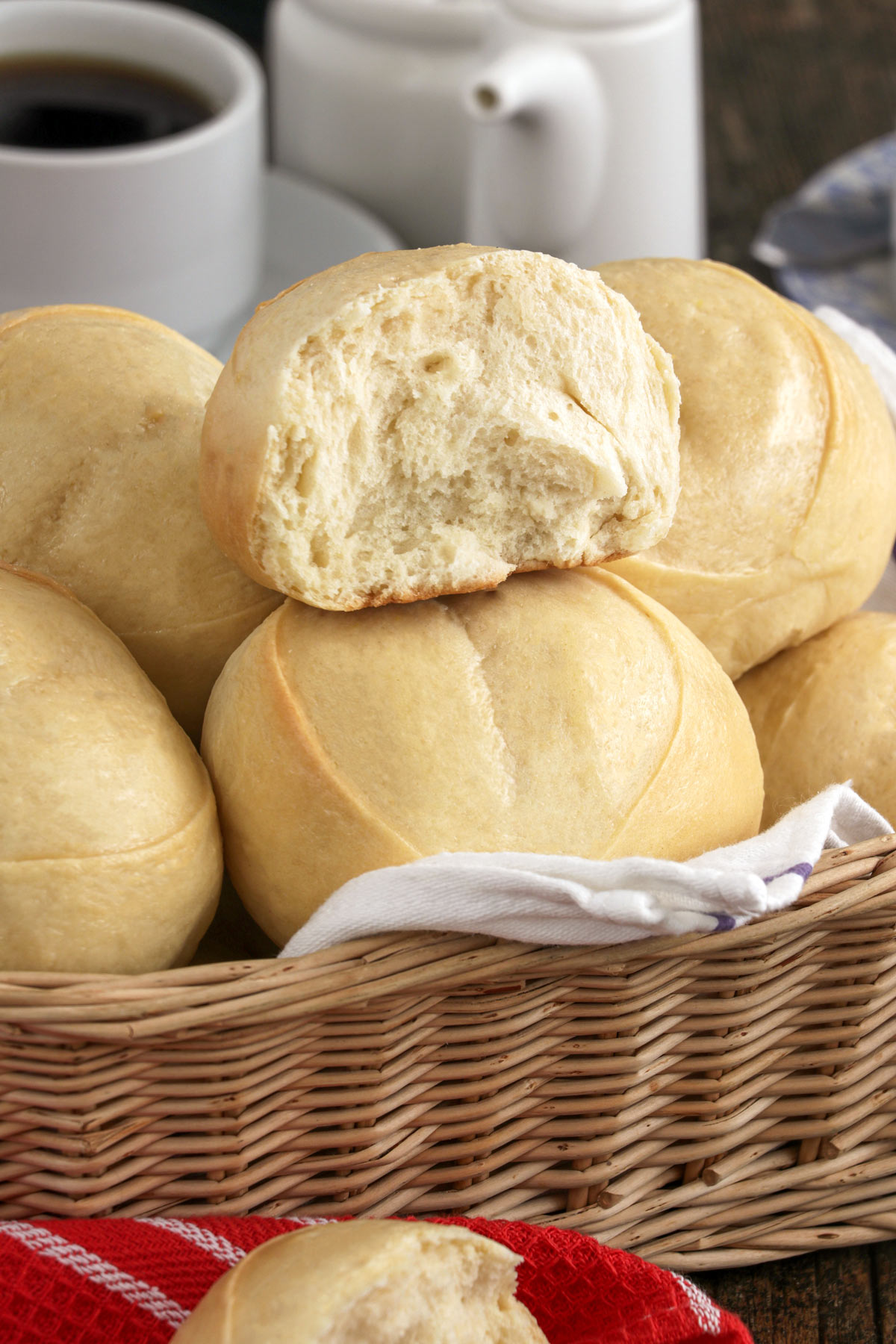 There is nothing better than the taste and smell of freshly-baked homemade bread. And you are in for a treat with this homemade Monay recipe! It is a delicious and filling snack or merienda that is so easy to make and your whole family would surely love it.
What is Monay?
Monay is a classic Filipino bread known for its dense texture and is characterized by an indention or slit in the top middle part of the bread. It is one of the most popular Filipino bread and is commonly sold at panaderias or local bakeries together with pandesal, cheese bread, and Spanish bread. It has a milky and slightly sweet flavor that is perfect with a cup of hot coffee or chocolate. You can enjoy it as it is or with your favorite spread like butter, coco jam, or cheese.
Its name was derived from pan de monja, a Spanish term that means "nun's bread". Through time the name evolved colloquially to pan de monay or eventually to what we all know today, monay.
It is one of the most basic Filipino bread and is considered "the mother of all Filipino bread". The dough used in making monay may be transformed and modified to make other Filipino bread depending on the amount of water, proofing, and baking time. These bread include pinagong and putok or star bread.
How is Monay made?
Monay is made with bread flour or all-purpose flour, powdered milk, sugar, and salt with yeast, egg, and butter. These ingredients are mixed together to form a dense dough, kneaded until smooth, and then rested for the dough to rise. It is then shaped into balls that are slashed to make the trademark indention on the bread. The doughs are usually brushed with egg wash or milk to have that shiny and glossy finish when baked.
What You'll Need
Bread Flour was used in this recipe as it has a high protein content for a denser texture required to bake monay. You can also use all-purpose flour if bread flour is unavailable, but note that the bread rolls would be a bit lighter in texture.
Milk powder –Full-cream milk powder is best used for this recipe. It gives the bread a milky and creamy flavor.
Sugar – it has more sugar than other bread giving it that slight sweetness
Salt – enriches the flavor of the bread, regulates the development of the yeast, and reinforces the gluten structure of the dough.
Lukewarm water – to activate the yeast and it also helps dissolve and mix the dry ingredients faster.
Instant Yeast - also known as rapid rise yeast. You can mix it directly with the dry ingredients and it requires lesser time to rise. Alternatively, you can use active dry yeast but make sure to rehydrate and proof it first.
Unsalted Butter – helps by working as fat and traps steam and carbon dioxide for a higher rise. It also helps extend the shelf life of the bread.
Egg – adding eggs to bread gives them softer crumbs and lightens it a bit, add this if you do not want hard, dense monay. Eggs also act as a leavening agent.
Milk – is used for brushing the dough for a glossy finish. You can also use an egg wash if preferred.
Foxy Tips for You!
Since this recipe is using instant yeast, the temperature of the lukewarm water can range from 115°F/45°C to 130°F/54°C. But if using active dry yeast, the water temperature should only range from 105°F/40°C to 110°F/43°C. Make sure not to use hot water as it may kill the yeast.
Use a room-temperature egg to mix the dough better and for the dough to rise easily. If the egg is kept in the fridge, you can warm the egg quickly by placing it in a bowl of warm water and let it sit for about 5-10 minutes.
One of the best ways to know if you've adequately kneaded the dough is by doing the "windowpane test". Take a piece of the dough, with your fingers, stretch it into a thin square film. The dough must be thin enough to let the light pass through without breaking.
I suggest using milk for brushing the hot monay after baking. It really works best if you like the glossy finish.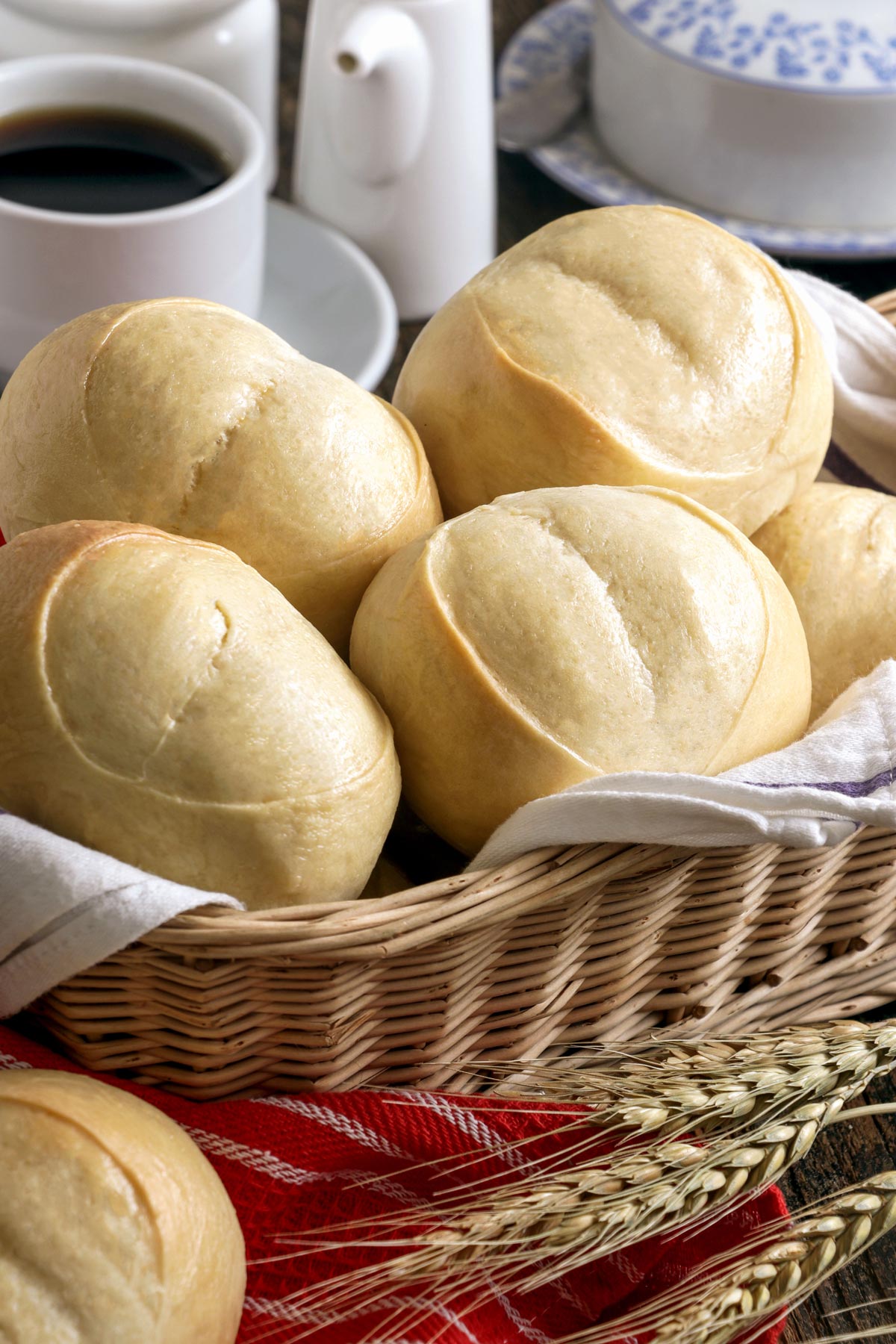 How to Serve and Store
Store monay in an airtight container. It can last for about 2-3 days at room temperature or about a week in the refrigerator.
To reheat, you can place it in an oven toaster until heated through or pop it in a microwave for about 10-15 seconds.
Printable Recipe
Monay
Monay is a popular Filipino bread known for its dense texture and slightly sweet, milky flavor. Perfect for breakfast or merienda with a cup of coffee or ice-cold juice.
Ingredients
4

cups

bread flour

or all-purpose flour

½

cup

milk powder

⅔

cup

sugar

½

teaspoon

salt

¾

cup

lukewarm water

adjust as needed

1

teaspoon

instant yeast

¼

cup

unsalted butter or margarine

softened to room temperature

1

medium

egg

2

tablespoons

milk/evaporated milk

for brushing
Instructions
4 cups bread flour,

½ cup milk powder,

⅔ cup sugar,

½ teaspoon salt

Combine bread flour, mik powder, sugar, and salt in a large mixing bowl and mix until well distributed. Make a well in the center.

¾ cup lukewarm water,

1 teaspoon instant yeast

Pour lukewarm water in the "well" then sprinkle the instant yeast over the water. Using a wooden spoon, stir the water to moisten the yeast.

¼ cup unsalted butter or margarine,

1 medium egg

Add the softened butter and egg then slowly mix the rest of the flour mixture with the liquid to create a dense dough.

Knead for 8-10 minutes until the dough becomes very smooth and elastic. If the dough is too dry when you start to knead add a bit more water, a tablespoon at a time then knead to check again.

Shape the dough into a ball and then place it in a greased bowl, cover with a plastic wrap and let it rest for 1 hour in a warm place.

Transfer the dough onto a flat surface and fold and knead 1-2 times just to release the air. Shape into a log then divide into 4 equal parts. Shape them into balls and let them rest for 5-10 minutes. Take a ball and cut it into halves. Now shape each half into a smooth ball. Repeat with the rest making 8 balls in total.

Arrange the balls on a baking tray. Using a sharp knife or blade, make one deep cut (about half of the height of the dough) across the middle of each balled dough. Cover with a tea towel and let it rest again for 30 minutes or until it has risen a bit and the cuts have opened up..

Bake in a preheated oven at 160°C/350°F for 15 minutes for a light brown top or 20 minutes for a golden brown top.

2 tablespoons milk/evaporated milk

Once done, take it out from the oven and lightly brush with milk while hot. It will absorb the milk and become a little shiny.
Nutrition
Calories:
418
kcal
Carbohydrates:
70
g
Protein:
12
g
Fat:
10
g
Saturated Fat:
6
g
Polyunsaturated Fat:
1
g
Monounsaturated Fat:
3
g
Trans Fat:
1
g
Cholesterol:
48
mg
Sodium:
194
mg
Potassium:
209
mg
Fiber:
2
g
Sugar:
21
g
Vitamin A:
308
IU
Vitamin C:
1
mg
Calcium:
98
mg
Iron:
1
mg
More Filipino Bread Recipes