This homestyle Coconut Jam recipe is rich, sticky-sweet, and is hands down one of the most delicious fruit spreads out there! It is made of 4 simple ingredients that can be reduced to 2 if you want to keep it traditional. However, this recipe has more depth of flavor because of the added ingredients!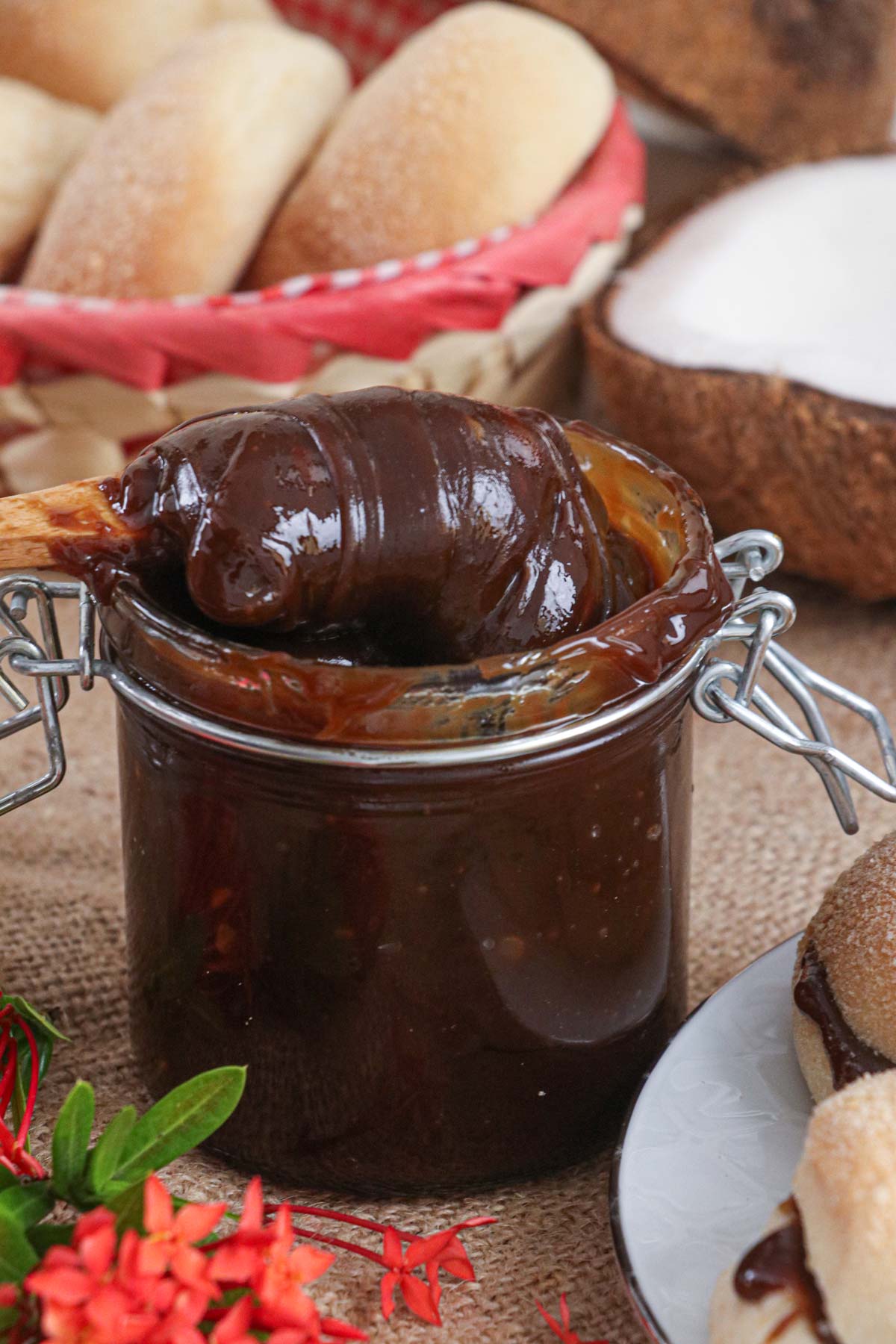 Jump to:
I was really excited to make this in my kitchen because I know someone who loves this jam—my mama! She has always kept one in our cupboard as far as I can remember. We spread it on Pandesal or a slice of toast as a morning or afternoon snack.
It is actually easy to get locally, but some of those highly commercialized ones uses food additives. Not good! So I created a homemade version that is healthier, not overly sweet, and has the perfect texture that spreads easily! Adding a bit of salt and pandan (screwpine) extract to the mixture gives the jam a more interesting flavor palette. Now, it is also Armin's favorite spread.
Filipino Coconut Jam vs Kaya Jam
While both have the same base ingredients, Kaya or Srikaya Jam, which is more popular in other Southeast Asian countries like Singapore, Malaysia, and Indonesia, is made with eggs additional to coconut milk and is sometimes flavored with pandan leaves.
Filipino Coconut jam, or "Minatamis na Bao" in Tagalog, on the other hand, is made purely of using coconut cream, or locally called "kakang gata", and sugar.
What is Coconut Cream or Kakang Gata?
It is the first or second batch of liquid extracted from freshly grated coconut meat. So, it is thicker and contains more fat compared to coconut milk. It is also different from Cream of Coconut. While coconut cream is made purely of coconut extract, cream of coconut has an added ingredient to it: sweeteners. So do not interchange these! Whew, those are a lot of coconuts in one paragraph but I hope I was able to explain the differences.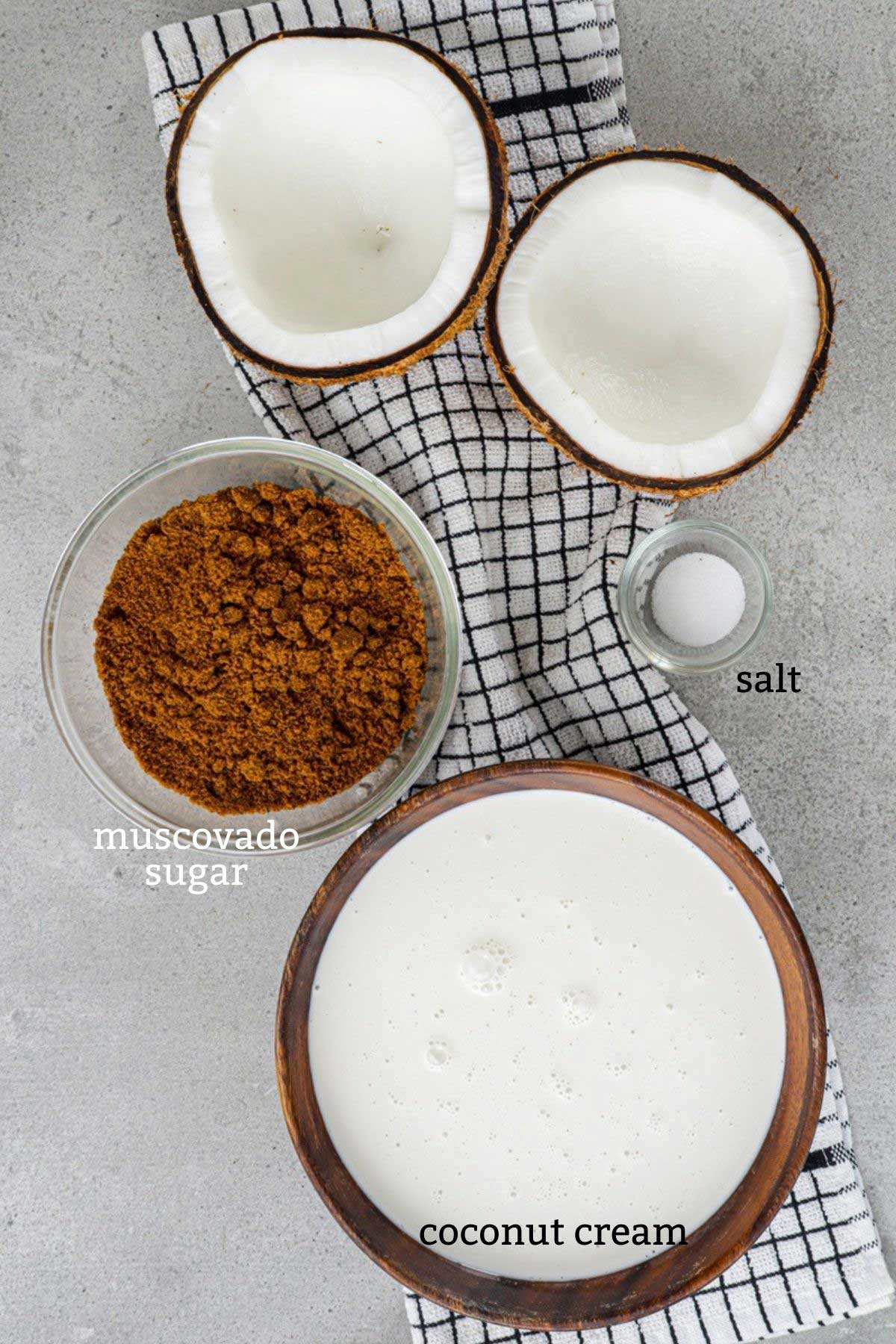 Foxy Tips when Making Coconut Jam
I highly recommend using a non-stick pot when making it. This will make it easier for you to stir the mixture around as it thickens.
Do not overcook the jam or it will turn bitter. Remove from heat once it turns thick but still supple. It will thicken as it cools down.
To prevent lumps from forming, make sure to stir the mixture consistently as it simmers so the heat is evenly distributed.
How to store Coconut Jam
If you are planning to preserve this for weeks or even months, always start by making sure to sterilize the jars you will be using. Also, remember to let the jam cool down completely before sealing them. Store them in a cool place or in the refrigerator if you plan to store them for later use.
Do not refrigerate an opened jar of coconut jam or it will be difficult to spread. Just leave it at room temperature anf it should be fine for days or even a week or two.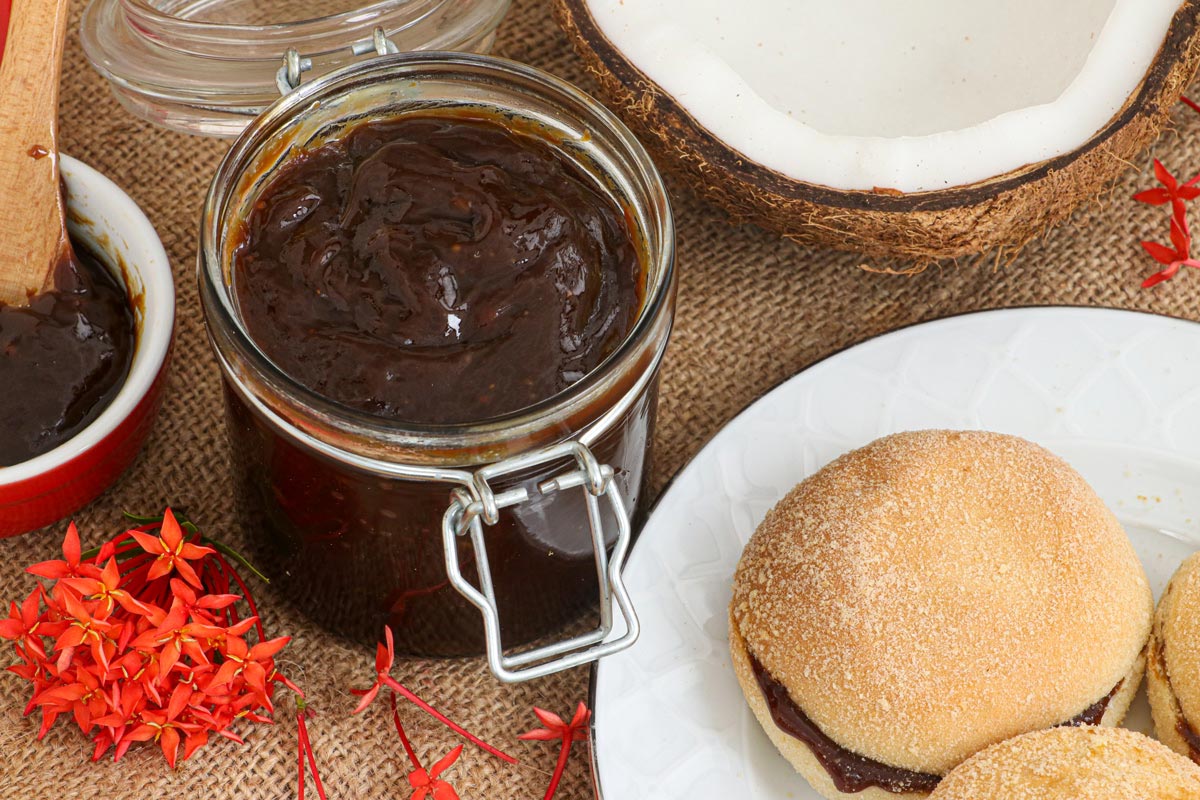 Printable Recipe
Filipino Coconut Jam (Minatamis na Bao)
This homestyle Coconut Jam recipe is rich, sticky-sweet, and is hands down one of the most delicious fruit preserves out there! It is made of 4 simple ingredients, that can be reduced further to just 2.
Ingredients
2

cans

canned coconut cream (13.5 fl oz)

1

cup

muscovado sugar

¼

tsp

pandan extract

optional

salt
Instructions
Pour coconut cream in a pot and boil until soft curds form.

Add sugar, salt and pandan extract.

Simmer over medium low heat until it turns thick. (*see Note 1)

Remove from heat and let it cool down.

Serve immediately or trasfter to a sterelized container.
Notes
Note 1: the mixture will thicken further as it cools down, so do not be tempted and overcook it. 
This recipe makes a bit more than a cup of coconut jam. A teaspoonful of it goes a long way.