This Filipino delicacy is so easy to make yet surprisingly delicious! Inangit is made with glutinous rice, coconut milk, coconut cream, and a pinch of salt. Perfectly paired with our homemade dip. Add a hot cup of chocolate or coffee for a delicious breakfast or midday snack!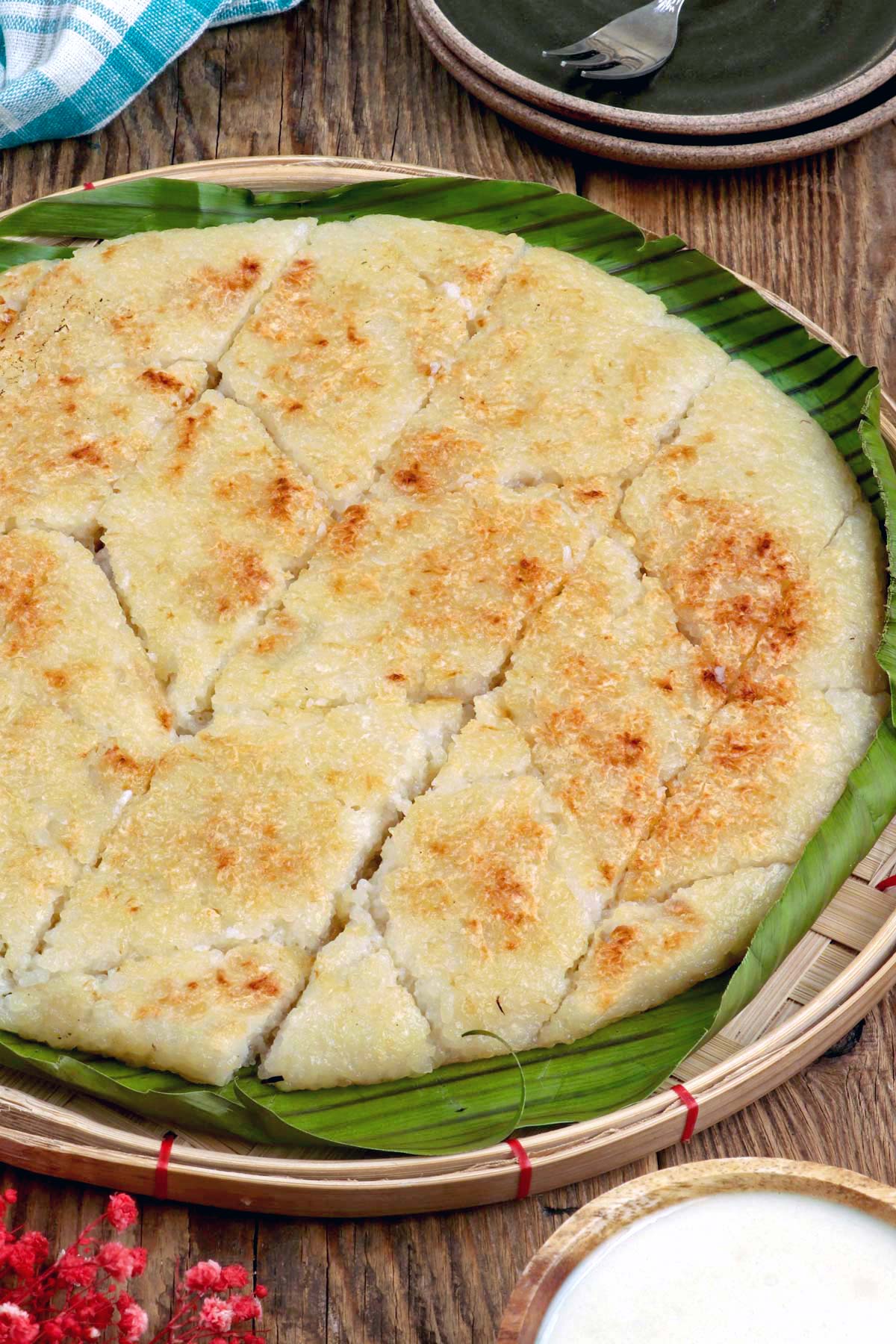 We could all agree that Filipinos, by nature, both love sweets and rice. I think that is why most of our native delicacies make use of glutinous rice or kaning malagkit. We enjoy eating kakanin and would find just about any excuse to eat them, be it for breakfast, mid-afternoon snack, or dessert. Kakanins are also popularly served during special occasions or holidays. To name a few of these popular kakanins are Biko, Kutsinta, Palitaw, Sapin-sapin, and Inangit.
What is Inangit?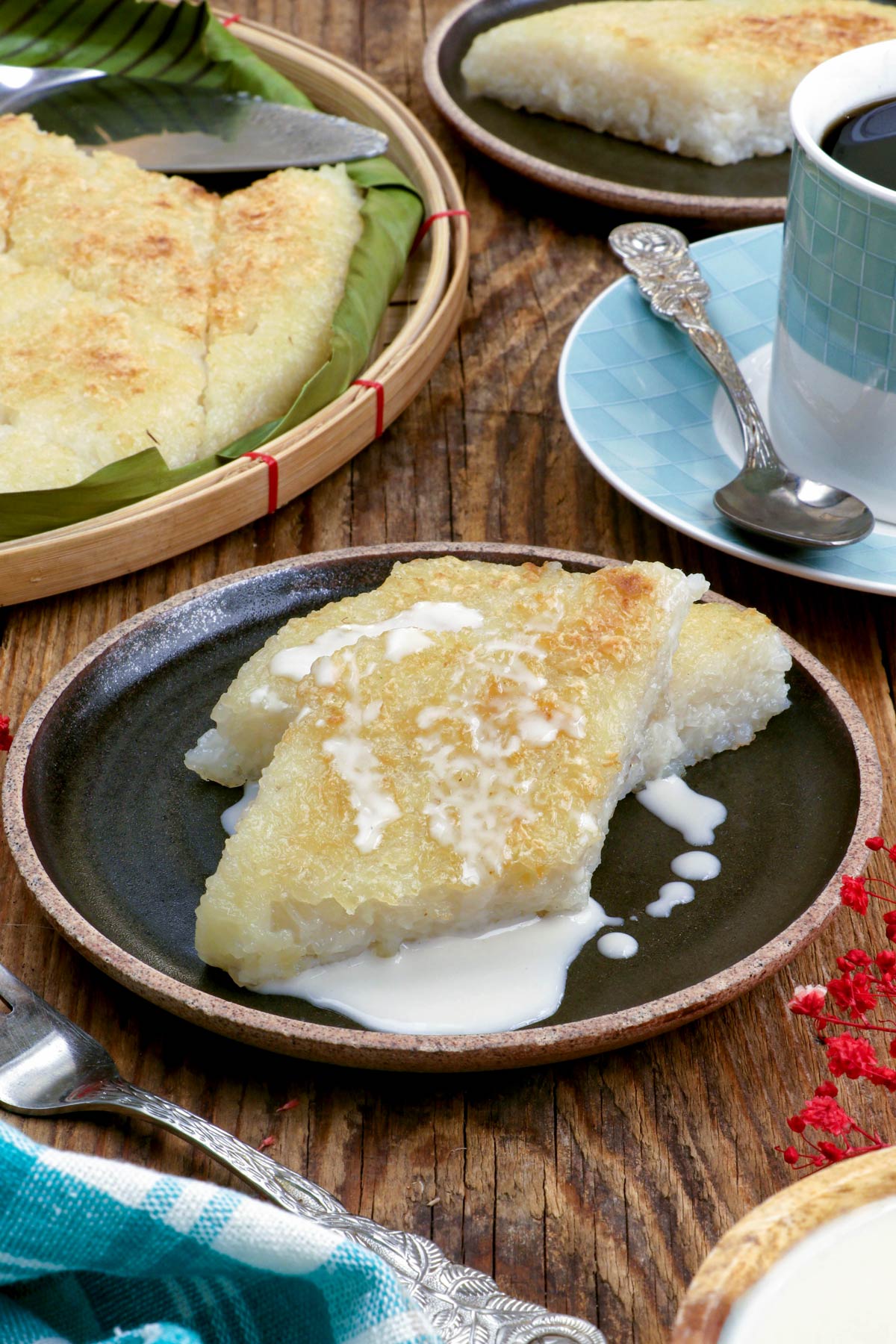 Inangit is a traditional Filipino kakanin that is popular during the Christmas or holiday season. It is made by partially cooking the glutinous rice in coconut milk and coconut cream with a pinch of salt. The par-cooked rice is then transferred to a banana leaf-lined pan or pot. It is cooked until a slightly burnt crust at the bottom develops, somewhat like a socarrat (tutong)in Bringhe or Arroz Valenciana. Inangit is in a circular form, as it takes the shape of the pan. It is somewhat like a suman but unwrapped as it is just placed over the banana leaves until cooked through.
Ingredients You'll need in making Inangit
Glutinous Rice also called sweet or sticky rice. The local name in the Philippines is kaning malagkit or simply malagkit.
Coconut Cream or kakang gata - it comes from the first squeezes of the grated coconut flesh. It is richer and thicker than coconut milk. Although canned coconut cream is a convenient alternative, use freshly-pressed coconut cream if available.
Coconut Milk or gata is slightly thinner than coconut cream as it comes from the later squeezes of the grated mature coconut. Like the coconut cream, the canned version is a good alternative, but freshly-pressed coconut milk delivers the best flavor.
Salt
Sugar -you may use white sugar if unavailable.
Rice Flour- used to thicken the dipping sauce.
How to Serve and Store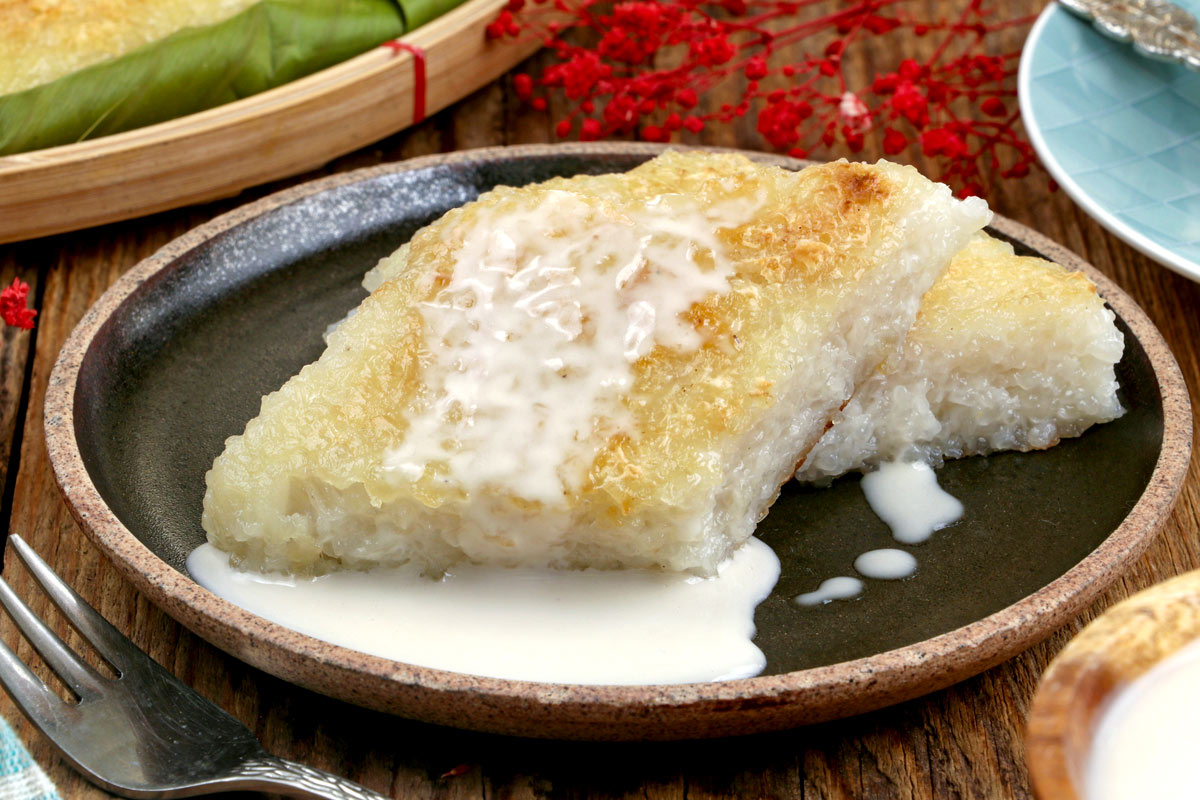 Enjoy this Inangit with our homemade dip or simply with sugar with a hot cup of coffee or chocolate. Popularly paired with ripe mangoes or ginataang bilo-bilo, as well.
Some modern varieties of this recipe add some color in their Inangit. Others also include toppings like sweet beans or macapuno strings.
Place leftovers in an airtight container (separate dipping sauce) and refrigerate for up to 2 days.
Reheat in a microwave for about a minute or until heated through.
Other Filipino Delicacies made with rice
Printable Recipe
Inangit Recipe
A simple but delicious Filipino delicacy – Inangit is made from glutinous rice, coconut milk, coconut cream, and a pinch of salt served with our homemade sweet coconut sauce .
Ingredients
for the DIP
1-2

tablespoon

sugar

½

can

coconut cream

200 ml

1

tbsp

rice flour

¼

cup

water
Instructions
Rinse and drain the glutinous rice.

1 can coconut milk,

½ can coconut cream,

1 cup water or more

Place coconut cream, coconut milk and water in a pot or deep pan. Bring to a simmer over medium heat.

Add salt then the washed glutinous rice and stir. Cook until the grain has expanded and absorbed the liquids, while stirring from time to time to prevent it from sticking and burning. Remove from heat.

Line the surface of a wok or skillet with banana leaves. Transfer the par-cooked rice on top and spread evenly. Cover the top with more banana leaves and then cover with the lid.

Cook for 15-20 minutes at low heat. Then slide out the contents into a plate or bilao, and return it to the skillet, up-side down this time and cook for another 15-20 minutes. Both sides should have some parts browned.

Place in a serving platter or bilao and cut into serving portions. Serve with coffee and dip.
To make the dip:
1 tbsp rice flour,

¼ cup water

In a small bowl, combine water and rice flour to make a slurry. Stir until smooth. Set aside.

½ can coconut cream,

1-2 tablespoon sugar

In a saucepot over medium-low heat, combine the coconut cream and brown sugar. Stir until sugar is dissolved.

Add the slurry to the pot and cook until thickened, stirring regularly.

Remove from heat and transfer to a serving bowl.
Nutrition
Calories:
439
kcal
Carbohydrates:
47
g
Protein:
6
g
Fat:
27
g
Saturated Fat:
23
g
Polyunsaturated Fat:
1
g
Monounsaturated Fat:
1
g
Sodium:
307
mg
Potassium:
295
mg
Fiber:
2
g
Sugar:
2
g
Vitamin C:
2
mg
Calcium:
20
mg
Iron:
3
mg