Try this colorful Filipino delicacy, Sapin-Sapin. A dessert that will give you not only one but three flavors that you will surely adore.  Four, if you add the Latik, a yummy toasted coconut curd topping.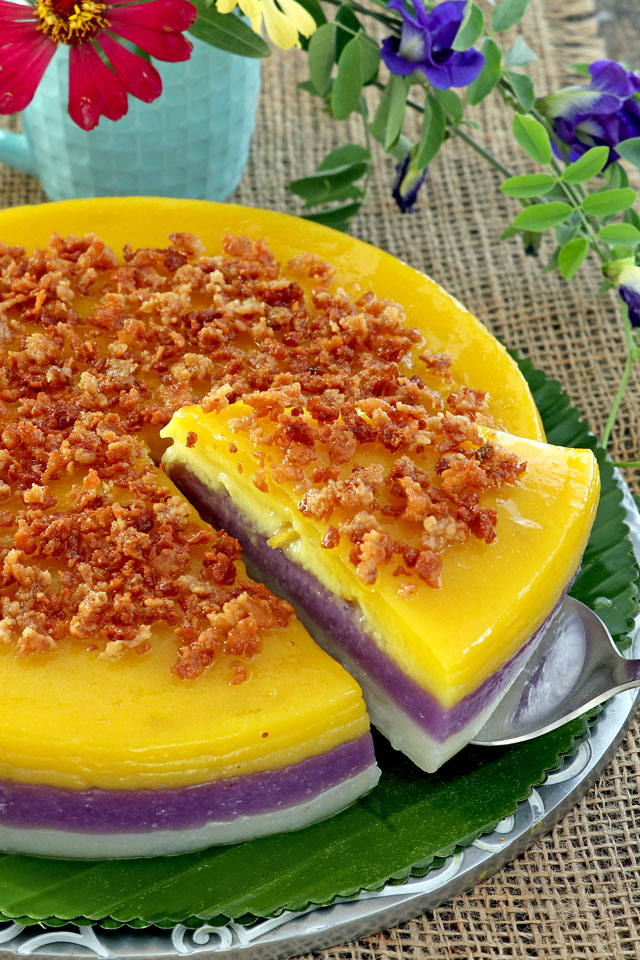 What is Sapin-Sapin
Sapin-Sapin is Filipino steamed dessert that is made of glutinous rice flour, coconut milk, sugar, and flavoring. Its main distinguishing factor from other 'kakanin' or rice delicacies is its multiple layers in varying colors.
Each color represents a different flavor. The word Sapin-Sapin, after all, means layer after layer in Tagalog.
The white represents the base flavor which is the coconut. The purple is for ube (purple yam) and the yellow is for jackfruit. It is also usually sprinkled with Latik, a delicious toasted coconut curd, made from simmering down coconut milk or cream.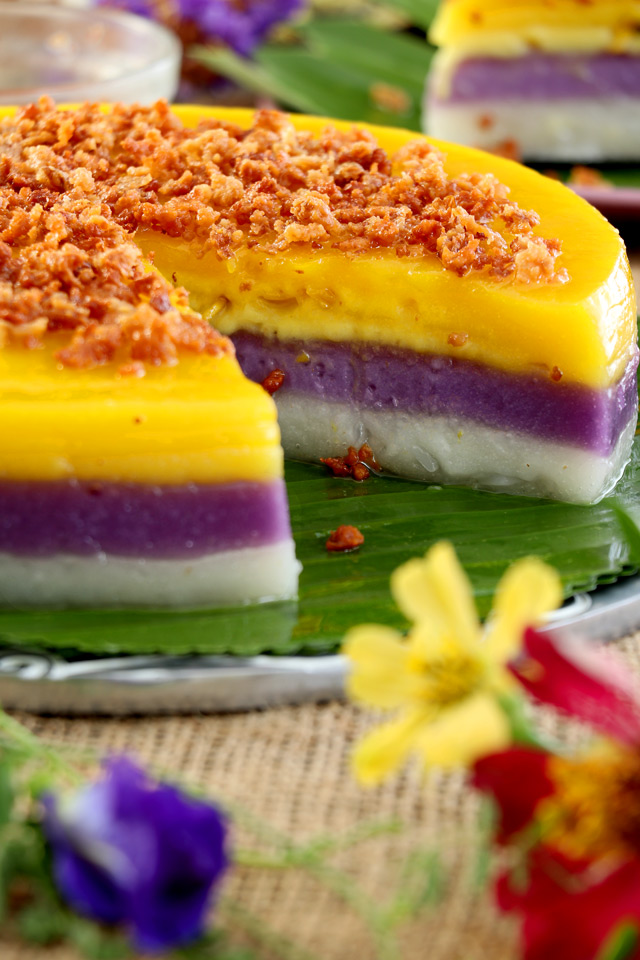 Sapin-Sapin Ingredients
The main ingredients for this delectable and chewy dessert are glutinous rice flour, coconut milk, and sugar. Traditionally, natural flavorings are added like jackfruit and ube halaya or purple yam jam.
But the modern-day and most commercially sold Sapin-Sapin tends to use artificial flavor. Most probably for economic reasons.
In this Sapin-Sapin recipe, I used fresh jackfruit and self-made Ube jam. Plus I added some macapuno (coconut meat strings) on my white layer. The result was very tasty and flavor-filled sticky rice cake.
Do not be tempted to add more of the good thing. I am talking about the jackfruit. The amount in the recipe is really enough. Add more and it may overpower the rest of the flavors and might result in a yellow layer that won't firm up even after steaming for a long time. Trust me on this one.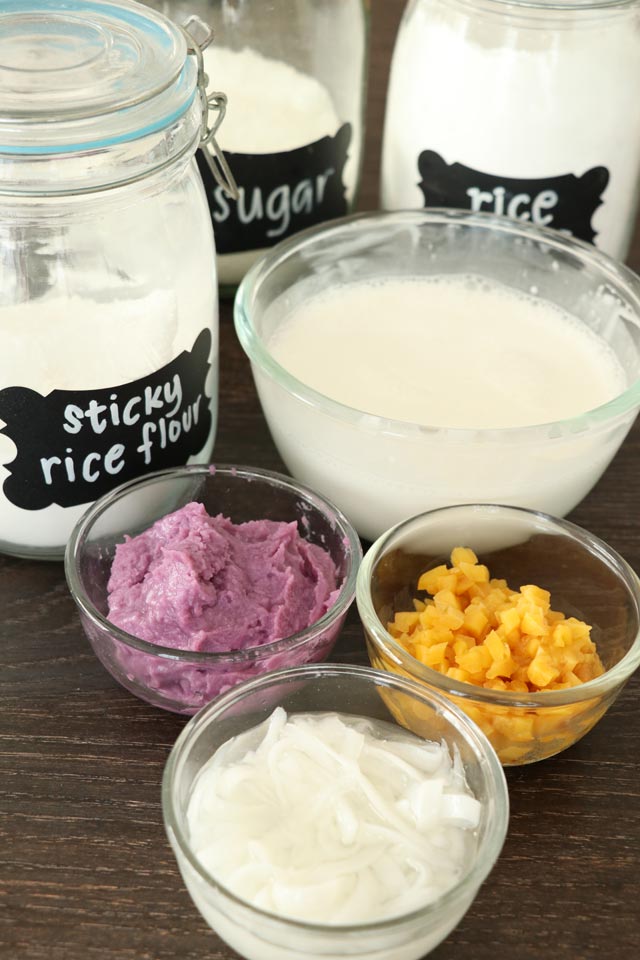 How to Make Sapin-Sapin
The process of making Sapin-Sapin is really very simple:
Mix glutinous rice, coconut milk, and sugar together until smooth.
Divide the mixture equally into three and add flavors to each.
Steam a layer in a greased pan, one at a time, until all three layers are cooked.
Let it cool down and transfer to a serving plate and top with Latik.
This Spain-Spain recipe makes about 12 servings or more. Because it is mainly made of glutinous rice, this dessert is quite filling.
You can also cut the measurements into half using the same size of pan with much thinner layers. This one is prepared in an 8x8-inch pan and the result was about 3-inch high.
Other Filipino desserts and delicacies to try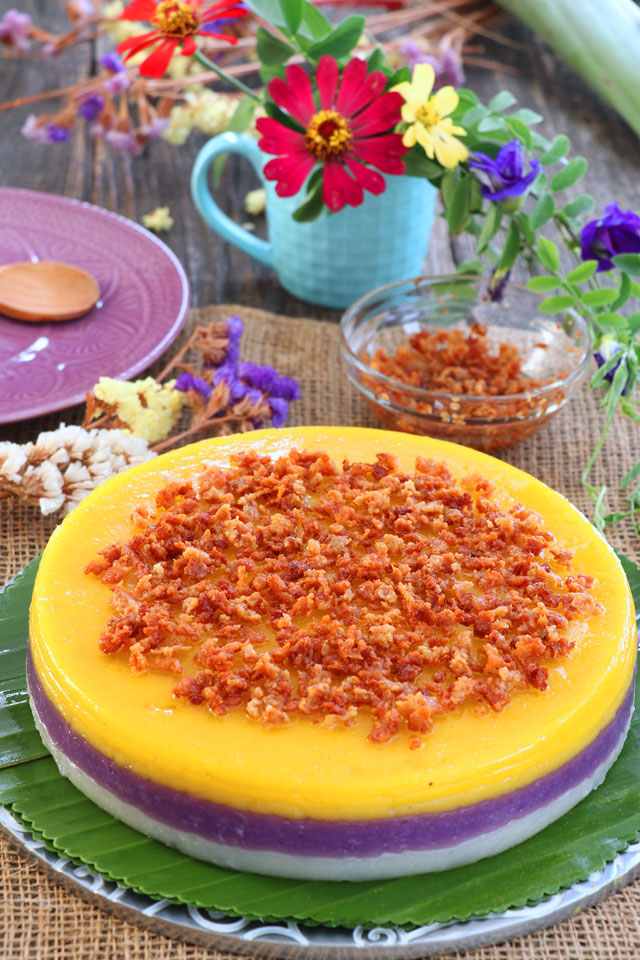 Printable Recipe
Sapin-Sapin
Not only one but three flavors to enjoy! Try this Sapin-Sapin, a Filipino dessert made from glutinous rice, coconut milk, sugar, and flavorings.
Ingredients
FOR THE BATTER:
4

cups

glutinous rice flour

2

cans (13.5 fl. oz)

coconut milk

1 ½

cup

white sugar

¼

cup

jackfruit

- chopped finely - see Note 4

½

cup

macapuno (coconut sport strings)

- see Note 1

½

cup

ube halaya

- see Note 4

¼

teaspoon

violet liquid food color

- see Note 2

¼

teaspoon

yellow liquid food color

- see Note 2

1

teaspoon

pandan flavor

- optional
Instructions
Make the Latik. Pour contents of coconut cream in cans to a non-stick pan and bring to a simmer over medium heat. Continue to cook while stirring from time to time until the oil and curd separate.

Remove from heat once it becomes light brown. Remember that it will continue to cook and brown while it cools down so remove it from heat early enough or the latik would burn.

In a bowl, mix together the glutinous rice flour, coconut milk, and sugar. Keep on stirring until the texture becomes smooth.

Divide the mixture into three equal parts and place each in a smaller bowl.

Add the macapuno and pandan flavor to one bowl. The ube halaya and violet food color on the other bowl. lastly, the jackfruit and yellow food color to the last bowl.

Grease an 8x8-inch round pan that is at least 3-inch high with the coconut oil from the Latik.

Pour the yellow mixture and steam for 8 minutes over medium heat. Test with a wooden stick if the top is tacky but no longer runny.

Now, pour the purple mixture on top of the white layer and steam again for 8 minutes. Do the same test to see if it is done.

Lastly, pour the white mixture on top and this time cook for 12-15 minutes. Insert the wooden stick and if comes out clean, it means it is done.

Remove the pan from heat and let it cool down completely. Run an oiled knife around the sides of the pan to let it loose.

Place a plate, lightly greased with coconut oil, on top of the pan and turn it over to transfer the Sapin-Sapin.

Sprinkle with Latik on top and serve.
Notes
Note 1 - I used sweetened Macapuno from the jar. You can also use fresh coconut strings, just make sure to drain them well before adding to the mixture.
Note 2 - I used McCormick liquid food coloring and this is the measurements I used to achieve a nice yellow and violet color.
Note 3 - You may also use freshly grated coconut to make coconut milk instead of using the canned ones. Here is the recipe.
Note 4 - You may also use artificial flavoring by using about 4-5 drops each.
Nutrition
Calories:
157
kcal
Carbohydrates:
38
g
Protein:
1
g
Fat:
0
g
Saturated Fat:
0
g
Cholesterol:
0
mg
Sodium:
3
mg
Potassium:
21
mg
Fiber:
0
g
Sugar:
25
g
Vitamin C:
0.5
mg
Calcium:
1
mg
Iron:
0.1
mg