Cassava cake is a Filipino dessert made from grated cassava (manioc). Here's a really easy recipe with deliciously rich and creamy custard topping. A perfect dessert for special occasions but also great for coffee or tea time.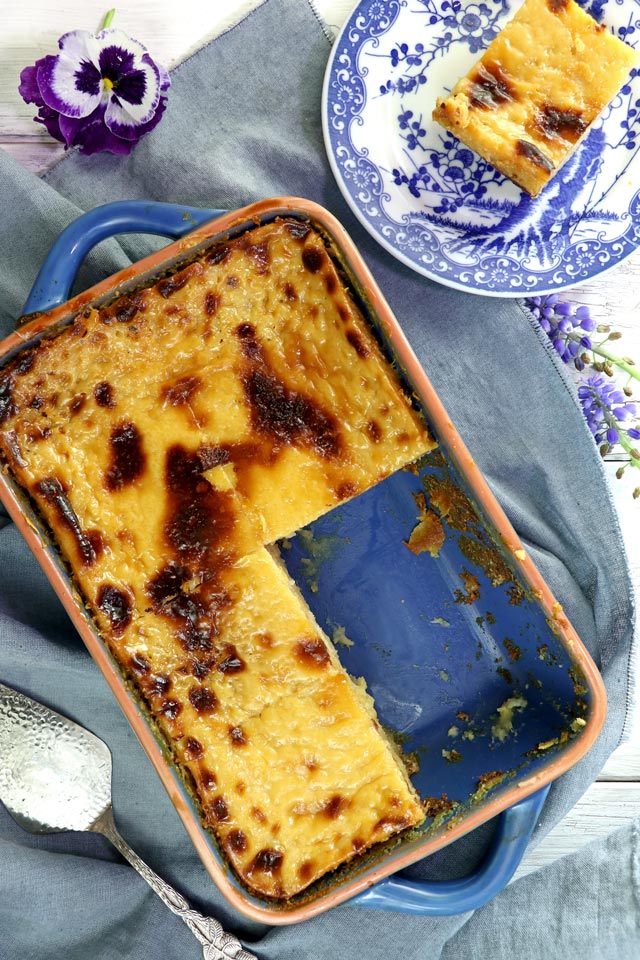 I have always loved cassava cake even when I was still in the Philippines. But I tend to be a bit choosy with the cassava cakes I eat... because some are too sweet for my taste.
Here in Germany, Cassava cake is also a popular dessert one brings to a potluck whenever we are having a Filipino get-together. Some Pinays I know add 'Macapuno' to their cassava cakes which is also good but personally, I like my cassava cake straight and simple. 
I also reduced the sugar for this recipe as I usually do with my other desserts and sweets recipes because I, for one, do not like it to be overly sweet.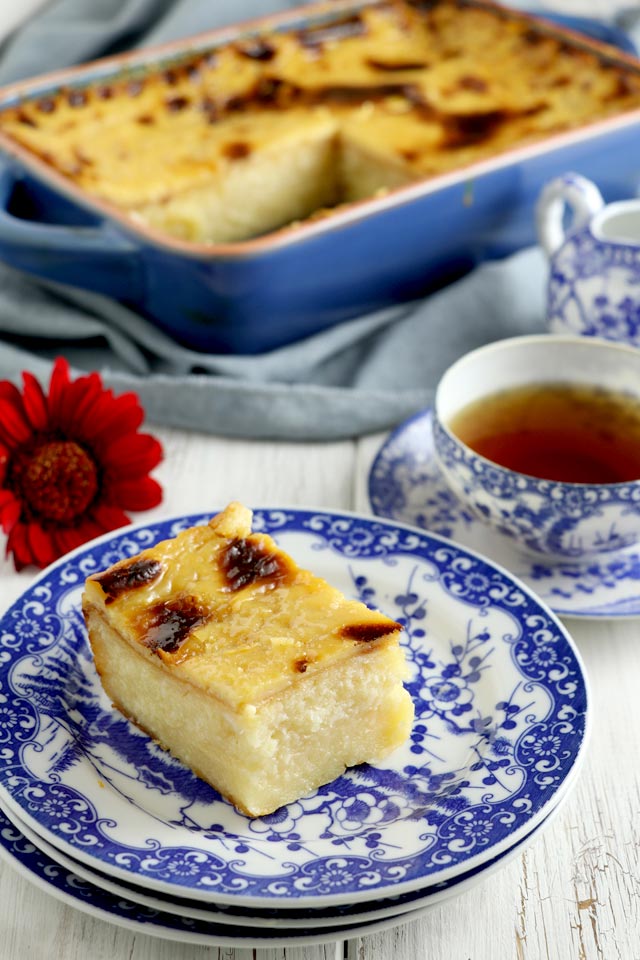 Back then I would never think of making cassava cake by myself.
I always thought it would require so many ingredients and effort and because it was much easier to buy them as they are quite popular 'merienda' or afternoon snack in the Philippines.
But like other things in Germany, I have to make it myself if I want to sample it again or wait for a year or more until we have a vacation again in the Philippines, which is way too long to enjoy this treat especially now that I learned how easy it can be.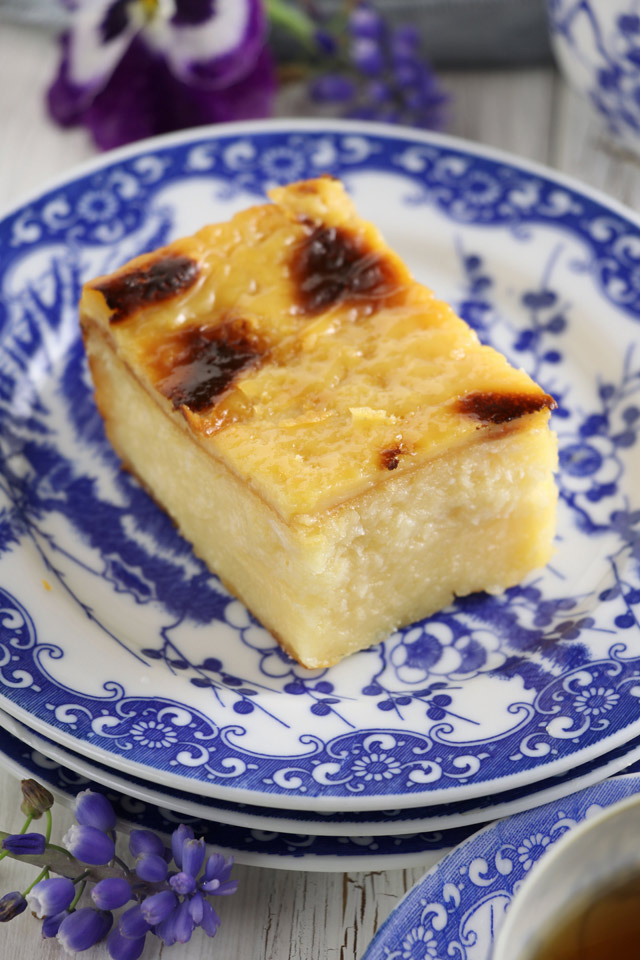 What is Cassava?
Cassava is a long tuberous starchy root also called 'Yuca' or 'Manioc' that is widely cultivated in tropical and subtropical regions. When dried to a powdery extract, is called 'Tapioca' which is used for making pearls like the one usually seen in your bubble milk tea.  
Cassava Cake, however, uses fresh (or frozen) cassava. Once cooked, the texture of cassava becomes somewhat sticky and slightly translucent.
In the Philippines, cassava is commonly used for such desserts or snacks like Pichi Pichi, Cassava Suman, and Sweetened Cassava. 
You can check my Pichi Pichi recipe, my favorite among these cassava recipes, where I used a lye water substitute made from baking powder and my Cassava Suman which is also quite good.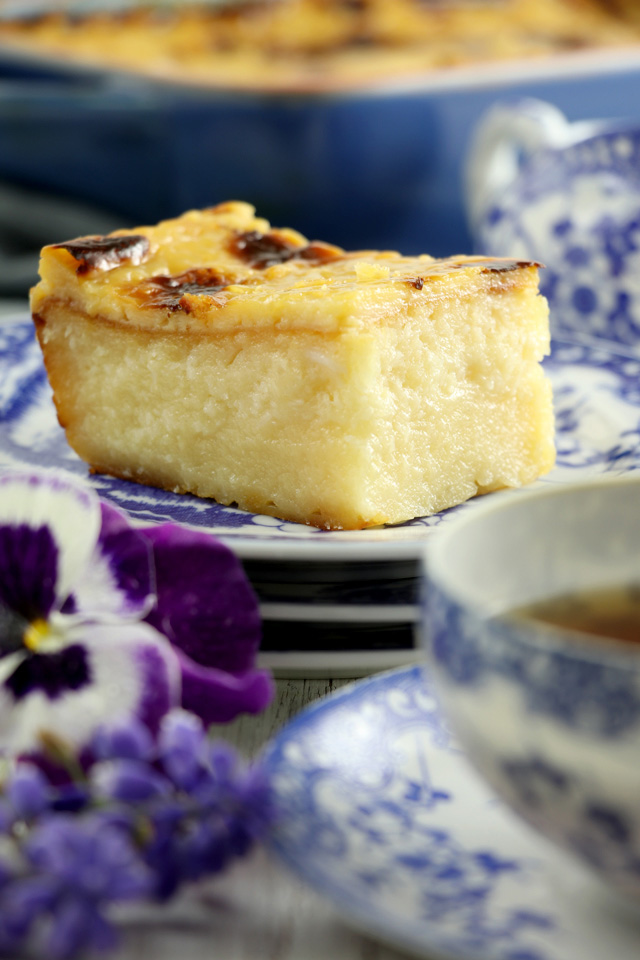 How to prepare Cassava?
If you are planning to use fresh, raw Cassava, there some steps needed before you can safely eat them. Cassava is often categorized as either sweet or bitter. The latter having said to contain higher cyanide than the sweet variety.
To make cassava safe to eat:
Cut both ends off of the tuber.
Using the sharp tip of a knife, cut a shallow slit along the length of the tuber about 2-3 millimeter deep or as deep as the skin.
Peel off the outer skin by sliding the knife in between the skin and the flesh. If the skin won't easily peel off then cut it out using the knife.
Wash the cassava flesh thoroughly and discard the water.
If using immediately, grate the cassava using a cheese grater.
You may also freeze the peeled cassava in a sealed plastic bag until ready to use.
Printable Recipe
Easy Cassava Cake Recipe
Cassava cake is a Filipino dessert made from manioc (cassava). Here is a recipe that really easy to make and with deliciously rich and creamy custard topping. A perfect dessert for special occasions but also great for coffee or tea time.
Ingredients
FOR THE CAKE
1

pack (16 oz)

frozen, grated cassava

- thawed

1

cup

desiccated coconut

- (optional)

¾

can (1 can is 14 oz)

condensed milk

¾

can (1 can is 12.05 fl oz)

evaporated milk

¾

can (1 can is 13.5 fl oz)

coconut milk

5

tablespoons

sugar

2

egg yolks
Instructions
Grease pan or baking dish with butter and set aside.

In a big, deep bowl, combine all the ingredients for the cassava cake and mix well until the sugar is dissolved.

Pour the mixture into the greased pan or baking dish and bake for 45 minutes to 1 hour at 375°F/180°C.

After the cake is baked, combine and mix all the ingredients for the custard in a bowl. Pour this on top of the pre-baked cassava cake and bake for another 15-25 minutes or until custard is cooked and turns golden.
Notes
It may be served while still warm but I like it best when it has stayed at least overnight in the fridge.
Nutrition
Calories:
182
kcal
Carbohydrates:
16
g
Protein:
4
g
Fat:
11
g
Saturated Fat:
8
g
Cholesterol:
87
mg
Sodium:
40
mg
Potassium:
169
mg
Fiber:
1
g
Sugar:
14
g
Vitamin A:
175
IU
Vitamin C:
0.8
mg
Calcium:
91
mg
Iron:
0.9
mg
Baking dish or pan size for this recipe would be anything that is good for 2 liters like a 9x9x1.5 square or 11x7x1.5 rectangle or something similar.