How to make Latik (Toasted Coconut Milk Curd)
Latik is the solids that form from the curd of coconut milk and/or cream when simmered for some time.
It is used as toppings to a lot of Filipino delicacies like Tibok-tibok or maja blanca, suman, kalamay biko, ube halaya and a lot more.
It balances out the sweetness of these treats and gives them an extra texture and coconutty flavor.
How to make latik?
You have two options. Either to use freshly grated coconut to extract the coconut milk or you can also use the canned coconut milk or cream.
If using the canned version, I would recommend using coconut cream as it has more solids, thus, yields more Latik than coconut milk. It also needs less time to cook as it is thicker already.
The process is rather straightforward, just bring the liquids to a simmer over medium heat until it separates into coconut oil and curd, from this point, lower the heat to low and continue to cook just until light brown while stirring from time to time to make sure that the curd browns evenly.
Note that it will go on cooking and browning while the oil is still hot even after removing the pan from the stove. So if you want a softer, chunkier Latik, remove it earlier.
But if you prefer a little crunch, like with this one, toast it a bit more for a few seconds. But not so much longer as it can easily get burnt from this point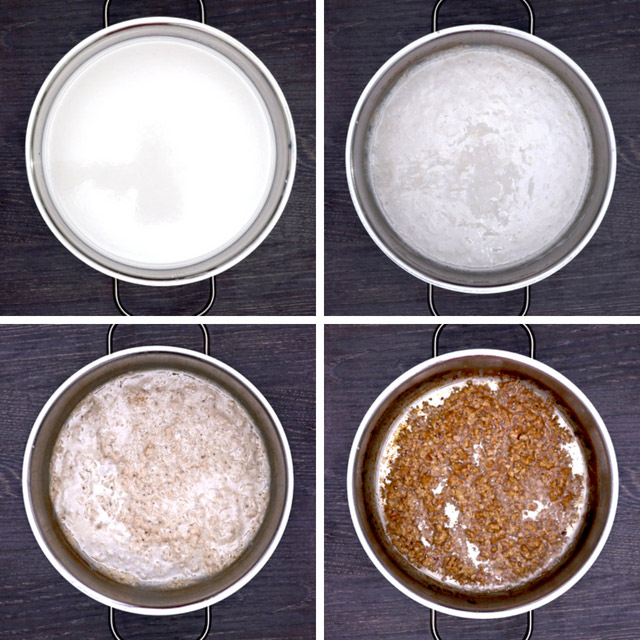 Once the coconut milk or cream is reduced, not much is really left. About a half cup of Latik from this recipe and maybe a bit more if using coconut cream. But that is fine as you will need only some for toppings and a bit of it makes quite an impact already.
How to make coconut milk?
If you have access to fresh mature coconuts (niyog) and would rather make the coconut milk yourself, here are some tips and the steps to do so.
Why mature coconuts? Simply because they have thicker and firmer meat than the young coconuts. They are mainly used for extracting coconut milk or making coconut oil while young coconuts are for making juices and other desserts because of their softer, sweeter meat.
If unopened or still a whole shell, the coconut can last for months at room temperature.
If already cracked, place the pieces of meat (unshredded) in an airtight container and refrigerate. It can last for 3-4 days.
But I would highly recommend using grated coconut meat as soon as possible as it can turn rancid pretty fast, within the day.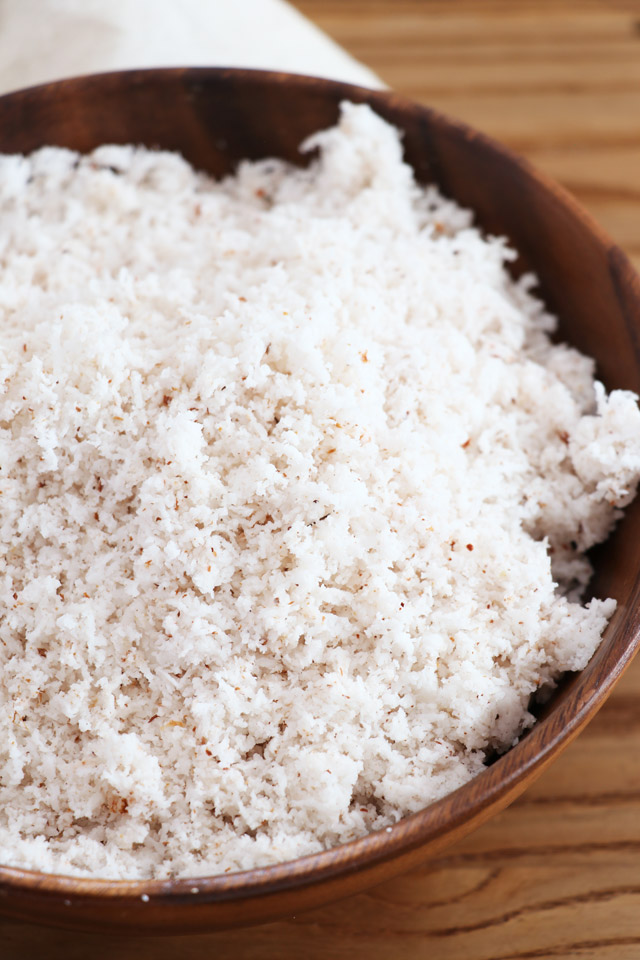 Soak the grated coconut meat in warm water for some minutes. Press using your hand to squeeze the milk out.
Use a cheesecloth to separate the solids from the liquids. Do this by batch for easier handling.
Squeeze as much milk out of every batch as you can then discard the solids.
How to use Latik?
As I mentioned above, Latik is usually used as a topping for other Filipino desserts and delicacies.
Here are some of the Filipino treats that are made more delicious when topped with Latik. You may get the recipes if you click on the image.
I am also gonna make Tibok-Tibok soon and share it here on my next post!
WANT MORE RECIPES? Subscribe to our newsletter and follow us on Facebook, Pinterest and Instagram for all of the latest updates.
How to make Latik (Toasted Coconut Milk Curd)
Learn how to make Latik from fresh or canned coconut milk to make your sweets and delicacies extra special.
Print
Rate
INGREDIENTS
4

cups

fresh grated coconut

4

cups

warm water
Alternatively, use 1-2 cans of coconut cream if freshly grated coconut is not available.
INSTRUCTIONS
In a large bowl, soak the grated coconut in water and stir and press between your hands. Repeat several times.

In a separate bowl, place a cheesecloth on top and scoop the grated coconut and water on top of it in 4-6 batches. Wring out the clothe to extract the coconut milk. Discard the solids.

Place coconut milk in a saucepan and bring to simmer over medium heat. Cook until the liquids have evaporated, leaving the solids or curd and coconut oil. Stir from time to time so they can brown evenly.

Remove from heat once it becomes light brown. Remember that it will continue to cook and brown while it cools down so remove it from heat early enough or the latik would burn.
Nutrition Facts
How to make Latik (Toasted Coconut Milk Curd)
Amount Per Serving
Calories 561
Calories from Fat 486
% Daily Value*
Total Fat 54g 83%
Cholesterol 0mg 0%
Sodium 43mg 2%
Potassium 461mg 13%
Total Carbohydrates 20g 7%
Protein 5g 10%
* Percent Daily Values are based on a 2000 calorie diet.
Tried this recipe?
Tell us how it went. Tag us at @foxyfolksy or leave a comment and rating below.