This simple Arroz Valenciana or Arroz a la Valenciana recipe is the perfect all-in-one dish to serve on special occasions due to its attractive visuals and amazing flavors! Made by cooking the chicken, glutinous rice, vegetables, and spices in a pan first then simmering them in coconut milk. It is served topped with hard-boiled eggs.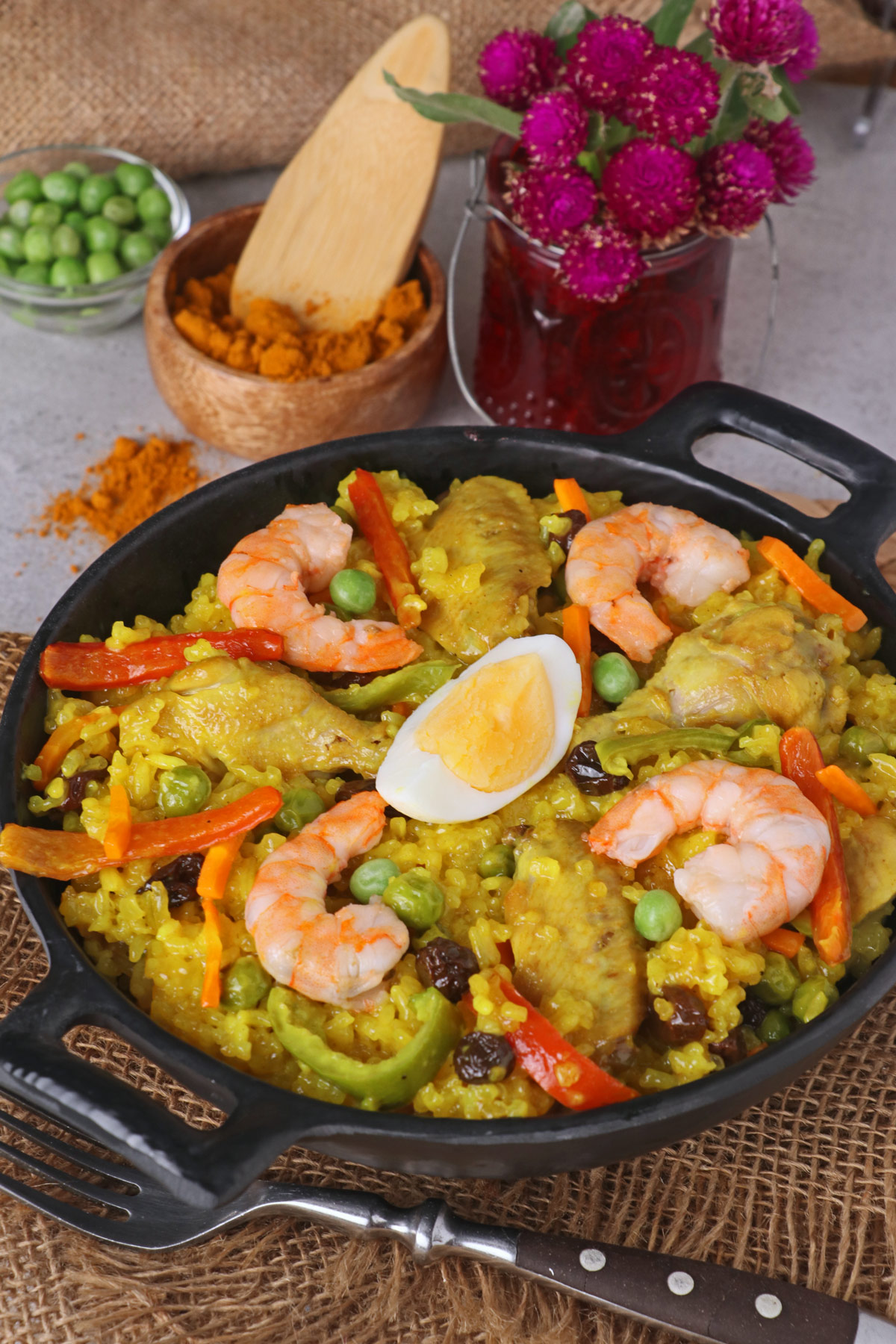 What is Arroz Valenciana?
It is almost guaranteed that you will see this dish when you attend fiestas in provinces as it is one of the most popular dishes that Filipinos make during celebrations and festivities.
Arroz Valenciana or Arroz ala Valenciana is a Visayan adaptation of the famous Spanish paella. While Paella uses round ground rice and meat stock, this dish uses glutinous or sticky rice and coconut milk instead. It is also characterized by using turmeric (luyang dilaw), chicken, and chorizo de Bilbao.
It bears a lot of similarities to its regional sister dish, the Bringhe of Pampanga. Bringhe is actually a fusion of two dishes- the South East Asian Biryani and the Spanish Paella.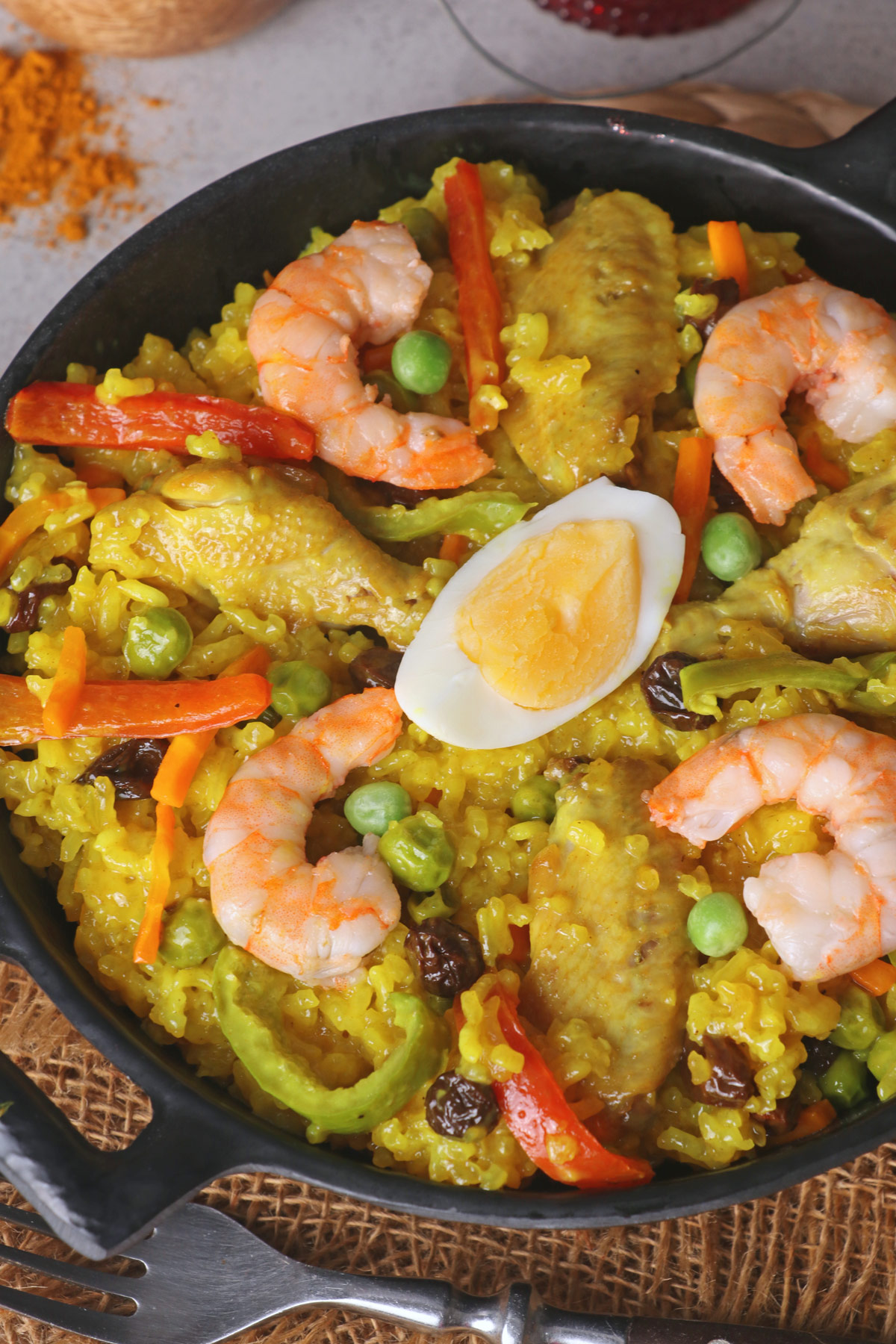 Ingredients Variations
This is a simple version of this recipe that is really quick and easy to make. It is ideal for an everyday meal. You can get away with making this dish using only a few ingredients as long as the main ones are present: sticky rice, turmeric, coconut milk, and chicken. It is quite a customizable dish as well.
If you want to give it some flair for serving on special occasions, you can add Chorizo de Bilbao, green peas, and raisins. You can also use seafood and other meats like pork, beef, or duck. I have also encountered this dish served with some chicken gizzard and liver as well.
Cooking Tips
Make sure to use a wide enough pan/pot so the glutinous rice cooks properly and evenly.
I used chicken wings cut at joints for this recipe, but feel free to use other chicken parts like thighs or breasts.
After adding the coconut milk and water, lower the heat and cover your pan/pot with the lid. Refrain from stirring too much to get the sought-after socarrat, the roasted bottom layer of the rice. Just make sure not to burn it.
Since it contains coconut oil, it can quickly spoil if left on the dining table for hours. Make sure to always check for freshness before eating.
For any leftovers, store in an airtight container and refrigerate for up to three days. You can reheat using a microwave or on a stovetop over low heat.
More Filipino Fiesta Dishes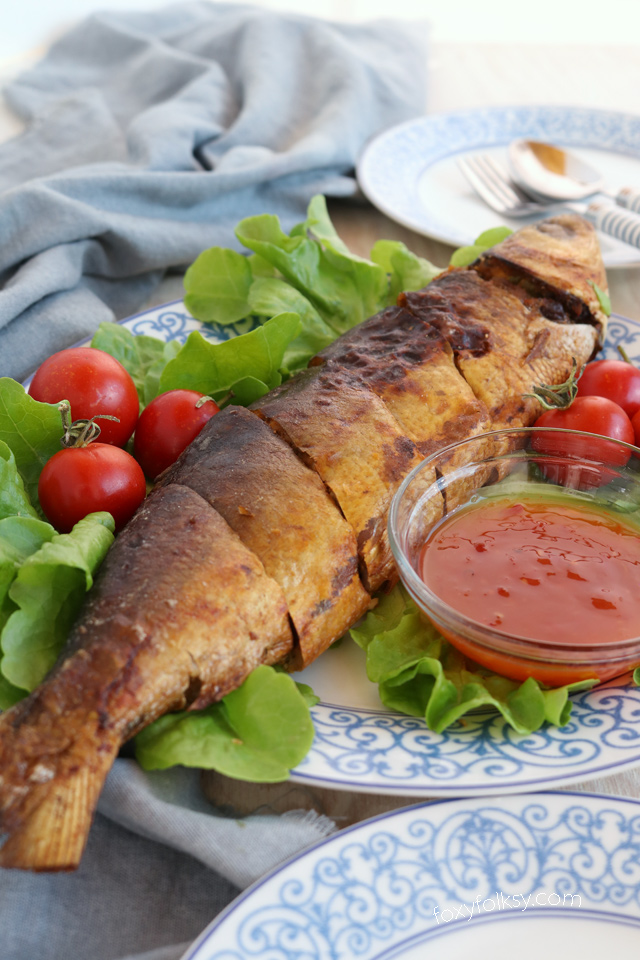 Serving and Storage
To serve on a special occasion or event, line a bilao with banana leaves or use a large shallow serving dish. Arrange the toppings as desired. Alternatively, you can also use a llanera to shape it and then invert it to a serving plate.
To store leftovers, make sure to spread them in an airtight container or ziplock to prevent them from drying out. Unfortunately, rice does not last too long in the fridge, it is best to reheat them after a day or two. You can also freeze it for a month or two, but I normally don't because the quality is not the same
To reheat, first, break the huge lumps and you can use a microwave if using a microwave-safe container with a lid. The best way, I find, would be to reheat using a steamer. If you have banana leaves use that to line the steamer basket and transfer the cold/frozen Arroz Valenciana on it then cover and steam for a few minutes. Skip the banana leaves if not available. No need to thaw.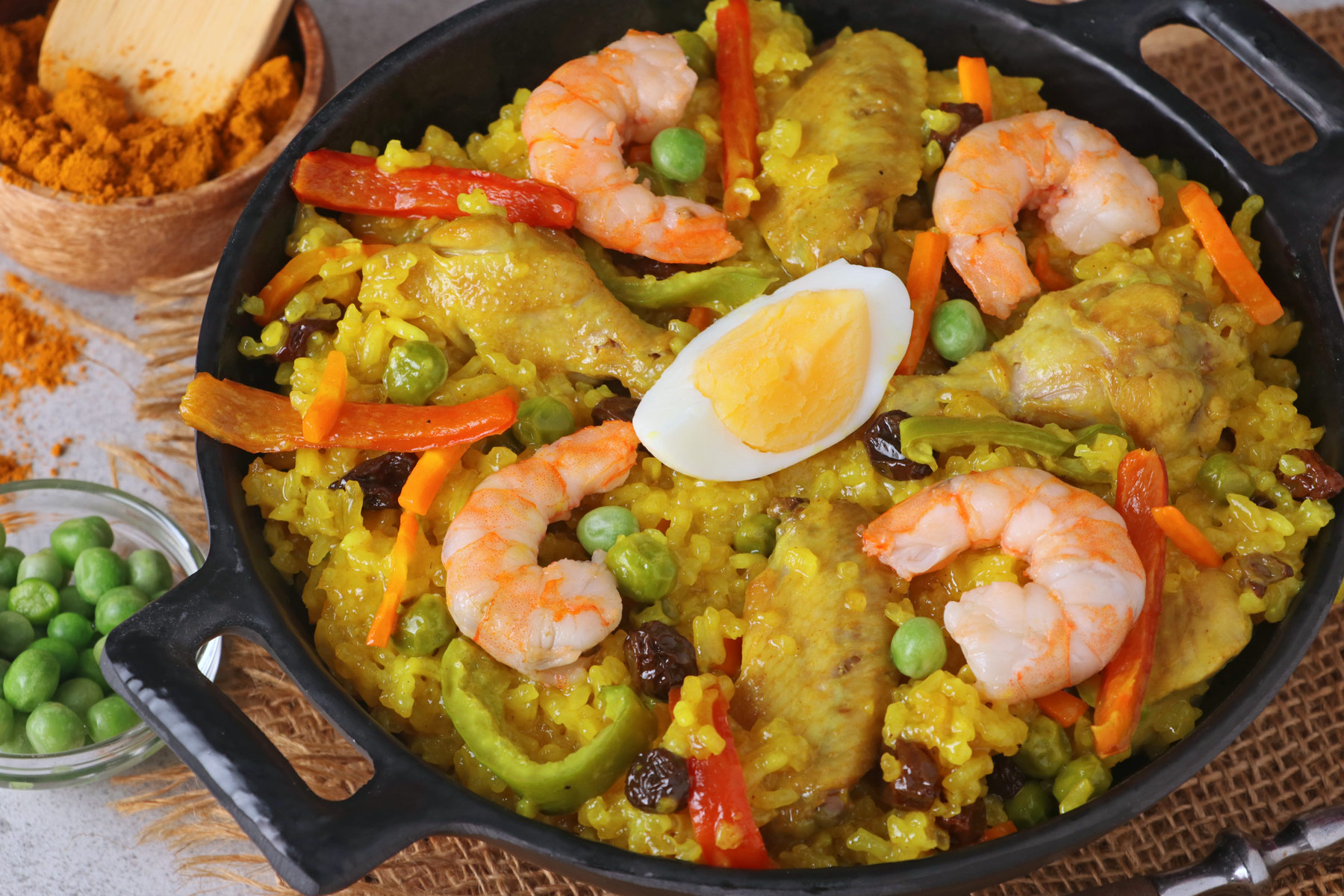 Printable Recipe
Simple Arroz Valenciana Recipe
This simple Arroz Valenciana or Arroz a la Valenciana recipe is the perfect all-in-one dish to serve on special occasions due to its attractive visuals and amazing flavors!
Ingredients
2

tablespoons

vegetable oil

3

cloves

garlic

- minced

1

medium

onion

- chopped

5-6

pieces

chicken wings

- cut into wingettes and drumettes

2

tablespoons

fish sauce

(optional)

2

cups

glutinous or sticky rice

- washed

1

tablespoon

Turmeric powder

1

cup

carrots

- sliced into strips

1

cup

bell pepper

- sliced into strips

2

pieces

bay leaf

salt and pepper

1

cup

green peas

½

cup

raisins

1

can

coconut milk

(13.5 fl oz.)

1-2

cups

water
TOPPINGS (OPTIONAL)
2

eggs

- hard-boiled and sliced

cooked shrimp

bell pepper

raisins

green peas
Instructions
2 tablespoons vegetable oil,

3 cloves garlic,

1 medium onion,

5-6 pieces chicken wings,

2 tablespoons fish sauce

In a deep pan and on medium heat, sauté onion and garlic in oil until soft. Add chicken wings and let for some minutes until the meat is almost cooked, about 3 minutes. If using fish sauce add it now.

2 cups glutinous or sticky rice,

1 tablespoon Turmeric powder

Add the rice and turmeric powder. Cook for 1 minute while continuously mixing to make sure not to burn the rice.

1 cup carrots,

1 cup bell pepper,

2 pieces bay leaf,

salt and pepper

Stir in the carrots, bell pepper, and bay leaf, then season with salt and pepper as desired, mix well.

1 cup green peas,

½ cup raisins,

1 can coconut milk,

1-2 cups water

Add green peas and raisins and mix until well distributed. Pour in coconut milk and 1 cup of water. Cover and let cook for about 20-30 minutes or until sticky rice is done. Stir from time to time and check if you need to add more water if rice is not yet cooked. Water should be absorbed entirely once done.

Turn off the heat and remove the bay leaves and give it a final stir.

2 eggs,

cooked shrimp,

bell pepper,

raisins,

green peas

Transfer into a llanera and fill to the rim. Turn the contents of llanera over into a plate to serve. If you want to make it more festive, add some slices of hard-boiled eggs, cooked shrimp, slices of bell peppers, and pieces of raisins and green peas at the bottom of the llanera before adding the rice.
Notes
To make this recipe extra special you may also add:
1 piece Chorizo de Bilbao after cooking chicken wings
Nutrition
Calories:
506
kcal
Carbohydrates:
72
g
Protein:
10
g
Fat:
21
g
Saturated Fat:
17
g
Trans Fat:
1
g
Cholesterol:
55
mg
Sodium:
529
mg
Potassium:
571
mg
Fiber:
6
g
Sugar:
5
g
Vitamin A:
4629
IU
Vitamin C:
46
mg
Calcium:
60
mg
Iron:
5
mg